How Much Does a Vet Visit Cost at PetSmart (2023 Update)
PetSmart is the place to go for all things pet-related. From chew toys for dogs to special food for finicky cats, the store has everything you could possibly need to keep your four-footed family member happy.
Many, but not all, PetSmart locations also have feline and canine veterinary facilities in the building with licensed veterinarians from Banfield Pet Hospital. If your dog or cat needs a medical provider, your local PetSmart may be just the answer you're looking for. The amount you'll spend for veterinary care at PetSmart will depend on several factors, including whether you have a cat or a dog, which services you require in addition to the consultation, and your location.
How Much Does a Vet Visit at PetSmart Cost?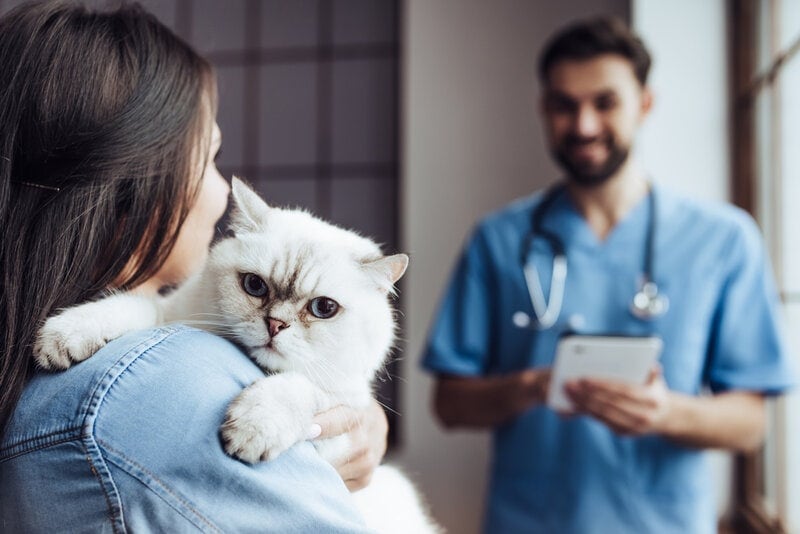 Keep in mind that veterinary services at PetSmart stores are provided by Banfield Animal Hospital, which is a national chain that also has standalone clinics and express care sites. Banfield charges different prices for similar services, depending on the clinic's location. To find a clinic near you, go to the Bainfield website and use the convenient location guide, which indicates where a facility is located in a PetSmart store.
Bainfield offers a suite of wellness packages or Optimum Wellness Plans designed to help owners afford veterinary care. The price depends on the type of pet you have and their age.
You pay for wellness plans in monthly installments, and they include your pet's recommended vaccinations, unlimited veterinary consultations, preventative care, and some types of tests. You'll also get a discount on products and services not included in the package. It's also possible to pay for your pet's veterinary care the old-fashioned way for services rendered and received. Read on for more information about how much routine care costs in Banfield Hospital clinics at PetSmart.
Standard Vet Procedures by Region for Dogs
Procedure
West Coast
East Coast
Midwest
Office Visit
$71.95
$67.95
$63.95
Rabies Shot
$27.72
$27.05
$26.08
Professional Teeth Cleaning
$408.95
$394.95
$373.95
Neuter Package (6+ months)
$500.95
$488.95
$470.95
Neuter Package (less than 6 months)
$429.95
$418.95
$403.95
Spay Package (6+ months)
$527.95
$589.95 (50+ lbs)
$514.95 (less than 50 lbs)
$568.95 (50+ lbs)
$496.95 (less than 50 lbs)
Spay Package (less than 6 months)
$457.95
$446.95
$430.95
Standard Vet Procedures by Region for Cats
| | | | |
| --- | --- | --- | --- |
| Procedure | West Coast | East Coast | Midwest |
| Office Visit | $71.95 | $67.95 | $63.95 |
| Rabies Shot | $27.72 | $27.05 | $26.08 |
| Professional Teeth Cleaning | $408.95 | $394.95 | $373.95 |
| Neuter Package (6+ months) | $275.95 | $269.95 | $259.95 |
| Neuter Package (less than 6 months) | $221.95 | $215.95 | $208.95 |
| Spay Package (6+ months) | $374.95 | $365.95 | $352.95 |
| Spay Package (less than 6 months) | $318.95 | $310.95 | $299.95 |
Additional Costs to Anticipate
Generally, if your pet is healthy, you probably won't have many additional costs to worry about. If you have a cat, plan on adding the cost of regular feline distemper and feline leukemia vaccinations. Most veterinarians suggest that dogs should be vaccinated against Lyme disease, bordetella, leptospirosis, and divalent influenza and receive a DAPP shot in addition to the standard rabies inoculation.
If your vet discovers something concerning during a wellness check, they might order additional testing such as x-rays, blood work, urinalysis, or a fecal examination. If your pet isn't feeling well and you take them to the veterinarian to address a specific issue, your buddy may need more expensive tests such as an ultrasound or endoscopy.
Pets that have been in an accident and suffered trauma or those that ingested a toxic substance will often need to be seen immediately. Emergency veterinary visits are notoriously expensive, and it's wise to have pet insurance to help defray the cost of costly procedures of hospital stays.
The Importance of Regular Veterinary Visits
It's important for cats and dogs to have a yearly checkup with the veterinarian. During an annual visit, the veterinarian will check your pet's temperature and weight, ensure they don't have fleas or other parasites, listen to your pet's heart and lungs, and check your pet's joints, coats, and teeth. If everything goes well, your pet will get its scheduled vaccinations and be on its way home.
Kittens, puppies, and senior animals require more frequent trips to the vet. Kittens need a series of vaccinations when they're between 8 and 12 weeks old, and puppies must return to the veterinarian at least four times for vaccinations during their first year.
Kittens and puppies will also need to visit the veterinarian to be spayed or neutered. Senior dogs and cats need to be seen by a veterinarian at least twice yearly for their regular wellness check-ups. Most owners of senior dogs and cats have their pets seen for issues such as lameness, unexpected weight loss, anorexia, and other conditions that crop up as pets get older.
How Often Should I Take My Pet for a Vet Visit
Adult cats and dogs should be seen at least once a year when they're healthy. Kittens and puppies need check-ups every 3–4 weeks until they're 16 weeks old and may need to come back after that to be neutered or spayed. Large breed puppies need to be monitored closely until they stop growing, around 18 months, to ensure they're not gaining weight too quickly or at risk for developing diseases such as hip dysplasia.
Some veterinarians suggest scheduling visits every 6 months for senior cats. Once your pet gets a bit older, your veterinarian will most likely recommend semi-regular blood tests to check for liver and kidney issues. Addressing dental hygiene can also take on more urgency as older pets suffer from tooth issues that can make it difficult for them to eat.
Does Pet Insurance Cover Vet Visits at PetSmart?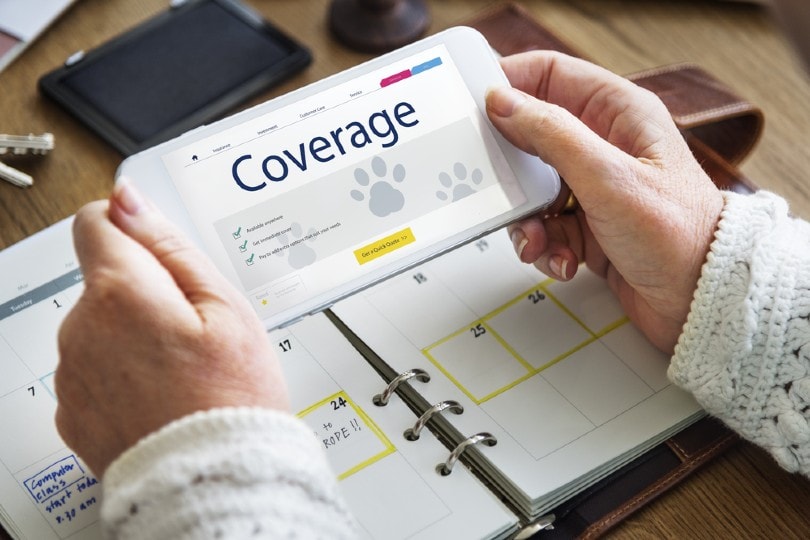 Yes. Most pet insurance plans allow you to visit whatever veterinarian you'd like, after which you submit a receipt for reimbursement. There are several plans to choose from, some of which cover routine wellness visits and vaccinations, and others are designed to cover emergencies and serious surgeries. Many programs that don't have wellness coverage as part of their core package have an add-on that will reimburse you for annual examinations and vaccinations.
Some factors to consider when selecting a plan include the deductible you're interested in paying and the percentage of the services that will be reimbursed. Make sure to spend some time reviewing the policy's fine print. Many policies have exclusions for pre-existing conditions or windows of exclusion where they essentially won't pay for treatment related to a condition discovered in the 30 days before you purchased the insurance.
Bainfield also offers its own wellness plan for cats and dogs. It won't cover emergency care or treatment for severe medical conditions, but it's an excellent option for managing the cost of preventative care. Participation in the plan also gives you access to specialized information on issues such as training and nutrition and an app that provides veterinarian-approved answers to your most pressing health question.
What to Do for Your Pet's Health Between Vet Visits
Not only do pets require high-quality medical care to thrive, but they also need love, physical and mental stimulation, and high-quality food. Cats and dogs form deep bonds with humans and often suffer deeply when left alone for too long. Breed-appropriate playtime is critical to ensuring your furry friend gets enough exercise to keep their body happy and their minds engaged.
Training is a great way to provide mental stimulation for both cats and dogs. It's also a fantastic way to keep your furry friend engaged and out of trouble. Believe it or not, training can drastically reduce undesirable behaviors that often result in trips to the veterinarian.
Cats and dogs, just like humans, thrive when eating a diet of high-quality food full of whole ingredients without fillers and artificial ingredients. Pets have specific dietary needs that are easy to accommodate with commercial foods that meet Association of American Feed Control Officials (AAFCO) guidelines. There are options for senior pets, indoor cats, high-activity large dogs, and every other combination you can imagine. Giving your pet the nutrition they need can go a long way to keeping the veterinary bills under control.
Conclusion
PetSmart offers affordable veterinary care at stores throughout the United States through its partnership with Banfield Hospitals. The clinics provide a convenient way to meet your pet's medical needs, including annual wellness check-ups, vaccinations, and referrals. Bainfield even offers a wellness plan for preventative health services provided at PetSmart stores. Depending on your location, there are slight differences in costs for typical procedures, but the price variations are relatively minor.
---
Featured Image Credit: PetSmart (Anthony92931, Wikimedia Commons CC BY-SA 3.0)