How Much Does It Cost to Own a Dog in the UK? (2023 Price Guide)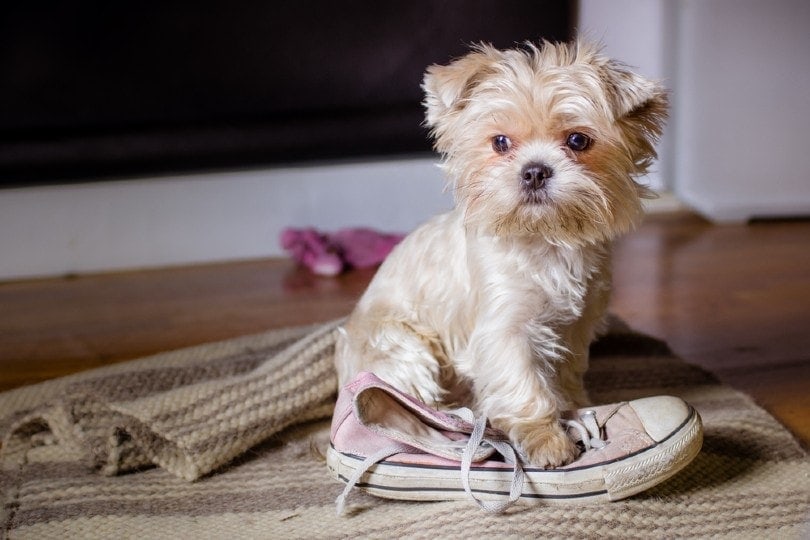 Welcoming a new dog into your family means taking on a new responsibility, and stepping into dog parenthood can be both exciting and scary. Whether you have been given a dog, are planning to adopt one, or have chosen to buy a puppy from a breeder, you are responsible for their wellbeing and need to create a safe, entertaining, and loving environment for them. Of course, creating a good home comes with a price attached to it, and owning a dog is a huge financial commitment.
To make things easier, we're going to guide you through the process and discuss what you'll need to purchase for your new dog and how much you're likely to pay for their care each month. However, one dog parent may pay much less than another due to their lifestyle, location, and their dog's needs.
Even the type of dog breed you have can affect your monthly costs. For example, a large breed female dog will cost more to spay than a small male dog will cost to neuter. But don't stress; there are numerous ways to keep your costs as low as possible.

Bringing Home a New Dog: One-Time Costs
Before you bring a new dog home, you'll need to create an environment for them that contains all the things that they'll need. Most of the big items you get will be a one-time expense because you shouldn't need to replace them unless it's ripped or chewed apart. A few examples of one-time costs will be a dog bed, dog carrier, brush, collar, and leash.
If you've had a dog before and already have a few of these items, you can pass them down to your new dog instead of purchasing a brand-new one, as this will save you some money.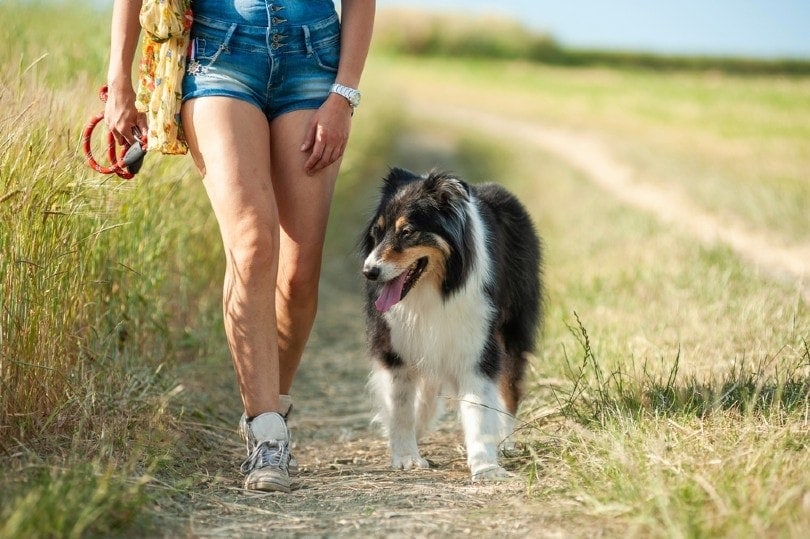 Free
If you didn't have to pay for your puppy or you're considering taking in someone else's dog for whatever reason, you're going to save a lot of money. But maybe not as much as you may think.
Even free puppies need their primary vaccinations, flea and tick treatment, microchipping, and a large range of new equipment, tools, and toys. If you're taking in an older dog, you'll need to make sure they're up to date with their booster shots and have been spayed or neutered. You'll also need to consider pet insurance to save you from large vet bills when an emergency strikes.
Adoption
£150–£260+
Dog adoption is important. Not only are you giving a new, loving life to a homeless dog, but you're making room for another homeless dog to take your dog's place at the shelter to ultimately be adopted too. Dog adoption is a cheaper option than buying a puppy from a breeder, but there are costs involved.
You can pay around £200 for an adult dog from a shelter and around £260 for a puppy. This price covers the cost that the shelter paid for your dog to be vaccinated, microchipped, and spayed or neutered. Although there may not be much, you'll also receive all the information the shelter has on your dog. Some shelters even send your dog home with a new lead, collar, and food.
Breeder
£1,000–£4,000+
Unfortunately, getting a puppy from a reputable breeder is very expensive, especially since the Covid19 pandemic. The pandemic resulted in many more people turning to pets for companionship, which has created a higher demand on breeders, allowing them to push up their prices.
How much you pay for your puppy will depend on the breeder you get them from and the type of breed you want. Popular breeds will cost the most, and you can expect to pay anything from £2,000 for one.
Although much more expensive, going through a breeder has its benefits. You'll get the exact type of dog you want with the temperament and size you desire for your family. Your puppy will likely come already socialized and trained to some degree. They'll have their health checked, and you'll know all about their family's medical history.
Initial Setup and Supplies
£320–£729+
A few of the most important items you'll need to buy before your puppy arrives home are a bed, collar, ID tag, leash, puppy pads, food, a carrier, and toys. A collar and ID will ensure that if your puppy escapes, you'll be able to find them. A leash is necessary to exercise your dog to release their energy. A bed will provide your new dog with comfort and security. Puppy pads will help your dog with potty training, and toys will keep them occupied and prevent them from chewing on your carpets and furniture.
After your puppy has settled in, you can have them vaccinated, microchipped, and neutered, which are one-time vet costs.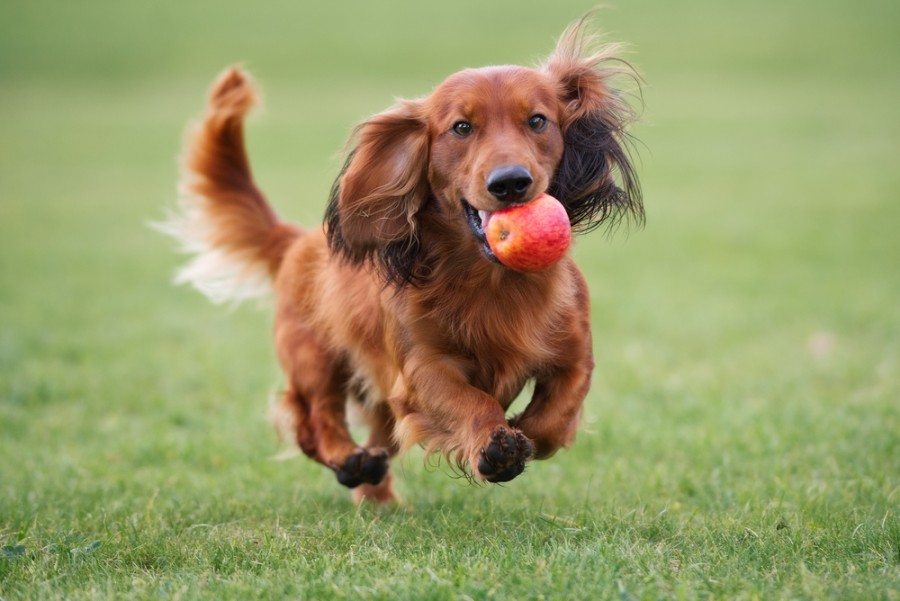 List of Dog Care Supplies and Costs
| | |
| --- | --- |
| ID Tag and Collar | £13–£24 |
| Dog Leash | £7–£12 |
| Spay/Neuter | £175–£350 |
| Puppy Vaccinations | £38–£122 |
| Ultrasound Cost | £215–£430 |
| Microchip | £18–£34 |
| Teeth Cleaning | £100–£500 |
| Puppy Pads | £9–£16 |
| Bed | £10–£45 |
| Nail Clipper | £4–£10 |
| Brush | £5–£14 |
| Toys | £5–£13 |
| Carrier | £18–£40 |
| Food and Water Bowls | £8–£25 |
How Much Does a Dog Cost Per Month?
£50–£250+ per month
Health Care
£45–£250 per month
Your dog's health is your highest priority. It's also where most of your money for your dog will go to. Health care refers to the type of food you put into your dog's body because it'll affect their coat, skin, development, and energy levels. Grooming keeps your dog's coat, nails, ears, and teeth clean, and pet insurance ensures that your dog will receive the vet care they require in times of emergency.
Food
£25–£75 per month 
There are so many great dog foods on the market, with many types to choose from. You could feed your dog commercial food, fresh or raw food, or dehydrated or freeze-dried alternatives.
What you feed your dog is up to you; just make sure that the first ingredient is an animal protein and that it includes fruits and vegetables. As long as the dog food is of high quality and is nutritionally balanced and complete, it should be good enough to feed your dog.
However, if your dog has special needs or health problems, you may be prescribed specialized dog food to help their bodies digest their food better or support their joints or coats. These types of dog food will be quite pricey, but your dog's health is the highest priority.
Grooming
£20–£75 per month
The larger your dog, the more you'll have to pay for grooming. Their behavior, age, coat length, and type are also factors that will affect the cost. Most dog owners pay around £43 per month to get their dog groomed, while others may take their dog once every two months–it all depends on your dog's coat and skin needs and their lifestyle.
Regardless of how frequently you take your dog to the groomer, you should brush their coat twice a week and brush their teeth daily.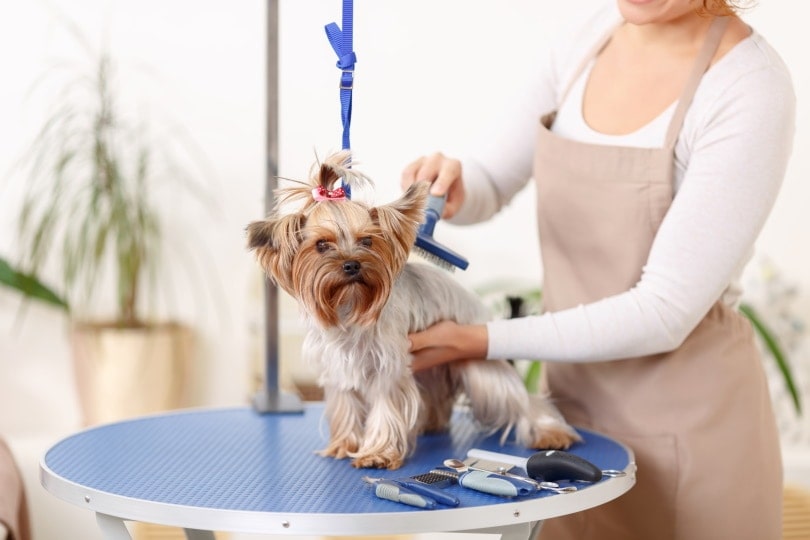 Medications and Vet Visits
£120–£950+ per month
Your dog doesn't only have to be sick to visit the vet. They may have to get their primary or booster vaccinations, receive their microchip, have their teeth cleaned, get neutered, or have a health check. Many of these procedures are essential to your dog's well-being but aren't covered by most pet insurance.
Although it may sound strange, you'll actually save money by not skipping over these procedures as they're preventative and can save you from paying out large vet bills in the future. For example, if you never take your dog for their vaccinations, they have a higher chance of picking up a life-threatening disease and requiring emergency vet care and treatment that will cost much more than a few vaccinations.
Pet Insurance
£6–£100+ per month
Pet insurance is designed to save you from having to pay out large sums of money to your vet when your dog encounters an injury or illness. It can save you from going into debt or losing your life savings. It also ensures that your pet will receive all the treatment and care they require to make a recovery.
There are various types of pet insurance policies available at different costs. You can choose to be on the most basic type that'll cover your dog if they're in an accident and pay a small fee. Otherwise, you can choose the most comprehensive option and receive higher coverage as well as other benefits.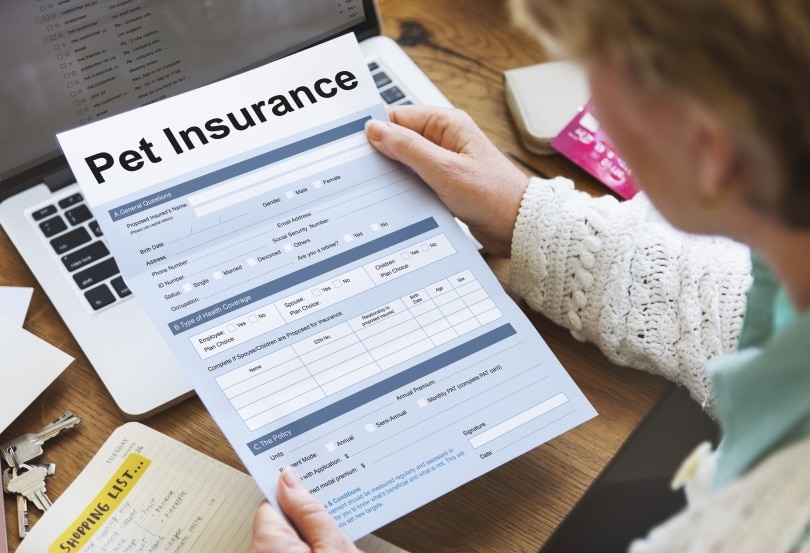 Environment Maintenance
£30–£40 per month
Thankfully, dogs don't require regular environmental maintenance, especially once they're potty trained. However, if your dog remains inside all day, you'll need to keep using them. Potty pads are absorbent pads that protect your floor from pee and poop when your dog has to relieve themselves. You should also consider getting an odor remover spray for when your dog does have an accident in the wrong spot. Poop bags will also come in handy.
| | |
| --- | --- |
| Puppy Pads | £13/month |
| Odor Spray | £9/month |
| Poop Bags | £9/month |
Entertainment
£30–£50 per month
There are many ways to provide entertainment to your dog. You could consider signing up for a monthly subscription box for them which is usually around £20. Subscription boxes often include toys, treats, chews, and a surprise item. These boxes will keep your dog interested in their toys instead of your shoes.
You could also book a pet sitter to come to your house, check on, and entertain your dog while you're at work. They charge around £10 per hour. You could also pay a dog walker to walk your dog every day if you don't have the time to do it yourself during the week. Although none of these ideas are necessary, they will provide your dog with entertainment and companionship while you are away from them during work hours.
Total Monthly Cost of Owning a Dog
£50–£250 per month
It's easy to rack up a high monthly cost when trying to provide your dog with the best lifestyle you can give them. Don't put too much pressure on yourself. As long as you can give your dog nutritious food, daily exercise, mental stimulation, and good health care, you're already doing an amazing job, regardless of whether you're paying the highest or lowest prices.
However, make sure to have extra money saved up somewhere for when unforeseen costs arise because life is unpredictable.
Additional Costs to Factor In
Although you may have jotted down all the costs throughout this guide and feel confident about your expectations, additional costs are inevitable. Emergencies arise, illness strikes, and accidents happen when you have a dog, and the best thing you can do is always have a bit of extra money saved aside.
If you need to travel for work or go on a vacation that doesn't accommodate your dog, you'll need to get someone to look after your dog while you're away. You can pay a dog sitter to look after them, or you can drop them off at a dog boarding facility. However, these will also be additional costs that you'll need to take into consideration.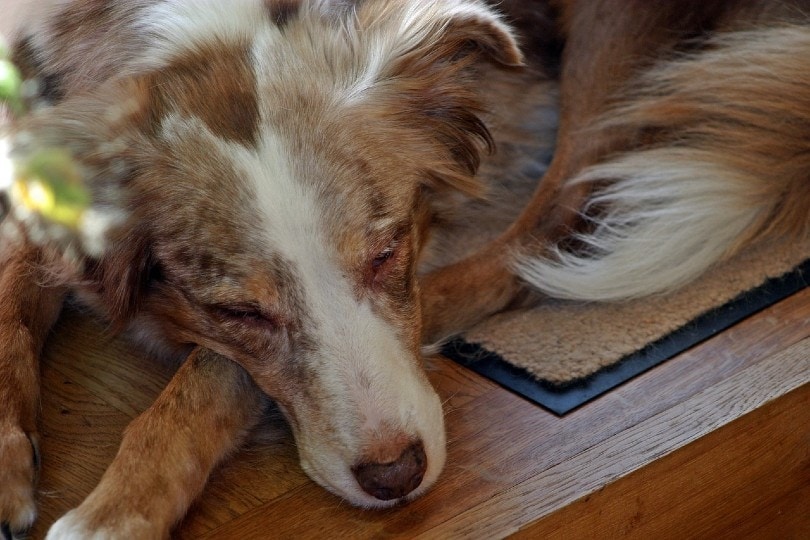 Owning a Dog on a Budget
It's clear that owning a dog is a big financial responsibility that continues from month to month. However, there are ways to bring your monthly costs down if you're on a budget.
Firstly, ask your friends and family if they have a secondhand dog bed or any other big item that typically costs a lot. You can also look for items at your local secondhand shop as they'll be a lot cheaper than if you buy them new. Make sure to wash each item thoroughly before you give it to your dog, to kill any bacteria that might be on it.
If you're confident enough, groom your dog yourself. You can learn how to do it properly by watching tutorials online. You'll need to buy the correct tools, but you'll save a lot of money each month by not taking your dog to the groomer.
If you're not confident about giving it a go, compare grooming prices and take your dog to the most affordable one. Avoid any fashionable cuts as they cost more.
When you have to travel without your dog, ask your family or friends if they can stay with your dog while you're away. They'll usually be happy to do it for free or at a lower rate than a pet sitter.

Summing Up
Dogs bring so much joy into our lives with their happy and affectionate personalities. As dog owners, we naturally want to provide our dogs with the best lives we're able to give them. Whether you're able to spend a large sum of money on your dog each month or are on a tight budget, giving your dog the love and care they need is of utmost importance.
The cost of your dog per month will be around £50–£250. However, there will sometimes be additional costs that you'll need to factor in. Where you live in the UK and the type of dog breed you have will affect your monthly costs, but there are many ways to keep costs low when you're on a budget.
See also: 
---
Featured Image Credit: rad fx, Shutterstock