How Much Does Nationwide Pet Insurance Cost? (2023 Update)
Most people agree that having pets is a life-changing experience. Pets, including dogs, cats, birds, and other animals, bring joy into your life. Of course, like any animal, pets can sometimes become ill or be involved in an accident. When they are, the cost of veterinary care to get them healthy again can be overwhelming, which is why many pet owners have pet insurance. The information below will be beneficial if you're a pet parent inquiring about pet insurance. To discover more and get your pet insured, read on.
The Importance of Nationwide Pet Insurance
Like any insurance policy, pet insurance will cover some of the costs when your pet becomes ill or gets injured. With more and more people living life on the road, having pet insurance that protects your pet nationwide is critical. Nationwide pet insurance will cover your pet's veterinary care wherever you go, from the east coast to the west. That can give you peace of mind that, if something happens, your precious pet will be covered.
Nationwide pet insurance is also important for you as a pet parent. The cost of veterinary care can be overwhelming, causing financial hardship for you and your family.
---
Other Top Rated Pet Insurance Companies
---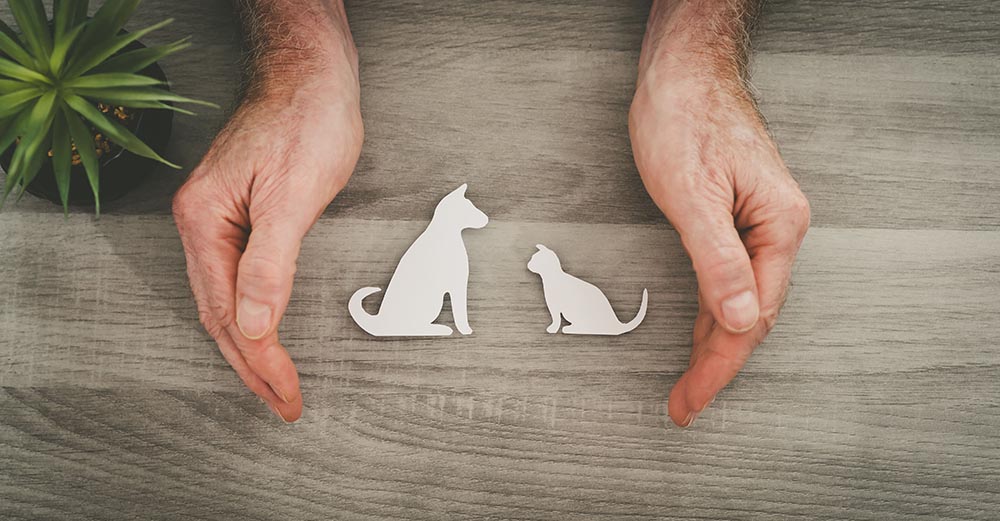 How Much does Nationwide Pet Insurance Cost?
Nationwide pet insurance isn't nearly as expensive as health insurance premiums for humans. Most nationwide pet insurance plans will cost between $30 and $100 per month, although those costs will change based on the pet, their age, breed, and several other factors. There are also different insurance plan types that will increase or decrease your premiums.
The three types of pet insurance include:
Wellness: This is for routine care, like yearly check-ups.
Major Medical: This policy covers accidents and some illnesses.
Whole Pet: This is unlimited insurance coverage for everything from checkups to serious illnesses.
The Cost of Nationwide Pet Insurance
| | | |
| --- | --- | --- |
| Type of Pet | Cost of Nationwide Major Medical Plan (Monthly plan) | Cost of Nationwide Whole Pet Plan with Wellness (Monthly plan) |
| Dog | $22 | $64 |
| Senior dog | $75 | $120 |
| Cat | $22 | $64 |
| Senior Cat | $25 | $51 |
| Bird and Exotic Pets | $22 | $64 |
Please note that all the above costs are starting costs that can change based on your specific needs and situation. The deductible you choose can also affect the cost. Plus, pets aged 10 years or older can't enroll.
Additional Costs to Anticipate
Typically, with pet insurance, the only additional cost you will have is the cost of your deductible. However, as with all insurance plans, most will not cover 100% of the cost of veterinary procedures. For example, Nationwide's Whole Pet with Wellness insurance plan and a $250.00 deductible will reimburse you for 90% of the veterinary care costs. The maximum reimbursement is not disclosed with their Major Medical insurance plan and a $100.00 deductible.
What Does Nationwide Pet Insurance Cover?
The procedures and care covered by Nationwide pet insurance vary based on your plan, pet, location, and other variables. Below is a list of what the three major plans cover and don't cover.
| | | | |
| --- | --- | --- | --- |
| Procedure or veterinary service | Whole Pet with Wellness | Major Medical with Wellness | Major Medical only |
| Accidents | Yes | Yes | Yes |
| Major Illness | Yes | Yes | Yes |
| Surgeries and hospitalizations | Yes | Yes | No |
| Vaccinations | Yes | Yes | No |
| Checkups | Yes | Yes | No |
| Chronic conditions | Yes | Yes | No |
| Hereditary conditions | Yes | Some | Some |
| Dental Cleaning | Yes | No | No |
| Cancer | No | Yes | Yes |
About Nationwide Casualty Company
Ranked in the Top 10 insurance companies in the United States, Nationwide has been in business since 1926. However, the company didn't start offering pet insurance until 2009, when they purchased Veterinary Pet Insurance Company.
Today you can purchase a pet insurance policy through Nationwide as an individual or get a policy through your employer. National Casualty Company is the underwriter for Nationwide, except in California, where Veterinary Pet Insurance Company still underwrites policies. One of the major differences between Nationwide and other insurance companies that offer pet insurance is that they cover birds and exotic pets, not just dogs and cats. Over 1 million pets across the United States are covered by a Nationwide insurance policy. Below are some of the Pros and Cons of using Nationwide:
Nationwide covers most pets, including birds, pigs, rabbits, and snakes
If you have more than one policy, several discounts are available
The whole pet policy offers comprehensive coverage
You can submit a claim through your smartphone
Nationwide has wellness coverage
Nationwide doesn't cover neutering or spaying
You can't add wellness coverage to some plans
Reimbursement for many illnesses and injuries is less than other insurance companies
To insure an exotic pet, you must contact Nationwide by phone
Slow response times
Pet Insurance vs. Wellness Plans
One question many have about pet insurance from Nationwide is the difference between wellness plans and pet insurance. With a pet insurance policy, your pet is covered if they have an accident or are diagnosed with an illness.
On the other hand, wellness plans cover your pet for routine healthcare and preventative healthcare, including annual checkups, vaccinations, teeth cleaning, and grooming. Most experts agree that having both policies for your pet is optimal if you can afford it.
Find The Best Insurance Companies in 2023
Final Thoughts
Pet insurance, like most insurance, can be a godsend if your precious pet is injured or becomes ill. There are three major types, and all three cover different procedures and services. The final cost depends on the type of insurance plan you choose and the monthly deductible.
We hope this information has been helpful and empowers you to make the best insurance choice for your pet. One thing is sure; if your pet is injured or becomes sick, having Nationwide pet insurance is much better than not having it and can save you from financial hardships.
---
Featured Image Credit: DGLImages, Shutterstock