GEICO Pet Insurance Review 2022 – Pros, Cons, & Verdict

Our Final Verdict
We give GEICO Pet Insurance a rating of 4.0 out of 5 stars.
Policy Coverage: 4.0/5
Customer Service & Reputation: 4.0/5
Claim Repayment: 4.0/5
Price of Policy: 4.5/5
Plan Customization: 4.5/5
GEICO Pet Insurance Review Summary
GEICO is easily one of the most known insurers in the nation, and they offer highly affordable and customizable pet insurance plans too. These plans are ideal for dog or cat owners who need to save money on their pet insurance. With plans in nearly every price range, just about anybody can find coverage that fits their budget with GEICO Pet Insurance.
However, GEICO is not the best option for all pet owners. Most importantly, they only cover dogs and cats, and their coverage for senior or sick animals is a bit lacking. Nonetheless, GEICO Pet Insurance can be a great way to save money so long as your pet is a young and healthy dog or cat.
All GEICO Pet Insurance services are handled through Embrace Pet Insurance. Embrace is known as one of the top pet insurers in the nation, but there is no benefit in signing up for Embrace Pet Insurance through GEICO. Expect to speak to Embrace for claims and customer service.
To find out more about GEICO Pet Insurance, keep reading. In this GEICO pet insurance review, we provide an extensive overview about GEICO Pet Insurance, including the pros, cons, and more. Let's learn more about GEICO Pet Insurance to determine if it is right for you and your pet.
GEICO Pet Insurance Review – A Quick Look
Affordable
Many discounts available
Customizable
Wellness coverage options
Some waiting periods
Policies are not serviced by GEICO
Does not cover pre-existing conditions
Only dogs and cats are covered
GEICO Pet Insurance Key Points
Choose Your Own Coverage
One thing that stands out for GEICO Pet Insurance is that there are many ways to combine GEICO's coverage so as to create your own coverage policy. There is one accident and illness plan, which is highly customizable and includes five annual limits, three reimbursement percentages, and five deductibles.
With that being said, there is no unlimited annual benefits. While this keeps premiums low, there is no option for unlimited coverage. The maximum coverage is up to $30,000, which does offer enough coverage for most pets. Additionally, coverage options are a bit more mediocre for senior pets or pets with incurable pre-existing conditions.
Affordability
In terms of affordability, GEICO Pet Insurance is tough to beat. They offer a variety of prices, ranging from cheap to expensive. Whether you need to save money or want to splurge on your pet insurance, GEICO has options that are suitable for everyone.
On the more affordable side of things, you can select a basic coverage that costs less than a dollar a day. If you have a bit more money to spend, you can select a Wellness Plan too.
Still, the monthly fee for GEICO Pet Insurance ends up making up for the money you save in terms of annual checkups and vaccinations. With this in mind, GEICO's Wellness Plan is a better way to budget for your pet's preventative care more than anything.
Embrace Pet Insurance
A negative aspect of GEICO Pet Insurance is that the policies are not serviced by GEICO. Instead, pet policies are administered by Embrace Pet Insurance. As a result, all claims and customer service issues are handled by Embrace, not GEICO.
Although Embrace has an A+ rating on Better Business Bureau, making them a top pet insurer, there is no reason or benefit to sign up for their services through GEICO.
What Does GEICO Pet Insurance Cover?
Covered
Dogs and cats
Accidents
Illnesses (not pre-existing)
Dental issues
Cancer
Not Covered
Birds, reptiles, and small mammals
Incurable pre-existing conditions or illnesses
Preventable diseases (such as when the owner failed to vaccinate)
Veterinarian recommends discontinuing treatment or authorization for humane reasons
Customer Service
Since pet insurance policies are not serviced by GEICO, their customer service is not either. Instead, customer services are carried out by Embrace. You can contact Embrace for policy support via phone or email Monday through Friday during their business hours. They are also available Saturday mornings. A 24/7 pet health line is available for emergency health advice and medical assistance via phone, video call, and chat.
Embrace's customer service is pretty extensive. The customer service representatives we spoke to were helpful. Though they were not the friendliest, they were nice enough and offered as prompt assistance as possible.
Pre-Existing Conditions
One of the biggest downsides of all pet insurance, including GEICO Pet Insurance, is that it does not cover any pre-existing conditions. In other words, GEICO will deny coverage for claims related to any illness or injury that began before the policy start date.
GEICO classifies any condition as pre-existing based on when the symptoms appeared. As a result, you do not have to have an official diagnosis from a veterinarian for a condition to be considered pre-existing. So long as the symptoms appeared before the start date, the claims are not covered.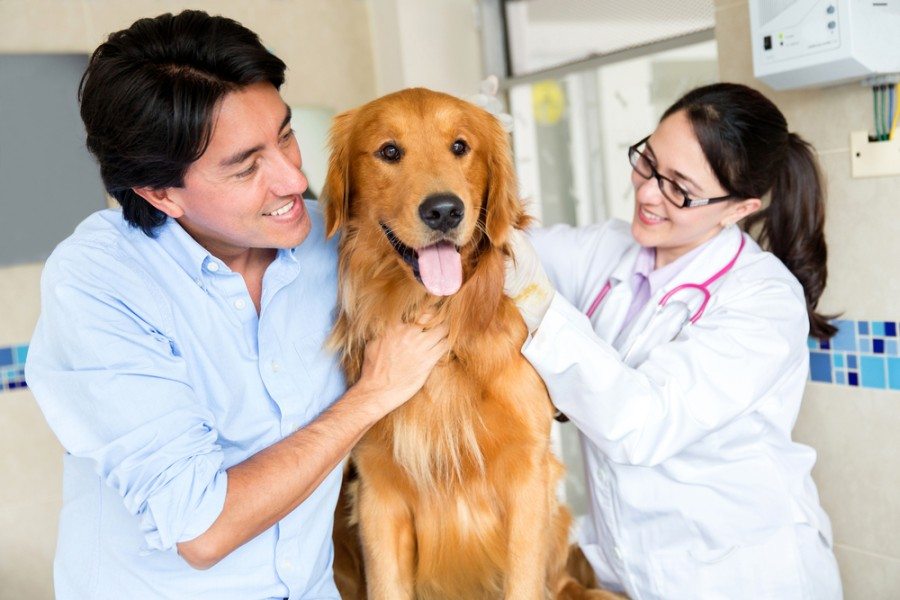 Waiting Periods
The waiting period refers to how much time you must wait before your coverage kicks in for your pet. Longer waiting periods can be a bit of a hassle if your pet gets injured shortly after starting your plan. Opting for shorter waiting periods means that your pet can be covered sooner rather than later.
GEICO offers some of the best waiting periods. For injuries, you only need to wait two days, whereas you will need to wait 14 days for illnesses. The longest waiting period is for orthopedic conditions. These conditions will not be covered until six months after you start your policy.
Pricing Quotes
| | | |
| --- | --- | --- |
| | American Pit Bull Terrier | Domestic Shorthair Cat |
| Male or Female | Male | Female |
| Age | 3 Years | 2 Years |
| Location | Virginia (22901) | California (90210) |
| Reimbursement Level | 80% | 80% |
| Annual Deductible | $10,000 | $200 |
| Annual Maximum | $750 | $15,000 |
| Price Per Month | $43.18 | $24.39 |

FAQ
What pets are covered by GEICO Pet Insurance?
GEICO Pet Insurance only covers dogs and cats. You will need to select a different insurer if you need insurance for birds, reptiles, small mammals, or other pet breeds.
What does GEICO Pet Insurance cover?
GEICO Pet Insurance primarily covers common conditions and health issues.
Most notably, the insurance covers the following:
Alternative therapies
Breed-specific conditions
Cancer treatment
Diagnostic imaging and testing
Emergency room visit
Specialist care
Surgery and hospitalization
Vet exam fees
You can also cover your prescription drugs and opt for Wellness Coverage for an additional fee. Of course, no pre-existing conditions are covered, as is the same with all other pet insurance varieties.
Does GEICO Pet Insurance come with discounts?
GEICO comes with cost-competitive rates, including multiple discounts. For example, GEICO offers a 10% discount when you cover two or more pets. You can also get a 10% discount if your business offers Embrace Insurance as a benefit. Active or previous military members can get a 5% discount too. All of the discounts are stackable in many states, leading to a maximum of 25%.
You can also save by paying at the beginning of each year. This will save you $12 plus waive the $25 administration fee, helping you save further.
How can I get a quote?
Because all GEICO's policies are handled by Embrace Pet Insurance, visit Embrace to get a quote on your pet's insurance.
How does GEICO compare to Nationwide?
GEICO and Nationwide are comparable in offerings and price. For example, both insurers offer Wellness Coverage, which is not found in other pet insurance options. Both are considered affordable pet insurers, but GEICO is much more customizable than Nationwide. GEICO also has shorter waiting periods.
The benefit of Nationwide is that they cover more pets. Whereas GEICO only covers dogs and cats, Nationwide covers dogs, cats, reptiles, birds, and small mammals.
What the Users Say
In addition to our own research and experience with GEICO Pet Insurance, we wanted to know what other users thought about this insurer. Finding out what other people think about GEICO Pet Insurance help us and you compare our findings to the findings of other users.
Overall, most users agreed with our general assessment that GEICO Pet Insurance is an affordable and customizable option for people on a budget. Users with young animals and animals with no pre-existing health conditions found GEICO affordable and customizable.
However, users who owned senior pets or pets with known conditions find GEICO unhelpful since GEICO does not offer good coverage for these pets. They recommend opting for a different pet insurer with more coverage if your pet is older or has known pre-existing conditions.
Something else that some users had a problem with was Embrace handling all the services. Although users found Embrace helpful, they thought that it made talking to representation or getting claims a bit more convoluted since you have to go through more hurdles to contact the right GEICO spokesperson.
With this in mind, users find GEICO Pet Insurance a good option for those looking to save a buck, but it is not the most comprehensive insurance for older or sick pets.
Our Verdict
GEICO Pet Insurance is a great option if you are looking to insure your dog or cat for cheap. Between the customizable plans, affordable price, and many discounts, GEICO Pet Insurance can help you save money if your pet is young and in good health.
However, GEICO does not come with great coverage for older pets or pets with known incurable conditions. If your pet falls under one of those categories, we recommend selecting a different pet insurer with more coverage. You will also need to select a different insurer if your pet is a bird, reptile, or small mammal.