How to Build a Dog Park in Your Community: Tips & Recommendations
Dog parks are fantastic additions to any community as they provide dog owners with a place to take their high-energy pups to exercise, play, and meet other dogs. If your neighborhood doesn't have a dog park, take matters into your own hands, and consider proposing one to your city officials. It's a lengthy process that requires a lot of patience, forethought, and work, but the result is more than worth the effort.
Read on for our step-by-step guide on how to start a dog park in your community.

How to Build a Dog Park in Your Community
1.

 Create a Group of Committed Dog Lovers
Create a group of other dog owners who would love to see a dog park go up in your community. These individuals can be people you already know, but you'll also want to put some type of notice out calling for like-minded people. You can post in local forums on Facebook or Reddit to find people interested in getting the ball rolling on this.
This core group will be responsible for meeting with the public officials, putting together presentations, and defusing any problems that may arise during the planning and building process.
---
2.

Choose the Best Location
The location of your future dog park is of utmost importance. A poorly located park will not only not get much use, but support for it will also be limited.
The ideal location is somewhere to the side or back of a community. It should be easy for people to find and access. It's best if the area is mostly grass-covered as grass is soft underfoot and provides naturally good drainage, but some communities have found that synthetic grass is worth the higher upfront cost. The bigger the space, the better, as it gives dogs more room to roam and allows more pups to use the area at one time.
Bonus points if the area is accessible to everyone, meaning there are no stairs or hard-to-manage hills.
---
3.

 Talk to Neighboring Properties
Once you've picked out a location suitable for your park, we recommend speaking to the people who live in that vicinity. Hopefully, the park will welcome many visitors daily, bringing more traffic and noise to the neighboring homes. Let the people who own properties in the area know about your plans and allow them to weigh in.
---
4.

Create a Budget
Creating a realistic budget will help you, other residents, and community officials know what to expect regarding a monetary investment for this endeavor. As easy as it may seem to get a dog park set up, there are many little things to consider that will add up over time.
You'll need to budget for the following:
Fencing
Construction work
Amenities (e.g., garbage bins, drinking water, benches, doggy waste bags, etc.)
Maintenance
---
5.

 Reach Out to the Appropriate Contractors
You'll need contractors to help get your dog park off the ground. They'll assist with installing the fence posts, construction and landscaping work to the site (if necessary), and plumbing for the hydration stations, just to name a few things.
Get quotes from several local contractors to include these in your dog park business plan.
---
6.

Write a Mission Statement
Your mission statement needs to detail the reason for the park's existence—to provide a safe place for dogs to exercise and socialize legally.
The more research you put into this statement, the more prepared and professional you will seem. Quote studies that tout the benefits of dog parks for pet owners, their dogs, and the community. It might look something like this:
Note: To develop a fenced-in park open where all well-behaved dogs and their owners can meet without endangering community members, personal property, or wildlife. To provide a safe and secure environment where responsible dog owners can exercise, train, and socialize their dogs off-leash.
---
7.

 Spread the Word
Now that you know what you want the dog park to look like and what it might cost to get it all up and running, it's time to get the backing of pet-minded folks in your community.
Talk to your local veterinary clinics, dog groomers, pet sitters, and other individuals or companies in your area you know have a deep-rooted love of dogs. Ask them for their input and support in getting this dog park off the ground. If they're interested in having a bigger role in the process, involve them in letter and petition writing and have them help contact local television stations and radio hosts.
---
8.

Generate Funding
Funding for your dog park can come from many places. You might run fundraisers like dog washes or costume contests or ask for donations from your community members. You can reach out to local businesses, such as pet stores, to ask if they'd like to allocate some funds to go toward the park in return for brand exposure. For example, they can have their logo printed on doggy waste bags you'll supply at the park.
---
9.

 Create Designs for the Park
There are several things to consider once you enter the design creation phases for your dog park.
Your fencing should be higher than four feet, closer to six feet high. Large breeds can easily scale fences any shorter than that. A chain link fence is the most cost-effective and safe option.
All entrances must be double-gated to prevent escapes and give owners a spot to remove their pup's leash before letting them loose.
Some parks have separate spaces for small and large dog breeds. This is worth considering as it can be a safety concern to have larger dogs playing too aggressively with smaller ones.
Some dog parks are just that—a green space where dog owners can congregate and allow their pets to roam free safely. But, if you want to take yours up a notch, you might consider investing in equipment.
Agility equipment like jumps, platforms, hurdles, and tunnels are great because they promote exercise and allow dogs to work on their confidence and strength.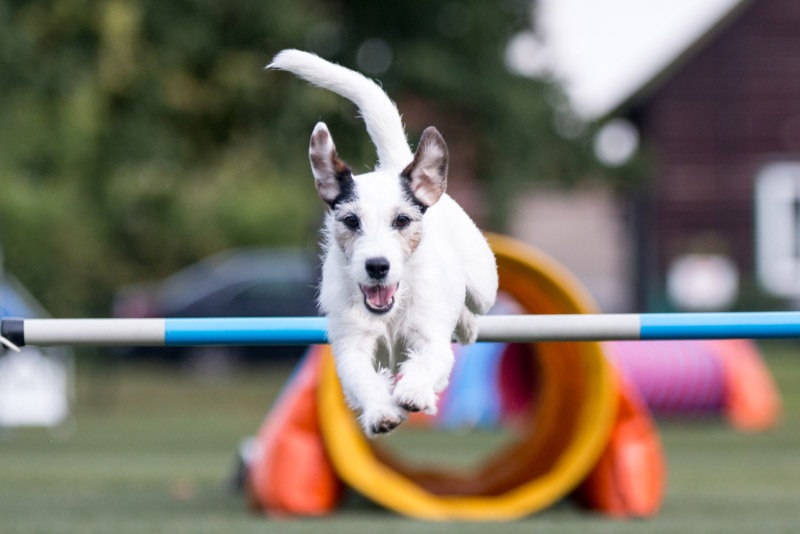 You should have clearly defined rules and regulations for using the dog park near all entrances. Some examples of rules you might consider include:
Dogs must be up-to-date on all vaccinations.
Dogs exhibiting any signs of illness should not enter.
Owners are responsible for their dog's behavior.
Aggressive dogs are strictly prohibited.
Dogs must be spayed or neutered to enter the park.
Owners will clean up after themselves and their dogs.
Dogs are not to be left unattended.
The rules sign can also include the hours of the park.
A good dog park has benches or tables throughout and several spots that offer shade for hot dogs and owners to retreat to when the sun gets too toasty.
Your park should have at least one drinking fountain. If it's larger, two or more will be necessary. Opt for the styles that offer a fountain for both humans and dogs.
Garbage Cans and Waste Bags
Your park needs garbage cans and waste bags; otherwise, owners will have no place to dispose of their dog's waste or their own garbage. Set up several stations throughout your park to encourage visitors to clean up after their pets.
---
10.

 Create & Present a Proposal
Your proposal presentation should include everything we've covered: your goals for the park, budget, and maintenance plans. It should mention the overwhelming support you've gained from the neighboring communities, fellow dog owners, and pet-centric businesses.
Next, present your proposal to your city's local government. Request a hearing so you can go over the document in-person. Bring along a few other group members to help support you and articulate the need for the park.
Be prepared to address questions and common concerns, such as dog bites, noise level, parking, and traffic.
---
11.

Practice Patience
Dealing with any level of government is never fast or easy. There are many hoops to jump through and much red tape to deal with, but don't give up. Follow up with the folks you presented your proposal to via phone calls and e-mail a week or so post-proposal.
Keep an open mind throughout the negotiation process, and always be willing to compromise.

Final Thoughts
Getting a dog park built in your community is a lengthy and arduous process, but it's more than worth the effort. With good planning, patience, group input, and a focus on your goals, planning and creating a dog park will be a fun, productive, and rewarding experience that'll only enhance your community.
---