How To Harness Train A Cat: 5 Essential Tips & FAQs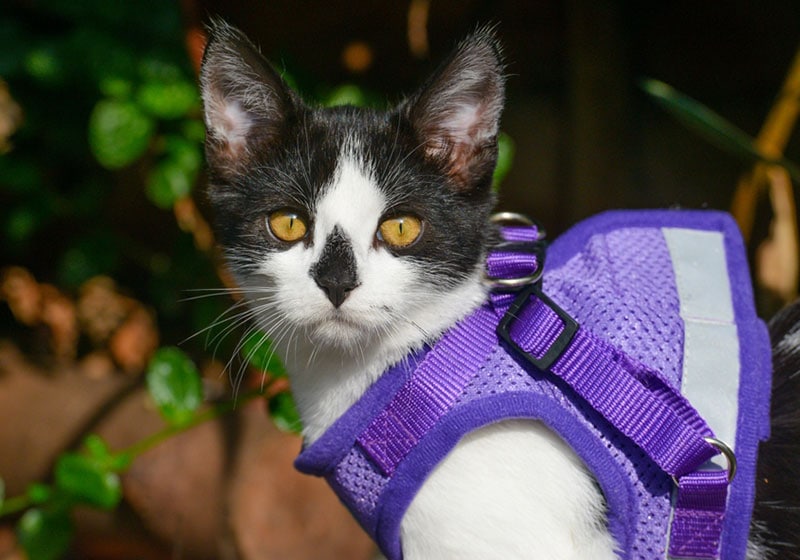 Cats benefit from time spent outdoors. However, letting your cat roam freely has its risks. Cats who are outside unsupervised can get hit by a vehicle or attacked by another animal. The solution? Walking your cat on a leash.
While you can connect a leash to a dog's collar, the same is not true for cats. A cat's agility and anatomy require a harness for proper control. But getting your cat used to wearing a harness can take some time and patience. Below are five expert tips on how to harness train your cat, so you can spend time outside.
The 5 Essential Tips on How to Harness Train a Cat
1.

Buy a High-Quality Cat Harness
You don't want to skimp on quality. A poorly-made cat harness may fall apart and be uncomfortable to wear. Before you purchase a harness, read through online reviews. You can also get recommendations from fellow cat owners.
Measure your cat carefully before buying a harness. You may need another person to hold your cat while you take measurements. You will need their neck and chest circumferences. You may also need to measure the length of their spine.
Tips for Success
Contact the retailer or harness manufacturer if your cat falls between two sizes. Whether you size up or down will depend on the stretchiness of the material.
---
2.

Let Your Cat See and Sniff the Harness
You're not putting the harness on your cat just yet. Leave the harness where your cat can sniff it and get used to it. Next to their food dish or by their bed are good places. Remember, your cat has no idea what the harness even is. They need a chance to see it as part of their surroundings before they wear it.
Tips for Success
Your cat may find the scent of a new harness to be foreign or off-putting. You can make the harness smell like you by wrapping it overnight in a shirt you've worn.
---
3.

Put the Harness on Your Cat
This step is where you praise small gains. Put the harness on and then give your cat a treat. Encourage them to walk around by putting treats or food around the room. You can also check the fit of the harness and make any adjustments.
Don't rush into this phase of harness training. The goal is that your cat will be curious or at least ambivalent about wearing a harness. Forcing your cat won't work to your benefit.
Tips for Success
Cat harnesses can be confusing to put on correctly. You'll know your cat has their harness on the right way if the leash hook is on their back.
---
4.

Have Your Cat Wear the Harness for Brief Periods
Once you feel confident putting the harness on and taking it off, it's time to let your cat wear it for a bit. Let them walk around the house and get used to the feel of the harness. Make their time wearing the leash pleasant. Pet them, play with them, and give them a special treat.
When starting out, don't leave the harness on for more than a few minutes at a time. Slowly work your way up to the length of a walk.
Tips for Success
You should always supervise your cat when they have their harness on. A harness can get caught on furniture or other obstacles, trapping your cat.
---
5.

Connect the Leash to the Harness
The whole point of harness training your cat is so you can walk them on a leash. Start by walking your cat on a leash while still indoors. That way, you can troubleshoot any issues while your cat is in a secure area.
Congratulations on making it to the finish line! Now you and your kitty are ready for outdoor adventures.
Tips for Success
Don't let the leash be an afterthought. You want a sturdy leash that feels good to hold and is the right length. Too long, and you won't be able to control your cat. Too short, and you'll be stepping on your kitty.
FAQs
How Long Does It Take to Harness Train a Cat?
It's difficult to predict how long it will take to harness-train your cat. The process may go faster for kittens and cats who are used to being handled. In the end, your kitty will decide how long it takes!
Can You Harness Train an Adult Cat?
You can, but it may take a little longer. Hesitant adult cats should not be rushed. Give yourself and your cat plenty of time. Feeding an adult cat high-value treats and letting it play with special toys can make them enjoy (or at least tolerate) wearing a harness.
Why Do Cats Crawl or Freeze When You Put a Harness on Them?
Don't be surprised if your cat acts downright goofy when it first wears a harness. Crawling low to the ground or freezing in place are signs that a cat isn't used to wearing anything on its body.  You can encourage your cat to move by placing treats a few feet in front of them. Or, you can entice them to move around by waving a wand toy.
What Is the Best Style of Cat Harness?
Cat harnesses come in two basic styles, loop and vest. Loop harnesses are connected straps that fit around the cat's neck and chest. Vest harnesses are exactly what they sound like, little kitty vests.
The "best" harness is the one that your cat will wear. Don't skimp on quality or be afraid to experiment with both styles.
Conclusion
Getting your cat used to wearing a harness can take time. You can set yourself up for success by purchasing a well-fitting harness and showing lots of praise throughout the process. Let your cat dictate how fast you move through the five steps we've listed above.
---
Featured Image Credit: