How to Pick Up & Hold a Dachshund in 10 Simple Steps
If you're new to dog parenting, picking up a dog for the first time can feel intimidating, but not to worry—a bit of practice and you'll get it just right in no time! Picking up and holding a Dachshund correctly is important because they can be prone to intervertebral disc disease1 — a degenerative spinal cord condition.
In this post, we'll explain how to properly pick up and hold a Dachshund depending on where they are, whether that's on the floor or hanging out on the couch.
Click to Jump Ahead:

The 5 Steps for Picking a Dachshund up off the Couch
In some cases, you'll need to pick up your Dachshund while they're chilling out on the couch, simply because you need to move them for whatever reason. To do that, follow the steps below.
1.

Approach Your Dachshund
Approach your Dachshund on the couch to gauge the kind of mood they're in. If they growl at you, avoid picking them up. Try instead to tempt them off the couch with a toy or treat instead. If they seem relaxed enough to be picked up, go to the next step.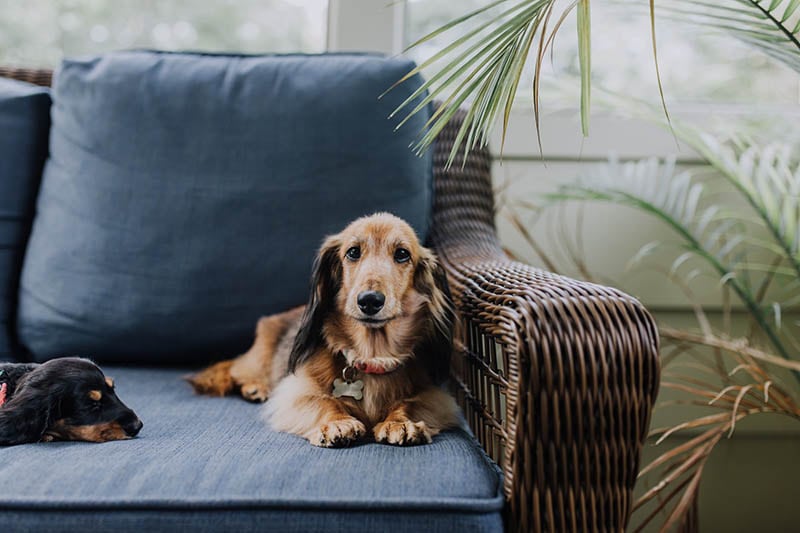 ---
2.

Place One Hand Behind the Front Legs
Put your first hand gently underneath your Dachshund at the front of their body, just behind the front legs and on the chest.
---
3.

Place the Other Hand on the Butt
Your second hand should go behind your Dachshund's rear end for support. Lift your Dachshund up and place them where you want them to go.
---
4.

Hold Your Dachshund on the Couch
If you want to sit down and hold your Dachshund after picking them up, hook your arm behind their front legs with your Dachshund resting in the crook of your arm. Hold the rear end with your other arm just in front of the back legs for support. Your hand should be on the side of their body close to the back legs.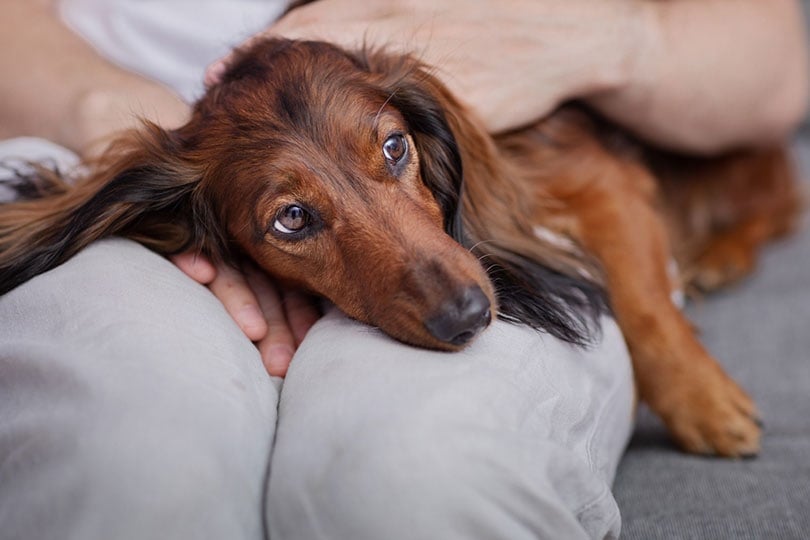 ---
5.

Stand Up and Hold Your Dachshund
If you want to stand up with your Dachshund in your arms, put one hand behind their front legs and the other hand on their butt. You'll want to go kind of between the legs but not too far, using the tail as a "barrier" between you and erm… the parts you don't want to touch.
Scoop your Dachshund up onto your lap, then, keeping one arm behind the front legs supporting the chest, place your Dachshund into the crook of your arm so they can rest their paws over your elbow.
Place your other arm under their butt, letting their rear end rest on your lower arm slightly. Place your hand in front of the back legs and hold for support. Once you've got your Dachshund in position, stand up.

The 5 Steps for Picking a Dachshund Up Off the Floor
If you are standing up and you want to pick up a Dachshund that's on the ground, follow these steps.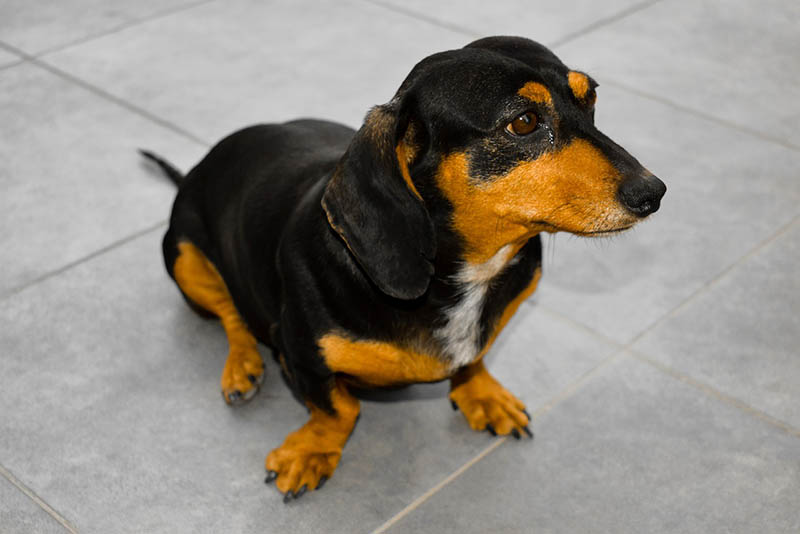 1.

Stand Beside Your Dachshund
Stand beside your Dachshund on whichever side you feel most comfortable picking them up from.
---
2.

Put One Hand Behind the Front Legs
Crouch down or lean beside your Dachshund. If it makes you feel more comfortable, turn your Dachshund around first into the position that best suits you. Then, as described in the couch tutorial, place one hand behind their front legs.
---
3.

Put One Hand Under the Butt
Again, you're going to want to place your second hand under your Dachshund's butt. Gently lift them up.
---
4.

Carry Your Dachshund
The way you hold and carry a Dachshund is a bit different from how you pick them up. Once you've picked up your Dachshund, hook your arm around your Dachshund's body and reach around, placing your hand behind their front legs on their chest for support. Place your free hand underneath your Dachshund's butt to support their weight.
If holding your Dachshund upright, be sure to keep their back straight and avoid letting them hunch over.
---
5.

Carry Your Dachshund with One Arm
To keep one hand free when holding your Dachshund, keep one arm hooked around their body with the hand supporting them on the chest behind the front legs. Rest your Dachshund against your hip and use the crook of your arm to support their whole body.

Conclusion
Picking up and holding a Dachshund when you're not used to it can sound a little complicated, but as long as you're supporting them from both ends and they're comfortable in your arms, you're doing fine! It may also take a little time for your Dachshund to get used to being picked up.
If you can, start picking them up and holding them as puppies. This way, they're lighter for you to practice on than a fully-grown Dachshund and they're more likely to be comfortable being held as they get older.
---