Is Wrightsville Beach Dog Friendly? What You Need to Know!

With a spacious beach and numerous fun activities, Wrightsville Beach, North Carolina, just east of Wilmington, is a popular destination for vacations and visits, especially for families. Whether you enjoy surfing, fishing, or sunbathing, Wrightsville beach is a spectacular place to visit. If your dog loves the sand and sea as much as you do, you may wonder if Wrightsville Beach is dog friendly.
We have both good and bad news for you. Dogs are permitted on Wrightsville Beach, but permission comes with conditions and restrictions that can result in a fine if the rules are not adhered to. So before you visit, it's essential to get familiar with the rules and regulations to ensure you can all have a great time.

Can You Take Your Dog to Wrightsville Beach?
You must visit during the off-season if you want to have fun on the beach with your furry friend. Sadly, dogs are not allowed on the beach during summer, even after the sun starts setting, which is usually allowed on other beaches. Even when dogs are permitted, from October through March, they must be leashed at all times. If you don't adhere to these rules, you are eligible for a fine of $250!
Other important guidelines to consider when visiting Wrightsville, with or without your dog, are:
Sea turtles nest on local beaches occasionally, and visitors are forbidden to collect, harass or harm them. This can be a big temptation for a curious dog.
Parking for visitors is available on a first-come, first-serve basis and may be limited during busy times.
Owners will need an appropriate container or bag to dispose of any waste properly.
Keep an eye out for hot sand. Even in the spring and fall, the sand can become hot and burn your dog's paws.
Pets are welcome at many motels, hotels, and vacation rentals in the Wrightsville Beach area!
What About Service Dogs?
A service dog must be trained to assist the owner with their disability, such as guiding a blind handler, pulling a wheeling chair, alerting a deaf handler, and protecting an owner who may be having a seizure.  A service dog is considered a working dog, not a pet, and emotional support and therapy dogs are not considered service dogs and are, therefore, not permitted.
All service dogs must be harnessed and leashed and be under control. If the handler's disability prevents them from using these devices, reasonable accommodations can be made. A service dog may be requested to leave the premises if it is not housebroken or out of control.
Top 3 Dog-Friendly Beaches Around Wrightsville
If the conditions for visiting Wrightsville beach are unsuitable for you and your companion, there are a few dog-friendly beaches close to and around Wrightsville that are worth a visit.
1.

Freeman Park
1801 Canal Dr, Carolina Beach, NC, US, 28428
Freeman Park on Carolina beach allows you to bring your dog while on a leash from April 1st to September 30th. You can let your friend run free from October 1st to March 31st, as long as you are nearby and your dog responds to voice commands.
---
2.

Topsail Beach
801 N Anderson Blvd, Topsail Beach, NC, US, 28445
Topsail Island is one of the most popular beaches for dogs in the Wilmington, NC, area. It's one of only two beaches in the area that allows dogs to run free during the off-season, as long as your dog responds to voice commands and is well-trained. However, from May 15th to September, all dogs must be on a leash in designated areas.
---
3.

Kure Beach
601 Fort Fisher Blvd S, Kure Beach, NC, US, 28449
Dogs are permitted on Kure Beach while on a leash from October to March but are not allowed on the beach from April to September. However, Fort Fisher State Park in Kure Beach, North Carolina, has a beach and allows leashed dogs on the beach all year.
Top 10 Tips to Keep your Dog Safe at the Beach
A visit to the beach is just as much, if not more, fun for your dog, but there may be some potential dangers that you, as a responsible dog owner, should be aware of.
1.

Don't allow your dog to drink the seawater
Ocean water is salty, and if your dog consumes too much salt, it can cause health issues and upset its stomach. Always make sure you bring fresh water and a water bowl along with you.
---
2.

Don't let your dog consume any food scraps
Food scraps like meat could be rancid, and bones can be a choking hazard. Furthermore, some human foods can be toxic to dogs. Always ensure you bring enough food and snacks for your dog when visiting the beach.
---
3.

Protect your dog from the sun
They can quickly get sunburned in sensitive areas of their bodies, such as their ears and nose.
---
4.

Be mindful of hot sand
If you have ever walked on hot beach sand before, you know how painful it can be. You can provide your dog with booties, which will also help protect them from sharp rocks and shells.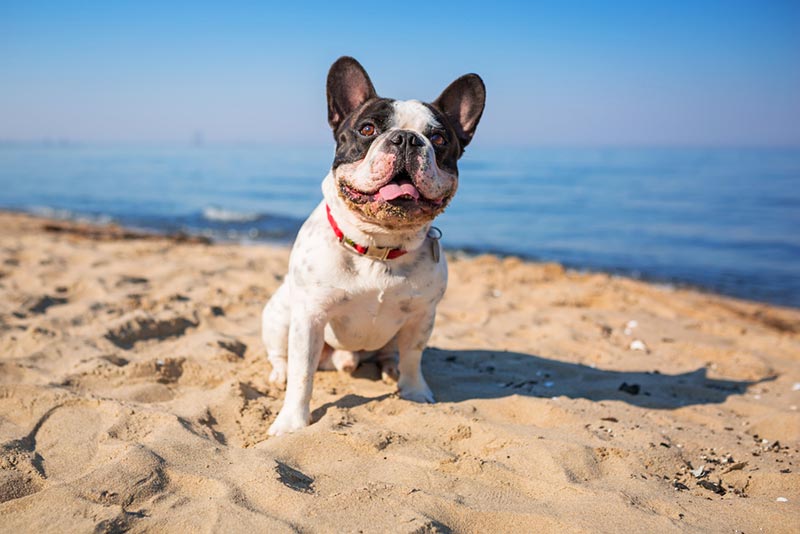 ---
5.

Even a well-trained dog will tire faster when swimming in the ocean, so always keep an eye on them
Also, try not to let them swim too far out because they don't understand the dangers of the currents or how tired they are until they have gone too far.
---
6.

If your dog loves water, consider a life vest
It will help keep them afloat and keep you at ease if your dog takes off into the water.
---
7.

Keep an eye out for sharp objects such as fishing hooks and broken glass
Keep checking on your dog to make sure it hasn't been injured.
---
8.

Take Breaks
With all the fun, excitement, and of course, the heat, it's essential to let your dog rest, cool down, and hydrate. It's helpful to bring along an umbrella in case there are no shady spots.
---
9.

Never let your dog wander off out of your sight
You never know what potential danger it may encounter.
---
10.

Wash all the sand and seawater off of your dog
Sand can get stuck in their fur, causing irritation and itchiness, while seawater contains a plethora of microorganisms. You know how your skin feels after a day at the beach, and a shower always makes you feel fresh and clean; the same applies to your furry friend.

Conclusion
Some dog owners wouldn't consider Wrightsville beach dog friendly because dogs are not permitted on the beach during summer. During the off-season, they are allowed on the beach as long as they have a leash. If you don't follow the rules, you could end up with a fine. These rules and regulations may make you feel like a different beach is a better option for you and your companion, so it's great that there are many beaches in the area and dog-friendly hotels and holiday rentals. You and your dog can enjoy the sand and surf in North Carolina, but make sure you take the necessary precautions to keep your companion safe!
---