11 Labradoodle Colors, Types & Patterns (With Pictures)

The Labradoodle is the original designer dog, and was created in 1968. A man called Wally Conron was tasked with finding a dog for a blind lady whose husband had dog allergies. So, he created the Labradoodle, and this is where our designer doggie love affair started.
The Labradoodle is an equal blend of both of his parents, the Poodle and the Labrador Retriever. But one thing is for sure, it inherits its loose curls from its Poodle parent. What it does share, though, is its beautiful array of colors. All are just as beautiful as each other, however, some are much rarer than others.
Like anything in this world, rarer things take a bit longer and require more effort to find, and they come with a premium price tag too. This is the same for some Labradoodle colors.
So, we have put together a complete overview of the Labradoodle's glorious array of colors, including everything that you need to know about them. So not only can you see what color choice you have, but you can also use this guide to help you ascertain what color your dog is.
Some colors are similar to others, and knowing the difference could save you a lot of dollars. Unreputable breeders will often label their dogs as a rare color when they aren't just to make a more substantial profit. So, being able to make the distinction is key.
Let's jump straight in and take a look at the 11 Labradoodle colors.

Labradoodle Color Variations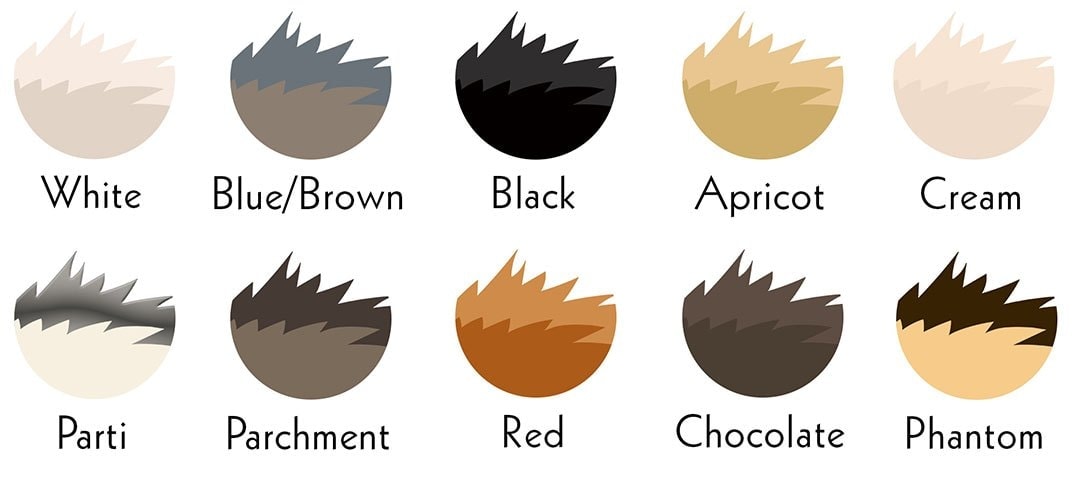 The 11 Labradoodle Colors
Cream
Gold/Caramel/Apricot Labradoodle
Black
Chalk White
Chocolate
Blue/Brown
Parchment
Parti Color
Phantom
Abstract
Red
So, now to get to the exciting part, the Labradoodle color spectrum. We have listed them into three categories: the most common, standard, and rare colors, so let's take a look.
The 3 Most Common Labradoodle Colors
Here are the three Labradoodle colors that will be the most commonly found within a litter. Even if neither parents are these colors themselves, they will make up a significant portion of the litter. These puppies are usually the lowest priced simply because of their "ordinary" color.
1.

Cream Labradoodle
Cream is one of the most common Labradoodle colors of them all. They are different from the white color pooches, but much lighter than the gold Labradoodles. The entire coat should be the same tone across his body, but some have a slightly darker shade around their facial features.
Just so you are down with the Labradoodle lingo, some breeders will refer to cream Labradoodles with a brown nose as "caramel creams."
---
2.

Gold/Apricot Labradoodle
Golden-colored Labradoodles are also referred to as apricot Labradoodles or caramel Labradoodles. They are slightly darker in shade compared to the cream pooches, but much lighter compared to the much rarer red color.
The color of Labradoodles that fall into this category is known to change as they grow older and can become lighter or darker. Their whole coat should be the same color throughout.
---
3.

Black Labradoodle
The entire coat should be black, and they will either have black or dark brown colored eyes to match their dark appearance.

The 5 Standard Labradoodle Colors
The following four colors are commonplace in a litter of Labradoodles. Although they are not as common as the above colors, they are much more common compared to the rarer Labradoodle colors. They are usually priced fairly average.
4.

White Labradoodle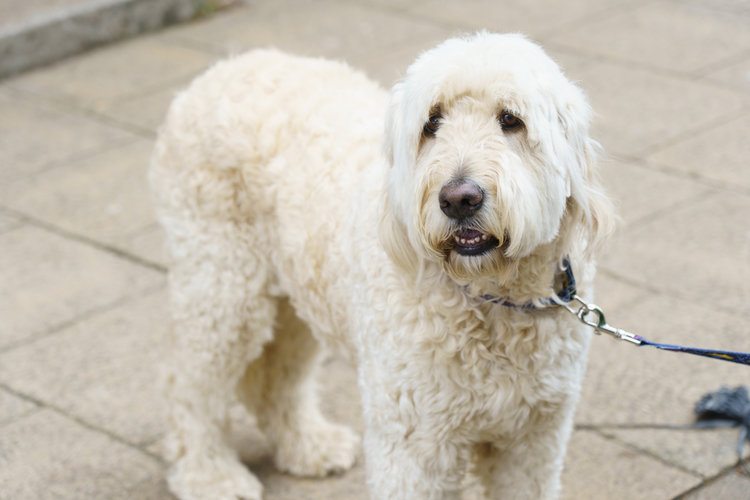 Chalk white is used to describe an off-white. If you were to stand them next to a brilliant white English Bull Terrier, they would almost appear cream. But they are lighter than the common cream Labradoodles.
Chalk-white Labradoodles should maintain the same shade across their body. But sometimes they will have a slighter deeper shade of chalk white around their facial features. Chalk white Labradoodles frequently suffer from tear-staining, which is common in many white or very light-colored dogs.
---
5.

Chocolate Labradoodle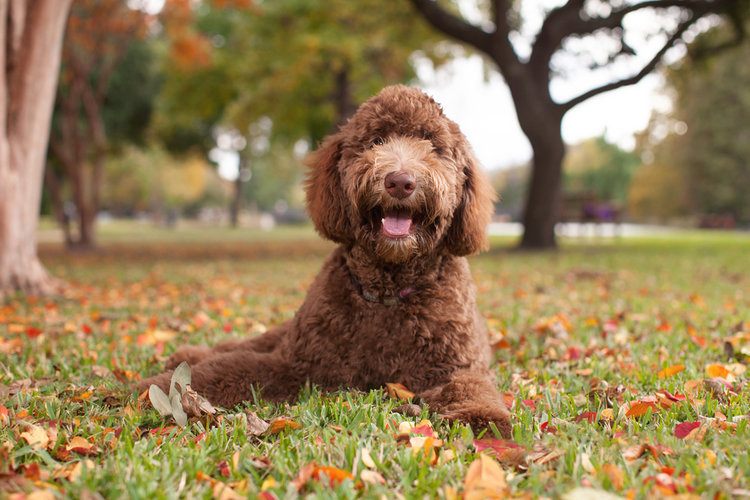 Chocolate Labradoodles are intensely rich in color, and they are a very different tone when compared to a pure black Labradoodle. They sometimes appear black at birth, but their true color will settle after a few weeks.
Those with blue-colored eyes are much rarer, and as such are priced slightly higher for their desired look.
---
6.

Brown Labradoodle
This is the diluted color that we mentioned earlier. It is much lighter than a pure chocolate brown Labradoodle. They are much darker in color when they are born, gradually lightening as they age. When they are older, their coat color will have a blue-gray tinge.
The blue eye color is rare in this color too, and so they are priced much higher compared to their brown-eyed siblings.
---
7.

Parti-Color Labradoodle
Nose Pigment
Any color similar to his coat
A particolored Labradoodle is generally a white-colored coat with large patches of one color. The most common patch colors are chocolate brown and red. Although, any color is accepted for him to be considered a particolored Labradoodle.
---
8.

Parchment Labradoodle
A parchment Labradoodle is the color of parchment paper or is sometimes described as the color of very weak coffee. It is a distinct color from cream or golden.
Although the color should be a consistent shade across the entire body, it sometimes has darker hair around its facial features and ears. Sometimes, the tips of the hair are much lighter than the base, giving them a two-tonal appearance.

The 3 Rare Labradoodle Colors
Now we are onto the rarer Labradoodle colors. Even if both parents are this color, it is unusual for their entire litter to be the same color as them. Sometimes unreputable breeders will claim that Labradoodles are rare colors when they are not. But still charging premium prices for them, so be sure to assess their color for yourself.
It is also common for unreputable breeders to mate rare colored siblings to increase the chances of having uniquely colored pups. But this is not ethical, and it decreases genetic diversity, which in turn can cause health problems. So be sure to speak to your breeder about their lineage.
9.

Phantom Labradoodle
This color is used to describe Labradoodles that have a distinct pattern. They have a base color, and the second color will be present above their eyes, to the side of their nose on their muzzle, chin, and across their chest.
Any color combination is accepted for them to be considered a phantom color, but they need each distinct marking described above. The most common color combination is black and gold.
---
10.

Abstract Labradoodle
The abstract color is just that, an abstract mix of colors that holds no real pattern. Any combination of colors is acceptable as long as they appear on this list. For them to be considered an abstract-colored Labradoodle, they must be less than 50% white, otherwise, they are a particolored pooch.
---
11.

Red Labradoodle
A red-colored Labradoodle is the rarest of them all. Much darker than a gold or apricot-colored Labradoodle, they are a similar color to an Irish Red Setter. To be a real red, their nose must be black, not brown. His entire coat should be red, and the hair needs to be the same shade from base to tip.
Red Poodles are rare, and red Labradors (also known as Fox Red Labs) are also limited. So finding a Red Labradoodle is even more extraordinary. As such, his pricing will reflect this.

Labradoodle Colors Explained
Although we all have our favorite colors, there are a few things that you need to consider. Firstly, the color should not be your entire basis for choice. Just because there is a pup in the litter that matches your best outfit does not necessarily make it the best match for you and your family. So, it is essential to look beyond the coat color.
A reputable breeder will pair you with the pup they think is the best fit for your lifestyle. For example, if you aren't the most active of families, they will not pair you with their most energetic pup. Even if that is the only color that you want in the litter.
Secondly, it is important to know that some coat colors can have an impact on the dog's health. For example, a recent study has shown that chocolate-colored Labradors have a significantly lower lifespan compared to their black and golden siblings. They also have a higher rate of skin and ear problems too.
White-colored and dilute colors in dogs are also believed to be linked to health concerns. For example, white dogs have an increased chance of deafness and blindness compared to non-white dogs. Diluted colors are also linked to a condition known as Color Dilution Alopecia, which is known to affect standard-sized Poodles.
Although this shouldn't deter you from getting a Labradoodle with these colors, it is something to be aware of. The majority of Labradoodles in these colors, if bred under a reputable breeder, will not be affected or unhealthy. But, if you do get a pup with these colors, make sure you are aware of the symptoms associated with their potential pigment-related conditions.

Final Thoughts
No matter what color Labradoodle you choose, or whatever shade your Labradoodle pooch grows into, know that you will have a beautiful and bouncy pup. They will brighten up your day for sure.
Always work with a reputable breeder, and no matter what color you choose, you should be the recipient of a healthy and happy pooch.
---
Featured Image Credit: joshborup, Pixabay