450+ Amazing Names for Labrador Retrievers: Ideas for Loyal and Loving Dogs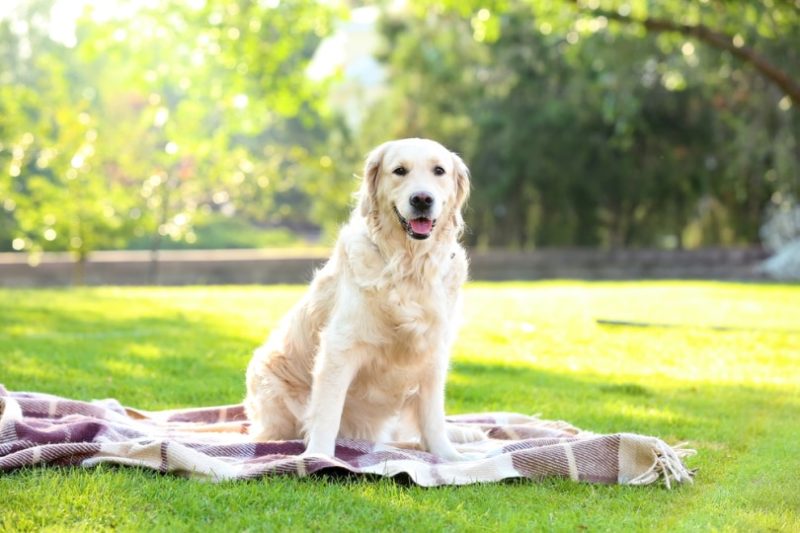 Adopting a dog is an exciting time in any new pet parent's life, especially when this new pet is an adorable Labrador Retriever puppy. You fill your home with food bowls, toys, beds, and leashes in preparation for your new pup's arrival, but one thing that is often left to the last minute is picking out the name.
Finding the perfect name for your new addition can be arduous as the possibilities are endless. You can turn to any page in the dictionary and choose a word to be your dog's name, but most people want a name that's meaningful in some way.
If you're feeling overwhelmed at the prospect of choosing a name for your new Labrador Retriever, we can help. Keep reading to find our exhaustive list of over 450 potential names for your precious new pooch.

How to Find the Perfect Name for Your Labrador Retriever
You'll be calling your puppy by its name for the foreseeable future, so you should aim to pick something you and your dog will like. You should keep several things in mind while searching for the perfect name.
First, how original do you want the name to be? Names like Bella, Max, and Luna are trendy for dogs for right. That doesn't mean you should steer clear of them if you love those names. Just keep in mind that any time you're at the vet's office or dog park, there are likely to be other dogs there with the same name.
Next, is it to you that your dog's name reflects its personality? Labrador Retrievers are known for their intelligence, athleticism, and cheerful demeanor. We have some great name ideas below based on the typical Lab personality traits.
You might also consider using your dog's appearance as inspiration for its name. There are six standard Labrador Retriever coat colors, so that's a great jumping-off point for your name search.
Keep in mind how the name sounds rolling off the tongue. It's best to choose a name with fewer syllables as it's easier for you to say and your dog to understand, too.
Famous Labrador Retrievers
Many celebrities have had Labrador Retrievers as pets, so you may just want to name your precious pooch after one of them. Below are some of the most famous Labrador Retrievers and their celebrity owners.
Buddy: Bill Clinton
Esmerelda: Anne Hathaway
Rex: Sarah McLachlan
Bubba : Minnie Driver
Marley: the inspiration behind John Grogan's autobiographical book Marley & Me
Widgeon: Prince William
Spinee: Sandra Bullock
Rosello: Hulk Hogan
Harvey: Prince Charles
Martha: Jennifer Garner
Flossie: Drew Barrymore
Luca: Mary Kate Olsen
Holden: Gwenyth Paltrow
Roger: Steve Martin
Major: Reese Witherspoon
Lord Chesterfield: Jennifer Aniston
Dexter: Dua Lipa
Dave: Dick Cheney
Gustav: Arnold Schwarzenegger
Inca: Ben Fogle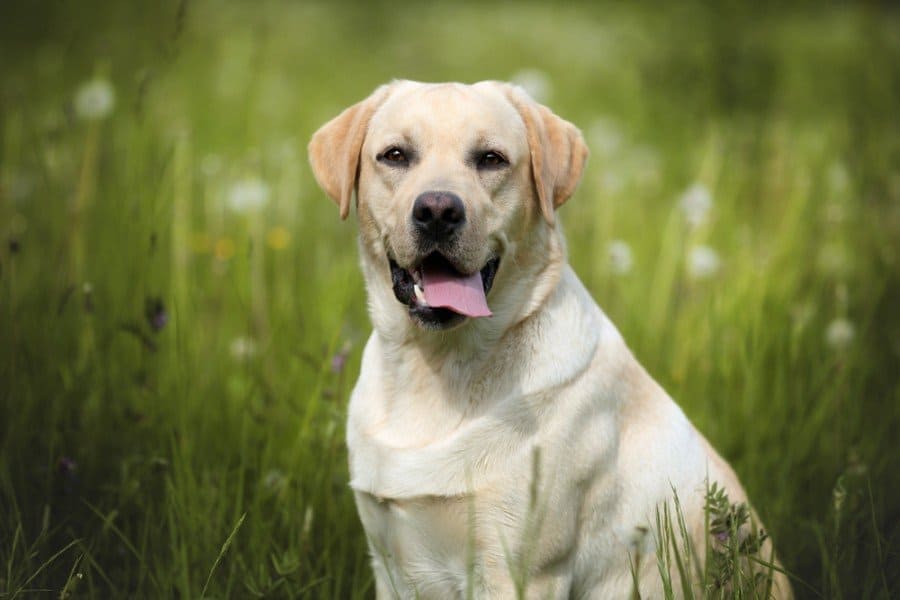 Labrador Retrievers in Pop Culture
Labrador Retrievers are a very popular dog breed, so it's only natural that they are used often in pop culture. Below are the names of some of the most prominent Labs you may have heard about in TV, books, and films.
Clifford: Clifford the Big Red Dog
Brian: Family Guy
Krypto: Superman
Labramon: Digimon
Luath: The Incredible Journey
Rufus: Red Dead Redemption
Mr. Peanut Butter: BoJack Horseman
Vincent: Lost
Digger: Road to Avonlea
Little Boo: Orange is the New Black
Spike: Old Yeller
Brandeis: Sesame Street
Wowser: Rascal
Zuma: Paw Patrol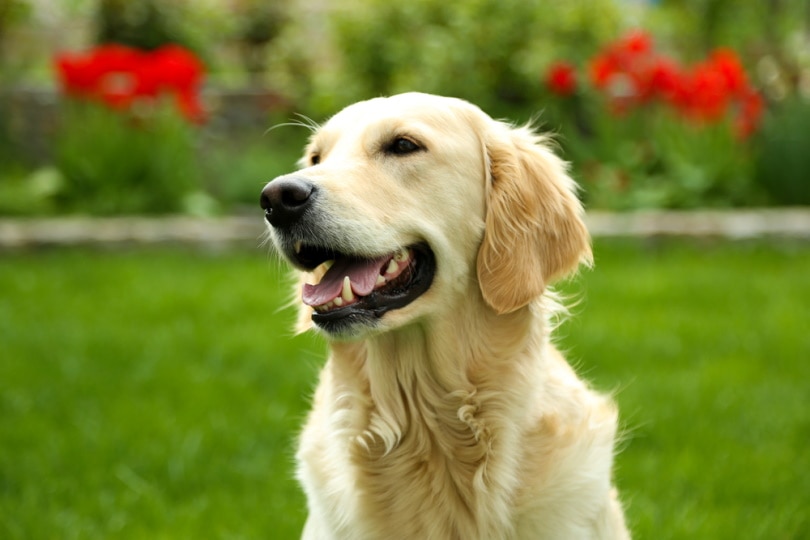 Labrador Retriever Inspired by Celebrities
If you're big into pop culture and the goings on in the world of entertainment, you might consider naming your new puppy after one of your favorite celebrities. Here are some of the best celebrity-inspired names for Labrador Retrievers.
Male Celebrity Names
Pacino
Elvis
Leonardo
Stallone
Clint
Brando
Heath
Jagger
Sting
Jackson
Depp
Clooney
Sylvester
Tarantino
Vin
Harrison
Cobain
Nelly
Swift
Axl
Prince
Bowie
Sinatra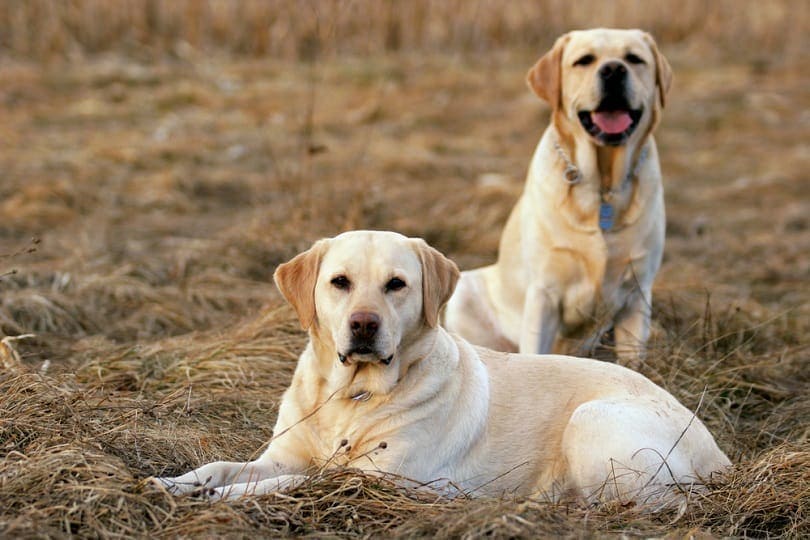 Female Celebrity Names
Beyonce
Oprah
Rihanna
Adele
Yoko
Venus
Marilyn
Jolie
Joplin
Mila
Santana
Lorde
Gaga
Fiona
Halle
Lupita
Gal
Zendaya
Priyanka
Miley
Paris
Lea

Labrador Retriever Names by Color
Labs come in six coat colors: black, red, yellow, brown, white, and silver. You may wish to use your pup's coat as inspiration for its name. Let's take a closer look at some of the best color-themed names for Labs.
Black
Ebony
Shadow
Jet
Guinness
Ember
Nightshade
Midnight
Bear
Coal
Pepsi
Cola
Velvet
Thunder
Storm
Graphite
Soot
Morticia
Blackberry
Darth
Onyx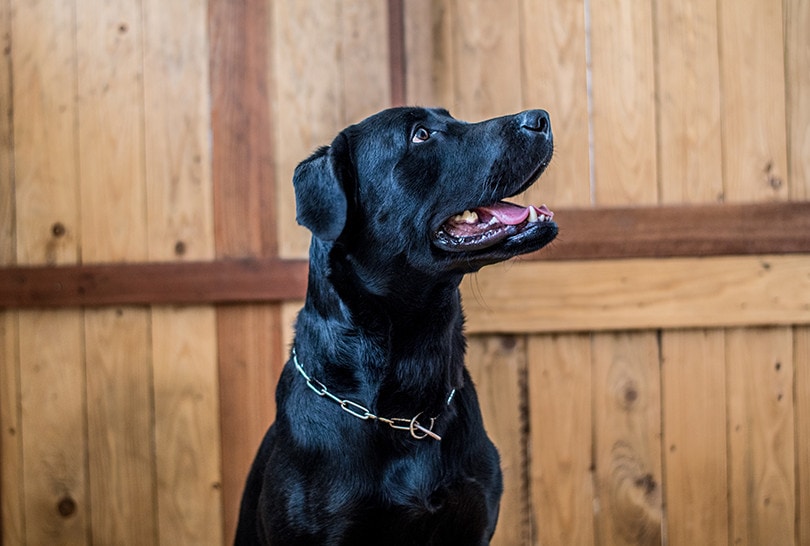 Red
Lava
Autumn
Sundance
Blush
Sunset
Coral
Rosy
Blaze
Archie
Fox
Ginger
Lucille
Molly
Copper
Penny
Scarlet
Cinnamon
Ruby
Brick
Merlot
Yellow
Butter
Butterball
Custard
Sunflower
Marzipan
Dandelion
Waffle
Biscuit
Nugget
Soleil
Mango
Poppy
Primrose
Blondie
Daffodil
Maize
Citrine
Duckling
Amber
Ray
Brown
Brownie
Chocolate
Cocoa
Moose
Snickers
Walnut
Nutmeg
Pecan
Rocky
Pepper
Peanut
Sandy
Chewbacca
Kahlua
Hickory
Godiva
Teddy
Wookie
Butterscotch
Caramel
White
Glacier
Blizzard
Everest
Alaska
Marshmallow
Brie
Cotton
Frosty
Charmin
Quartz
Casper
Dove
Pearl
Lily
Lacey
Aspen
Fog
Wolf
Moon
Puff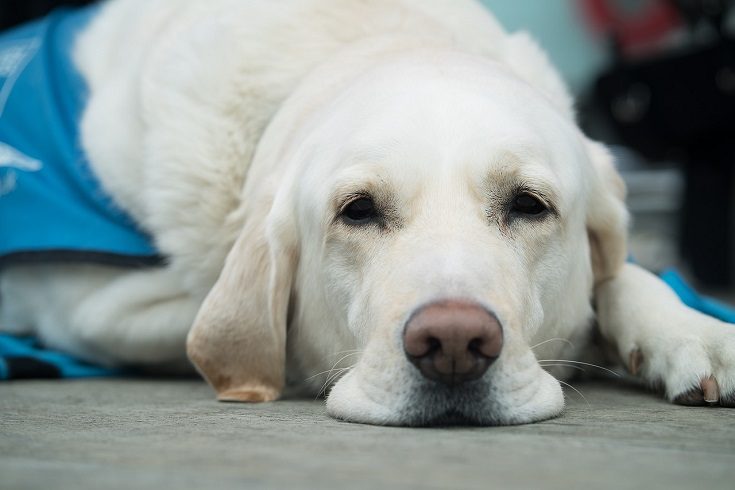 Silver
Cinder
Dusky
Gandalf
Slate
Smokey
Banshee
Mogwai
Moroi
Phantom
Specter
Vapor
Sterling
Knight
Wolf
Dewey
Bullet
Pebbles
Steel
Mouse
Rayne

Labrador Retriever Names Based on Temperament
Have you had the chance to get to know your new puppy for a few weeks but still can't settle on the perfect name? You might consider using its temperament to find the right name. Here are some great options based on personality traits.
Intelligent
Archimedes
Aristotle
Einstein
Brain
Aslan
Da Vinci
Goethe
Hermione
Lisa
Master Splinter
Socrates
Tolstoy
Strong Headed
Beast
Bruno
Butch
Chaos
Ripley
Thor
Sheba
Bruiser
Banshee
Pyro
Renegade
Hurricane
Athletic
Kobe
Colt
Boomer
Dodger
Coach
Gunner
Nike
Ali
Bolt
Babe
Jeter
Magic
Shaq
Tiger
Playful
Frisky
Mischief
Skeeter
Zippy
Birdie
Bubbles
Chipper
Frisky
Loki
Peppy
Pixie
Happy

Cute Female Labrador Retriever Names
You know your new little girl puppy is the sweetest thing ever, and these cutesy girl names are perfect for your new adorable little family member.
Baby
Lolly
Princess
Luna
Willow
Dolly
Phoebe
Maya
Piper
Coco
Lola
Bella
Lucy
Molly
Maggie
Sophie
Buttons
Juno
Athena
Brielle
Cora
Airabelle
Olive
Zelda
Eliza
Georgia
Ava
Koda
Riley
Moana
Wren
Priscilla

Cute Male Labrador Retriever Names
There's no reason you can't choose a cutesy name for your male Labrador Retriever. While the options below are more masculine, they're still pretty darn cute in our books.
Ace
Alfie
Arlo
Asher
Max
Charlie
Cooper
Oscar
Hugo
Oliver
Finn
Jax
Beau
Jasper
Oakley
Romeo
Rudy
Bodhi
Cash
Dexter
Enzo
Hudson
Sammy
Simba
Walter
Robin
Scooby
Ferris
Pongo
Jude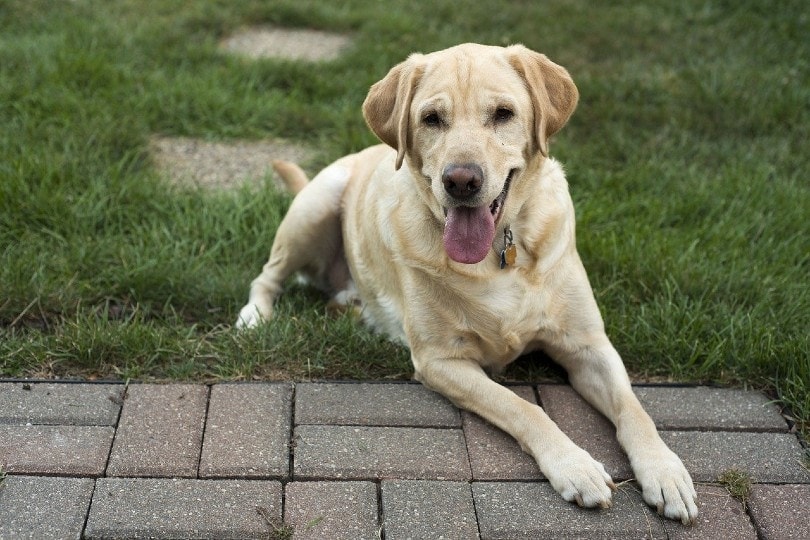 Hunting-Themed Labrador Retriever Names
Labrador Retrievers were bred to be great hunting dogs. They are often used for pointing and flushing and are great partners for upland game hunting. So whether you plan on hunting with your new pup or not, you might consider picking a name based on the breeds' humble beginnings.
Ammo
Arrow
Buck
Fawn
Camo
Crockett
Dakota
Dash
Hunter
Huntress
Ranger
Remington
Ruger
Scout
Trigger
Winchester
Diesel
General
Rambo
Goliath
Hammer
Zeus
Rogue
Browning
Dashiell
Denali
Hawkeye
Kodiak
Orion

Food-Themed Labrador Retriever Names
Is eating one of your dog's favorite past-times? If so, you might consider naming your new pup after one of its favorite foods!
Basil
Nacho
Oreo
Peanut
Taco
Chip
Mocha
Bean
Nugget
Peaches
Pumpkin
Miso
Cupcake
Lemon
Chive
Dill
Noodle
Pringle
Caramel
Butterscotch
Panini
Skittles
Snickers
Twix
Alfalfa
Apple
Chalupa
French Fry
Fluffernutter
Potato
Pork Chop
Vino
Pancake
Puddin
Sprinkles
Madeline

Labrador Retriever Names Based on Origin
Labrador Retrievers originated in the Canadian province of Newfoundland. However, they were brought to England in the early 1800s by fishermen. Considering their Canadian and English origins can provide some name inspiration.
Canadian
Celine
Shania
Bieber
Avril
Keanu
Alanis
Molson
Maple
Gander
Rocky
Caesar
Yukon
Banff
Fundy
Klondike
Baffin
Canuck
Tim Bit
Niagara
Poutine
Goose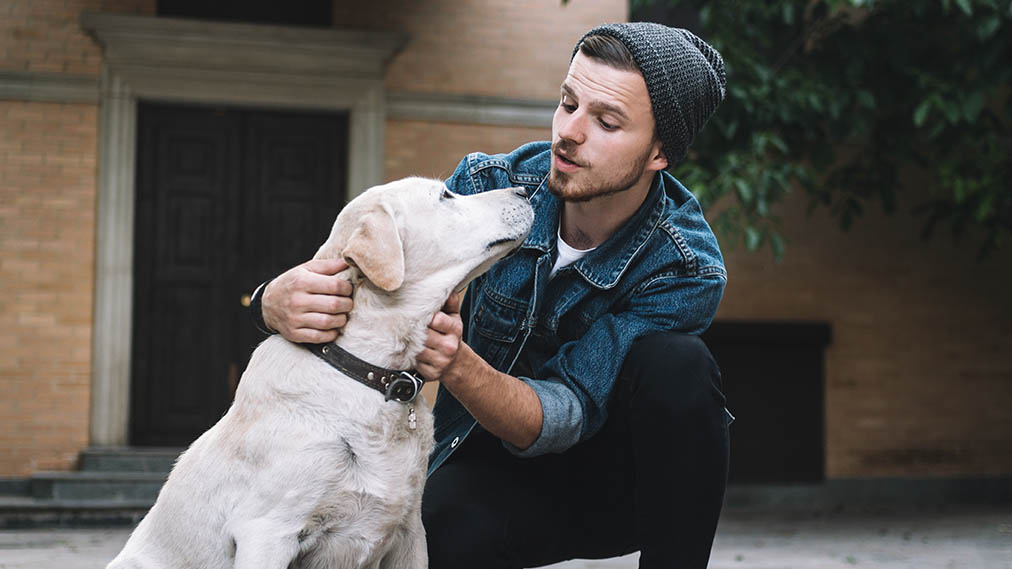 English
Camden
Kent
Devon
Cornwall
Cheshire
Cumbria
Durham
London
Scone
David
Oasis
Windsor
Shakespeare
Harry
Fawkes
Hawking
Diana
Elizabeth
Winston
Darwin
Freddie

Labrador Retriever Names for Swimmers
This breed is known for being fantastic swimmers and for its love of water. They were made to spend time in the water, so if your Lab spends more time in the water than it does on land, you might consider one of these water-themed names.
River
Lake
Brooks
Gill
Bass
Buoy
Bennington
Catalina
Compass
Coast
Dock
Harbor
Haven
Pelican
Brine
Wade
Blue
Caspian
Dover
Neptune
Marlow
Laiken
Kawai
Kairi
Neredia
Hydra
Atlanta
Atlantis
Mizuko
Tulia
Nixie
Misty
Pacifica
Ocean
Ariel
Dory
Marlin
Guppy
Poseidon
Marina

Final Thoughts
Choosing a name for your new puppy can feel overwhelming, especially since the possibilities are quite literally endless. We hope our blog has come in handy and has provided you with some name ideas so you can make a shortlist and start narrowing it down to your absolute favorites. We're confident both you and your dog will find a name on our list that you're both wild about.
---
Featured Image Credit: Pixel-Shot, Shutterstock