Pets & Pet Parents: In-Depth Survey on Jealousy, Playing Favorites & More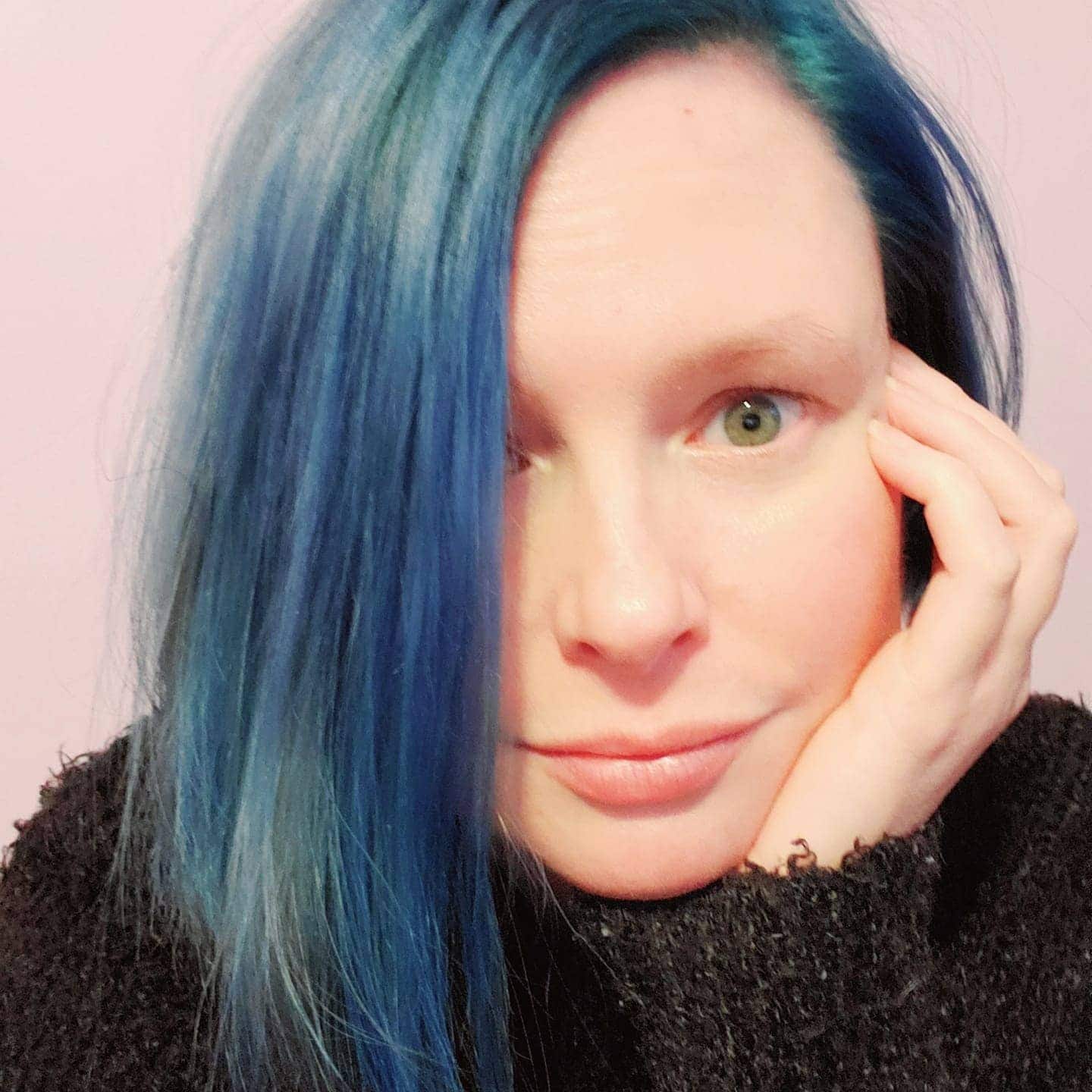 Have you ever wondered how other pet parents (pawrents) feel about co-parenting pets or how many people spend as much time as you do with your pet? Do others get that same occasional twinge of jealousy when it seems their pet favors one pawrent over the other?
We here at Hepper were curious, so we teamed up with Pollfish.com to survey 1,005 pet parents who were either married or cohabitating and asked them all our burning questions about being a pet pawrent. We asked roughly 30 questions to find out more about their relationship with their pet, their relationship with their partner, and how those two relationships influenced each other. We received a ton of interesting answers, too!
Below, you'll find nine of the more fascinating statistics we discovered about pets, pet parents, and how those two relationships work with each other. Keep reading to find out who pet parents would rather visit Mars with, plus much more!
Pets & Pet Parents: Jealousy, Playing Favorites & Everything In Between

Time Together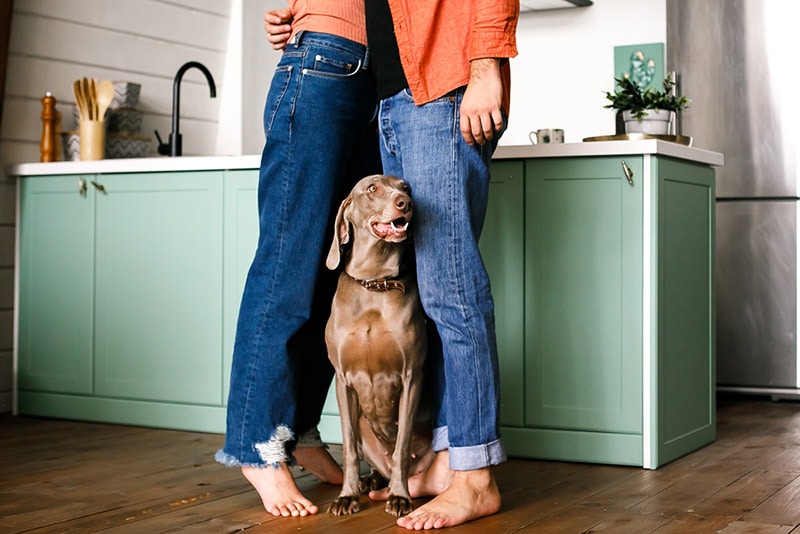 1.

Out of all respondents, over half spent more time alone with their pet than their partner
A whopping 53% of respondents to the survey stated that they spent more alone time with their pets than with partners. Whether that's due to their partners being out of the home for work or other reasons isn't clear, but it's safe to say that people enjoy hanging out on their own with their pets!
---
2.

When it came to whether their pet's attitude towards them changed when their partner was around, 87% of respondents reported that it did not.
A good majority of pets seem to love their people equally. When asked whether their pet's attitude changed when their partner was around, most people replied that it stayed the same. It appears there's some good co-pawrenting going on out there!
---
3.

However, 30% of respondents stated that when their partner is around, their pets get friendlier and more loveable.
Unfortunately, that wasn't the case for everyone, though. At least 30% of people replying to the survey said that their pet's attitude did change when their partner came around. So, it seems that some pets, at least, prefer one pawrent over the other, as they turn friendlier when the partner is there with them.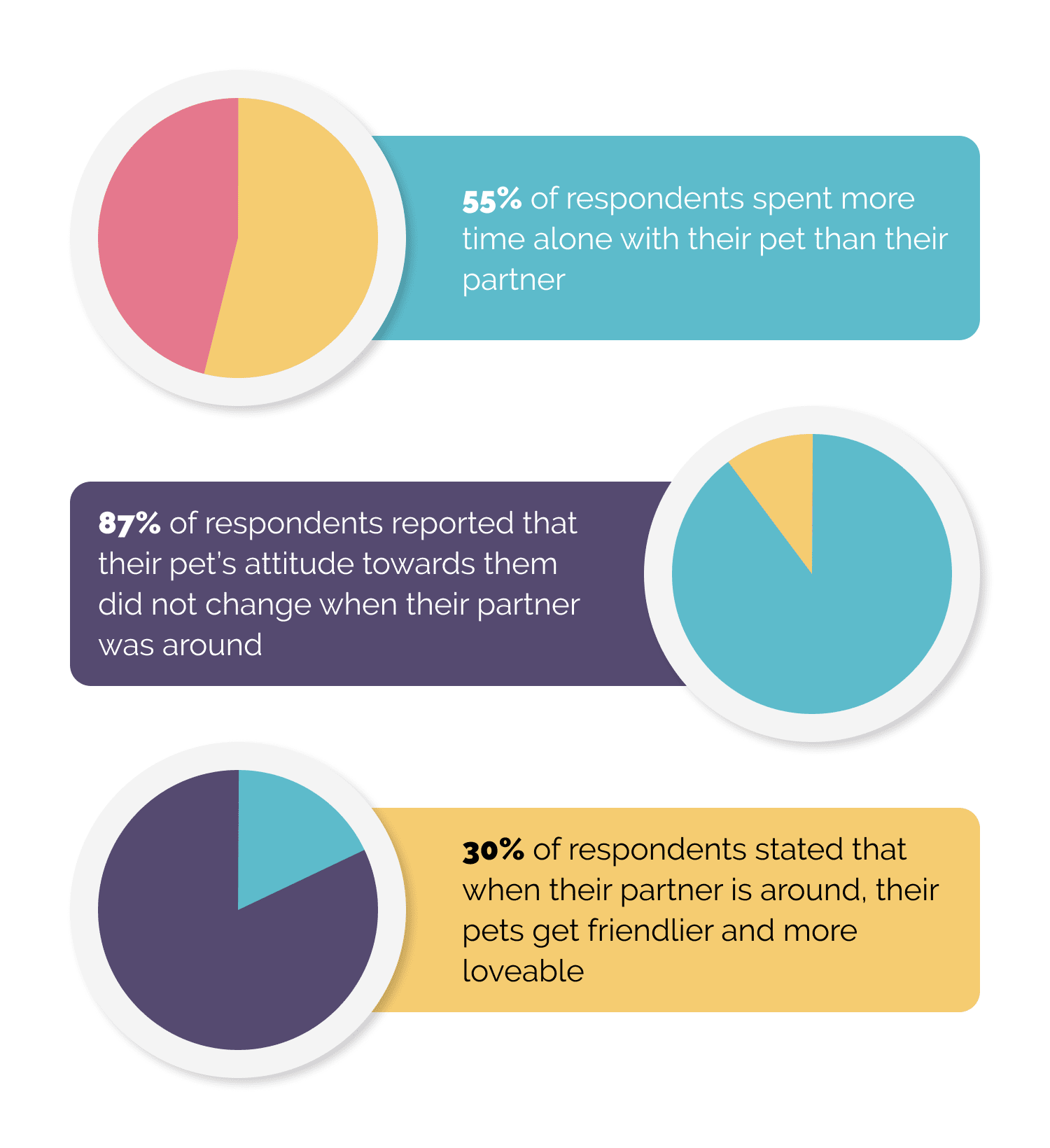 Playing Favorites, Jealousy & Fights
4.

When it came to whether their pets favored them over their partner, over half of the respondents said their pet did favor them.
And there's even more proof that sometimes a pet will prefer one family member over another. 52% of respondents answered that their pet favored them over their partner! It appears that, much like us, our animal companions can play favorites (unfortunately, no data was found on how to become your pet's favorite, though).
---
5.

53% of people responding to the survey stated they never got jealous over their pet giving their partner more attention.
We all get jealous sometimes; it's a fact of life. But when it comes to our pets, we tend to get jealous much less than we would over other people. Over half of the people surveyed said they didn't ever get jealous over their pet paying more attention to their partner than them.
---
6.

When asked whether they'd ever had a serious disagreement with their partner regarding their pets, 15% stated they had.
Our pets are vitally important to us—in some cases, they're the closest thing we have to children. So, it's no surprise that we sometimes get into arguments and disagreements with our partners over them. But it seems that far fewer people are likely to have a major disagreement with a partner over a pet, as only 15% of respondents said that had happened to them.

Breaking Up & More!
7.

And when it came to break-ups, 13% of respondents said their pets had had an influence over that decision to break up.
This statistic is even more proof that our pets play a huge role in our lives. 13% isn't a ton of people (only 134 people from this survey), but that's still quite a few people that were influenced by their pets when it came to deciding whether to break up with someone or not!
---
8.

If an ultimatum was given, 66% of people said they would break up with their partner before giving their pets up for adoption.
It seems that many of us love our pets just a tad bit more than our partners. At least, a majority of people would rather say goodbye to their partners than their pets. Considering our pets' vital role in our lives, that's not too surprising.
---
9.

When a hypothetical scenario was given on whether respondents would rather go to Mars with their pet or partner if given the opportunity, 44% chose their pets instead of their partner.
Many (though not the majority of) pet parents would rather visit space with their pets than their partners. When given a hypothetical scenario about visiting Mars, almost half of the respondents replied they'd rather go with their pets. Which makes sense. After all, imagine your cat or dog exploring Mars with you—not only would it be adorable, but it would be a ton of fun!
Our Methodology
How did we get the answers to all our questions, and who answered them? This survey was run on both Pollfish.com and social media. 1,005 pet parents, between the ages of 18 and 65 (with the majority of responses coming from those 36–45), in serious relationships were surveyed. And those pet parents that responded were answering from around the world—the U.S., Australia, South Africa, Mexico, the Philippines, and more!
Of those pet parents, 32% owned cats, and 66% were dog owners. As for where all those pets came from, the majority of them (34%) were rescues. Those that were not rescues were received as gifts (21%), turned up as strays (15%), were the pups and kittens of another household pet (12%), or came from a breeder (11%). And 68% of respondents stated they were the primary pawrent.
As far as spending time with their pets went, it seemed most people were around them quite often, as a majority reported spending 4–6 hours a day with them. And while you might think that means people cuddle their pets just a bit more than their partners, it seems that it's a fairly even split between both.
When it came to whether their pet receives more attention or affection from their partner, 60% of respondents stated that this never occurred or only sometimes occurred. And when asked how they felt when their pet received more attention, answers ranged. However, most people seemed to either not care at all or it made them happy to see. Only a few felt sad or a bit jealous when it came to pets getting more attention and love. Even more people (73%) answered they never or rarely got jealous when it was their pets giving their partner attention.
Overall, this survey answered a lot of questions we had about co-pet parenting and how pets affect our interpersonal relationships. Pet parents who share pets seem, for the most part, to not have many issues with jealousy when it comes to who gets the most attention from their pets. And a good majority of pet parents seem to share love, cuddles, and more equally between their pets and partners. However, these pet parents also draw a fairly firm line around giving their pets up for adoption since most respondents said they would break up with a partner before doing that.
So, what surprising facts did you learn today?
Fair Use Statement
Does your audience love their pets as much as we do? Put the results of this study in front of them by sharing our findings and any related graphics for noncommercial use. Just make sure to include a link back to this page so that they can read our comprehensive findings and methodology.
---