Male vs Female Ragdoll: What's The Difference (With Pictures)
When deciding to bring a new animal into the house, there are many considerations the prospective pet parents have to make to ensure that their new companion will be happy and safe in their home. One often overlooked consideration is the differences between some male and female animals. While many animals have no notable differences between their male and female specimens, male and female Ragdolls have significant differences in temperament and physicality. Knowledge is power and knowing the differences allows you to choose the best Ragdoll for you.
Visual Differences
At a Glance
Male Ragdoll
Average height (adult): 9–11 inches
Average weight (adult): 13–18 pounds
Female Ragdoll
Average height (adult): 7–10 inches
Average weight (adult): 10–15 pounds
Ragdoll 101
Ragdolls are famous large-breed cats. Their gentle natures and soft coats have captured the hearts of millions worldwide. They have taken the world of cats by storm with their lovable and pleasant personalities. Ragdolls are characterized by their very relaxed natures taking on a limp, "Ragdoll"-like appearance, for which they are named, when pet or cuddled.
The breed originated in 1960 with the captive breeder Ann Baker. Other breed standard features include a pointed coat coloring pattern and striking blue eyes. While the species is undoubtedly popular in the United States, its true popularity is in the United Kingdom. They are known as doglike cats for owners who want a more affectionate cat.
Male Ragdoll Overview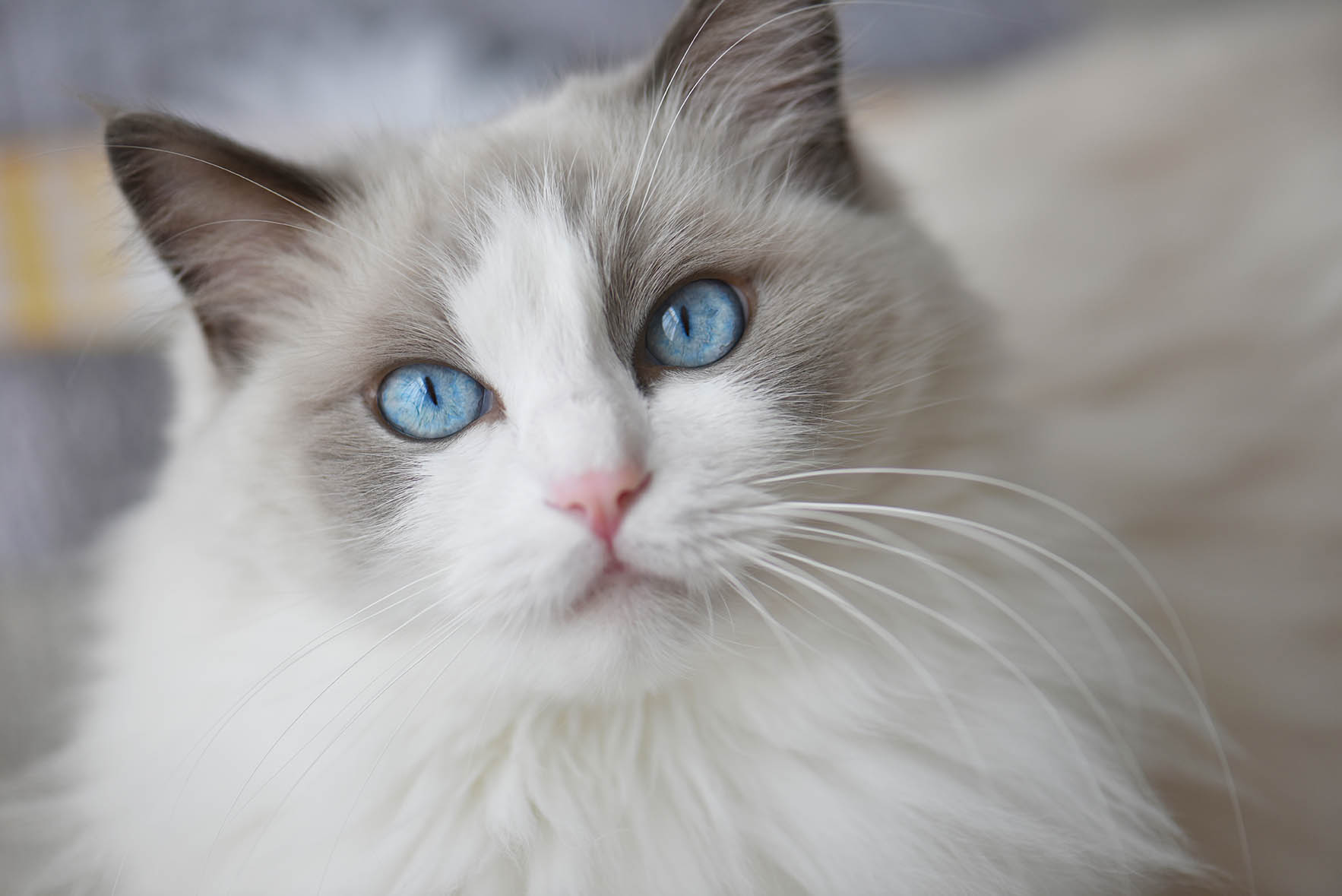 Personality / Character
The male Ragdoll cat is much like a dog. He is outgoing, affectionate, and demanding attention; one might even call him needy. Despite his loving nature, he will bond most closely with one member of the family than others but is by no means a one-person cat. The male Ragdoll has a lot of energy and will enjoy romping and playing with family members and other pets.
Training
Cats do not receive the traditional training that dogs do. However, our experience with Ragdolls has shown us that with a little bit of coaxing, Ragdolls can be trained to do a variety of tricks to impress just about anyone. Male Ragdolls are generally more affectionate and respond better to positive reinforcement without food.
Health & Care
Ragdolls are healthy breeds that don't have any known genetic predispositions to illness. However, as with any large breed animal, it is essential to consider whether you have space for the accouterments of their ongoing care. Ragdolls do not stop growing until they are about five years old. Ragdolls can grow to be the size of a small dog and will lead to an appropriate amount of space to stretch their legs and play. This is especially true if you have more than one cat.
Breeding
There are no notable differences in breeding for male and female Ragdolls. However, male Ragdolls are significantly larger than their female counterparts. Male Ragdolls are taller and heavier than their sisters.
Female Ragdoll Overview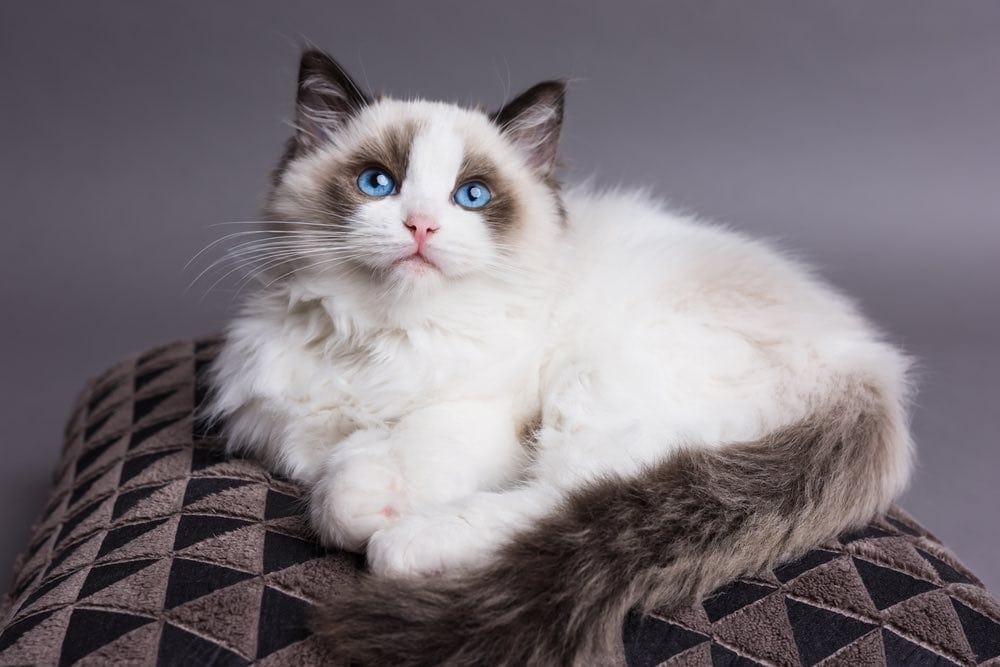 Personality / Character
The female Ragdoll is more independent and less needy than her brother. She is not afraid to strike out and do her own thing; she isn't unfriendly but wants to cuddle on her terms. Unlike her brother, she makes a better family pet because she doesn't bond with one person as closely as she bonds with the whole family.
Training
Litter box training should be a breeze. Her coat is pristine, and she won't have it marred by dirt from her litter box. She is less praise-motivated than her brother, but she's brilliant, so teaching tricks could also be possible. You may have to help her get used to being brushed and train her to tolerate the process. Start teaching her young to learn to tolerate the grooming process better.
Health & Care
Female Ragdolls are not prone to any significant health concerns. She is a generally healthy cat who shouldn't need more than the yearly vet visit like her brother. Pet parents should still watch for signs of illness, like listlessness, loss of appetite, or poor coat quality. These symptoms can be early signs of severe diseases that will require medical intervention.
Breeding
There are no known breeding differences between male and female Ragdolls. However, female Ragdolls are, on average, smaller than their brothers. Female Ragdolls are shorter and slimmer than their brothers and do not require much space.
Better for families
Smaller
In Multi-Pet Homes
If you're thinking about introducing Ragdolls to your family, you may wonder how they will mingle with the existing pets in the home. Many people find that male animals can be more aggressive than others, but this does not hold for the male Ragdoll. Male Ragdolls are generally more outgoing and friendly, including with other animals.
One of the breed standard features of the Ragdoll is its docile nature. Ragdolls don't have a solid hunting drive. This can make them an exceptional choice for pet parents who have small pets in their homes. A male Ragdoll might want to play with the small animals, but a female Ragdoll will often leave them alone; leaving them is too much effort for too little gain.
Overall, Ragdolls make an excellent choice for people with multi-pet homes. Email Ragdoll may be a more suitable choice for people with dogs or larger animals, while a female Ragdoll might be an excellent choice for someone with small pets.
In Homes with Children
Ragdolls make great family pets. Their friendly and lovable natures are going to be hit with any family. However, you'll want to consider how the rental will interact with each individual family member. If your family wouldn't mind having a cat closer to one family member than others, then a male Ragdoll will be your best bet. However, suppose you have family members who would feel jealous of those receiving the cat's attention. In that case, you want to get a female Ragdoll so that her attention is divided evenly amongst all the family.
Which Ragdoll is Right For You?
When deciding what Ragdoll to bring into your family, carefully consider all factors in your prospective pet's life. Consider whether you have enough space to accommodate a male Ragdoll; think whether a female Ragdoll might fit better into your family. Before choosing the Ragdoll that's right for you, there are many factors to consider.
Only you know the exact conditions that will be bringing your new Ragdoll, so you know best whether a male or female Ragdoll is best for your family. For sure, though; Ragdolls are fantastic family pets no matter your family size!