150 Marvel Dog Names: Ideas For Your Super Pet
Marvel is known for creating many unique and compelling comic book characters. Considering the fact that there are thousands of characters in the Marvel franchise, it's a great place to look for meaningful names for your dog. Our list of Marvel names certainly isn't exhaustive, but it'll help you get inspiration and new ideas for naming your dog. Keep reading to find the perfect Marvel-inspired name for your dog.

How to Name Your Dog
There's no need to put pressure on yourself to pick a name for your dog right away. You can take as much time as you need to decide on a name. It'll probably take a couple of weeks for your new dog to settle into your home, feel comfortable, and let their true personality shine. Take this time to observe your dog and jot down their defining characteristics and unique personality traits.
Once you get to know your dog, you can start looking for Marvel characters that resemble your dog's appearance or personality. Use our list to jot down names that remind you of your dog. After you've selected a few names, mull them over and start whittling down your list until you're left with your favorite name.

Female Marvel Dog Names
Marvel has many strong and admirable female characters. We certainly can't name them all, but here are a few of our favorites.
Aurora
Betsy Braddock
Crystal
Dagger
Echo
Elektra
Gwen Stacy
Jessica Jones
Jubilee
Mayday Parker
MJ
Mockingbird
Peggy Carter
Pepper
Shuri
Sif
Spectrum
Sylvie
Xialing

Male Marvel Dog Names
There are many male Marvel characters with all sorts of skill sets and personalities. Take a look at these names to see if any of them remind you of your own dog.
Blade
Daredevil
Darwin
Deadpool
Hank Pym
Hogan
Kaine
Ka-Zar
Korg
Loki
Northstar
Nova
Odin
Prowler
Sentry
Silver Surfer
Starhawk
Zabu
Zorr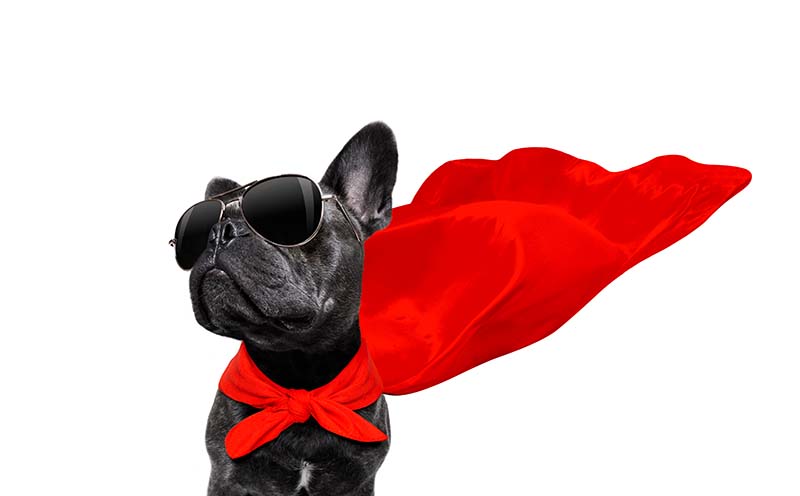 Marvel Villain Names for Dogs
Marvel doesn't just create memorable heroes. It has also created many notable villains with rich origin stories and complex motives. Here are some compelling names to consider as you think of Marvel names for your dog.
Dormammu
Galactus
Hela
Kang the Conqueror
Killmonger
Kingpin
Magneto
Mephisto
Mysterio
Nemesis
Ronan the Accuser
Thanos
Ultron
Zemo

Avengers Names for Dogs
The Avengers have made a name for themselves in both the comic book world and the film industry. Here are some names of notable Avengers that would be great for any dog.
Amadeus Cho
America Chavez
Ares
Black Widow
Captain America
Captain Marvel
Carol Danvers
Doctor Druid
Doctor Strange
Falcon
Hawkeye
Hulk
Jocasta
Kaluu
Kate Bishop
Lightning
Luke Cage
Manifold
Moon Knight
Nakia
Natasha
Nick Fury
Peter Parker
Quasar
Scarlet Witch
Scott Lang
Shang Chi
Steve Rogers
T'Challa
Thor
Tony Stark
Valkyrie
Vision
Winter Soldier
Wong
Yelena

Eternals Names for Dogs
You can find some unique names from the Eternals. It's also a fun idea to choose names from this list if you're planning to name multiple dogs.
Ajax
Druig
Eros
Gilgamesh
Ikaris
Kingo
Makkari
Phastos
Sersi
Sprite
Thena

Guardians of the Galaxy Names for Dogs
The Guardians of the Galaxy is made up of a rag-tag group of people. The following names are perfect for dogs with spunky, scrappy, and unique personalities.
Aleta Ogord
Cosmo
Drax
Gamora
Geena Drake
Groot
Mantis
Martinex
Moon Dragon
Nebula
Star Lord
Starhawk
Nikki
Talon
Yondu

X-Men Names for Dogs
X-Men is another Marvel franchise that has a plethora of good names for dogs. The following list of names is meant to help you get inspiration from awesome characters with unique abilities.
Angel
Beast
Bishop
Cable
Colossus
Cyclops
Dazzler
Domino
Emma Frost
Firestar
Gambit
Hope
Jean Grey
Layla
Lockheed
Logan
Longshot
Magik
Nightcrawler
Phoenix
Psylocke
Quicksilver
Revanche
Rogue
Storm
Sunfire
Sway
Vulcan
Xavier
Wolverine

Names Inspired by Marvel Artifacts and Gadgets
Marvel characters aren't the only iconic features in Marvel comics. You can find many recognizable artifacts and gadgets that can be good names for dogs. Here are some examples that will help you get your mind jogging.
Dragonfang
Ebony Blade
Friday
Gauntlet
JARVIS
Mjolnir
Shield
Twilight
Zodiac

Conclusion
There are so many more characters and names that you can draw from Marvel. It's definitely a great place to look for some fun and heroic names. We hope that this list has inspired you to come up with noble names for your dog, and we know that your dog will love the Marvel-inspired name that you come up with.
---