100+ Nerdy Dog Names: Brainy, Eccentric & Unique Ideas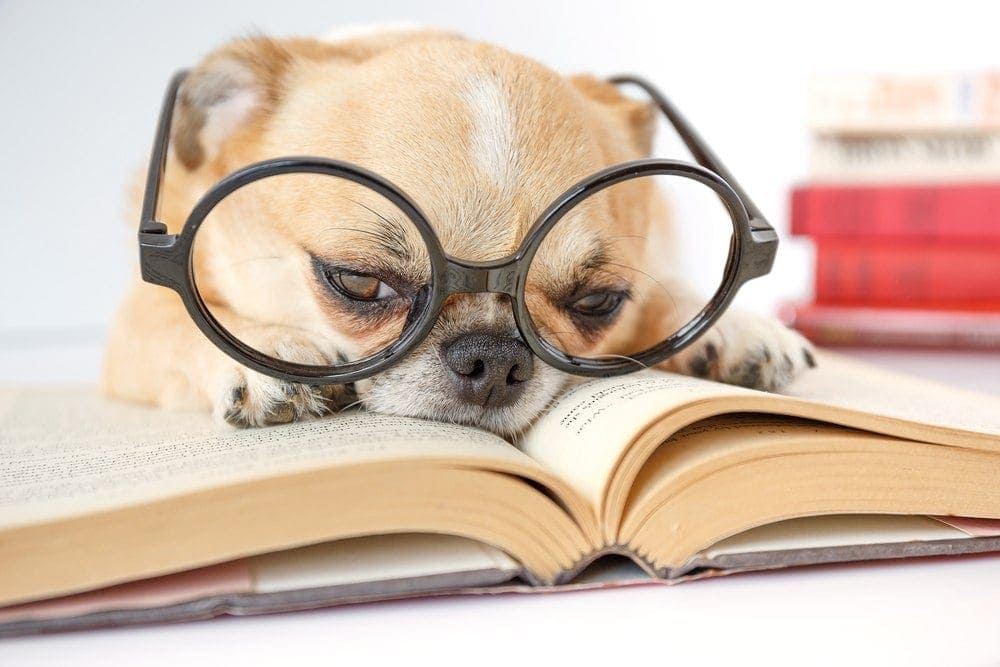 Nerds, geeks, outcasts, odd-balls – in our eyes, they are super incredible and beyond adorable! We love them so much that we had to create a list of pet names geared toward these magnificent and brilliant minds! Of course, a few of the names may be eccentric and not for everyone, but if you happen to be here, well, these names must be right up your alley!
Now, some of the ideas we have below are cool and brainy references to pop culture, including movies, books, and games, as well as history, math, and science! We could be keen on any of these as we ourselves are a bit nerdy (and proud!), or because we get these clever vibes from our pooches. Either way, hope you enjoy these nerdy dog names!
Long live the nerds!

Nerdy Female Dog Names
Java
Omega
Zip
AmIne
Giga
Atlas
Vamp
Inertia
Chroma
Shiva
Livilla
Justice
Alt
Memory
Bella Donna
Aleta
Enchantress
Cache
Megabyte
Nerdy Male Dog Names 
Pixel
Node
Volt
Gif
Neon
Enigmo
Aggamon
Forge
Render
Crypto
Ram
Micro
Widget
Tech
Gizmo
Fume
Digit
Sirius
Nerdy Science Dog Names 
Where to even start?! So many amazing categories within the scientific genre that we could include! Space, dinosaurs, biology, chemistry – the list is truly endless! One of these may be an ideal name for your pup if they're quite inquisitive about their surroundings.
Rex
Mars
Willow
Lead
Nebula
Laser
Beta
Helium
Orb
Magma
Mercury
Galaxy
Cache
Xenon
Nova
Elm
Stellar
Nano
Beaker
Zinc
Lithium
ET
Sauras
Neptune
Astroid
Raptor
Atom
Solar
Comet
Kilo
Meteor
Spruce
Pluto

Nerdy History Dog Names
Historic pets names are fun and classic options as there have been countless famous figures, revolutionary eras, monumental places, and memorable events that continue to influence our lives today. You might be interested in one of the names if your pup is wise beyond their years or possess similar qualities to one of these iconic historians:
Habour
Treaty
Atomic
Tariff
Braille
NAFTA
Era
Da Vinci
NATO
Doctrine
Tyrant
Dunkirk
Ozone
Trooper
Civil
Law
Galileo
Eco
Fiscal
Newton
Data
Cartel
Einstien
Berlin
Nobel
Anarchy
Franklin
Settler
Morse
Census
Gates
Telsa
Legacy
Edison
Mandela
Versailles
Empire
Darwin
Guantanamo
Nerdy Mathematical Dog Names
Math is its own beast, truly! If you're any sort of mathemetician, kudos to you! Pairing your pooch with a name from this list is absolutely genius. You could consider one of these if your companion is sharp as a tack!
Pi
Fraction
Kappa
Calculus
Angle
Fractal
Delta
Algorithm
Median
Algebra
Gamma
Sigma
Cubic
Kepler
Alpha
Vector
Pathagoras
Theory
Geo
Matrix
Venn
Newton
Archimedes
Prime
Symmetry
Limit
Logic
Paradox
Geeky Dog Names
The difference between a nerd and a geek is that a nerd is simply an individual who is highly intelligent, whereas a geek is a master of their own craft. You might have a geeky pup if they are a whiz a sniffing out treats, playing frisbee or fetch, or even something as simple as acing their tricks each time they are asked to sit or roll over! Read on to find out if there's a perfect pairing for your dog on our list of geeky names below:
Boba Fett
Potter
Gamora
Bilbo
Tidus
Atari
Wii
Han Solo
Spock
Lex Luther
Frodo
Koopa
Bane
Cyclops
Bowser
Gotham
Sonic
Thanos
Hero
Baggins
Magneto
Alf
Mystique
Anakin
Kirby
Gazoo
Crash
Genesis
Leeloo
Thor
Loki
Goku
Manga
Sub-Zero
Fluffy
Yoshi
Luigi or Mario
Zelda
Storm
Yoda
Groot
Anime
Hulk
Darth or Vader
Albus Dumbledore
Chewbacca

Finding the Right Nerdy Name for Your Dog
Deciding on a name you love and also find suitable for your pet can be a challenge. We are sure that no matter what you choose, your dog will love it and wear it with pride! Among our list of 100+ Nerdy dog names, we hope that you were able to find the right inspiration and winning match for your brainy bud!
If not, take a look at one of our other name posts for additional inspiration!
---
Feature Image Credit: Titiya Chuaichat, Shutterstock