meowbox Subscription Review 2023: Our Expert's Opinion

Review Summary
Our Final Verdict
We give meowbox a rating of 4.75 out of 5 stars.
Quality: 4.5/5
Variety: 5/5
Ingredients: 4/5
Value: 4.5/5
What Is meowbox? How Does It Work?
Meowbox is a subscription box company that delivers high-quality cat toys and treats every month. The company has offices in Vancouver, BC, and Portland, OR. Each meowbox has a surprise theme, and you can expect to receive at least four cat toys and one treat.
The consistent variety of toys provides a great way to set up enriching playtimes for your cats and alleviate boredom. It's also easy to cancel or pause your subscription. meowbox bills every month and doesn't require you to commit to multi-month subscription plans to experience savings.
So, if you have pretty active and curious cats, they'll enjoy receiving a monthly meowbox. However, you won't be able to make very many customizations to your box. If you have a particularly finicky cat that only plays with certain types of toys or is a picky eater, there's a chance that it won't enjoy all or most of the items in the boxes.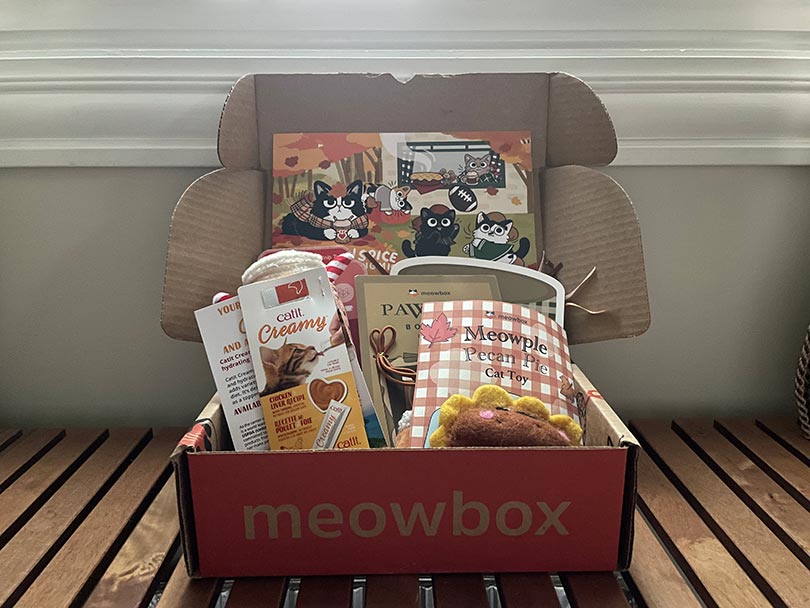 How to Sign Up for meowbox
Signing up for a meowbox subscription is fast and easy. All you have to do is submit a quick questionnaire through the company website. The questionnaire lets you select from either a monthly subscription or a bi-monthly subscription. Then, you can either choose to have your box include treats or replace treats with toys.
You'll be able to select your first box's monthly theme or request a surprise box to be shipped to you when you sign up. After you fill out your shipping and billing information, you can expect your first box to be shipped within 3 business days if you order before 11:59 PM PST. After you receive your first box, you can make changes and updates through your online account.
meowbox – A Quick Look
Free shipping on subscription boxes
Easy to pause or cancel subscriptions
High-quality, unique toys
Not a lot of customizations
meowbox Pricing
All meowboxes are $23.95 a month. meowbox currently doesn't have any other variety of boxes, such as boxes for multi-cat homes. You can opt to switch to bi-monthly deliveries if you feel like you're receiving too many toys each month, and you'll be charged $23.95 every other month. Currently, meowbox offers free shipping on their subscription boxes for all orders within the US and Canada.
You can also make bulk orders and experience 15%-25% discounts for monthly, 3-month, and 6-month subscription orders. If you'd like to order in bulk, you can submit a request by contacting meowbox's customer service. You can also request multi-month boxes as gift orders for your friends and family.
What to Expect from meowbox
Your first meowbox should ship in about 3 business days after you place your order. You can also track your order through your online account. If at any time your meowbox is missing or arrives damaged, you can contact customer service within 30 days of the shipping date to resolve the issue.
After you receive your first box, you'll be billed on the first of every month. Then, the box will ship in the middle of the month. If your first order was placed on or after the 27th of the month, meowbox will automatically skip shipping a box for the following month to avoid sending two boxes in the same month.
If you'd like to pause or change the deliveries to a bi-monthly schedule, you can make updates through your online account or contact customer service.
meowbox Contents
4-5 unique toys
1-2 treats
1 illustrated information card
High-Quality Toys
Each box has a carefully curated selection of toys, and many of the toys are made by local small businesses. Each meowbox contains at least four unique toys. You can expect to receive catnip toys, crinkle toys, balls, and small plush toys that all relate to a monthly theme.
The meowbox Shop
The meowbox Shop sells popular toys and treats from the subscription boxes. You can also find apparel and accessories for people. This online store is a great place to discover more new toys or replace any of your cat's favorite toys that have gotten worn out or torn.
No Commitments
One of the great things about meowbox is that you don't have to commit to a multi-month subscription plan to experience significant savings on cat toys and treats. You can also pause or cancel at any time if you find that your cats don't really need new toys. Just keep in mind that you must send an email or self-cancel through your online account before 5:00 PM PST to avoid getting charged for the following month's box.
Lack of Customizations
As of now, meowbox doesn't offer many customization options and is pretty rigid with the selection of toys and treats it puts in each box. The only customization you can make is to request toys only and omit treats.
Each monthly theme has the same set of toys, and there isn't an option where you can pick and choose from a selection of toys. If you'd like to receive more toys or treats, you can check the meowbox Shop to see if your cat's favorite items are in stock.
Is meowbox a Good Value?
Overall, meowbox is a good value. For less than $25 a month, you receive a thoughtfully curated selection of high-quality, unique cat toys and treats. When you consider the individual retail price of each toy and treat, you'll definitely save more by purchasing a subscription box. Shipping is also free, and you can cancel at any time.
FAQ: meowbox Cat Subscription Service
What is meowbox's return policy?
All sales are final with meowbox. However, if you have any issues with any of the items in your monthly box, you can contact customer service to resolve the issue. If you'd like to cancel your subscription, you must send an email before 5:00 PM PST on the last day of the month to avoid getting charged for the following month's subscription.
Is there an option to pause a meowbox subscription?
Yes, you can switch to a bi-monthly subscription, or you can temporarily halt deliveries until you're ready to receive them again. You can request to pause deliveries through your online account or by reaching out to customer support directly.
Does meowbox have plans for multi-cat households?
No, meowbox doesn't have a specific plan or box for multi-cat homes. However, each box comes with at least four toys so that cats can split the toys each month. You can also go to the meowbox Shop to purchase individual toys, if needed.
Our Experience With meowbox
We ended up having a genuinely enjoyable experience opening the box with our cats. The first thing we saw was a short, personalized greeting handwritten on top of the box. A cute illustration of the box's theme covered the rest of the contents, which added an element of mystery and anticipation for everything else inside.
It was fun to read the descriptions and cat puns as we unpacked each toy. The theme was cute and creative, and every item was very unique from the others. We received five toys and one tube treat, and our cats each had their own favorites and gravitated to different toys. Since there were so many toys, we didn't face an issue with the cats fighting over any of the items. The box itself was a bonus as it was the perfect size for one of our cats to curl up inside.
One thing that impressed us was the quality of the toys. Each one was extremely durable and well-made, and none of them had a cheap or tacky appearance and design. The treat was a bit lacking, and we were only sent one, so we had to split it between our two cats. We may just opt for a toys-only box in the future.
Overall, we've become fans of meowbox. The selection of toys was unique, and we were impressed with the affordable price. The meowbox subscription makes pet care a little easier as it eliminates the need to shop for new toys. More than that, it provides a fun experience for you to share with your cat as you open a box of surprises each month.
Conclusion
We had a thoroughly enjoyable and positive experience with meowbox. It saved us so much time as we didn't have to spend hours scrolling through websites and walking through pet stores searching for new toys. Our cats weren't picky about their toys, so the box was a great value for us. However, there's no guarantee that particularly picky cats will enjoy playing with the toys and snacking on the treats provided by meowbox.
Other than that, meowbox is an excellent choice if you're looking for new toys and want to share a fun unboxing experience with your cat every month. If it doesn't meet your expectations, you can easily cancel your subscription. So, it doesn't hurt to try out this subscription service and shower your cat with some extra love.