Merrick vs Wellness Dog Food: Our 2023 In-Depth Comparison

Review Summary
Merrick and Wellness are two of the most popular brands of dog food available to pet owners today. They both have options for wet food, dry food, and treats. Merrick and Wellness offer a large variety of high-quality recipes for your pets.
There is a difference in the protein content between the brands. Merrick's protein content is a bit higher and is a better option for active pets, working dogs, and puppies. Older dogs that are less active may do better with Wellness.
For those who want grain-free options, both Merrick and Wellness have recipes without grain. However, Merrick has other options available.
Wellness brand has toppers and mixers for your dog's palate. This is a "must-have" if you enjoy spicing up mealtime for your pet.
Both Merrick and Wellness add ingredients that are considered controversial. Unlike Merrick, Wellness adds tomato pomace and brewer's rice to some of their recipes. If you are opposed to those ingredients, Merrick would be a better brand for you.
In addition to the United States and Canada, the Wellness brand is available to consumers in New Zealand, Singapore, Hong Kong, Australia, Malaysia, Japan, and Indonesia.
Click to skip ahead:

At a Glance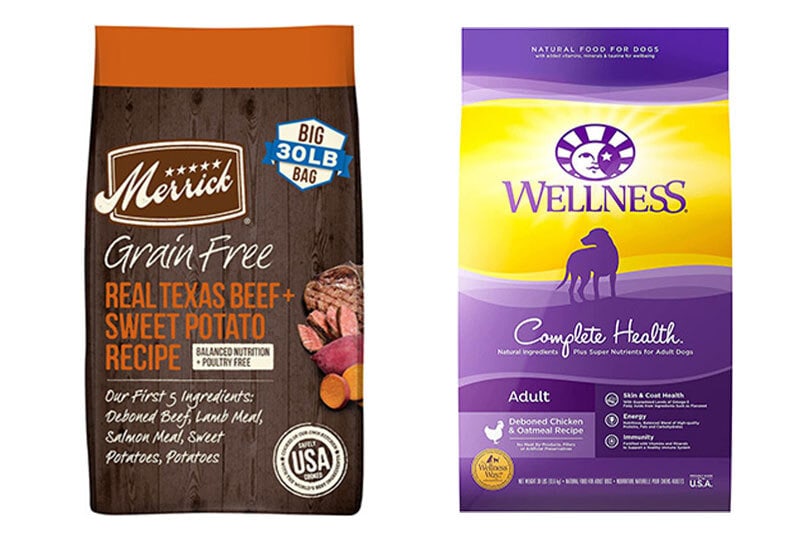 Merrick
Many options that include wet food, dry food, and treats
A wide range of recipes, including limited ingredient or grain-inclusive
No brewer's rice and tomato pomace used
Good for dogs that require a higher protein content
Wellness
Has meal boosters and toppers
A natural product with high-quality ingredients
Good for less active dogs and require less protein
No wheat, corn, and soy ingredients used

Merrick Brand Overview
The Merrick dog food brand originated in 1996. Garth Merrick wanted a dog food that was organic and natural. None of the ingredients contained in the dog food were from sources that used pesticides or fertilizers. Merrick dog food brand provides customers with wet food, dry food, and treats for dogs and cats. The products are sold online and at pet stores in the United States. Merrick offers several lines of dog food based on the recipes and ingredients. They include Backcountry, Limited Ingredient Diet, Classic, Grain Free, Backcountry Raw, wet food, and treats.
The company, based in Amarillo, Texas, became popular with pet owners. In 2015, customers were disappointed by the sale of the company to Nestle Purina PetCare Company, fearing lower-quality ingredients and sources from China. The company assured customers that they had no intention of changing the product. In fact, the dog food is tested and prepared in Garth's original family kitchen in Hereford, Texas.
All the recipes contain high-quality ingredients to provide necessary minerals, vitamins, and fats for your canine. The recipes do not contain artificial ingredients or preservatives, and the supplies come from farmers they trust.
Recall History
In October 2003, The Go! brand, which was manufactured in the same facility as Merrick, was recalled for causing liver problems in pets. The food was linked to the death of more than 20 dogs in the San Francisco Bay Area. None of the Merrick brands were directly involved, however.
In July 2010, and January and August 2011, Merrick pet treats were recalled for salmonella. There were no reports of illness from the recalls.
In May 2018, there was a recall of beef dog treats for elevated beef thyroid hormone. The treats were sold in various stores and online retailers. The company had only one complaint of a dog getting sick from the treats.
The company also had a salmonella recall for Beef Steak Patties in September 2002. The recall was only for patties distributed in Canada, however.
In 2019, The Food and Drug Administration (FDA) recalled 16 brands of dog food for a possible link to heart disease in dogs. Merrick was one of the brands recalled.
Controversial Ingredients
Some of the products available from Merrick contain ingredients that are considered controversial for dogs. They include pea protein, garlic, canola oil, caramel color, powdered cellulose, and meaty femur bone.
We recommend discussing any controversial ingredients or special needs with your vet.
Varying lines available
Made in the U.S.
No artificial ingredients
No preservatives
Contains some controversial ingredients
Several recalls

Wellness Brand Overview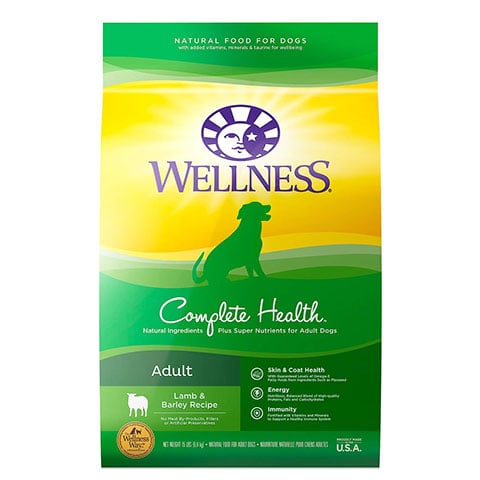 Wellness dog food brand all started when a sailor threw a dog a biscuit. A Hubbard and Sons Bakery was renamed in 1926 to Old Mother Hubbard. The company was purchased and moved to Lowell, Massachusetts in 1961. The Wellness brand was launched in 1997 by Wellpet LLC.
Wellness formulas include Wellness Complete Health, Wellness Simple, a limited-ingredient food, Core Wellness Grain-Free formulas, and Wellness Trufood, a slow-baked food line. They offer foods for all sizes, dietary needs, or restrictions, and life stages.
All ingredients in the Wellness dog food are made in the USA. The primary ingredient in the formulas is real meat. They include beef, chicken, and salmon. They use lamb for protein in limited ingredient formulas for dogs with food sensitivities. They do not use corn, soy, or wheat in any of the recipes.
Recall History
Although the company claims to have strict quality assurance measures in place, they did have a few recalls since 2011.
In March 2017, toppers recalled for elevated levels of beef thyroid hormone.
In October 2012, they voluntarily recalled their Wellness Small Breed Adult Health for excess moisture.
In May 2012, there was a voluntary recall of Super 5 Mix Large Breed Puppy Food for possible salmonella contamination at the Diamond Pet Food plant.
Controversial Ingredients and Legal Issues
Wellness does use some ingredients in their formulas that are controversial. They include canola oil, garlic powder, garlic, pea protein, caramel color, dried tomato pomace, tomato pomace, and brewer's rice.
We strongly recommend that you discuss your pet's diet and any controversial ingredients with your veterinarian.
Wellness is a company with a good reputation and is known for their high-quality pet food. They have termed their dog food as "human grade." Human-grade is not recognized by The Association of American Feed Control Officials (AAFCO) as suitable for dog food. The claim by the AAFCO is that the pet food is unlikely to be edible by humans.
Although Wellness prevailed, they no longer use the phrase to describe their recipes. They stand by their claim of high-quality ingredients in their products to ensure a nutritious and safe diet for your pet.
Meat as a main ingredient
Made in the U.S.
No artificial ingredients
Grain-free and grain-inclusive available
Contains controversial ingredients
Several recalls

What are the differences between them? How do they compare?
Nutritional Value
Both Merrick and Wellness have similar protein, fat, and fiber content in wet and dry food formulas. Neither has the edge for nutritional value.
Price
Merrick is a little more expensive across its product lines. Different product lines or formulas, such as grain-free or canned varieties, are more expensive than others. But comparing the size of the bag or case, Wellness has more value across its products.
Ingredients
Merrick uses high-quality, fresh ingredients and has fewer controversial ingredients than Wellness, which gives it the edge in this category.
Availability
Wellness is available at most pet retailers and across multiple countries, including Australia, New Zealand, and Singapore. Merrick may be difficult to find, even in the U.S., unless you have an authorized retailer nearby. Both are widely available through online retailers, however.

What the Users Say
Doing the research on Merrick and Wellness included looking at customer reviews and dog food forums. While customer reviews are helpful, forums have existing users giving information to potential customers. The discussions seem to provide valuable knowledge and honest opinions about the brands.
What Merrick Customers Are Saying
Merrick customers were overall pleased with the dog food brand. They were impressed by the ingredient content. Customers who bought limited ingredient recipes or weight loss foods were satisfied with the results they were seeing. The reviews on taste were also positive.
Some customers complained about the sale of the company to Purina in 2015. The sale led to some consumers switching to other brands. The feeling was that the company would put profit before quality. The result would be a lesser quality dog food. Consumers did not want to lose the local production and natural ingredients they had come to depend on and love.
What Wellness Customers Are Saying
Like Merrick, Wellness has a loyal following. The customer base believes in the Wellness products. They are quick to provide answers to questions on the forums. Wellness customers are passionate about the product and want others to experience the satisfaction of a healthy pet. Many expressed the feeling of relief when the food helps curb skin and digestive issues experienced by their pets.
Some customers complain about the price and the lack of availability at times. Others have some issues with certain ingredients but feel it is still a dog food of superior quality.
Merrick and Wellness both have positives and negatives. The Merrick brand has a lesser amount of controversial ingredients than Wellness. Therefore, they get the edge.

Conclusion
In reviewing and comparing both the Merrick and Wellness brands, it's a close call.
Merrick is a high-quality, high-protein product for active and working dogs. The wet and dry food is made with fresh ingredients that provide balance and nutrition for your pet. The food contains fewer controversial ingredients than Wellness, making it our winner.
Wellness, in fact, is also a high-quality dog food that does not contain wheat, soy, or corn. It is an excellent choice for dogs with food sensitivities and allergies. The lower protein content may be good for less active or senior dogs. Among others, the food is available in places like  Australia, Singapore, and Hong Kong.
Ultimately, the choice is up to you. The needs of your pet, along with advice from your vet, will determine which brand is best for you and your furry friend.
---