Shopping Checklist for Your New Cat: 25 Essential Supplies
Getting a new cat or kitten is an exciting experience. Before you're ready to bring your feline companion home, however, you have a long list of supplies to get to ensure your cat has everything it needs.
There are many important pet supplies to stock up on, but one that many people forget is pet insurance. Companies like Lemonade offer balanced, personalized plans that can help you keep vet costs under control.
Here's a comprehensive new cat checklist of 25 essential supplies that you should purchase a few days in advance, so your cat is ready to be welcomed into your home.
Food and Feeding Supplies
Food is the most important cat essential. You should always feed the food the breeder or previous owner was feeding the cat to avoid digestive upset. You can slowly switch the cat over to your preferred food. Here are our top picks as well as our favorite feeding bowls:
---
---
---
---
You might have guessed, this product is our own, but we love it, and so we bring it up in the hope that you get to own one too.
---
Grooming Supplies
Cats do a lot of grooming on their own, but you still need supplies for regular deshedding brushing, combing for fleas, and trimming nails. Here are our top picks:
---
---
---
Litter and Litterboxes
Both indoor and indoor/outdoor cats need an indoor litter box. While it may take some time to determine your new cat's favorite litter box style and litter, here are some top picks:
---
---
---
Cat Furniture and Toys
Cats like to lounge around as much as they like to play, especially as they age. You should have a combination of cat beds, scratching posts, and toys to keep your cat entertained and give them space of their own. Here are our top picks:
---
---
---
---
---
---
Miscellaneous Supplies and Cat Essentials
So, what else do cats need? We've covered all the cat essentials, but you may need additional supplies for air travel, car travel, vet visits, and more. Here are some optional cat supplies:
20.

Hepper Advanced Bio-Enzyme Pet Stain & Odor Eliminator Spray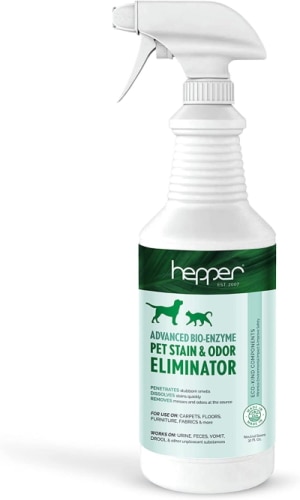 Having a pet means cleaning up smells, stains, hair, vomit, and more...and you can add to your pet clean-up routine with the Hepper Advanced Bio-Enzyme Pet Stain & Odor Eliminator Spray. It's our product, and we love it so much, we just have to share! It permanently removes the very worst smells and stains, and we offer a 100% satisfaction guarantee! Click here to get yourself a bottle!
---
---
---
---
---
Time to Enjoy Your New Companion
Cats are a joy to have as a pet, and the best way to start your relationship off right is with all this cat supplies list. From cat carriers to scratching posts to food for kittens and adult cats, we've covered all our top picks for your new cat checklist to ensure you're ready for your new addition.
Related Read: How to Kitten-Proof Your Home: 13 Simple Tips
---
Featured Image Credit: absolutimages, Shutterstock