Shopping Checklist for Your New Cat: 25 Essential Supplies

Getting a new cat or kitten is an exciting experience. Before you're ready to bring your feline companion home, however, you have a long list of supplies to get to ensure your cat has everything it needs.
Here's a comprehensive new cat checklist of 25 essential supplies that you should purchase a few days in advance, so your cat is ready to be welcomed into your home.
Food and Feeding Supplies
Food is the most important cat essential. You should always feed the food the breeder or previous owner was feeding the cat to avoid digestive upset. You can slowly switch the cat over to your preferred food. Here are our top picks as well as our favorite feeding bowls:
1.

Diamond Naturals Kitten Formula Dry Cat Food
This dry kitten food is all-natural and contains plenty of nutrients, such as DHA, taurine, and cage-free chicken.
---
2.

Wellness Complete Health Kitten Formula Canned Cat Food
This wet kitten food is grain-free and filled with antioxidant-rich fruits and vegetables and chicken as the first ingredient.
---
3.

Castor & Pollux Organix Grain-Free Organic Chicken & Sweet Potato Recipe Dry Cat Food
This dry adult cat food uses organic ingredients, such as free-range chicken, and no corn, wheat, soy, or fillers.
---
4.

Castor & Pollux Organix Grain-Free Organic Chicken & Liver Recipe Canned Cat Food
This wet cat food features free-range chicken as the first ingredient and a rich mix of antioxidant-packed carrots, cranberries, and alfalfa.
---
5.

Hepper NomNom Elevated Cat Bowl
This cat bowl has combined spill-proof water bowls with low bottoms for less whisker fatigue and hygienic stainless-steel construction.
You might have guessed, this product is our own, but we love it, and so we bring it up in the hope that you get to own one too.
---
6.

Frisco Double Stainless Steel Pet Bowl with Mat
This untippable food and water combination bowl comes with a silicone mat to prevent spills on the floor during feeding time.
Grooming Supplies
Cats do a lot of grooming on their own, but you still need supplies for regular deshedding brushing, combing for fleas, and trimming nails. Here are our top picks:
7.

Safari Bristle Cat Brush
This cat brush features soft nylon bristles that contour to your cat's body and remove loose hair and debris.
---
8.

Resco Pro-Series Rotating Dog & Cat Pin Comb
This detangling comb doubles as a flea comb to help you keep your cat's coat smooth and free from tangles, mats, and pests.
---
9.

JW Pet Gripsoft Cat Nail Clipper
This nail clipper is specifically designed for cats and features an enhanced grip for comfort and security while you're trimming your cat's nails.
---
Litter and Litterboxes
Both indoor and indoor/outdoor cats need an indoor litter box. While it may take some time to determine your new cat's favorite litter box style and litter, here are some top picks:
10.

Frisco Multi-Cat Unscented Clumping Clay Cat Litter
This cat litter is suitable for multi-cat households and features all-natural clay that clumps and removes easily.
---
11.

World's Best Multi-Cat Unscented Clumping Corn Cat Litter
This cat litter uses a natural compressed corn formula to minimize dust and trap odors instantly.
---
12.

Frisco High Sided Cat Litter Box
This litter box is designed with high sides and a deep pan to prevent spray and litter tracking.
---
13.

Tidy Cats Breeze Cat Litter Box System
This litter box system features absorbent pads, a protective drawer, and built-in odor control for better cleaning and maintenance.
Cat Furniture and Toys
Cats like to lounge around as much as they like to play, especially as they age. You should have a combination of cat beds, scratching posts, and toys to keep your cat entertained and give them space of their own. Here are our top picks:
14.

Hepper Cat Nest
This washable cat bed features a removable fleece liner and a round shape that cats can snuggle into and relax, and our tester cats just loved spending hours in this thing! We produce and sell this product ourselves.
---
15.

Frisco Cat Tracks Butterfly Cat Toy
This fun toy keeps your cat entertained with fluttering butterflies and balls to chase and bat on a three-tiered track.
---
16.

Fat Cat Eeeks! Cat Toy with Catnip
This catnip cat toy offers excellent value and plenty of opportunities to engage your cat's hunting and chasing instincts.
---
17.

Hepper Pod Cat Tower and Condo
A Hepper product favorite, this cat tower features an enclosed cat condo for comfort and security with a washable, self-warming fleece liner. It offers a super modern look to go with sleek home décor.
---
18.

SereneLife Automatic Laser Cat Toy
This electronic cat toy features a rotating laser beam that encourages your cat to hunt, pounce, and chase its "prey."
---
19.

Hepper Hi-Lo Cat Scratcher
This scratching post features five positions and a sturdy kickstand to allow your cat to get out its energy with vigorous scratching. This one is also one of our own products, and we love the way it looks!
---
Miscellaneous Supplies and Cat Essentials
There are many important pet supplies to stock up on, but one that many people forget is pet insurance. Companies like Lemonade offer balanced, personalized plans that can help you keep vet costs under control.
So, what else do cats need? We've covered all the cat essentials, but you may need additional supplies for air travel, car travel, vet visits, and more. Here are some optional cat supplies:
20.

Hepper Advanced Bio-Enzyme Pet Stain & Odor Eliminator Spray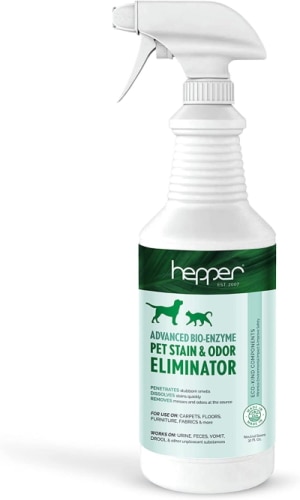 Having a pet means cleaning up smells, stains, hair, vomit, and more...and you can add to your pet clean-up routine with the Hepper Advanced Bio-Enzyme Pet Stain & Odor Eliminator Spray. It's our product, and we love it so much, we just have to share! It permanently removes the very worst smells and stains, and we offer a 100% satisfaction guarantee! Click here to get yourself a bottle!
---
21.

EliteField Soft-Sided Airline-Approved Cat Carrier Bag
This carrier is airline-approved for air travel with your cat and features mesh ventilation windows, durable materials, and convenient pockets.
---
22.

Pet Gear Signature Cat Car Seat and Carrier Bag
This car seat and cat carrier combination limits distractions on car rides by confining your cat to a secure, safe carrier that attaches to the seatbelts.
---
23.

GoTags Nylon Personalized Reflective Breakaway Cat Collar with Bell
This nylon collar features a reflective strip, an engraved identification mark, and a breakaway closure to prevent injury.
---
24.

PetSafe Come with Me Kitty Nylon Cat Harness & Bungee Leash
This combination harness and leash is perfect for cats that hate collars and offers added security for walks.
---
25.

Comfort Soft Mesh Cat Harness & Leash
This matching mesh harness and leash allows you to take your cat for outdoor play or neighborhood walks with comfort and safety.
Time to Enjoy Your New Companion
Cats are a joy to have as a pet, and the best way to start your relationship off right is with all this cat supplies list. From cat carriers to scratching posts to food for kittens and adult cats, we've covered all our top picks for your new cat checklist to ensure you're ready for your new addition.
Related Read: How to Kitten-Proof Your Home: 13 Simple Tips
---
Featured Image Credit: absolutimages, Shutterstock