Nexgard vs Seresto 2022: Which is Best for Fleas & Ticks?

Review Summary
The world of flea and tick treatments is constantly evolving, thanks to new products being unveiled and new research being performed. As a result, most of the options on the market today vastly outperform their forebears, but you'll still see a huge disparity in terms of effectiveness from one product to another.
That's the case with Nexgard and Seresto, two hugely popular treatments that rely on different application methods. Nexgard is a chewable tablet, whereas Seresto comes in collar form, and as a result, your dog will get a much more potent dose of chemicals from Nexgard.
That can be a good or bad thing, depending on your perspective; we prefer Nexgard because we like the confidence that comes with knowing every single bug has been eradicated, but some owners are squeamish about subjecting their pet to such a high dosage of pesticides.

A Sneak Peek at the Winner: Nexgard
Rating
Image
Product
Details

Best Overall

Nexgard

Safe at high dosages
Comes in mess-free tablet form
Extremely effective against fleas and ticks

Runner up

Seresto

Good value for the price
Offers long-lasting protection
Kills and repels both fleas and ticks
What Are the Differences Between Them?
These two solutions are incredibly different, and the right one for your pet will depend on how you feel about those differences. To help you make that decision, we've highlighted key contrasts below.
Method of Application
As mentioned above, Nexgard is a chewable tablet, whereas Seresto is a collar. Both are extremely easy to use, although you may have issues with Nexgard if your mutt doesn't care for the taste.
The fact that Seresto is a collar limits its effectiveness somewhat. It's designed to release its active ingredients slowly, and some of the chemicals will be wicked away by your dog's fur, so it's not quite as potent as other solutions.
What Are Their Active Ingredients?
Nexgard only has one ingredient, Afoxolaner, which blocks neural receptors in insects. This causes their bodies to shut down, killing them.
Seresto has two ingredients, Imidacloprid and Flumethrin. Imidacloprid acts in much the same way that Afoxolaner does, although it just targets fleas, whereas Flumethrin kills multiple species of ticks.

Which Kills Fleas Better?
If given in equal doses, they should kill fleas at roughly the same rate; however, as noted above, chances are that bugs will get a more potent dose of pesticide from Nexgard than Seresto.
That's why it's so important to make sure that the collar is touching your dog's skin because you don't want to limit its effectiveness more than you have to. Even when used perfectly, though, the Seresto collar is a bit less effective than oral or topical solutions.
Which Repels Fleas Better?
Nexgard doesn't repel fleas at all, whereas Seresto does, so this category is easy to call.
Seresto is fairly good at repelling fleas, but don't expect miracles. You should still inspect your dog for parasites before letting them come inside your home.
What Kills Ticks Better?
Again, the chemicals in both are equally effective at killing ticks, provided the doses are similar. However, Nexgard will generally give ticks a more lethal dose than Seresto will.
Which Repels Ticks Better?
Only Seresto repels ticks, so it's the easy winner here.
Which Is Safer?
You shouldn't have any serious issues with either product, but both occasionally cause mild side effects.
Nexgard may upset your dog's stomach, which is a common complaint about oral medications. Seresto, on the other hand, may irritate your dog's skin, so it's important to check on your pet regularly to make sure they're tolerating the medication well.
However, you shouldn't have to worry about overdoses with Nexgard, as it's considered safe even at five times the recommended dose.
Which Is Cheaper?
These two products are roughly equal in terms of sticker price, but it would be misleading to look at the price tag alone.
Each Nexgard tablet protects your dog for one month, and you'll generally find a three-month supply in each box. Seresto works for up to eight months, though, so when you do the math, you'll find that it's significantly cheaper than Nexgard.
Also, Nexgard is only available by prescription, so you'll need to factor in the cost of a vet visit as well.

Quick Rundown of Nexgard: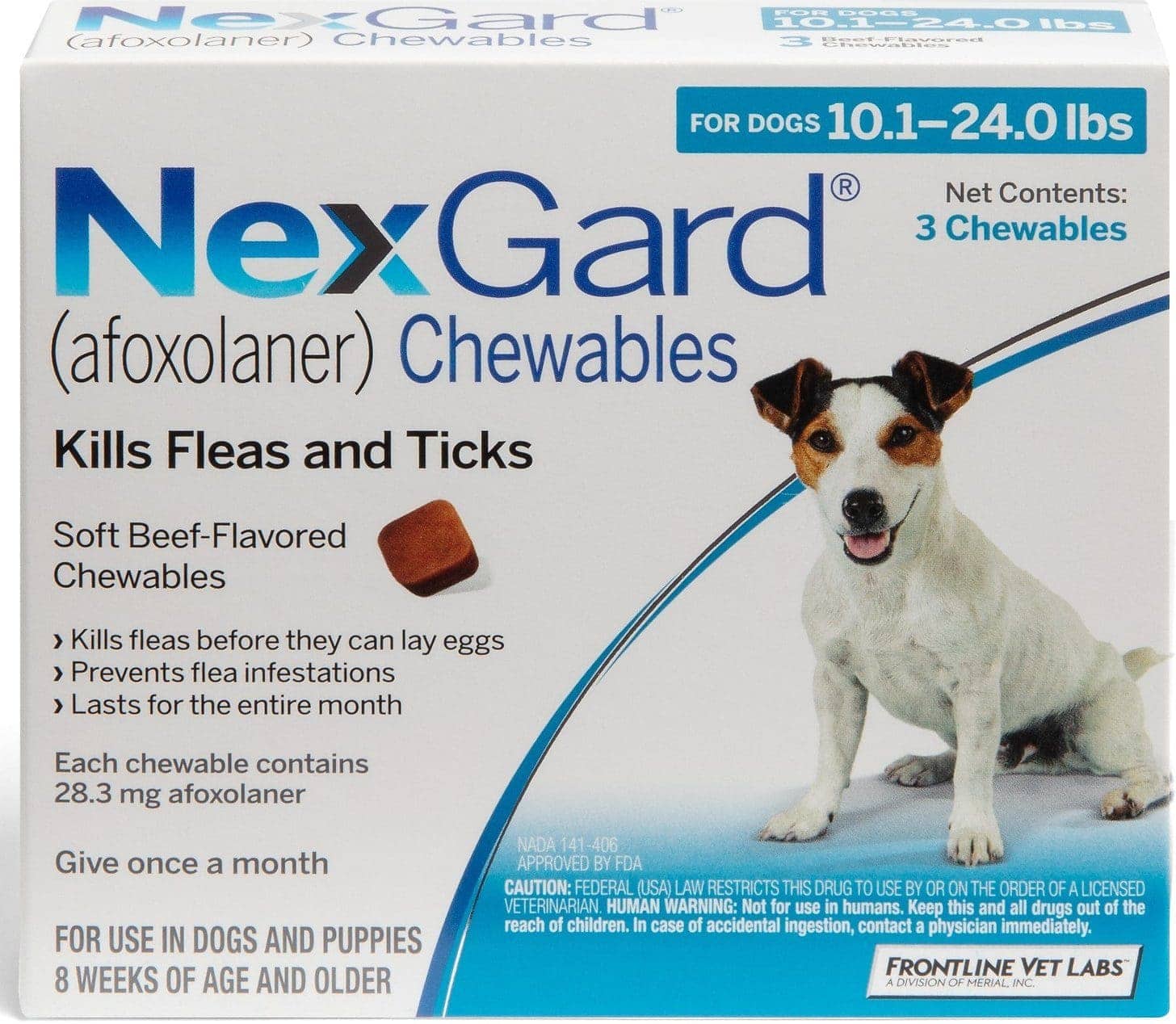 Nexgard is one of the most popular oral treatments on the market, as it's easy to administer and extremely effective.
Extremely effective against fleas and ticks
Comes in mess-free tablet form
Safe at high dosages
Requires a prescription
Lacks a repellent
Quick Rundown of Seresto:
If you're going to use a flea collar on your dog, there are few options better than Seresto.
Kills and repels both fleas and ticks
Offers long-lasting protection
Good value for the price
Only provides small amounts of pesticide
Has to stay in contact with skin to work
---
What the Users Say
While there's quite a bit to learn about any flea and tick treatment from researching the ingredients and looking at the clinical research, we find that you'll get valuable insight from seeing what other users have experienced as well. To that end, we took a look at the experiences of regular pet owners.
Nexgard users generally hold the product in high regard, as they find it's easy to administer and most dogs seem to enjoy the flavor. This makes giving your dog their medicine a generally stress-free experience.
They also report that it kills fleas and ticks with extreme thoroughness, so you shouldn't find any stragglers hanging out in your dog's fur. You may find a few insect carcasses in their coat, though, so be sure to groom them regularly.
Many of the complaints center around one of two things: Either users are unhappy that the product lacks a repellent, or they're upset because the medicine irritated their pet's stomach. These complaints are rare, though, and there's little that can be done about either one of them.
The price is another bone of contention, especially since the medicine requires a prescription. This necessitates a vet visit, which will cost you more money. The effectiveness generally makes it worth it, however.
Seresto users are a bit all over the place, and it largely depends on what type of flea and tick control they were using before switching to Seresto. If they used a cheaper collar, then they're usually amazed by its effectiveness, whereas those who transitioned from an oral or topical treatment are more likely to be somewhat disappointed.
There are also reports of irritation caused by the chemicals rubbing onto the skin; again, this is something that's known to happen and can't be avoided if your dog doesn't respond well to the treatment. That's why it's so essential to monitor your pet and discontinue the use of the collar if they react poorly.
Many of the users who were most complimentary of Seresto combined the collar with an in-home flea treatment. This eliminates any pests that fall off your dog, while also taking care of one of the primary culprits of re-transmission.

Conclusion
Nexgard tablets and the Seresto collar are both effective for controlling flea and tick populations, but we found that Nexgard works a little bit better. This is due to the fact that dogs will experience higher concentrations of pesticide from an oral treatment than they will a collar, which is something that may or may not appeal to you, depending on your philosophy on chemicals.
Some owners may still prefer the Seresto collar, however. It's much cheaper than Nexgard and provides longer-lasting protection. It also has a repellent, so it may be a smarter choice for animals who stay outside full time.
However, if your primary concern is giving your dog the maximum amount of protection you can, we feel that you can't go wrong with Nexgard.