Pedigree Dog Food Review 2023: Recalls, Pros, and Cons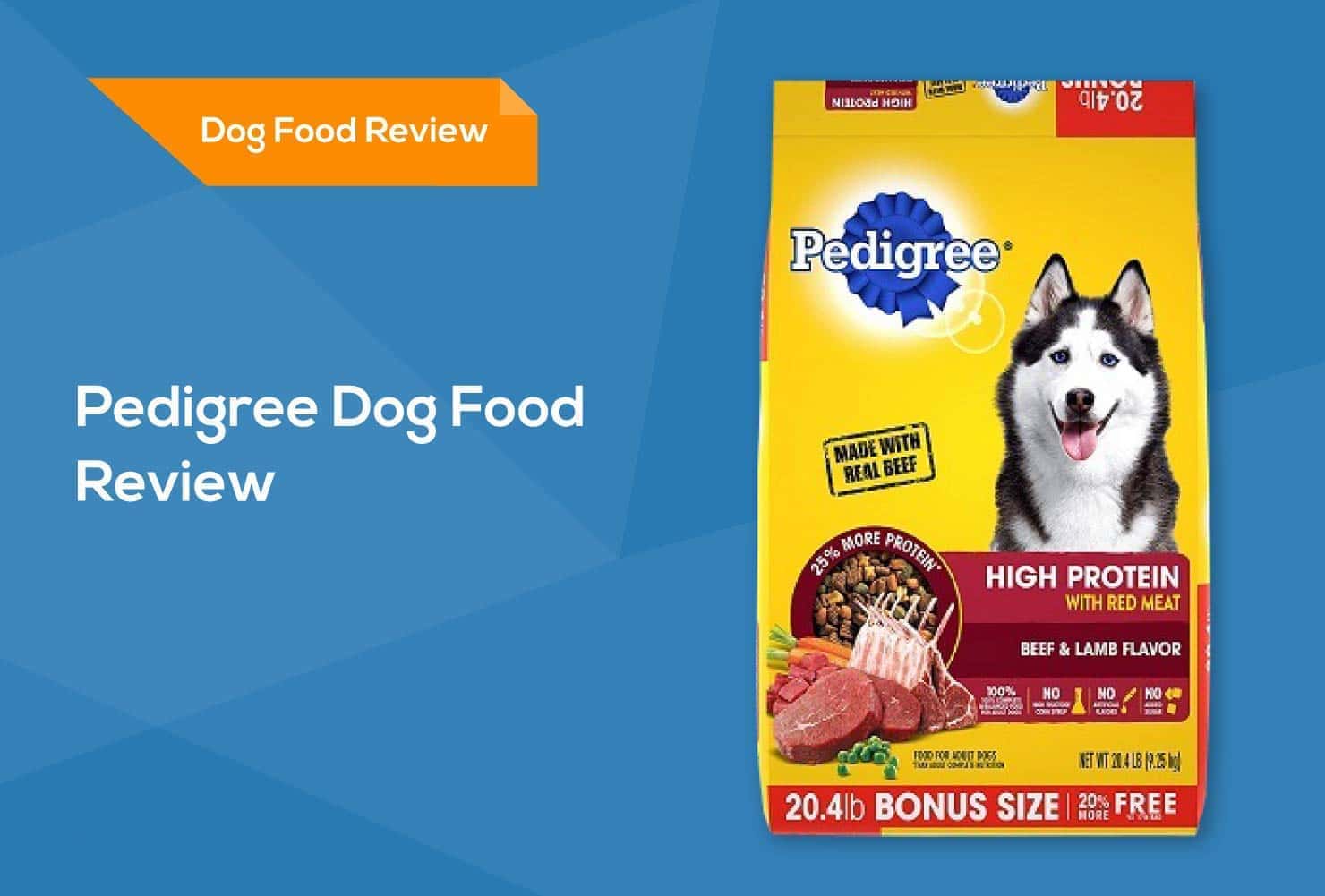 The Pedigree brand of dog food probably doesn't need much introduction — we've all seen these products on the shelves of our local supermarket or pet supply store. In fact, one of the major selling points of this brand is its availability and affordable price point.
As we all know, however, just because something is cheap and easy to find, that doesn't mean it's the best option out there. While Pedigree dog food is an accessible option for owners on a budget, it's far from the best dog food you could be feeding your canine companions. Between low-quality ingredients and an extensive recall history, it might be time to switch your dog to a more expensive brand. Before you do, though, here's what you need to know:

At a Glance: The Best Pedigree Dog Food Recipes:
Rating
Image
Product
Details

Our Favorite

Pedigree High Protein

High-protein formula supports lean muscle
Available at most pet food retailers
Affordable for most dog owners
Check Price

Pedigree Choice Cuts in Gravy

Meat is the primary protein source
Highly digestible ingredients
Features nutritious fats for coat and skin health
Check Price

Best For Puppies

Pedigree Complete Nutrition Puppy

Designed for the needs of young dogs
Includes a good amount of protein
Affordable and easy to find
Check Price

Pedigree Complete Nutrition Adult

Optimal levels of omega-6 fatty acid nourish the skin
Supports healthy digestion with a delicious roasted chicken flavor
Helps clean the teeth with every bite
Check Price

Pedigree Chopped Ground Dinner

Features a hearty chopped texture with an irresistible taste of chicken and rice
Balanced recipe provides complete nutrition
Highly digestible for easy nutrient absorption
Check Price
The Pedigree brand offers a variety of dog food formulas, including wet food, dry food, and treats. As of our review, here are a few of the best dog food recipes offered by Pedigree:
Pedigree Dog Food Reviewed
Pedigree is an affordable, widely available brand of dog food that almost every pet owner has seen on their local pet store or supermarket shelves. While these formulas are a go-to option for dog owners on a strict budget, they might not be the best option for all (or even most) hungry canines.
Who makes Pedigree Dog Food and where is it produced?
The Pedigree brand is one of many dog food labels owned by Mars, Incorporated, which also owns popular human consumables like M&M candies, Snickers, and Milky Way. Don't worry, though — the factories that make your favorite candy bars are not also making your dog's dinner!
While many Pedigree dog food formulas bear a "Made in the U.S.A." label, it's unclear if this applies to every dog food recipe manufactured by the brand. Since this information isn't readily available, we think it's safe to say that not all Pedigree dog food formulas are made in the United States. If you're concerned about where your dog's food is manufactured, we suggest only purchasing Pedigree products that display the "Made in the U.S.A." label.

Which Types of Dogs Is Pedigree Dog Food Best Suited For?
Overall, we recommend Pedigree dog food for pups in good health. In other words, these aren't necessarily the best formulas for dogs with pre-existing health conditions, food allergies, and other concerns.
With that said, this brand is one of the most affordable dog food labels out there for a reason. If you're able to invest a little extra into your regular dog food budget, your four-legged companions might be better off with something of a bit higher quality.
While we understand that not all dog owners can afford premium dog food formulas, some great alternatives available at your local supermarket might include the Nutro Wholesome Essentials Adult Dry Food or the Purina Pro Plan FOCUS Adult Sensitive Skin & Stomach.

What's Inside? (The Good and the Bad)
Although Pedigree dog food is not perfect, one great thing about the company is its willingness to share information about its core ingredients. These include:
Whole corn
Despite its poor reputation, high-quality corn can actually be an important source of nutrients for your dog, including amino acids (protein), fiber, and linoleic acid. As long as your dog doesn't have any known corn allergies, there's no reason to avoid this ingredient entirely.
However, many Pedigree dry recipes feature corn as the very first ingredient, which means that animal-based proteins are not being prioritized.
Meat and bone meal
While it's always nice to see whole meat as an ingredient in our dog's food, it is far from the only option when it comes to sourcing nutrient-dense animal protein. In Pedigree's case, most of its formulas rely on meat and bone meal instead.
In simple terms, meat and bone meal is a ground-up mixture of the unused parts of an animal after being slaughtered for human consumption. No, this doesn't sound very appetizing to our human stomachs, but dogs (and their wild ancestors) rely on bone, cartilage, and organ meat to get their required nutrients.
So, the use of this ingredient isn't too concerning. However, we wish there were additional sources of animal protein in most Pedigree formulas.
Beet pulp
Just like us humans, dogs need a good amount of fiber to stay regular. Beet pulp is a safe, easily digestible source of fiber.
Vegetable oil
According to Pedigree, several of its formulas contain vegetable oil. While it's true that vegetable oil is a source of linoleic acid and can help boost coat appearance, there are better oils you could be feeding your dog.
Despite its popularity in dog food recipes, vegetable oil may cause diarrhea or other digestive symptoms in some dogs.
A Quick Look at Pedigree Dog Food
Calorie Breakdown: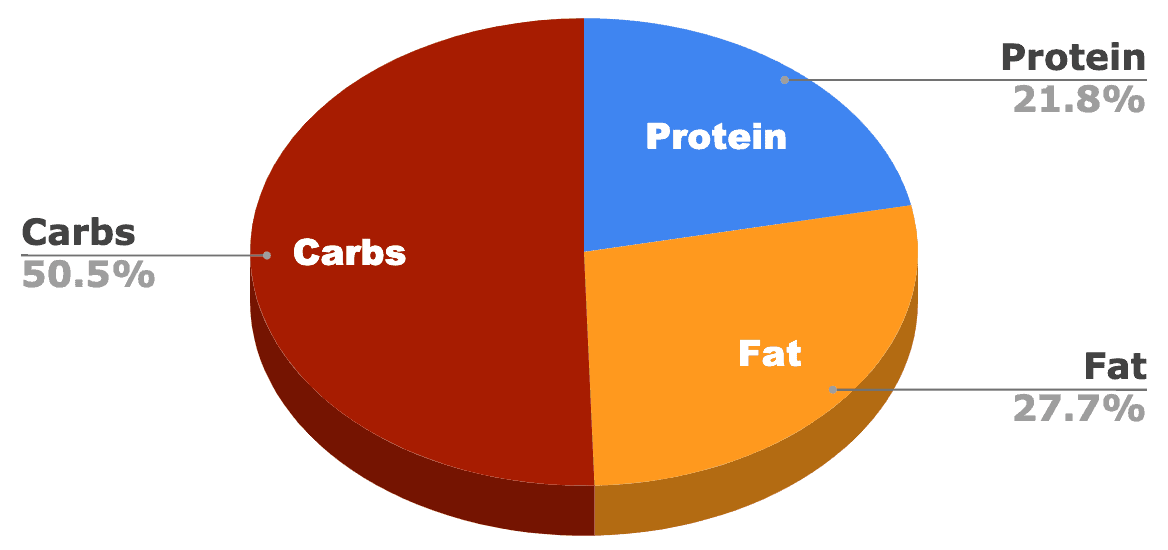 Widely available at supermarkets
Different recipes for various dietary needs
More affordable than competitors
Some products are made in the U.S.A.
Features some lower-quality ingredients
Company has been subject to past recalls
Not a good source of animal protein
---
Pedigree Dog Food Recall History
Though a larger brand is indeed more likely to experience recalls than a smaller competitor, the number of recalls issued by the Pedigree brand in recent years is on the high end.
In 2014, Pedigree recalled a selection of 55-pound dry dog food bags because of potential metal fragment contamination and a single lot of 15-pound dry dog food bags for possible contamination with a "foreign material."
In 2012, Pedigree recalled three varieties of wet food for potential contamination with small pieces of plastic.
In 2008, Pedigree recalled a wide variety of dog food products because of potential salmonella contamination.
Unlike some other pet food companies, whose past recalls have been over relatively minor quality issues, Pedigree's recall history is concerning.

Reviews of the 3 Best Pedigree Dog Food Recipes
If you're interested in learning a little more about Pedigree dog food, here's a closer look at three of the brand's best formulas:
1.

Pedigree Dry Dog Food High Protein (Beef & Lamb)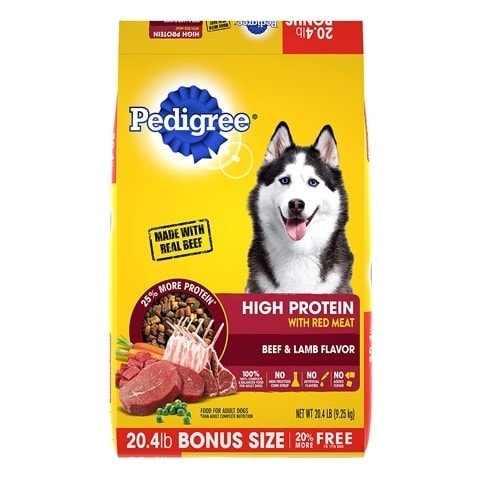 The Pedigree Dry Dog Food High Protein formula is popular among owners who want to boost the amount of muscle-building protein being fed to their dogs. Compared to the brand's standard adult dry food, this formula contains 25% more protein. It also contains essential amino acids and nutrients to meet your dog's dietary needs.
The Beef & Lamb recipe contains a minimum of 27% protein, 12% fat, 4% fiber, and 12% moisture.
Despite our criticisms of the Pedigree brand, this formula is quite popular among consumers. You can see what other dog owners have to say about this dry dog food by reading the Chewy reviews.
High-protein formula supports lean muscle
Made in the U.S.A.
Available at most pet food retailers
Affordable for most dog owners
Plant-based protein is the primary source
Filler ingredients may trigger digestive issues
---
2.

Pedigree Choice CUTS in Gravy (Country Stew)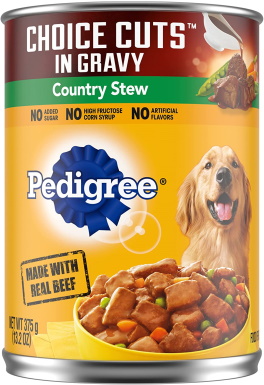 If you're someone who prefers feeding your dog wet food over kibble, even if just as a special treat, the Pedigree Choice CUTS in Gravy is one of the brand's most popular canned food recipes. Unlike the brand's dry food formulas, the primary protein source in this food is real chicken, which is great to see. Looking at Pedigree wet dog food reviews, this formula offers well-balanced nutrition for the price.
For the Country Stew recipe, the minimum nutritional breakdown includes 8% protein, 3% fat, 1% fiber, and 83% moisture.
Many dog owners on a budget rely on this food to feed their canine family members, so we encourage you to check out what other consumers have to say by reading the Chewy reviews for this product.
Meat is the primary protein source
More affordable than many other wet formulas
Made in the U.S.A.
Highly digestible ingredients
Features nutritious fats for coat and skin health
Protein content is on the low end
Does not contain much fiber
Contains a large amount of gravy
---
3.

Pedigree Dry Dog Food Puppy (Chicken & Vegetable)
For those looking for a Pedigree puppy food review, the Pedigree Dry Dog Food Puppy formula is definitely the brand's most popular option. This recipe includes key nutrients for puppy development, such as DHA, calcium, and phosphorus. Like Pedigree's adult dry food formulas, though, this product does rely heavily on plant-based protein.
In the Chicken & Vegetable flavor, you'll find a minimum of 27% protein, 11% fat, 4% fiber, and 12% moisture.
To hear what other puppy owners have to say about this dry food formula, we suggest hopping over to the Amazon reviews.
Designed for the needs of young dogs
Includes a good amount of protein
Affordable and easy to find
Made in the U.S.A.
Primary protein sources are corn and soy
Not ideal for some large breed puppies
---
What Other Users Are Saying About Pedigree Dog Food
Looking at what other reviewers have to say about Pedigree and its line of dog food formulas, it's clear that we aren't the only ones who think this brand is acceptable but definitely not the best.
PetAware: "Although Pedigree formulates its products to conform to standards set by nutrition authorities, their use of questionable ingredients cannot be overlooked."
DogFoodAdvisor: "Pedigree is a grain-inclusive dry dog food using a modest amount of poultry by-product or meat and bone meals as its main source of animal protein."
Dog Food Insider: "This is not a food you want to feed your dog if you have alternatives. There are some other foods that have some of the same ingredients, but this food has none of the better ingredients you usually find to offset ingredients you don't like."
Labrador Training HQ: "It is safe to say that this dog food, while popular, is not the top dog food that you should be serving to your pup."

Conclusion
So, should you feed your dog Purina dog food? In the grand scheme of things, feeding your dog one of the Purina dog food formulas, either short or long term, is unlikely to do any harm. There's a reason that Pedigree is one of the most popular budget dog food brands out there, and we don't see it going anywhere any time soon.
On the other hand, we believe that there is a wide variety of other great options out there that may be healthier for your dog than Pedigree Dog Food. If you have access to higher-quality dog food, we definitely recommend checking out your options before settling on a Pedigree formula.