10 Nom Nom Cat Food Alternatives (2023): Which Is Better?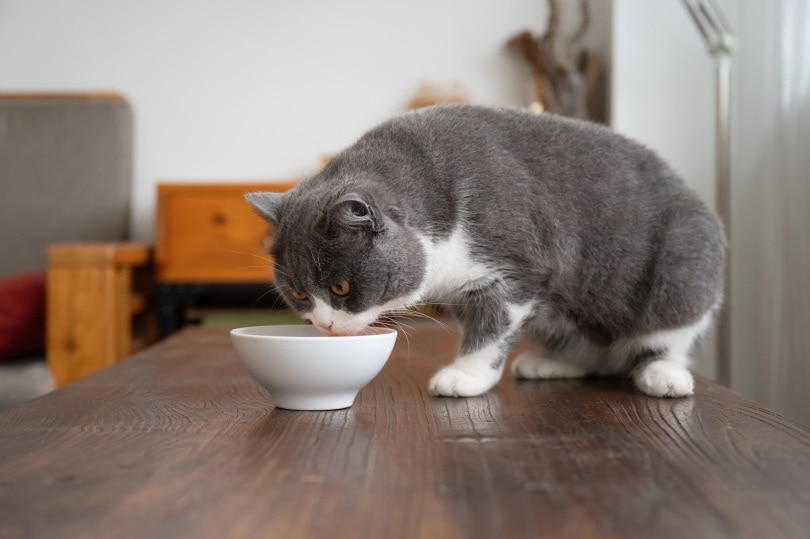 Shopping at your local pet store and carrying a heavy load of supplies to your car is no longer necessary when you can have high-quality cat food delivered to your home. Nom Nom's cat food was a great choice, but now that they've discontinued the product, you may be wondering what your other options are. Whether your furball prefers wet food, fresh meals, freeze-dried food, or dry brands, we compiled a list of eight great cat food delivery services so you can keep your beloved feline happy, healthy, and full of energy.
A Quick Look at Our Favorites in 2023
Rating
Image
Product
Details

Smalls Fresh Cat Food

Fresh meals and freeze-dried raw options
USDA-certified ingredients
Gently cooked
Click to Save 40%

Use code: Hepper2023

Cat Person Cat Food

High in protein
Clear pricing
Many options avalable
Check Price

Savage Cat Raw Food

Single meals or use subscription delivery
Made in U.S.
Two textures to choose from
Check Price

Raised Right Human-Grade Cat Food

High -protein and low-carb
No grains, fillers, or additives
Ingredient tracking
Check Price

Chewy Online Pet Store

Huge inventory of cat food
Simple ordering system
Exceptional customer service
Check Price
The 10 Nom Nom Cat Food Alternatives
1.

Smalls Fresh Cat Food Subscription Service
| | |
| --- | --- |
| Food type | Human grade fresh, freeze-dried raw |
| Extras | Bird broth, kibble, giblet niblets |
Smalls makes fresh cat food and freeze-dried raw meals to maintain your pet's active, carnivorous lifestyle. It offers more meal options than many competitors and additional items like bird broth, toys, and silica litter. We were impressed with Smalls' offerings and consider them to be a good Nom Nom alternative. The company's wholesome meals include three proteins: bird, other bird (turkey), and cow. Smalls' high-protein, fresh meals are USDA-certified and made with humanely-harvested ingredients. They're lower in carbohydrates than the competition and enhanced with essential amino acids, minerals, and vitamins.
If your pet enjoys the crunch of dry food more than wet meals, you can try Smalls' freeze-dried raw products. The unique freeze-drying process involves freezing the fresh meat to -10° F, grinding it, and freeze-drying the material for 40–48 hours. Unlike typical raw cat food, you can store Smalls' meals at room temperature in the cabinet instead of the fridge or freezer. This is a great cat food delivery service, and if your cat does not like the food, Smalls will refund your money.
Fresh meals and freeze-dried raw options
Made with USDA-certified ingredients
Gently cooked food that retains nutrients
High in protein and low in carbohydrates
Fresh meals are available in two textures
Creating an online profile takes longer than other companies
---
2.

Cat Person Cat Food Subscription Service
| | |
| --- | --- |
| Food type | Wet, dry |
| Extras | Cat treats, canopy bed, food bowl |
Fresh cat food is more expensive than commercial wet brands, but we found an affordable option for finicky cats. Cat Person offers a lot of value for the money, and it provides more menu options and cat food textures than the competition. You can choose from 16 wet meals and three dry flavors, including chicken, chicken and tuna, duck, beef and mackerel, and bream. If you're not interested in a subscription, you can order items à la carte, and you'll get free shipping on orders over $40.00.
Cat Person does not display vague descriptions of their recipes like other companies. Each meal box has bold lettering detailing the ingredients, and you'll never see "animal by-products," or unnecessary fillers in the recipes. We're impressed that every meal exceeds the industry standards for protein, and with so many proteins to choose from, your cat is sure to find a favorite, even if it's picky about its food. Our only complaint is the company's delivery schedule for subscriptions; you can only receive deliveries once a month.
Made with more protein than the industry standard
Prices are displayed for all items on the website
Larger menu with more options than competitors
Subscription and à la carte options
Only delivers once a month with subscriptions
---
3.

Savage Cat Commercially Available Raw Food
| | |
| --- | --- |
| Food type | Raw |
| Extras |  Quail, rabbit ears, duck walkers, and squawkers |
Raw cat food is becoming more popular, and more dog and cat food delivery services now offer raw and freeze-dried raw options. Savage Cat Food is one of our favorite raw food producers, and although it's expensive, it's protein-rich and sure to appeal to your carnivorous kitty. You can choose pâté or diced meals from three animal proteins: duck, chicken, and rabbit. The meats used in Savage's meals come from U.S. farms, and virtually every part of the animal is used in the recipes. If you examine the ingredients of the company's Rabbit Box, you'll see a whole rabbit with bones, lamb hearts, lamb livers, and egg yolks.
Organs, blood, and bones may not sound appetizing to humans, but they're packed with vitamins and essential minerals and simulate the diet of wild cats. If you're looking for unusual treats that may shock your friends or family, you can order Savage's dehydrated rabbit ears, whole prey quail, duck walkers, and squawkers. Savage recommends feeding the whole prey treats outside or in the bathtub to minimize cleanup. Cleaning the remnants of a dead animal in your bathroom may not be appealing to everyone, but if it does not bother you, it will make your feline happy.
You can order single meals or use subscription delivery
Made with U.S.-raised duck, rabbit, and chicken
Two textures to choose from
Meals are available in individual portions and tubs
---
4.

Raised Right Human-Grade Cat Food
| | |
| --- | --- |
| Food type | Fresh |
| Extras | Meat Bites, Shake a Flakes |
It's challenging to find fresh food delivery that's appropriate for kittens. Raw diets are only suitable for adults, and some cooked meals are too low in protein and fat for young felines. Raised Right is a maintenance food designed for adult cats. Unlike its competitors, Raised Right goes to extreme lengths to be transparent about its ingredients.
You can click on each animal ingredient on the company's website, and a location map instantly appears with an arrow pointing to the U.S. state where it originated. Raised Right offers four gently cooked recipes: Original Turkey, Original Chicken, Chicken and Pumpkin Paté, and Turkey and Pumpkin Paté. Each meal contains 20%–21% protein, 8%–9% fat, and only 1% carbohydrates.
Our biggest problem is the cat food's package. Although the website gives you portioning instructions for your cat, the 16oz bags are not as convenient as the pre-portioned items from Raised Right's competitors.
High in protein and low in carbohydrates
No grains, fillers, or additives
Ingredient tracking shows the origin of each protein
Each batch is tested for pathogens before shipping
Food is not pre-portioned
---
5.

Chewy Online Pet Store
| | |
| --- | --- |
| Food type | Wet, dry, freeze-dried, fresh, raw |
| Extras | Treats, cat toys, grooming items, furniture, supplies, prescriptions |
Chewy is one of the most popular retailers specializing in pet products, and it's the perfect option for pet parents who prefer more variety in their pet food. While most fresh food delivery services offer four to 20 recipes, Chewy has hundreds of cat food recipes, including fresh, raw, freeze-dried, and dry meals. With auto-ship, you can get automatic deliveries and never worry about entering an order when supplies get low.
Unlike the endless menus you scroll through with competing sites, Chewy's site is simple to navigate. One of Chewy's most significant advantages is its customer service department. Customer service problems are widespread with online retailers, but Chewy's staff goes out of their way to satisfy the customer.
Although the company has deals and promotions that save you money on cat food and supplies, their prices on premium brands are not always the lowest on the web. They have an impressive selection of products, but it's frustrating when several of your favorite brands are discontinued. However, a product's removal could be related to a supply issue, safety concern, or any number of undisclosed reasons.
Huge inventory of cat food
Simple ordering system with auto-ship
Exceptional customer service
Premium cat food sometimes costs more than other retailers
Several cat products are discontinued
---
6.

JustCats Fish and Chicken Cat Food Subscription Service
| | |
| --- | --- |
| Food type | Fresh |
| Extras | Salmon bark cat treats |
Although Just for Dogs specializes in fresh meals for canines, it also makes a recipe just for cats. The JustCats Fish and Chicken is free of grains and gluten and contains no growth hormones. The wholesome ingredients include chicken thighs, chicken hearts, chicken liver, wild-caught cod, Atlantic sardines, and dried yucca root for fiber.
You can also order the Salman Bark treats for a low-fat alternative to commercial cat treats. Just for Dogs is ideal for pet parents with cats and dogs, but it's a bit lacking for cat owners. If your cat likes the Fish and Chicken meal and salmon treats, you shouldn't have any issues, but picky felines may prefer more options.
Free shipping
35% off the first order
Grain-free and gluten-free
Only one recipe and treat for cats
Low in fiber
---
7.

Fresh Pet Fresh Cat Food Online Store
| | |
| --- | --- |
| Food type | Fresh |
| Extras | Available at grocery and pet stores |
Fresh Pet is one of the first fresh pet food companies available at corporate grocery chains and pet stores. Although the company does not offer a delivery service, you can use one of their online providers like PetSmart to get periodic deliveries. Fresh Pet has five recipes for cats and carries several for dogs. Two of its grain-free recipes come in meat logs with marks on the package to help with portion control. You can also get chicken, chicken and beef, and grain-free chicken in bite-sized pellets packaged in bags.
Fresh Pet does not use preservatives, fillers, or artificial flavors in its recipes. Although it makes high-quality meals, your cat may not find the meat log chunks as appealing as other fresh food brands. It looks similar to speckled Spam, unlike competitors' meals that resemble human cuisine. The fresh kibble products are less unusual, but you must keep them in the refrigerator and use them within 6 days.
Available online and in pet stores
Made without preservatives, artificial colors, or flavors
High in protein
Meat rolls are less appealing than tender bite recipes
Fresh kibble must be refrigerated
---
8.

Raw Paws Raw Pet Food Online Store
| | |
| --- | --- |
| Food type | Raw |
| Extras | Treats for cats and dogs |
When you gaze at the Raw Paws website, you may think you're ordering from an online butcher. Raw Paws has a massive stock of raw food, toppers, dental chews, and treats for felines and canines. Its menu items include ground meats, meaty bones, freeze-dried meals, kibble, organs, green tripe, and ears. However, the lamb ear treats are only for dogs.
Large, glistening chunks of beef kidneys may not make your mouth water, but it's a nutrient-rich snack, though unusual, that your pet will devour. One disadvantage of ordering from Raw Paws is the freezer and fridge space needed to keep the food safe. You have to thaw the meals overnight and use them within three days. Also, some of the raw meals and organs are not easy to portion.
Huge menu with treats, chews, and toppers
Several food types, including raw, kibble, and freeze-dried
Raw meals must be defrosted and used in 3 days
Most recipes are for cats and dogs
Large packages are irritating to portion
---
9.

Open Farm Pet Humanely Sourced Cat Food
| | |
| --- | --- |
| Food type | Dry and wet food |
| Extras | Bone broth, goat's milk |
Open Farm Foods makes meals for cats and has a more extensive menu for canines. You can order from the company's website or use one of its online partners. Open Farm's cat food options are not as impressive as some competitors, but you can order dry and wet food, bone broths, and goat's milk for your pet. Some of the meals include Harvest Chicken Rustic Blend Wet Food, Wild-Caught Salmon Dry Cat Food, and Catch-of-the-Season Whitefish Dry Cat Food.
Open Farms uses humanely-raised animals and ethically sourced ingredients to make its high-protein cat food. Although the meals do not contain preservatives, fillers, or artificial colors, most of their wet and dry food is rather high in fat. If your kitty has weight problems, it's best to try another service. Also, Open Farm's kibble and wet meals are more expensive than many premium brands.
High-quality ingredients
Recipes are made from sustainable sources
Wet and dry food is high in fat
Small menu for cats
Expensive
---
10.

Darwin's Raw Cat Food Online Store
| | |
| --- | --- |
| Food type | Raw, prescription meals |
| Extras | Large menu for dogs |
If your cat's ready to eat a raw diet, you can try Darwin's Raw Meals. Darwin's produces raw meals for dogs and cats but only three feline recipes. The meals are formulated with assistance from veterinary nutritionists to ensure your cat enjoys a healthy diet, and the ingredients include free-range, pasture-raised, cage-free meats. Darwin's does not use fillers, grains, chemicals, or hormones in any of its recipes.
Although their Intelligent Design recipe is made for cats with kidney disease, it requires a prescription from your vet and only comes in one flavor. Some cat parents love Darwin's, but with few options for picky cats, you have more variety with other delivery services.
High in protein
Uses hormone and antibiotic-free meat
Only three recipes for cats
Intelligent Design meal requires a prescription
History of recalls (with dog food)
Expensive
How to Find a Great Nom Nom Cat Food Alternative
As you can see, Nom Nom has many competitors that offer delivery services. Before starting a subscription, you can examine these tips to help you determine which company is perfect for your feline.
Veterinary Advice
The companies in our reviews have their strengths and weaknesses, but each one offers premium meals that are typically more expensive than most commercial brands. Although some meals may be more nutritious than your pet's ordinary food, your cat may take time to warm up to the new brand. If you're making a drastic change in the cat's diet, it's wise to consult a veterinarian for advice. Some meals may not be suitable for cats with medical conditions, and others like raw diets are not safe for immunosuppressed animals. Your vet can give you invaluable advice about your cat's diet and may suggest which subscription fits your pet.
Cat Food Types
Nom Nom used to offer an excellent fresh recipe for cats, but your pet may prefer eating dry food or canned wet meals instead of high-end homemade meals. Which pet food type is best? There is not a definitive answer to that question, but we'll look at the advantages of each kind.
Dry Cat Food
Commercial dry food has been criticized for being packed with unnecessary fillers, preservatives, and carbohydrates. Several decades ago, that was partially true, but today's manufacturers offer several nutrient-rich dry meals without harmful additives. Private companies and corporate firms make healthy kibble, and several brands have the appropriate protein, carbohydrates, and fat levels for healthy kitties.
The most significant disadvantage of dry meals is the lack of moisture. If your cat's a heavy water drinker, it may not be a problem, but most cats are not. Dry food is often nutritionally balanced, but you can add some wet food or mix in broth to ensure your pet stays hydrated.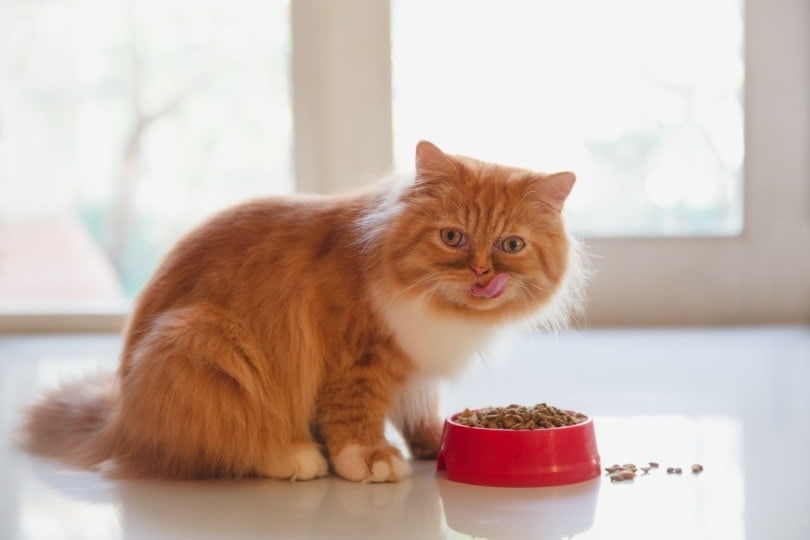 Wet Cat Food
Many cats prefer wet meals to kibble, and most brands contain 70% to 85% moisture, unlike dry food. Wet meals help to keep adequate hydration levels and prevent kidney issues. As with any meal, look for quality ingredients and a good macronutrient ratio. You should also brush your cat's teeth regularly to prevent any detail issues.
Raw Cat Food
Raw meals have been promoted as being superior to other pet food types, but the Centers for Disease Control and Prevention (CDC), the Food and Drug Administration (FDA), and the American Veterinary Medical Association (AVMA) do not seem to agree. They do not recommend feeding a raw diet to cats or dogs because of the risk of dangerous pathogens harming the pets and owners. The raw diet suppliers on our list perform pathogen tests before shipping food, but the risk of contamination is too scary for some pet owners to accept a raw diet.
However, some cat lovers are pleased with the raw food. If you scrub your hands after handling it and sanitize the cat's feeding area, you're less likely to contract a foodborne illness from contaminated meat. Whether you buy freeze-dried meals or tubs of raw meat, check with your veterinarian to ensure the food is safe for your feline.
Fresh Cat Food
Several companies offer "fresh meals," but what does that mean? It's a marketing term meant to differentiate the meals from typical wet food. Although the term is vague and often overused, fresh food made by most of the manufacturers on our list, except Fresh Pet, looks more like human cuisine than cat food. However, the food's appearance is not an indication of its nutritional value. If you look at the nutritional profile on subscription websites for fresh meals, you should find important information about the nutritional content of each recipe.
Price
Except for Chewy, the companies on our list sell meals that are pricier than typical cat food. You can spend a fortune buying premium cat products on Chewy, but you can also purchase lower-priced food and treats. If you're on a budget, a subscription service selling fresh or raw meals may not be suitable for you.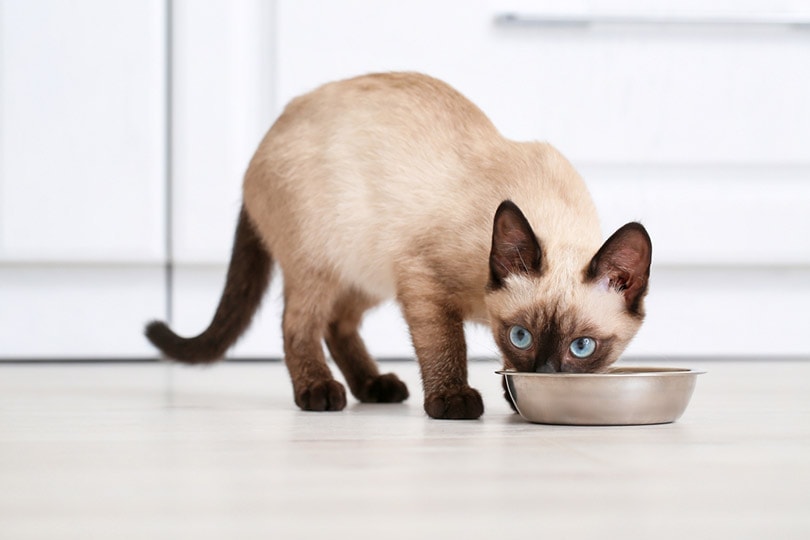 Delivery Options
Shipping problems are common in virtually every industry, but a shipping mistake with perishable cat food is more concerning to pet parents. Unless you can accept packages in person, you may want to avoid raw meal delivery to your home. Raw food is shipped frozen, but a hot summer day can raise the temperature quickly and possibly make the food inedible. You need to make sure the cold chain is maintained from the factory to the plate.
Conclusion
Although Nom Nom no longer offers fresh cat food, there are a few good alternatives currently available. We hope you're more informed about the Nom Nom competitors from our reviews, and we're sure your pet will be happy with your decision. We examined several exceptional companies, but Smalls Cat Food was our favorite. Smalls' meals have the ideal protein, fat, and carbohydrates for active cats. Its freeze-dried raw food is a hit with cats and their owners who do not have to store it in the fridge. Another good option is Cat Person because of its massive menu of high-quality cat food. We also liked the ability to order a single package without a membership.
Related Reads:
---