10 Best Pet Insurance Providers in Ohio – 2023 Reviews

As a pet owner, you are likely always looking for ways to improve your pet's quality of life. Pet health insurance is becoming increasingly popular to help owners cover expensive vet costs. These policies help families maintain their pet's health and prepare for the unexpected.
If you are an Ohio native and want to know coverage options for pets, we have you covered. Luckily, most pet insurance companies cover all 50 states, including Ohio. Here are our top favorite picks—enjoy the reviews and happy shopping.
A Quick Look at Our Winners in 2023
Rating
Image
Product
Details

Best Overall

Trupanion Pet Insurance

Comprehensive age coverage price
Pays vet directly
Long list of covered issues
Click to Get Quote

Lemonade Pet Insurance

Involved in charitable activities
Reimbursement based on vet bill total
No caps or limits
Click to Get Quote

Embrace Pet Insurance

Fantastic coverage options
Works for a variety of pet parents
Considers past preexisting conditions
Click to Get Quote

Pets Best Insurance

Affordable policies
Easy plans
Suitable coverage
Click to Get Quote

Pumpkin Pet Insurance

Great customer service
Excellent illness coverage
Discounts available
Click to Get Quote
The 10 Best Pet Insurance Providers in Ohio
1.

Trupanion Pet Insurance – Best Overall
| | |
| --- | --- |
| Reimbursement: | 90% |
| Deductible: | Varies |
Trupanion is a rapidly growing company that serves pets. It can be a little pricy, but the perks are worth it.
Coverage
Trupanion pays your vet directly. They get recognition for covering the most illnesses and issues of any other pet insurance company. They cover 90% of veterinary expenses, and you're only responsible for paying for routine and preventative care.
Customer Service 
Trupanion has pretty on-the-nose customer service. They have willing employees ready to help you over the phone or via chat.
Pricing 
Trupanion has a genuinely unique pricing platform. They have the advantage of using your pet's age at enrollment to determine the cost of your policy. For instance, if you are taking a new puppy to get insurance, your rates will stay the same for the duration of their life.
If you enroll a senior, you might notice a substantial price increase due to the pet's age at the time of enrollment. In short, the earlier you can get your pet enrolled, the cheaper it will be for you for life.
Comprehensive age coverage price
Pays vet directly
Long list of covered issues
---
2.

Lemonade Pet Insurance
| | |
| --- | --- |
| Reimbursement: |  70-90% |
| Deductible: | $100, $250, $500 |
Lemonade Pet Insurance is making waves in the industry, competing against big-time companies. Their coverage is sufficient, and they make claim submission a breeze.
Coverage
You can cancel your policy anytime by accessing your lemonade app on your phone. However, keep in mind that if you cancel your policy, anything diagnosed under the first policy will be considered a preexisting condition should you pursue a policy in the future.
Covered:
Diagnostics
Procedures
Medication
Wellness exams
Intestinal parasite test
Heartworm test
Blood work
Vaccinations
Flea and heartworm medication
Medical advice chat
Customer Service 
Lemonade has outstanding customer service, including a 24/7 available medical chat. If your pet is having any problems at home, you can access medical advice before you make a trip to the emergency room.
Pricing 
Lemonade offers several savings options, like a 10% bundle discount. Additionally, they provide a multi-pet discount, meaning if you have more than one pet policy, each policy is reduced by 10%. They also offer a 5% annual discount.
Competitive plans
Easy app
Exam fees not covered in the standard plan
---
3.

Embrace Pet Insurance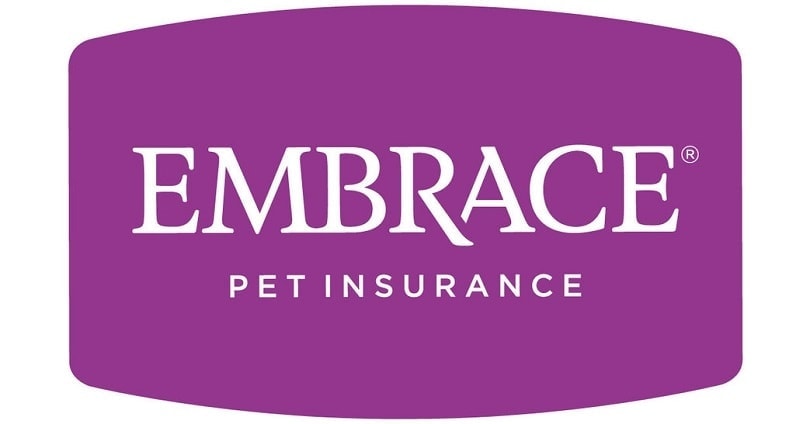 | | |
| --- | --- |
| Reimbursement: | 90% |
| Deductible: | Varies |
We have to say, of all the fabulous options we had to choose from, Embrace Pet Insurance was our favorite. We think it had the most comprehensive plans for pets, covering many needs with additional add-ons and savings.
Coverage
Embrace has a pretty decent selection on coverage. They are willing to work with preexisting conditions, permitting your pet to be symptom-free for a specific period.
Covered:
Preexisting conditions
Dental illness
Breed-specific congenital and genetic conditions
Cancer
Chronic conditions
Preventable conditions
Orthopedic conditions
Complementary treatments and rehabilitation
Emergency care
Hospitalizations and surgery
Specialist care
Diagnostic testing
Prescription drugs
Not Covered:
Preexisting conditions
Breeding, whelping, or pregnancy
DNA testing or cloning
Deliberate injury
Injury or illness in fighting, racing, cruelty, or neglect
Cosmetic procedures
Avian flu
Routine veterinary care
Customer Service 
Embrace has a reputation for outstanding customer service. You can get a quote online in seconds and an immediate response by a representative from the company to answer any questions you might have.
You have direct contact for customer support online, plus a laundry list of other resources on their contact page.
Pricing 
When it comes to pricing, Embrace is middle-of-the-road. Because it is slightly below the average, we think it would be the best choice for most budgets, but not all. We think that if you consider all of the perks and benefits you get from Embrace, the price is worth it. However, that is entirely up to you to decide.
Fantastic coverage options
Works for a variety of pet parents
Considers past preexisting conditions
Won't fit everyone's budget
---
4.

Pets Best Insurance
| | |
| --- | --- |
| Reimbursement: | 70-90% |
| Deductible: | $100-$1,000 |
Pets Best is an excellent and affordable company that has tons of options. They are highly revered for quality insurance at the best prices. If you want maximum savings, we think Pets Best is the best insurance for pets in Ohio for the money.
Coverage
You have to choose from a few plans with Pets Best. Here are some general services that are covered and what they exclude.
Covered:
Accidents
Illness
Cancer
Emergency care
Prescription medications
Chronic conditions
Diagnostics
Older pets
Full coverage
Behavioral conditions
Dental coverage
Prosthetic devices
Euthanasia
Coverage while traveling
Exam fees
Acupuncture and chiropractic
Physical rehabilitation
Prescription medications
Not Covered:
Preexisting conditions
Elective procedures
Parasites
Non-veterinary expenses
Herbal, holistic, and experimental therapies and medications
Customer Service 
Pets Best has excellent customer service, including access to a 24/7 pet helpline if you ever find yourself in a predicament.
Pricing 
Pets Best has pretty standard to lower pricing. However, deductibles can be high depending on how you set your policy up.
Affordable policies
Easy plans
Suitable coverage
---
5.

Pumpkin Pet Insurance
| | |
| --- | --- |
| Reimbursement: | 90% |
| Deductible: | 100,  $250, $500 |
Pumpkin Pet Insurance is very easy to use. They have quick reimbursement times, and you can personalize your pet's plan.
Coverage
We think that pumpkin has many good coverage options at a terrific price. They have one of pet insurance's highest paybacks of all insurance companies pretty consistently.
Covered:
Eye, ear, and skin infections
Digestive illness
Hip dysplasia
Cancer and growths
Parasites and infectious disease
Orthopedic injuries
Swallowed objects and toxins
Diagnostics and treatments
Prescription medications
Emergencies and hospitalization
Surgery
Advanced care
Microchipping
Hereditary conditions
Dental illness
Behavioral issues
Vet exam fees
Alternative therapies
Prescription food
Customer Service 
Pumpkin has good customer service that we think you will really appreciate. The website is easy to navigate, letting you know what they offer immediately.
Pricing 
They have no pre-condition deductible or confusing annual limit options. Also, you won't notice your reimbursement rates declining as your pet ages, and they offer a 10% discount on multi-pet plans.
Great customer service
Excellent illness coverage
Discounts available
Lack of transparency on non-covered issues
---
6.

Healthy Paws Pet Insurance
| | |
| --- | --- |
| Reimbursement: | 90% |
| Deductible: | $100, $250, $500 |
For a long time, Healthy Paws was the leader in pet insurance. Recently, it's been meeting a lot of competition, which can fluctuate policy effectiveness. No worries, Healthy Paws has no trouble keeping up with the competition.
Coverage
Healthy Paws has no annual caps or limits. They cover various issues, but reimbursement times are quite long—10 days or more.
Covered:
New accidents
Illness
Emergencies
Hereditary conditions
Congenital concerns
Cancer
Chronic conditions
Diagnostic treatment
X-rays, blood tests, ultrasound
Surgery
Hospitalization
Prescription Medications
Emergency care
Specialty care
Alternative treatment
Not Covered:
Exam fee
Preexisting conditions
Preventative care
Dental health
Customer Service 
Healthy Paws has incredibly fantastic customer service. You can use the number listed on the website to call the company directly, or you can use the email option. A list of FAQs also goes over tons of valuable information.
Pricing 
Healthy Paws has average pricing for insurance policies. They also have add-ons that can up the price of your plan. However, they have a Refer-a-Friend program where you get 25 dollars to recommend them. Healthy Paws is involved in several charities to support pets as well.
Involved in charitable activities
Reimbursement based on vet bill total
No caps or limits
---
7.

ASPCA Pet Insurance

| | |
| --- | --- |
| Reimbursement: | 70-90% |
| Deductible: | $100, $250, $500 |
The ASPCA has a really good track record of helping animals to the best of their ability. So it's no surprise they should pick up pet insurance as a part of their company. They offer some pretty comprehensive plans that will work for most pet parents.
The ASPCA offers insurance coverage in both the United States and Canada.
Coverage
Coverage is different based on the type of policy you purchase for your pet. Some of the policies are tailored to include Wellness, while others are for accidents only. So it does change a bit depending on what you choose.
Covered:
Accidents
Dental disease
Hereditary conditions
Illness
Behavioral issues
Not Covered:
Preexisting conditions
Cosmetic procedures
Breeding costs
Preventative care
Customer Service 
The ASPCA offers tons of options to get in touch. Their website gives direct email and phone numbers for customer service, vet staff, media professionals, and GoFetch Pay Reimbursement. They also have fax numbers listed for new claims.
Pricing 
The ASPCA has a few options when it comes to coverage. They have plans that cover even wellness maintenance care, unlike other companies. They also offer a 10% discount if you have a policy for more than one pet. However, these are add-ons and not main portions of the policy.
Wellness care
Widespread coverage
Add-ons not included in plans
---
8.

Nationwide Pet Insurance
| | |
| --- | --- |
| Reimbursement: | 50-90% |
| Deductible: | $250 |
Nationwide Pet Insurance has some definite upsides compared to other insurance companies. They are innovative in their field, being the first to offer exotic pet insurance, meaning it covers a wide variety of exotic animals, small cage animals, reptiles, and amphibians.
Coverage
We like Nationwide because they have comprehensive plans that could work for any pet situation. They have a whole pet plan, which covers accidents, illnesses, cancer, and other ailments.
Covered:
Nationwide doesn't give a complete detailed list of the areas they cover. However, they offer three plans tailored to meet your pets' needs.
Not Covered:
Taxes
Waste
Grooming
Boarding
Preexisting conditions
Customer Service 
It's pretty easy to get in contact with Nationwide. They have all their social media information at the bottom of their website and the Contact Us tab. On almost every page on the site, you can click a tap-to-call option to connect with a representative via phone.
Pricing 
Nationwide allows you to cancel or change your policy at any time. You even get a 100% money-back guarantee if you cancel within the first ten days after your policy is activated.
Exotic pet coverage
Experts in the field
Low reimbursement percentages
---
9.

Figo Pet Insurance
| | |
| --- | --- |
| Reimbursement: | Up to 100% |
| Deductible: | $100-$1,500 |
Figo Pet Insurance is one of the more expensive options on our list but also one of the best. Figaro also provides 24/7 access to a licensed veterinarian.
Coverage
Figo doesn't cover preexisting conditions as a standard practice. However, if your pet has been symptom-free for at least 12 months, they might be eligible for a policy. This is a case-by-case basis, so always check with a Figo representative before purchasing a policy.
Covered:
Emergencies
Surgeries
Veterinary specialist's diagnostic testing
Knee conditions
Prosthetics and orthopedics
Hereditary conditions
Congenital conditions
Prescriptions hip dysplasia
Chronic conditions
Wellness coverage
Veterinary examination fees
Not Covered:
Preexisting conditions without approval
Experimental procedures
Breeding, pregnancy, birthing
Cosmetic surgery
Cloning
Most parasites
Customer Service 
At Figo, they take customer service very seriously. They offer customer service lines to discuss policies. Plus, there is access to 24/7 licensed veterinary advice.
Pricing 
Figo might be one of the more expensive, as we mentioned earlier, but it definitely has its perks—like the 100% reimbursement option. Figo has three flexible plans that you can specialize in to fit the needs of your particular pet, which vary in price.
Excellent policies
Extensive coverage
100% reimbursement option
---
10.

AKC Pet Insurance
| | |
| --- | --- |
| Reimbursement: | 70-90% |
| Deductible: | $100-$1,000 |
Since the AKC profoundly impacts the pet world, it's no surprise they have their own insurance. However, they only cover canines, as to be expected.
Coverage
It might be no surprise, but the AKC offers breeding aspects as part of their add-on coverage plans. This is interesting considering they're one of the only pet insurance companies that provide breeding assistance coverage.
Covered:
Injuries
Allergies
Broken bones
Cancer
Emergency care
Hospitalization
Lab tests
Physical therapy
Surgery
Tooth extraction
Not Covered:
Cats
Preexisting conditions
Customer Service 
AKC pet insurance also provides 24/7 veterinary support and has exam coverages, wellness plans, multi-pet discounts, special AKC discounts, and no enrollment fees. You can call in or chat, whatever is most convenient for you. They also provide TailTrax, an app that organizes all your pet's essential information.
Pricing 
The AKC has decent deals on their plans, but certain aspects can be pricey. They can have deductibles up to $1,000. This isn't the best plan if you're looking for savings. However, the AKC offers more beneficial perks related to breeding than other pet insurance companies.
Covers breeding expenses
No enrollment fee
Flexible coverage
Dogs only
Can be expensive
Buyer's Guide

: Choosing the Right Pet Insurance Provider in 

Ohio
What to Look for in Pet Insurance
When shopping for pet insurance, all you want to know is which company will provide you with the best coverage to keep your pet safe. You must decide on a company based on your budget, needs, and other eligibility factors.
Policy Coverage
Policy coverage is the most critical aspect of insurance care for pets. If you are under the impression that certain services are covered, it can throw off your budget or put you in a tight spot. Before you even buy a policy, you must know exactly what it covers and, more importantly, what it doesn't.
Customer Service & Reputation
Customer service is paramount if you need clarification or help while you have your policy. If you have a team of people on your side, you know that your pet will get taken care of. Companies that build an excellent rapport with their customer base are more successful.
When you're wondering about the type of customer service your company offers, you can typically look in the contact us section of their websites. Some only include telephone numbers, while others have combinations of email and chat.
Claim Repayment
Sometimes marketing can be tricky. You have to be careful when you're online shopping for policies. You might see a company advertise the statement up to 90%. However, that is a maximum reimbursement, and most offer payouts that are lower than that.
The average claim reimbursement ranges from 50 to 70%. Also, there can be a little confusion on coverage with policies. If you have misunderstood an aspect of your policy, you might think your insurance will reimburse you when they deny the claim.
Price Of Policy
Since the policyholder has a recurring fee, you must ensure it will comfortably fit your budget. Even though some companies might have a higher monthly premium, they could have so many additional perks and benefits that it pays off.
Cheaper companies might have affordable monthly fees, but they cover much less and don't have high reimbursements percentages. Consider all of these aspects before making your final decision based on price.
Plan Customization
Most insurance companies are a little flexible when it comes to customization. Other companies have sets of policies to choose from that you can't tailor in any way.
Some insurers do not allow customization in their policies. If you need certain aspects of care covered under your insurance, you must ensure the company you choose provides that option.
FAQ
Can I Get Pet Insurance Outside the U.S.?
There are pet insurance companies that offer coverage outside of the United States. Depending on your country, insurance companies can operate differently than the ones based in the U.S., so always check the coverage in your specific area.
What If My Insurance Company Is Not Listed In Your Reviews?
Just because the company you have chosen is not on our top 10 doesn't mean that they aren't a reputable insurance company. We compiled a list based on different aspects of insurance providers, but we can't say what works best for someone else.
If you are happy with the coverage you're receiving at this time, there is no reason to make a switch. However, if you're dissatisfied and in the market for other things, we hope you have found some options that appeal to you.
Which Pet Insurance Provider Has The Best Consumer Reviews?
Many pet insurance companies have pretty stellar customer reviews. You can read stories everywhere about how pet insurance saved their pet's life but one way or another.
You can also see just what customers are ecstatic about with your coverage. Embrace tends to get the most positive reviews of all the companies we have researched.
What Is The Best And Most Affordable Pet Insurance?
In our opinion, Embrace offers the most beneficial policy to average policyholders. That's not to say that other companies aren't equally as wonderful. We just think that Embrace offers the most comprehensive options for pet owners.
What Are Alternatives to Pet Insurance?
There are pet insurance alternative options that don't require paying a monthly plan payment and don't have a deductible. These plans are more like health savings accounts where you receive perks and discounts on vet services. If, for any reason, you have a pet that doesn't qualify for regular insurance or it isn't part of your budget option, you can always check out other companies.
Is Pet Insurance Only for Dogs and Cats?
Pet insurance is primarily for dogs and cats; only Nationwide insurance covers exotic pets.
People want to ensure that they are reptiles, small cage animals, and other exotics get the same attention as domesticated dogs and cats. We think that exotic pet coverage will become more accepted by insurers in the oncoming years.
What the Users Say
All over the web, we saw success stories of grateful pet owners who wouldn't have been able to get treatment without their pet insurance.
Since life happens to all of us, we're not always prepared to deal with the head-on challenges of having a pet. Your dog could swallow something, or your cat could come down with an illness suddenly.
We came across some complaints about pricing and stipulations in service. Sometimes a pet owner would have the wrong idea or expectation due to misunderstandings or lack of clarity.
Which Pet Insurance Provider Is Best For You?
The best pet insurance for you greatly depends on your pet's needs, expectations, and budget. We recommend doing your research to find the company that will protect your pet most.
Conclusion
Embrace Pet Insurance is the best insurance plan we could find for Ohioans. You can take your pet to any veterinarian without issue, as they work with all licensed vets. You can pick the plan and coverage options that work best for you, and Trupanion will be there for you every step along the way.
If you want the most for a modest price, we think you'll love Lemonade. They have an excellent customer satisfaction reputation, and just about any pet owner will benefit from their plans. So, if you live in Ohio, we recommend checking out these companies further or even purchasing your policy today.
See also: 10 Best Pet Insurance Providers in Wisconsin – Reviews & Top Picks
---
Featured Image Credit: Rawpixel.com, Shutterstock