10 Best Pet Insurance Providers in Oklahoma – 2023 Reviews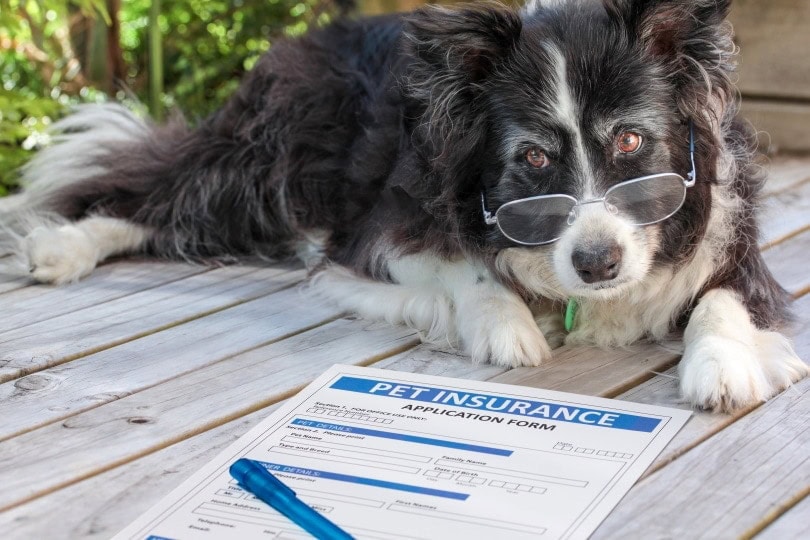 With as many pet insurance companies available throughout the United States, an Oklahoma resident will undoubtedly need to pick a policy that works in the state of Oklahoma.
Finding the company and policy will depend on several factors including your pet's breed, age, health condition, your location, budget, and the kind of coverage you need. So, let's take a look at some of the best pet insurance plans in Oklahoma.
A Quick Look at Our Winners in 2023
Rating
Image
Product
Details

Best Overall

Lemonade Pet Insurance

Great coverage at an affordable price
Flexibility with plan
Quick claims process and turnaround time
Click to Get Quote

Trupanion Pet Insurance

Per-incident lifetime deductible
Comprehensive coverage
High reimbursement percentage
Click to Get Quote

Healthy Paws Pet Insurance

No caps or annual limits
Good customer service
Quick turnaround time for claims
Click to Get Quote

Embrace Pet Insurance

Customizable
Good coverage
Choice of add ons
Click to Get Quote

ASPCA Pet Insurance

Coverage for exam fees for eligible accidents and illnesses
Offers a 30-day money-back guarantee
Coverage for behavioral issues and dental disease
Click to Get Quote
The 10 Best Pet Insurance Providers in Oklahoma
1.

Lemonade Pet Insurance – Best Overall
Lemonade pet insurance started in 2015. This company offers homeowners, renters, and pet insurance with a business model geared toward providing great coverage at a reasonable price. Lemonade offers pet coverage for accidents, illnesses, congenital conditions, cancer, and chronic conditions and includes a wellness add-on option.
Lemonade Pet Insurance's prices are some of the lowest among their competition They offer deductibles of $100, $250, and $500. Reimbursement percentages range from 70, 80, or 90 percent and annual coverage is very flexible with the options of $5,000, $10,000, $20,000, $50,000, or $100,000.
They have a waiting period of two days for injury coverage, fourteen days for illnesses, and six months for orthopedic issues once you sign up for a policy. One of the best things about Lemonade is that they have one of the fastest claims processes in the pet insurance industry. Their convenient app even allows for direct deposit for claims reimbursement.
Lemonade is based out of New York but does not offer coverage in all 50 states. You won't have a problem getting covered in the state of Oklahoma, but they do not offer coverage in Alaska, Delaware, Florida, Hawaii, Idaho, Kansas, Kentucky, Louisiana, Maine, Minnesota, South Dakota, Vermont, West Virginia, or Wyoming.
The company does offer multiple policy discounts and a discount for paid-in-full policies. Another great thing about lemonade is that they donate a portion of premiums to nonprofit organizations. Overall, their coverage may not include all the bells and whistles but it's great insurance for those looking for a good price and coverage for accidents, injuries, illness, and wellness.
Great coverage at an affordable price
Flexibility with plan
Quick claims process and turnaround time
Wellness add-on available
Short waiting period for accidents
Multiple policies and paid in full discounts
Donates some proceeds to nonprofit organizations
Not a wide span of coverage
---
2.

Trupanion
Trupanion is a Seattle-based pet insurance company that was founded in the year 2000 and operates a little differently when compared to competitors. Trupanion offers per-condition deductibles. So, once you meet your deductible, your pet's treatments for that condition will be met for life
Trupanion doesn't have the flexibility that you find in other policies, so if you need wiggle room with your policy, this may not be the best choice. They offer only one plan, one benefit limit, and one reimbursement percentage, which is 90 percent.
While a lack of flexibility can be disappointing, Trupanion's coverage encompasses quite a bit.  While they don't cover preventive care, taxes, exam fees, or preexisting conditions you can expect coverage of anything related to accidents or illness, prescription medication, diagnostic testing, congenital or hereditary conditions, prosthetics, dental disease, and more.
This is one of the only Pet Insurance companies that will pay the veterinarian directly to save you time and hassle. The overall cost of Trupanion is on the pricier side. Enrollment begins at birth and the maximum enrollment age is 13.9 years. There is only a 5-day waiting period for accidents and a longer than normal waiting period for illness, which is 30 days.
Per-incident lifetime deductible
Comprehensive coverage
High reimbursement percentage
Will pay the veterinarian directly
Expensive
Lengthy wait time for illnesses
Lack of flexibility
---
3.

Healthy Paws
Healthy Paws is a pet insurance company that will give Oklahomans great value for their money.  Based in Washington state, they are underwritten by Chubb Group, which is highly rated among consumers. Healthy Paws is a leader in the pet insurance game because they offer high reimbursement percentages and provide excellent customer service with affordable pricing.
Healthy Paws offers the most comprehensive coverage and has no annual limits. All accidents and illnesses are covered without any restrictions for congenital and hereditary conditions. Hip dysplasia is also covered providing it is not a preexisting condition.
They do not have any wellness plan add ons and the breadth of coverage is limited but they do include coverage for diagnostic testing, surgery, hospital admission, prescription medicine, and even alternative medicine.
Customers will never have any coverage caps and can choose from 70, 80, and 90 percent reimbursement percentages. Deductibles vary from $100, $250, and $500 options. Healthy Paws enrollment can begin at 8 weeks of age, but unlike some other companies, there is an age limit of 13.99 years.
Once you sign up with Healthy Paws, there is a 15-day waiting period for accidents and illnesses. Hip dysplasia has a 12-month waiting period for dogs under years of age. Any dogs 6 years or older at the time of enrollment will not be eligible for that coverage.
Healthy Paws may allow direct payment to the veterinarian in some cases and claims are typically processed within two days. They do offer a little less flexibility than their competitors, but they do make up for it with their affordability and no annual limits.
Affordable
No caps or annual limits
Good customer service
Quick turnaround time for claims
May offer direct payments to the veterinarian
No add-ons available
Not as flexible as competitors
---
4.

Embrace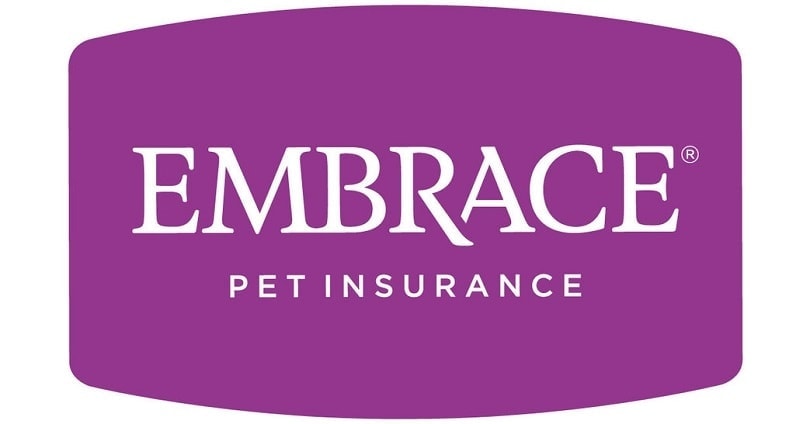 Embrace Pet Insurance Agency is based out of Cleveland Ohio and was founded in 2003. They are underwritten by American Modern Home Insurance Company and offer insurance for dogs and cats available in all states.
Embrace offers accident and illness coverage but also includes some additional coverage that a lot of companies do not. This includes coverage for behavioral therapy, alternative treatments, and prosthetics. They also have a wellness plan and coverage for prescription drugs at an additional cost. They do not cover prescription food or supplement costs or pre-existing conditions.
There is a customizable annual maximum and reimbursement percentage, with the yearly payout having a minimum of $5000 and a maximum of $15,000, while the reimbursement percentage ranges from 65 to 90 percent. Of course, the lower the percentage, the lower the monthly premium.
Customers also get to choose which type of annual deductible is between $100, $200, $300, $500, and $1000. It is also worth looking into discounts because Embrace offers discounts for military members, paid-in-full policies, spay or neuter services, and multiple pet discounts.
Embrace is a great choice because it is highly rated among consumers, offers great flexibility, customizable plans, plenty of add-ons, and several discount options.
Customizable
Good coverage
Choice of add ons
Many discounts available
Great reputation and reviews
Doesn't cover pre-existing conditions
---
5.

ASPCA Pet Insurance

Most people have heard of the ASPCA, which is a well-known non-profit organization out of Akron, Ohio that was founded in 1997.  They launched their very own pet insurance in 2006 with customizable plans that cover accidents, illnesses, hereditary conditions, behavioral issues, and even dental diseases.
They offer a Complete Coverage plan and an Accident Only plan with preventive care add-ons at additional cost. They even offer a 30-day money-back guarantee if you were to be unsatisfied with your service. Some consumers do warn that there are longer wait times to reach them by phone.
ASPCA has coverage that may include diagnostics, treatment, and exam fees related to the covered conditions.  Alternative medicine such as acupuncture and stem cell therapy are also within the scope of Complete Coverage. There is no separate limitation for eligible hereditary or congenital conditions.
ASPCA Pet Health Insurance's Complete Coverage plan has no limitations on incidents and allows customers the flexibility of choosing an annual cap ranging from $5000 to an unlimited amount. Reimbursement percentages options are 70, 80, and 90 percent.  Customers set their deductible and can choose from the options of $100, $250, or $500.
ASPCA has a 14-day waiting period for accidents and illness upon enrollment. Enrollment begins at 8 weeks with no age limit. Claims can be submitted online, on the app, by email, by mail, or even by fax. Reimbursement can be completed via direct deposit to reduce payment turnaround time.
Coverage for exam fees for eligible accidents and illnesses
Offers a 30-day money-back guarantee
Coverage for behavioral issues and dental disease
No separate limitation for eligible hereditary or congenital conditions
Lower maximum annual limit option
Long wait times for customer service support
---
6.

Progressive Pet Insurance

Progressive is one of the most popular insurance companies in the Nation. They have gotten into the pet insurance game and partnered with Pets Best to offer comprehensive pet insurance plans with coverage options that aren't seen in a lot of other competitors.
Progressive includes coverage for dental issues and behavioral treatment, and they also cover working pets, which is an uncommon feature in the pet insurance industry. Customers get the choice between accident-only coverage or their Best Benefit plans. For the most comprehensive option, you can add routine care coverage for an additional fee.
Annual limits range from a $5,000 annual limit or you can opt for the unlimited plan. The annual deductible range is fairly flexible, and choices range from $50 to $1,000. Reimbursement percentages are customizable from 70, 80, and 90 percent options.
Progressive is affordable and has no restrictions on how much the company will pay per incident or over the lifetime of your pet. Enrollment starts at 7 weeks of age with no age limit. Upon enrollment, there is a 14-day waiting period for illnesses but only a 3-day waiting period for accidents, which is great.
Progressive's claim process is quick and easy, and it typically takes one week or less for turnaround. They do offer some discounts, so when you are getting your quote, be sure to ask what types are offered to see if you are eligible.
Affordable
Flexible coverage options
Easy claims processing
No age restriction for enrollment
Short waiting period for accidents
Discounts available
Fewer options for annual limits
---
7.

Nationwide Pet Insurance
Nationwide is another one of the most well-known insurance companies in the United States. It is a Fortune 100 company that features a wide variety of insurance plans, including pet insurance.  Nationwide is unique in that they aren't limited to only cats and dogs like most of the competitors, they also offer an avian and exotic plan. So, if you are shopping for your non-traditional pet, Nationwide would be your only option on the market thus far.
Nationwide's Whole Pet with the additional Wellness plan is the most comprehensive coverage they offer. This plan features a 90 percent reimbursement rate, a $250 deductible, and a $10,000 annual cap.
They also have the Major Medical plan, which is more budget-friendly and flexible. The Major Medical plan is based on your benefit schedule but will have more limitations related to certain conditions and procedures. The more comprehensive the coverage within the Major Medical plan, the higher the premium will be.
Nationwide offers enrollment starting at 6 weeks of age but one of the lowest age limits at a maximum of 10 years of age. If your pet is enrolled before 10 years of age and the policy does not lapse, it will be covered for the rest of its life. Nationwide has a standard waiting period of 14 days, but the Wellness add-on will begin 24 hours after enrollment.
Nationwide is one of the priciest options out there and they don't always get the best reviews in terms of customer service. They do offer some discounts, however, which can be rare among other pet insurance companies.
Comprehensive coverage offered
Wellness add-on available
Offers flexibility with Major Medical plans
Offers insurance for birds and some exotics
Pricey
Age limit of 10 years for enrollment
Less than satisfactory customer service
---
8.

Pumpkin Pet Insurance
Pumpkin Pet Insurance is based out of New York and was founded in 2019. They offer coverage in all 50 states and are best known for their wide range of coverage that includes dental care, holistic and alternative treatments, and some additional wellness and preventative care add-ons.
Pumpkin offers a 90 percent reimbursement rate for all plans. Annual limits for their policies range from $10,000, $20,000, or unlimited for dogs and $7,000 to unlimited for cats. The choices for deductibles are $100, $250, and $500. They do use a third party for customer service and claim that they lack weekend availability.
There is a minimum enrollment age of 8 weeks without any maximum age limit. There is a 14-day waiting period for claim filing after enrollment, which includes accidents, but that 14-day period also includes cruciate ligament injuries and hip dysplasia, which is much shorter than plans offered by competitors that offer this service.
Pumpkin is more expensive than most of the competition, but that comes along with more comprehensive coverage and a higher reimbursement rate.
Coverage options for dental care
Coverage for holistic and alternative treatments
Wellness and preventative care add-ons offered
High reimbursement percentage
Some flexibility with deductible and annual limits
Higher pricing
Third-party claims and customer service
No customer service available on weekends
---
9.

Hartville Pet Insurance
Hartville Pet Insurance is part of the Crum & Forster Pet Insurance Group, which was founded in 1997. The company offers one accident and illness policy, one accident-only policy, and two optional preventive-care packages at an additional cost. Hartville is available in all 50 states and is one of the few that can pay your vet directly.
They offer flexible options with an annual limit ranging from $5,000 to unlimited, reimbursement percentage choices of 70, 80, and 90 percent, and deducible choices of $100, $250, or $500. The optional preventative care packages come in basic and prime. The basic package assists with services like dental cleanings, vaccinations, and laboratory tests. The prime plan offers higher annual maximums and even coverage for spay and neuter services.
The most -comprehensive plan is the Complete Coverage plan, which covers accidents and illnesses, hereditary conditions, behavioral issues, and other services like cancer treatment and alternative therapies.  The accident-only plan covers a range of treatments and services as well, including end-of-life expenses, medical supplies, imaging, poison control consultations, and more.
Enrollment can begin at 8 weeks with no maximum age limit. Claims are easily filed through the company's online portal, by fax, or by regular mail. Claim processing for Hartville is much longer than most other companies with a turnaround time of 14 to 16 days on average.
Hartville offers a 10 percent discount for each additional pet insured after the most expensive pet, which is great for multiple-pet homes. They also get great customer service reviews, which is always a relief.
Good customer service
A choice between complete or accident-only coverage
Discounts available for multiple pets
No maximum age limits
Lengthy claims processing
Lack of budget policy options
---
10.

Figo
Figo is Chicago-based pet insurance that was founded in 2013.  They offer coverage for both dogs and cats and emphasize modern technology within the business. Figo has a cloud-based platform for all medical records and other relevant information.
There is one accident and illness plan with three annual limits to choose from, with options of $5,000, $10,000, or unlimited. There is an option for a wellness plan add-on that covers things like vaccinations, spaying or neutering, laboratory testing, and heartworm prevention.
An extra care pack is also available which will cover a much wider variety of circumstances including but not limited to cremation and burial fees, boarding fees, and advertisement for lost pets. Unlike most pet insurance companies, Figo offers reimbursement percentages ranging from 70 to 100 percent.
There are flexible deductible choices of $100, $250, $500, $750, $1,000 or $1,500. There are no breed restrictions and enrollment can begin at 8 weeks of age. There is no maximum age limit for enrollment, either.  The waiting period is one day for accidents or injuries and 14 days for illnesses.
The company offers a mobile app for claims processing and policy management. They conveniently offer customer support via phone, email, fax, and text message. Figo is one of the pricier choices, which is typical with more comprehensive coverage.
Up to 100 percent reimbursement rate offered
Add-ons available at an additional price
Three different plan levels
Offers flexibility with coverage
Customer support is available through several options
Above-average pricing
No accident-only plan
Buyer's Guide: Choosing the Right Pet Insurance Provider in Oklahoma
What to Look for in Pet Insurance in Oklahoma
Whether in Oklahoma or any other state, pet owners need to know what to look for when shopping for pet insurance. Since this isn't a one size fits all kind of subject, we've broken down all the considerations to keep in mind while you are considering your options.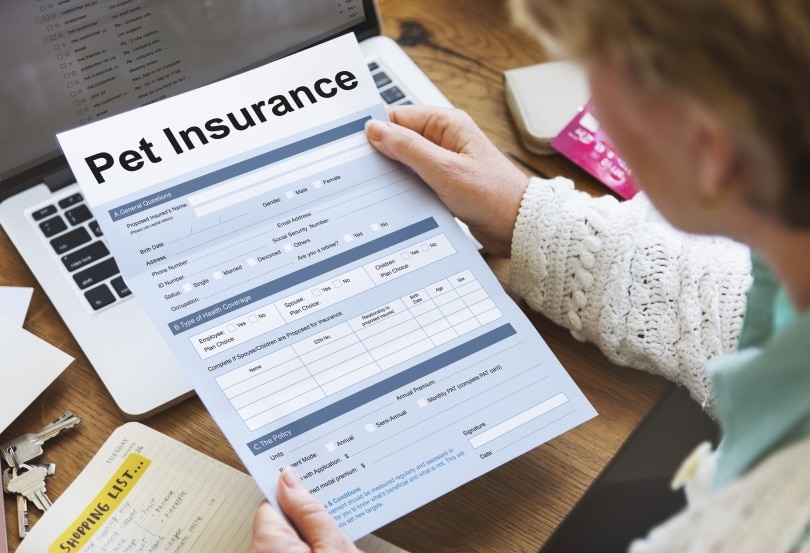 Policy Coverage
Pet insurance policies and the related coverage will not only vary by company, but also the different plan options available within the company. All pet insurance companies will offer accident and illness coverage, and some will offer more comprehensive options and even wellness and preventative care add-ons.
Deeply consider what type of coverage you wish to have. Are you looking for comprehensive coverage options that will reimburse for many issues related to veterinary care? Or are you just needing something that will protect you if your pet were to suffer an unexpected illness or accident?
Thoroughly look through what each company offers in terms of plan options, coverage within the plan, and the costs related to the entire policy. Make sure to consider your budget during the process.
Customer Service & Reputation
Customer service seems like it's dying at a rapid pace but there are still places out there that strive for customer satisfaction. Make sure to consider a company's reputation and consumer reviews to help you narrow down the right insurance company.
You want a company that will explain the coverage thoroughly so that no stone is left unturned. You also don't want to be pushed into a decision you aren't ready to make. You want to pick a company that will truly have you covered when you need them, after all, that's what you are paying for.
Have a look at what other consumers have to say and look at each company's rating with the Better Business Bureau and see what kind of dependability you can expect.
Claim Repayment
Claims repayment is your goal when signing up for pet insurance. Most pet insurance does not pay the veterinarian directly, so you are left to foot the bill, submit your claims, and be reimbursed for the covered costs.
Most plans offer customizable claims repayment percentages with very few offering up to 100 percent claims repayment. You will have to weigh the premium cost versus the reimbursement percentage when shopping around with more flexible plans.
You also want to consider the turnaround time to claim repayment. While some companies have a quick turnaround time of one to two days, others can take up to two weeks or more.
Also, inquire about the claim's repayment process. Does the company offer direct deposit, or will you have to wait on a check to be issued? Ask as many questions as you need and read thoroughly about the process before deciding.
Price of Policy
The price of any given policy is going to vary according to many different factors including your location, your pet's species, breed, age, health condition, and more. Therefore, getting quotes to compare costs is a very important aspect of insurance shopping.
As you can see, many companies offer flexibility with plans and coverage so that customers can find a policy that fits their budget. Others are very limited in terms of flexibility but either offer comprehensive coverage at a higher cost or accident and illness injury at a lower cost.
The price will vary depending on the deductible amount, annual limit requirements percentage, and type of coverage. Know your budget, gather up quotes from all the companies you are considering, then sit down and compare the prices versus the coverage. You don't want to jump into a decision
Plan Customization
You can either choose straightforward coverage with little to no flexibility, or you can opt for a plan that allows you to customize your coverage to suit your needs. As you have seen, most companies offer choices of deductibles, reimbursement percentages, and annual limits. Customization allows you to have more control over your monthly or yearly premium.
FAQ
Can I Get Pet Insurance Outside the U.S.?
If you are a frequent traveler, get in contact with any company you are considering asking about coverage outside of the United States. A lot of companies will allow a certain amount of time for coverage abroad as long as the pet is seen by a licensed veterinarian and the claims are filed accurately, but you will want this confirmation before moving forward with your decision.
What If My Insurance Company Is Not Listed in Your Reviews?
If your pet insurance company isn't listed in these reviews, don't fret! If you have researched your company well and suit your coverage and pricing needs, that's what is important. The ultimate goal is to get the right plan for you and your pet.
Which Pet Insurance Provider Has the Best Consumer Reviews?
According to our research, all the companies listed above got decent reviews among consumers but Lemonade, which was our best overall pick, got many glowing reviews as well as Healthy Paws, and Embrace.
What Is the Best and Most Affordable Pet Insurance?
What's best and most affordable is a difficult equation because each person's needs are going to vary. Two of the most affordable pet insurance policies are Lemonade and Healthy Paws, hands down. Both companies feature decent coverage options, too.
What the Users Say 
When you look at what others have to say about pet insurance, there are a lot of mixed feelings. Some do not visit the veterinarian enough to justify paying a monthly or yearly insurance premium while others are very grateful for having pet insurance due to the high costs of veterinary bills.
We saw a lot of people that believe pet insurance is a scam to collect your money, while others were regretful, that they did not purchase insurance when they were handed a massive veterinary bill for medical emergency services and other costly care procedures
It was also noted that there are times when pet insurance is well worth the cost one year and feels like a waste of money the next. The reality is, that you never know when healthcare is going to get costly because you never know what type of medical issues are going to pop up at any given time.
Which Pet Insurance Provider Is Best for You?
Only you can decide which company and which plan is best for you and your situation. That is why it is so important to take a thorough look into the different aspects of each company, which is what we've summarized for you above.
Once you narrow down your budget and your needs, you will be able to narrow down your choices even further. Make sure to get personalized quotes from your top choices to help you come to the final decision.
Conclusion
Pet insurance is growing increasingly popular as veterinary costs skyrocket. Thankfully, there is no shortage of options within the industry, which allows you the ability to personalize your policy to suit your needs. As for the Okies, you have many great choices within the Sooner State, just take your time and remember what to look for when narrowing down your options.
See also:
---
Feature Image Credit: Pixsooz, Shutterstock