150 Pokémon Cat Names: Our Top Picks For Your Adorable & Playful Cat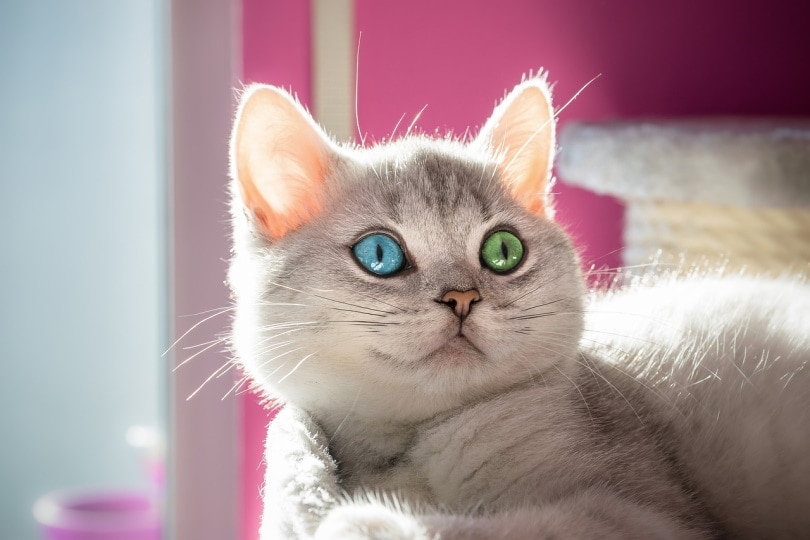 Pokémon has been a cult classic since the mid-nineties when it was first released as a video game in Japan as Pocket Monsters, then globally under the abbreviated name Pokémon. It's since become a household name for both the young and old with 8 generations of new Pokémon in many video games, 20 seasons of anime, and the most successful trading card game of all time.
There are many Pokémon critters of all shapes, sizes, and types in the Pokémon universe, all with unique names. Naming your cat after Pokémon offers a lot of choices! So, where to begin? We've compiled 150 of our favorite Pokémon-inspired names to give you a great starting point, and who knows, you may find the perfect name!
How to Name Your Cat
With almost 900 unique Pokémon existing today and hundreds of other characters, including trainers, professors, and gym leaders, choosing to give your cat a Pokémon-inspired name doesn't narrow it down much!
Some things you may wish to consider when picking out your cat's Pokémon namesake could include:
Pokemon type – There are 18 different types of Pokémon. Choosing a type that relates to your cat's personality can help you with some direction. For example, a fiery and bold cat may suit a fire-type Pokémon, while a sweet, gentle cat may fit better with a fairy-type name.
Nicknames – Some Pokémon on our list today have some pretty long-winded names! (we didn't even include the most complicated ones.) These long names may become tiring to call out at your cat's dinner time, so consider how a name can be shortened down for ease of use.
Gender – While neither cats nor Pokémon have a definite concept of gender, you may think about giving your girl cat a feminine name, or your male cat something more masculine. Most Pokémon can be either gender, but a handful of Pokémon are exclusively one gender. In addition, some Pokémon names are considered more "girly" than others.
Feminine Pokémon Cat Names
In Pokémon, some of the most powerful creatures are the ones that some may consider being girly, and some of the most badass trainers are the captivating and strong females. A common ability amongst feminine Pokémon is the ability to charm their opponents, only to destroy them. If your gorgeous cat is a force to be reckoned with, then these feminine Pokémon names will suit her down to the tee.
Eevee
Ivysaur
Roselia
Jynx
Chikorita
Maril
Dratini
Clefairy
Paras
Sylveon
Milotic
Lapras
Nidorina
Mareep
Goldeen
Chansey
Tangela
Nidoqueen
Masculine Pokémon Cat Names
While the cuteness factor of many Pokémon is a big drawcard for many (us included!), there's no shortage of Pokémon that exude masculine energy. From graceful and powerful to downright buff and strong, there's a Pokémon to suit every tomcat's personality and physical appearance.
Machamp
Geodude
Mime
Nidoran
Mankey
Aron
Diglett
Feebas
Arcanine
Gyarados
Nidoking
Groudon
Onix
Ekans
Articuno
Grimer
Rhydon
Haunter
Silly Pokémon Cat Names
Now we've given you our best gender Pokémon names, we'll get to our favorite category… silly Pokémon! Within the 900 distinctive Pokémon, a fair few are simply fun and goofy. Some are fun in their endearing personalities, while others just have funny names. Many of us have cats that don't display domestic cats' usual majestic and proud nature. Instead, we have cats who are utterly ridiculous. This list of Pokémon names is for us!
Spoink
Gloom
Jigglypuff
Smoochum
Squirtle
Bidoof
Pumpkaboo
Sobble
Froakie
Totodile
Ditto
Dewgong
Muk
Gastly
Snubbull
Cute Pokémon Cat Names
Let's go back to that cuteness factor we mentioned above. There are a lot of cute Pokémon to choose from. For starters, every starter Pokémon from each generation is classically cute despite evolving to be more intimidating and powerful. However, cute Pokémon lure you into a false sense of security, and their cuddly appearance is not to be underestimated. Sound familiar? It's a lot like when your sweet little cat rolls over to show off their soft tummy, right? Don't touch it; it's a trap!
Mew
Pikachu
Pichu
Togepi
Piplup
Woobat
Celebi
Chimchar
Treecko
Torchic
Wigglypuff
Poliwag
Starmie
Lillipup
Caterpie
Raichu
Bulbasaur
Fletchling
Teddiursa
Cat Inspired Pokémon Character Names
Most Pokémon are based on existing animals, plants, or inanimate objects. From sea slugs to rocks, to literal trash bags (I'm looking at you, Trubbish.) Some of our favorite Pokémon are based on famous felines. These cat-inspired Pokémon are graceful, powerful, and stunning – just like our cats at home. What Pokémon name would suit your cat better than these?
Meowth
Skitty
Delcatty
Persian
Shinx
Purugly
Espurr
Luxray
Raikou
Litleo
Absol
Espeon
Zangoose
Pokémon Cat Names for Your Fiery Cat
Fire-type Pokémon have been popular since day one with the cute Charmander since day one and its powerful evolutions. It continues to be loved and respected in the Pokémon world and by Pokémon fans. Fire-type Pokémon names will suit many cats particularly well since some cats are known for their bold and fierce personalities. While fire-type Pokémon make up 8% of the Pokédex, we've put together some of our favorite picks.
Vulpix
Charmander
Cyndaquil
Magma
Moltres
Rapidash
Flareon
Magby
Blaziken
Tepig
Growlithe
Entei
Pyroar
Pokémon Trainer Cat Names
The Pokémon world doesn't consist just of Pokémon themselves, but the people who train and care for them. Many trainers are on journeys to collect gym badges and enter the Pokémon league, while others act as supporters for these people. Others are gym leaders themselves, and players must battle them to proceed on their journey. While there are hundreds of human characters in the Pokémon universe, here are some of the most iconic names to consider for your cat.
Ash
Brock
Misty
Oak
Joy
May
Dawn
Gary
Wally
Wulfric
Surge
Koga
Bruno
Agatha
Sabrina
Elm
Juniper
Pokémon Villain Names
Your cat may not be the hero of the story. Many of our pet cats are menacing and sneaky, enjoying terrorizing the dog and plotting to scare you from behind the bathroom door. In which case, your cat may not suit a "good guy" trainer name like above, instead, they may be more like some classic Pokémon villains.
Giovani
Jesse
James
Archie
Maxie
Cyrus
Archer
Arlo
Cliff
Sierra
Butch
Marcus
Tabitha
Lusamine
Pokémon Cat Names for Your Lazy Cat
Another classic characteristic of some of our pet cats is their sedentary nature. Some reject their hunting nature and prefer to live a life of luxury equal to that of Egyptian cat gods, loafing around the house and only getting up when they hear the shake of the kibble container. There are quite a few Pokémon that fit this bill also, from slow-moving critters to sleepy monsters; these Pokémon will give your lazy cat a worthy name.
Snorlax
Slowpoke
Slowbro
Munchlax
Slaking
Wobbuffet
Abra
Komala
Slugma
Drowzee
Krabby
Legendary Pokémon Cat Names
Amongst the vast Pokédex of Pokémon, there are around 81 legendary Pokémon. These creatures are often only known in histories and mythologies, and when found, are extraordinarily hard to catch. A legendary name like the list below will be ideal for your holier-than-thou cat, who is proud, graceful, and perhaps a little bit picky about whose lap they chose to sit on.
Articuno
Zapdos
Latias (female)
Latios (male)
Uxie
Lugia
Mewtwo
Rayquaza
Arceus
Jirachi
Ho-Oh
Kyogre
Final Thoughts
We hope that even if you've gotten this far and still haven't found that perfect name for your new companion, that we at least gave you some inspiration and direction to work off. Whatever name you decide to grace upon your new cat, we know that they will be loved endlessly and have a classic Pokémon-inspired name that will never go out of fashion!
---
Featured Image Credit: 12222786, Pixabay