25 Pomeranian Haircuts & Grooming Styles in 2023 (With Pictures)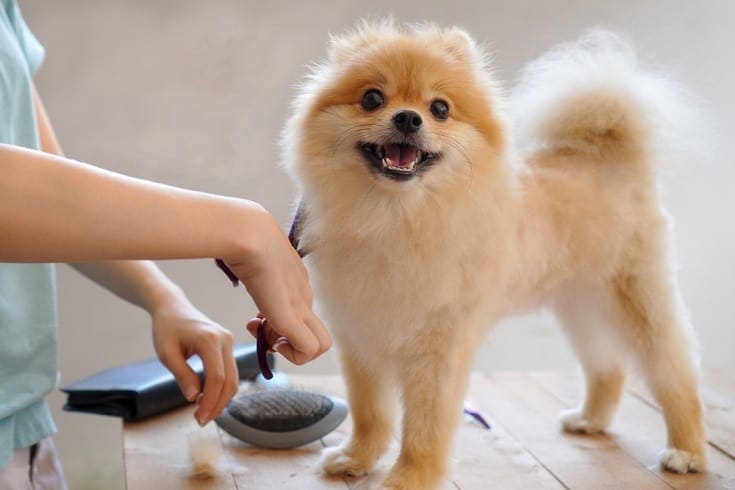 The petite Pomeranian, affectionately known as the Pom-Pom, is a foxy-faced pooch that is celebrated for her thick, fuzzy fur. Many Pomeranian pet parents love enhancing their pup's appearance by giving her a stunning and stylish cut. Not only is a Pom-Pom puppy cut fashionable, it's also super functional and combats matting, knots, and excessive shedding.
If you're looking for some inspiration for your Pomeranian's next trip to the groomers, here are 25 adorable cuts that your pet is sure to love as much as you do!

The Top 25 Pomeranian Haircuts Are:
1.

The Traditional Cut
The traditional Pomeranian cut is still a hot little number for this year. All your groomer needs to do is simply outline your dog's natural coat shape while just cleaning up the top for a cute and manageable look.
---
2.

Foxy Cut
The Foxy Pomeranian cut will keep your pup's coat long while tidying it up. Have your groomer cut the coat the same length while also keeping it short to keep dirt and debris at bay.
---
3.

Lion Cut
A popular style in the Pom-Pom world, the lion Pomeranian cut features a shaved, short coat on the belly, back, body, hind legs, and tail. The fur on the dog's head, chest, neck, and front legs is left long, resulting in a wild lion look.
---
4.

Paw Cut
Attention to detail is a must when you give your Pomeranian a haircut. Never forget to trim your pet's paws in order to allow her to move about optimally.
---
5.

Bear Cut
Make your Pomeranian resemble a plush teddy bear with an adorable bear cut! Your groomer can achieve this look by leaving your dog's face and ear fur long with a circular cutting pattern and then trimming the rest of the coat by two to three inches.
---
6.

Half and Half Cut
For the best of both worlds, opt for the half and half Pomeranian haircut. Ask your groomer to cut the back half of your Pom short while leaving the front part of her body full.
---
7.

Puppy Cut
The puppy cut is a lot like the bear cut. However, your dog's entire coat will be trimmed in one length. This is a great cut for summer because it leaves your Pomeranian feeling cool and refreshed.
---
8.

Tail Trim
Complete your Pomeranian's look with a tail trim! It's always important to trim the fur on the tail so that it complements the rest of the cut.
---
9.

Kennel Cut
Also known as the "buzz cut," the kennel cut is a low-maintenance Pomeranian haircut that allows for minimal grooming.
---
10.

The Fox Tail
Have you always wanted to have a little fox as a pet? Transform your Pomeranian into a fox by paying special attention to her tail. Ask your groomer to keep the tail hair long while cutting the rest of the body short.
---
11.

Chest Cut
A new twist on the lion cut, this Pomeranian cut keeps your pup's chest hair thick and full. Just keep in mind that this cut requires more upkeep than most.
---
12.

Polar Bear Cut
If your Pomeranian has a snow-white coat, you should definitely try the polar bear cut. Your groomer can create a fluffy appearance throughout the entire body by keeping the coat about 2 inches long.
---
13.

Undercut
If you think people are the only species that can rock an undercut, you're wrong. Your Pom can too! Your groomer should cut the body super short, leaving the top long.
---
14.

Pixie Cut
Your pooch could look as pleasant as a pixie with this fashionable cut! Shape the fur on the head in a pixie appearance and cut the rest of the coat short for a startling contrast.
---
15.

Show Cut
If your Pomeranian is competing in a local dog show, opt for a show cut. This is a breed standard cut that is customized to your pup's unique size. This quality cut involves a ton of precise trimming, including undercutting to thin out the different sections of the coat.
---
16.

Lamb Cut
This unique cut follows your Pomeranian's natural body lines while defining her muzzle and ears with sharp yet soft angles. The lamb cut will transform your Pom into a fleecy lamb with a plushy coat.
---
17.

Bichon Head
Make your Pomeranian look exactly like a pom-pom by giving her a thick Bichon Frize cut. The fur on the face is perfectly trimmed to form a square or a circle.
---
18.

Mohawk
Add some true rock-and-roll style to your Pomeranian's cut with a spunky Mohawk. Be sure to bring in a picture to give to your groomer so they know exactly what look you want to achieve.
---
19.

Shaved
For an easy-breezy, no-frills cut, consider shaving your Pomeranian. However, if you live in a cold-weather climate, don't opt for this cut because your pet will need her thick Spitz coat to handle the frigid temperatures.
---
20.

The Reverse Lion Cut
For an eye-catching cut, try the reversed approach to the traditional lion cut. Keep the fur on your pet's chest long and the hair on her head short.
---
21.

Hand Scissors
For a precise trim, ask your groomer to use a scissoring technique. It achieves a tight, short look without the shave.
---
22.

Spiky Cut
For a punky appearance, get a spiky style for your Pomeranian. Your groomer will have to keep the fur on your pet's back short enough to stick up.
---
23.

Frizzy Tail Cut
Take a fashion cue from the 80's and give your Pomeranian a frizzy tail! This look is achieved by keeping the fur on the tail long and curly.
---
24.

Natural Look
If you enjoy the natural look of your Pomeranian's poofy coat, consider keeping it long. This is great for your pet during the winter because her voluminous coat will keep her warm and cozy.
---
25.

Princess Cut
Treat your Pom like the princess she is with a gorgeous princess cut. Your groomer will cut the hair on the head short while the fur on the back and chest is kept long and brushed straight for a long, lush look.

Final Thoughts
Whatever cut you choose for your Pomeranian, be sure to let your groomer know exactly which style you'd like to achieve so that everyone is on the same page. If you live in a colder climate, always keep your Pom's hair longer to protect her sensitive skin from the frigid temperatures.
With so many adorable cuts to choose from, the hardest part is picking the perfect style for your Pomeranian!
---
Featured Image Credit: aonip, Shutterstock