Pro Pac Dog Food Vs. Blue Buffalo: Our 2023 Comparison
Review Summary
Pro Pac Ultimates Heartland Choice Chicken & Potato Grain-free Recipe and Blue Buffalo Life Protection Formula Adult Chicken & Brown Rice Recipe are similar in many ways. For instance, they both have the exact same fat and protein levels, with Blue Buffalo's calorie count is only marginally higher. They're both affordably priced within pennies of each other on Chewy, so there's no real cost advantage either. The biggest differences come from reputation and the source of nutrition.
Both companies offer a wide range of dog food formulas, but we chose to compare these two because they're so similar. Blue Buffalo Life Protection Formula is also the bestselling Blue food on Chewy and our top pick for that company overall.
Though not as popular, Pro Pac is actually a much older company with a better reputation. Their parent company, Midwestern Pet Foods, originated in 1926 and has never had a single recall. Blue Buffalo, by contrast, was formed in 2003 and has been embroiled in various recalls and lawsuits every couple of years since its conception. For this reason, we trust Pro Pac to be the best choice between the two.

At a Glance
Let's look at the key points of each product.

Pro Pac
3,570 kcal/kg
24% protein
14% fat
Grain-free
Chicken meal is the first ingredient
Contains a bounty of beneficial fruits and veggies
Blue Buffalo
3,618 kcal/kg
24% protein
14% fat
Deboned chicken is the first ingredient
Contains a healthy mixture of grains

Overview of Pro Pac:
We like how Pro Pac Ultimates Heartland Choice Chicken & Potato Grain-free is formulated for all life stages, so you won't have to switch to an adult food once your puppy grows up. The first ingredient is chicken meal—rendering products such as flesh, bone, and meat—an ingredient that packs more protein than meat alone. Sometimes chicken meal gets a bad connotation because it's confused with "meal by-product," a questionable source that doesn't even reveal its meat.
Pea protein takes the place of grain to provide nutrition, but grain-free diets are controversial. At first they were recommended to combat the growing number of food allergies in pets, but the FDA later correlated grain-free diets to the rising case of heart disease. Pea protein diets also carry this correlation, which suggests the peas may be the problem more than grain-free itself since they're a key ingredient in those formulas. Researchers now blame common proteins such as chicken for dog allergies more than grain, but more studies need to be conducted before we can draw a definite conclusion.
Pro Pac includes many beneficial fruits and veggies, such as blueberries and spinach, that are loaded with antioxidants. This formula contains considerably more produce than Blue Buffalo, which is one of the reasons we like it better. Vitamins and minerals are next on the ingredients list, as well as taurine, which is present in both foods.
We appreciate how this food is cost-efficient and has never had a single recall.
Formulated for all life stages
Contains chicken meal as the first ingredient
Fruit and veggie blend is rich in antioxidants
Contains a healthy blend of vitamins, minerals, and taurine
Grain-free diets may be a contributing factor to heart disease
Contains pea protein

Overview of Blue Buffalo: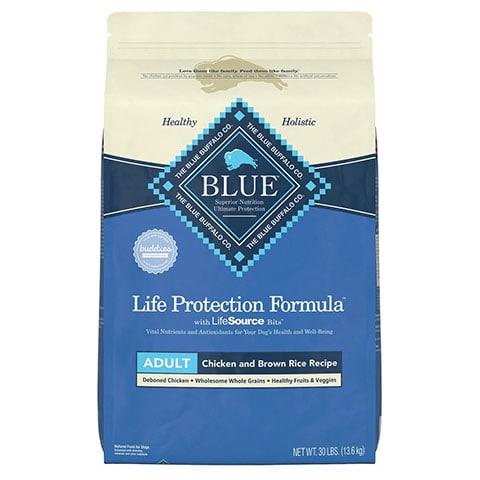 Blue Buffalo Life Protection Formula Adult Chicken & Brown Recipe is formulated for all adult dogs, no matter what the size. The first ingredient is deboned chicken, followed by chicken meal. Brown rice, barley, and oatmeal are next on the list, providing a healthy source of fiber.
Even though this obviously isn't a grain-free diet, pea starch and pea protein are included. This is some cause for concern since peas may actually be what's causing the correlation between grain-free diets and heart disease.
Like Pro Pac, this recipe contains fruits and vegetables with healthy antioxidants. However, they're further down the list, behind marginally nutritious vegetables like potatoes. Recent studies suggest that potatoes may also cause heart disease, so the benefits of their inclusion may no longer outweigh the risk.
Interestingly enough, garlic is toxic to dogs, but it's featured in the first half of the ingredients. While this amount of garlic probably isn't going to do any harm, we're curious why it's added in the first place.
On the plus side, there's also an abundance of added vitamins and minerals, as well as taurine.
The main beef that we have with this food is the company's reputation. While this specific formula has never been recalled, another flavor in the same line, the Fish and Sweet Potato Recipe, was recalled in 2016 for alleged mold. Blue Buffalo was founded in 2003. There have been nine total recalls and multiple lawsuits (typically related to false advertising) to date. That's a lot compared to Pro Pac, who's been around for nearly a century with none!
Deboned chicken is the first ingredient
Brown rice, barley, and oatmeal provide fiber
Contains a healthy blend of vitamins, minerals, and taurine
Contains pea ingredients even though it's not a grain-free diet
Lower amounts of antioxidant-rich fruits and vegetables
Contains garlic, a toxic ingredient
Company reputation isn't the best

What Are the Differences Between Them? How Do They Compare?
Calories
Edge: Pro Pac
This food has 3,570 kcal/kg., compared to the 3,618 in Blue Buffalo. Pro Pac has the advantage especially if you have a dog who needs to watch their caloric intake, such as a dog who struggles with obesity or is over 7 years old.
Price
Edge: Pro Pac
Cost is a small victory because both brands are affordable and are less than a dollar's difference. Right now, Pro Pac is listed on Chewy for $14.49, while Blue Buffalo is $14.98. However, the difference may become more acute if you purchase in store because Blue Buffalo has a listing price of $17.99.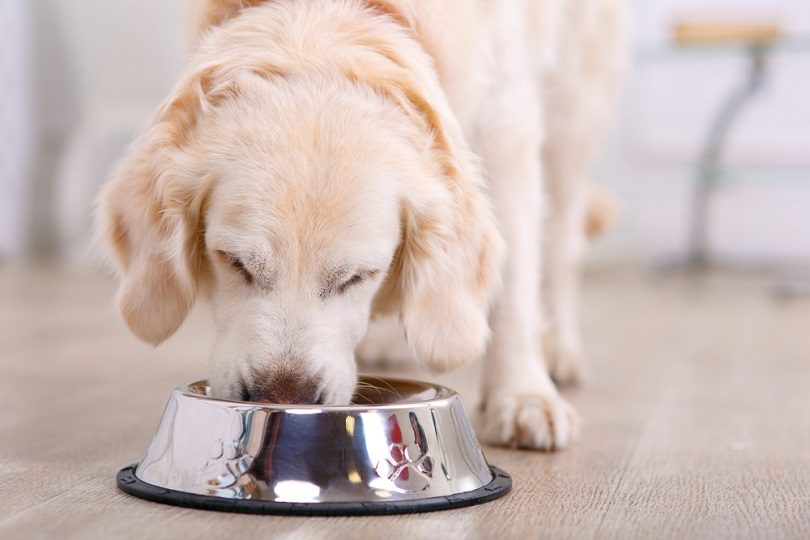 What the Users Say
Both of these formulas hold above-average customer reviews on Chewy. Blue Buffalo has a slightly lower score, but due to their popularity, they have thousands of more reviews than Pro Pac so that may not be a fair comparison.
In general, reviewers like how Pro Pac promotes healthy digestion and are excited about their picky dog's enthusiasm. The price is also mentioned positively, calling the formula a premium food on a budget. There's only one review that's under 4 stars. The complaint was that one of the customer's two dogs liked the food, but the other one developed gas and GI issues.
Blue Buffalo reviewers appreciate the high-quality food and most say their dogs love it, even the picky ones.  Roughly 10% of the 2,000+ reviews were critical and cited problems like their dogs not touching it or developing GI issues. A few customers complained of a bad batch of food. One had fruit flies and one had mold on the bottom of the bag upon opening! Thankfully, there only seemed to be a handful of these complaints.

Conclusion
Both Pro Pac Ultimates and Blue Buffalo Life Protection are excellent foods that rival premium formulas for a lower-than-average price. While there are specific advantages to each food, we chose Pro Pac overall because it's a solid food from a company that's never had a single recall. Nutritionally, Pro Pac and Blue Buffalo are very similar, and mostly differ in where the nutrition was derived. Both contain pea ingredients, which may not be wise in light of recent studies linking them to heart disease, and unfortunately, we're concerned about potatoes in Blue Buffalo for the same reason. While Pro Pac is a grain-free diet that contains pea protein, Blue Buffalo still includes peas and potatoes and even garlic—ingredients that research is dictating may no longer be the safest choice.