Purina One vs Blue Buffalo: Dog Food Comparison 2023

When looking for the perfect dog food, it can be hard to find the right brand that uses high-quality, wholesome ingredients. Some dog food contains whole meat and vegetables, while others are loaded with preservatives and artificial flavoring. Well, we've done the research and compared two brands of similar quality and value.
Purina One SmartBlend and Blue Buffalo Wilderness are different at first glance, but they also have some similarities that may make you question which one is the best. If you've ever considered these two brands, our guide may help you decide. Here is our comparison of Purina One SmartBlend and Blue Buffalo Wilderness.

A Sneak Peek at the Winner: Purina One SmartBlend
Purina One SmartBlend is a great dog food that uses real meat and poultry ingredients without sacrificing taste and flavor. We highly recommend Purina One SmartBlend Natural or SmartBlend True Instinct if your dog tends to be a picky eater. Purina One also has weight management and grain-free options.
Rating
Image
Product
Details

Best Overall

Purina ONE Smartblend Probiotic Digestive Health Formula

Highly digestible
No artificial flavors, preservatives or fillers
Crunchy kibble
Check Price

Runner Up

Blue Buffalo Wilderness Natural

Grain-free diet
Chicken is the first ingredient
Supports active dogs
Check Price
About Purina
Purina's History
Though Purina was not officially formed until 2001, Purina's origins go much farther than that. What started as a small animal feed business in 1894 named the Robinson-Danforth company slowly grew into a booming business called the Ralston Purina company in 1901.
Eventually, Ralston Purina was purchased by Nestle, combining with their current cat products to become one of the largest animal food companies at that time. After the merger, the Purina Pro Plan dog food selection was created to give dogs a nutritious, balanced diet.
Purina as a Company
Purina and its origins have been around for a while, so they have been involved in multiple areas. In 2011, Nestle Purina sponsored the Westminster Dog Show, one of the largest dog shows around.
Nestle Purina also won an award in 2011 for its organized manufacturing productions and waste reduction called the Malcolm Baldrige National Quality Award.
Legal Issues & Controversy
Purina sued Blue Buffalo in 2014, regarding their advertisements about their ingredients. Blue Buffalo claimed to have no by-products, but Purina's lab testing said otherwise. Blue Buffalo counter-sued with the same claim, with both lawsuits eventually settling.
Purina was sued in 2015 after a consumer's dog had gotten sick from their food. This was due to the additive propylene glycol, which has little to no information on its impact on canine health. After a second lawsuit in 2017 for false advertising, the company has not had any lawsuits since.
A long history of making animal products
Purchased by Nestle
Sponsored the Westminster Dog Show
Won award for manufacturing practices
Has been sued by consumers
Used questionable ingredients in the past

About Blue Buffalo
Blue Buffalo dog food was created to give dogs the most balanced and nutritious meal, with no fillers or additives. Blue Buffalo offers a wide variety of wholesome ingredients, with grain-free recipes available.
Blue Buffalo's History
Although starting late in the dog food sales game in 2002, Blue Buffalo has quickly become one of the most sought-after dog foods to date. Advertising multiple health benefits, Blue Buffalo has changed the way we look at dog food, but not always for the better. Today, the dog world is split on this company and its products.
Blue Buffalo as a Company
Blue Buffalo started because the company owner's dog, Blue, developed cancer twice allegedly due to a poor diet. Since then, the company has invested millions in animal cancer research and charities. They have also partnered with Petco throughout the years for other drives and organizations to fight animal cancer and illnesses.
Legal Issues and Controversy
Unfortunately for Blue Buffalo, the company has been getting hit with quite a few lawsuits since 2017. Not only did Purina sue the wholesome dog food company, but consumers felt more legal action needed to be taken. The lawsuits claim the company falsely advertised the lack of poultry by-products and corn, while lab tests were coming back positive for both ingredients.
Wholesome ingredients
One of the most popular dog food brands
Grain-free options
Donates to animal cancer charities
Sued by major dog food company Purina
Sued for false advertising
---
Recall History of Purina and Blue Buffalo
Purina
2016: Purina Pro Plan Savor (wet food) was recalled due to lower nutritional value than advertised
2013: Purina ONE dog food was voluntarily recalled due to potential contamination with salmonella
2012: Purina Veterinary Diets OM Weight Management was recalled because of the low taurine levels
2011: Purina cat food (unknown varieties) were recalled for suspected salmonella contamination
Blue Buffalo
2017: Blue Buffalo recalled one of their wet food brands for high levels of beef thyroid hormone.
2017: Blue Buffalo recalled the Homestyle selection of dog kibble for potential aluminum contamination, as well as one of their wet dog food products for bad packaging.
2016: Blue Buffalo recalled sweet-potato flavored dog food recipes for possible mold growth.
2015: Blue Buffalo recalled a single batch of dog bone treats for Salmonella, as well as a select number of Blue Kitty treats that may have contained Propylene Glycol.

The 3 Most Popular Purina One SmartBlend Dog Food Recipes
1.

Purina One SmartBlend Natural (Chicken & Rice)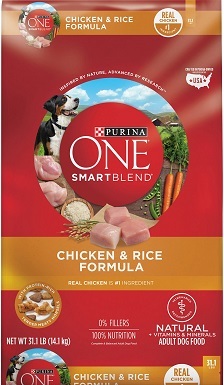 Purina One SmartBlend Natural dog food features a variety of protein, vitamins, and minerals to give dogs a nutrient-dense diet. It's made with real chicken as the first ingredient, instead of corn or wheat that lower quality dog foods usually contain. It also naturally contains Glucosamine, which can improve joint health and mobility. However, Purina One SmartBlend does have chicken by-product meal as well as corn, which are used as fillers.
Variety of nutrients
Chicken is the first ingredient
Improves joint health
Contains chicken by-product and corn
---
2.

Purina One SmartBlend True Instinct (Salmon & Tuna)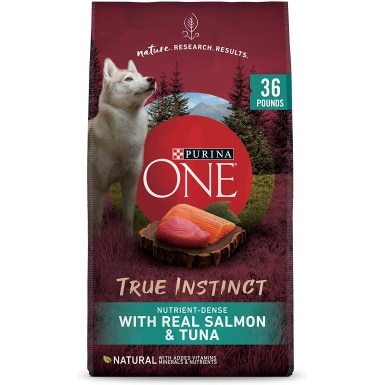 Purina One SmartBlend True Instinct Natural dog food is made with fresh fish and wholesome ingredients for a tasty, nutritious meal. It's made with no poultry by-products, which are fillers used by many dog food companies. True Instinct also uses real salmon as the first ingredient, instead of a fish meal or meal by-product. While there are some great ingredients, Purina One SmartBlend does contain corn, soy, and wheat, which can cause allergic reactions in some dogs.
Fresh and wholesome ingredients
No poultry by-products
Real salmon is the first ingredient
Contains corn, soy, and wheat
---
3.

Purina One SmartBlend Sensitive Systems (Salmon)
Purina One SmartBlend Sensitive Systems dog food is a high-protein recipe for dogs with sensitive stomachs. It's made with a blend of lean protein from salmon and whole grains for an easily digestible kibble. This specific recipe is great for dogs that need gentle formulas without overspending, often less expensive than other popular brands. However, it has a strong fishy smell that may deter dogs with picky taste buds, so buyer beware.
High-protein recipe
Made with salmon and whole grains
Less expensive than other brands

The 3 Most Popular Blue Buffalo Life Protection Dog Food Recipes
1.

Blue Buffalo Wilderness Natural (Chicken & Rice)
Blue Buffalo Wildnerness Natural dog food a grain-free diet that tries to mimic the diet of wolves in the wild. It's made with deboned chicken as the first ingredient, as well as fish and other wholesome ingredients. It also supports dogs with active lifestyles with a balanced recipe of carbohydrates and proteins. Although it seems like high-quality dog food, some dogs may refuse to eat this dog food for one reason or another.
Grain-free diet
Chicken is the first ingredient
Supports active dogs
Some dogs may refuse to eat it
---
2.

Blue Buffalo Wilderness Rocky Mountain Recipe (Red Meat)
Blue Buffalo Wilderness Rocky Mountain Recipe dog food is the red meat version of Blue Buffalo's Wilderness collection. Made with red meat from beef and lamb, this grain-free formula is completely poultry-free for dogs that are allergic to it. It's also rich in vitamins and minerals for full-body support and wellness. However, this Wilderness flavor is not for dogs with sensitive stomachs, causing upset digestive systems.
Red meat blend with no poultry ingredients
Grain-free
Rich in vitamins and minerals
Not for dogs with sensitive stomachs
---
3.

Blue Buffalo Snake River Grill (Trout, Venison, Rabbit)
Blue Buffalo Snake River Grill Natural dog food is the Wilderness collection's premium flavor, made with trout, venison, and rabbit. It's grain-free and made with sweet potatoes for a lean carbohydrate source, which can support dogs with moderate daily activity. It's also a source of Omega-3 and Omega-3 fatty acids for improved skin and coat health. Snake River Grill is on the expensive side though, so don't plan on saving money with this flavor.
Premium flavor made with trout
Lean carbohydrates for active dogs
Source of fatty acids
---
Purina One SmartBlend vs. Blue Buffalo Comparison
Purina One SmartBlend and Blue Buffalo Wilderness are both well-known dog food brands, using whole ingredients and different sources of protein for a nice variety to choose from.
Here is the breakdown of our comparison of both brands:
Variety: Purina One SmartBlend
Blue Buffalo Wilderness has a decent selection of dog food recipes, with most of them being grain-free. However, Purina One SmartBlend has a wider variety to choose from, including grain-free and allergen-friendly options.
Ingredients: Blue Buffalo Wilderness
Purina One SmartBlend may have a better flavor, but the ingredients in Blue Buffalo Wilderness are slightly better with no fillers like corn, wheat, and soy. However, some dogs are sensitive to grain-free foods, which can lead to indigestion and other issues.
Price: Purina One SmartBlend
Although most Blue Buffalo recipes are grain-free, Purina One SmartBlend has grain-free options that don't cost as much. Most dogs will prefer the flavor of Purina over Blue Buffalo, so it's better for dogs with picky palates.

Conclusion: Purina One vs Blue Buffalo?
We compared two notably different brands of dog food and found the winner to be Purina One SmartBlend, though Blue Buffalo Wilderness is still a high-quality dog food brand. If your dog has a sensitive stomach, Purina One Sensitive Stomachs may help reduce indigestion. Blue Buffalo Wilderness may be an option if your dog has food allergies to poultry and grains. Otherwise, Purina One SmartBlendseems to be the overall better option.
Hopefully, this comparison has made it easier to find a dog food that suits your companion's needs. If you've been considering either of these brands, this guide may help you narrow down your decision. For dogs that need specific diets, ask your veterinarian for a recommendation.