100+ Rescue Dog Names: Ideas for Adopted & Grateful Dogs

A second chance is sometimes all we need—the same thing goes for pets hoping to find a new loving home. There are plenty of dogs longing for a new life with a warm and welcoming owner, so, before we buy, we should remember that some of the sweetest, most caring, and loving dogs are found in our local animal shelters and should consider these spots before heading to a breeder.  So kudos to you for adopting, and forgoing the shopping! 
Whether you have adopted a vivacious pup or an elderly doggo, the bond that you will have created with your new companion will be lifelong and fulfilling! So when it comes to naming (possibly even renaming) your rescue, you must find the perfect match to represent your buddy. We have gathered our list of favorite rescue dog name ideas including female and male, stray dog options, elderly names, and of course, a few great lucky dog suggestions.

Rescue Dog Names Female
Nala 

Breeze

Phoenix

Penny 

Chloe

Kira 

Nova 

Thelma

Rosie

Pixie

Pippy

Jewel

Olive 

Crush

Princess

Skye

Prada

Brie

Piper

Georgia 

Spirit

Karma

Quinn

Ginger 

Peach 
Rescue Dog Names Male
Ace

Koda

Ripley

Rex

Ash

Dallas

Levi

Apollo

Angus 

Ryder

Bentley

Duke

Echo

Lincoln

Bowen

Axal

Shiloh

Astro

Zeke

Finn

Mojo

Finch

Moose

Comet

Boomer

Patch 

Champ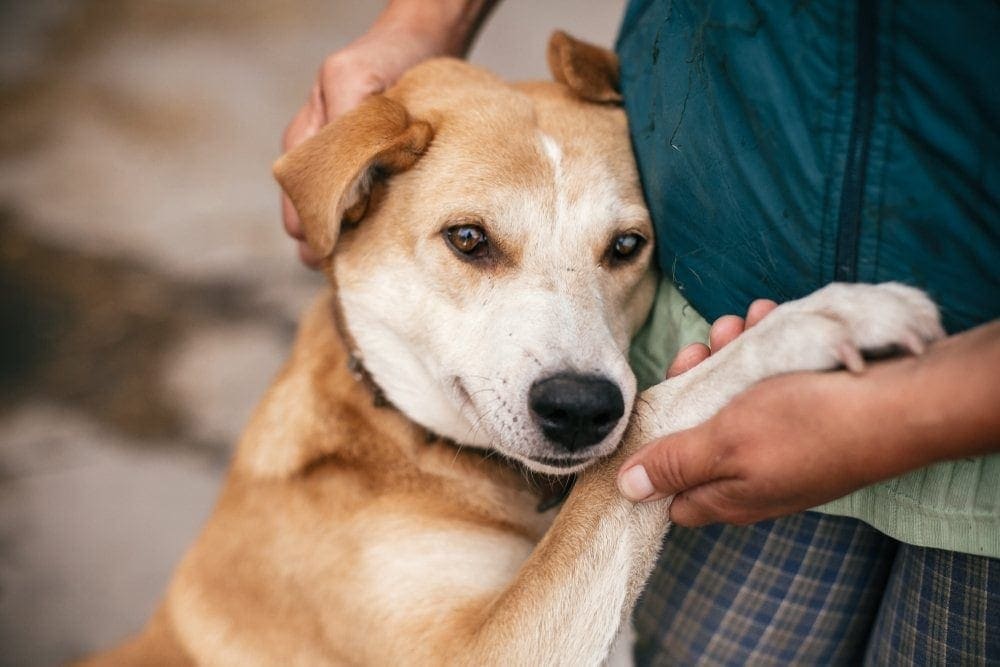 Stray Dog Names 
If your pup was once a stray, whether it be from your own neighborhood, or you scooped them up during your world travels, this is the name list for you. We know these dogs formed instant bonds with their owners, and that's how they secured a new home with you. Some of these are for those with a good sense of humor check out our top names for formerly strayed pooches!
Hobo

Jersey

Gypsy

Rebel

Pesky

Reggie

Bronte

Jinx

Mutt

Cruise

Opal

Hamley

Hercules

Jezebelle

Juno

Riot

Bum

Pixel

Pooper

Ruckus

Snafu

Bones

Flounder

Vader

Loner

Pest

Scruffy

Tramp

Nuisance
Elderly Names for your Old Rescue Dog 
For those wiser hounds with a little more life experience, we recommend going with an age-appropriate name. We have included names for the young at heart and those that are timeless and classic. 
Ethel

Betty

Myrtle

Loretta

Gladys

Velma

Seymour

Earl

Herbert

Bernie

Harold

Vern

Alfred

Pearl

Marvin

Donald

Howard

Eugene
Lucky Names for your Rescue Dog
You might feel as though you've lucked out if you've found a companion as great as your rescue. To honor your bond, you may want a name that signifies your luck of the draw, so, go with a chance-y name such as the ones below.
Angel 

Grace 

Lucky

Kismet

Destiny

Fate

Keeper

Heaven

Chance

Glory

Kayle

Malachi

Fortune 

Hope

Happy

Percy (short for Perseverance)

Treasure

Kisa

Pooka

Journey

Diamond

Finding the Right Name for Your Rescue Dog
A new name compliments your dog's chance at a second journey so well—so we know that you'll want to choose something that's both fitting and adorable. Whether you decide to go with something to reflect their age, such as Myrtle or Alfred, or stick with something lucky like Chance or Destiny, we know they will be forever grateful for you and their fabulous name!
If you are in the market for a few more suggestions, check out one of our other name links below.
---
Feature Image Credit: pavlinas, Shutterstock