100+ Dachshund Dog Names: Wonderful Wiener Winner Ideas

Dachshunds, also notoriously known as weiner dogs, are one of the cutest and most distinctive dog breeds. Their long body, short limbs, pointy snouts, and floppy ears are just a few of the physical traits that set them apart from other dogs and make them so darn adorable. Dachshunds are also considered a type of hound dog and believe it or not, would be good companions for hunters!
Choosing a name for your new Weiner dog should be a fun experience, so to help you with the process, we have gathered our favorite names for females and males, mini-Dachs, funny names, and included all famous owners with their just as famous pooches!

Female Dachshund Dog Names
Piper
Ida
Gracie
Abby
Ninja
Gretchen
Greta
Luna
Merlot
Zelda
Sophia
Nora
Bavaria
Sadie
Bella
Penny
Chloe
Lily
Coco
Male Dachshund Dog Names 
Odie
Dash
Tucker
Echo
Mason
Oats
Hans
Felix
Berlin
Wolfgang
Otis
Max
Henry
Brody
Waldo
Theo
Werner
Heinz
Dobby
Arlo
Duke
Moritz
Remi
Bruno
Hank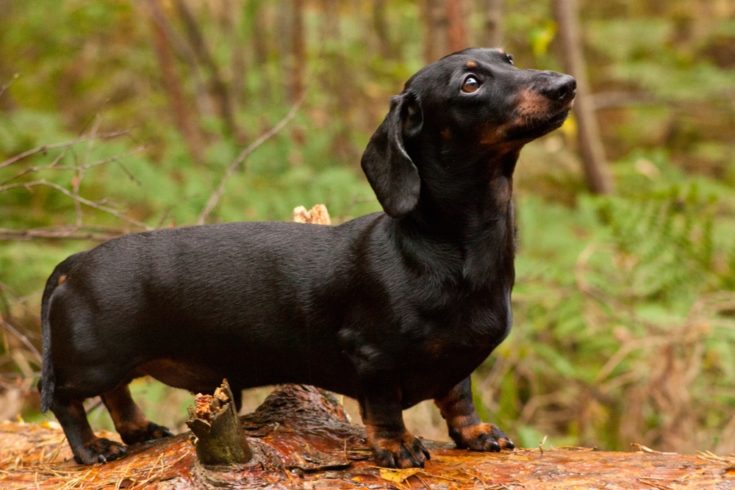 Miniature Dachshund Dog Names 
What could be cuter than a Dachshund, you ask? A miniature dachshund, of course! Eleven smaller features and tiny bark to match! Here we have a list of everything little, tiny, and mini. One of these is sure to be a good fit for your wee one!
Oliver
Minnie
Tickles
Bingo
Streusel
Half Pint
Dino
Chewy
Elf
Squirt
Lola
Paws
Peanut
Bogey
Snout
Pinto
Dixie
Milo
Bitty
Herb
Button
Runt
Tot
Pickles
Louie
Peewee
Olive
Captain
Gus
Bean
Gizmo
Waddles
Munchkin
Chip
Scout
Bentley
Winston
Funny Dachshund Dog Names for your Weiner Dog 
Oh, the opportunities for a funny play on words are endless with Dachshunds! Naturally, this would be a pretty hilarious route to go when deciding on your pup's name. Here are a few of our favorites, sure to get a giggle from anyone, you introduce them too!
Moose
Weenie
Banger
Bratwurst
Legs
Jaws
Lowrider
Ducky
Salami
Sausage
Frankfurter
Hotdog
Hulk
Zeus
Tank
Killer
Chorizo
Bologna
Famous Dachshunds with Famous Owners
Celebrities seem to have a big heart when it comes to weiner dogs! There have been quite a few throughout history who have adopted one of their own. Below we have listed the famous owner as well as the name of their long and little friend!
Henry – David Hasselhoff
Blackie – John Wayne
Charlie – Christian Slater
Olive – John F. Kennedy
Archie  – Andy Warhol
Louie – Elizabeth Taylor
Baby & Boopshem – Joan Crawford
Commissioner – Clark Gable
Red – Clint Eastwood
Clown – Brigitte Bardot
Squirrely – Doris Day
Louie – David Bowie
Chico – Einstein
Lovely – Kirsten Dunst

Finding the Right Name for Your Dachshund Dog
Deciding on a name as priceless as your new puppy might leave you feeling a bit overwhelmed, but we hope that our list of 100+ Dachshund names has left you inspired. Whether you were influenced by their mini stature and chose Tiny or Minnie, or settled on with Sausage because it's both hilarious and incredibly adorable, we are sure there are great suggestions for every type of Dachshund!
If not, below, we have linked additional dog-names posts that could help you find the perfect name for your furr-end!
---
Feature Image Credit: otsphoto, Shutterstock