How Much Does a Rottweiler Cost? (2023 Price Guide)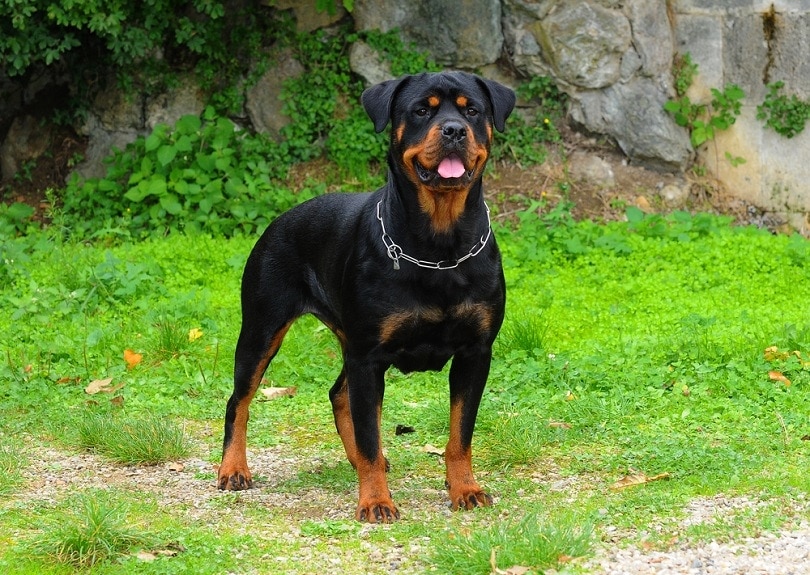 Whether you're looking for a ferocious guard dog or a lovable companion, a Rottweiler can make a great choice. Still, before you head out and purchase a Rottweiler, you need to make sure you can afford one. More goes into owning a dog than simply the adoption fee.
There are all sorts of one-time costs, monthly costs, and even occasional costs that pop up. In this guide, we cover them all. This way, you know exactly how much you'll need to spend to keep your pup happy and healthy, without putting yourself in a bind.

Rottweiler Price: One-Time Costs
Just because you can cover the adoption cost doesn't mean you can afford a Rottweiler. All kinds of costs go into owning one of these dogs, and there are plenty more one-time costs than just the purchase price.
But the purchase price can vary quite a bit too, which is why we covered a few different ways that you can bring a Rottweiler home and the costs associated with each one.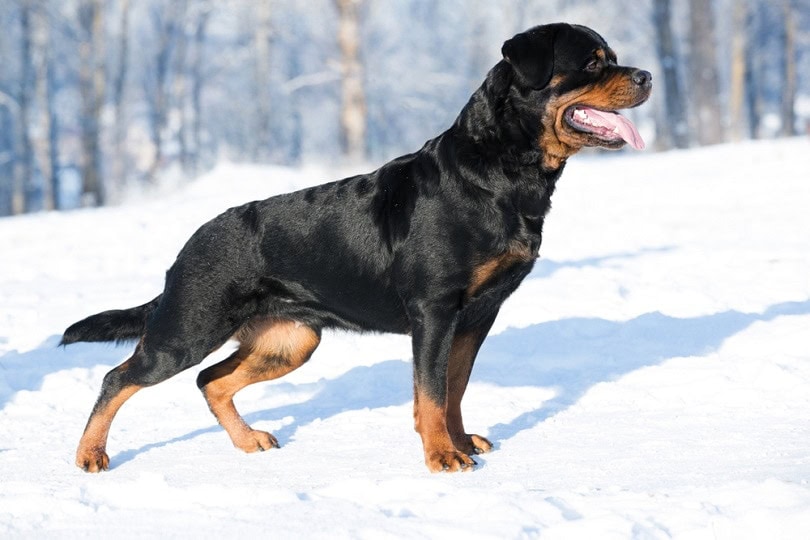 Free Rottweilers
If you keep an eye out on different pet pages, you might be able to find someone giving away a Rottweiler. Just ensure that you ask tons of questions before picking them up, including why they're giving them away and if they have any known health problems.
This is often a great way to keep a Rottweiler out of a shelter, and you'll have a better idea of their history than many other adoption methods.
Rottweiler Adoption
Unfortunately, it's not hard to find a Rottweiler in a shelter. They're one of the most common dogs that people give up, and it can be for a wide array of reasons. Be careful when adopting a Rottweiler from a shelter, and be sure to ask tons of questions.
Sometimes, previous owners have neglected Rottweilers, which can lead to aggressive behavior toward people or other pets. But if you can adopt a Rottweiler from a shelter, there's a good chance that you'll be saving their life.
Rottweiler Breeders
One of the most common ways to get a Rottweiler is through a breeder. This is practically the only way that you'll get one if you want a puppy, but be aware that this is far more costly than any other method.
A Rottweiler from a breeder will routinely cost between $1,500 and $2,500, and one with a high pedigree can go for even more.
Rottweiler Price: Initial Setup and Supplies
Once you've purchased your Rottweiler, there are a few more expenses that you need to account for. To start, you'll need to spend anywhere from $250 and $500 on supplies. While you might be able to shave these costs down a bit if you already own a dog, you're not going to save a ton.
Here, we broke everything down, item by item, of what you'll need and how much you can expect to spend.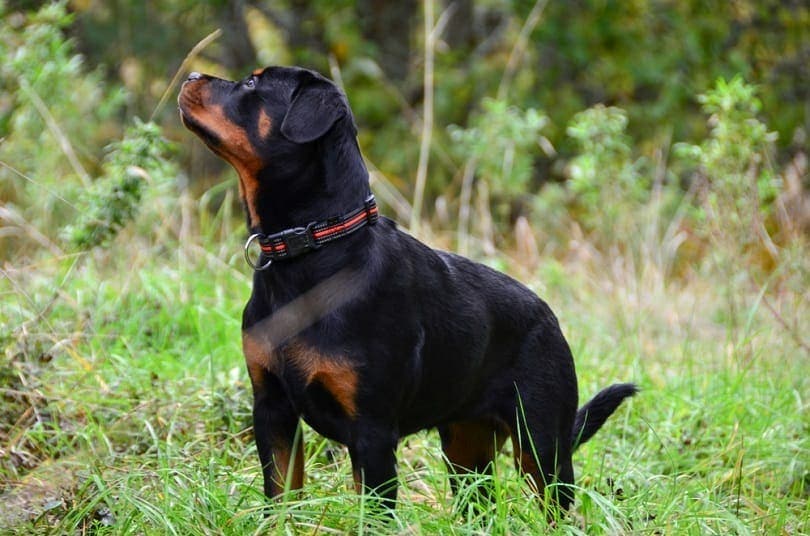 List of Rottweiler Care Supplies and Costs
| | |
| --- | --- |
| ID Tag and Collar | $20 |
| Spay/Neuter | $250 |
| Microchip | $45 |
| Bed | $50 |
| Nail Clipper | $10 |
| Brush | $10 |
| Toothpaste/bath supplies | $20 |
| Toys | $35 |
| Leash | $10 |
| Food and Water Bowls | $20 |
| Flea and Tick Prevention | $15 |
How Much Does a Rottweiler Cost Per Month?
Once you've purchased everything that you need for your Rottweiler, you need to start accounting for reoccurring monthly expenses. If you're adopting an older dog and spoiling them, these costs can easily reach $300 a month.
We broke down each expense by category below to give you a better understanding of how we came up with these numbers.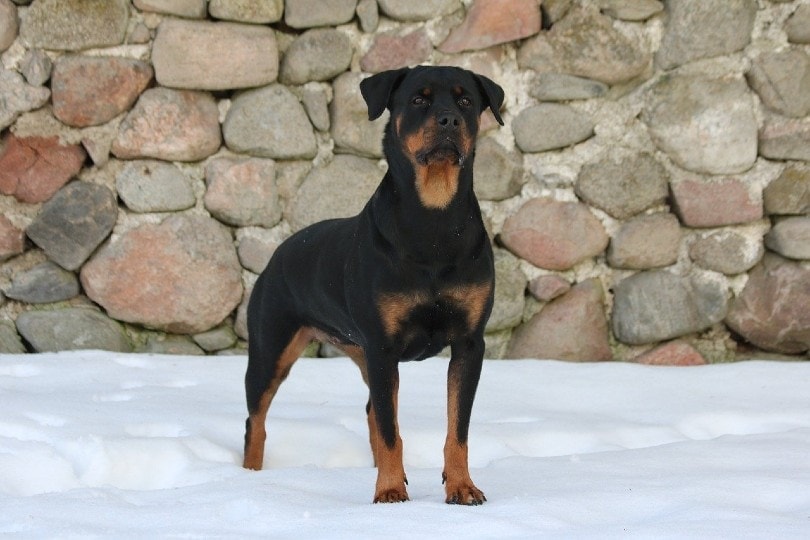 Rottweiler Food Costs
There's no doubt that Rottweilers are big dogs. Prue-bred adults can weigh anywhere between 75 and 130 pounds, and all that adds up to a large amount of puppy chow! A 130-pound Rottweiler will eat over 5.5 cups of food a day, which means you'll be spending a decent amount of money on food.
Invest in high-quality food up front. Otherwise, your Rottweiler is at risk for more serious health conditions down the road. Also, sprinkle in a few treats to spoil your furry friend — just be sure not to overdo it.
Rottweiler Grooming Costs
Rottweilers don't need a ton of grooming because they have a very short coat. Still, you should brush them down daily and brush their teeth a few times a week for good oral hygiene. Add in the occasional bath, and you're doing everything that you need to keep your Rottweiler clean and healthy!
Rottweiler Medications and Vet Visits
At the very least, you should have your pup on a monthly flea and tick prevention medication. For a large dog like a Rottweiler, this can cost about $15 a month, but it's going to save you even more money by preventing a household flea infestation, and it will save you and your pup the frustration.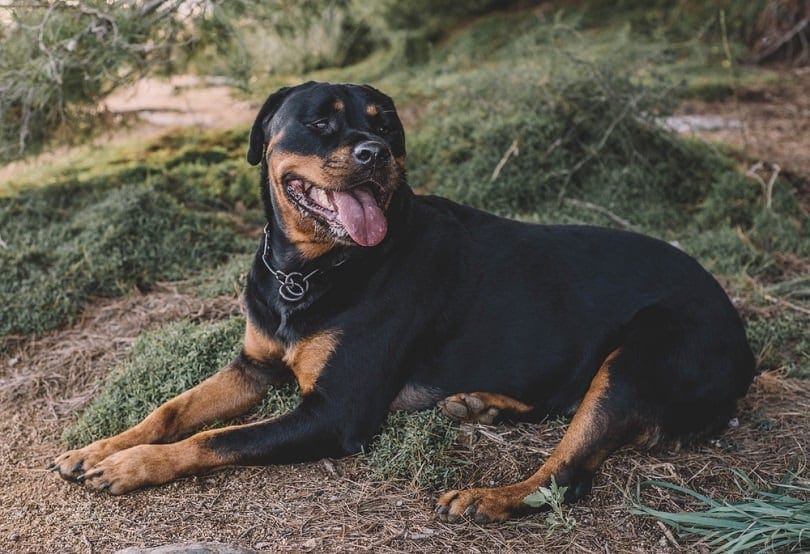 Rottweiler Pet Insurance Costs
When you adopt a pet, pet insurance is one of the first things that you want to look into. Just like you have health insurance so an unexpected medical expense doesn't drain your bank account, your pet needs the same protection.
It's best to ensure your dog as early as possible to get the best rates. For instance, pet insurance for an 8-week-old Rottweiler will only cost you about $25, but if you're insuring an older dog, those monthly premiums can easily exceed $100.
Finally, keep extra back to cover the deductible in case you need to use it.
Rottweiler Environment Maintenance Costs
Unlike cats, there's not a ton that you need to keep up with in your Rottweiler's environment. We recommend keeping a full supply of poop bags for your walks, but even accounting for a full $5 a month for this is probably a bit too high.
But the last thing that you want is to run out of things to clean up their messes with!
Rottweiler Entertainment Costs
There are two different ways that you can keep up with your Rottweiler's toys. First, you can replace them as your dog chews through them, but with their strong jaw and love of chewing, this can mean many trips to the store.
Another option is to sign up for a reoccurring dog toy subscription box. Just be sure to sign up for a box that specializes in heavy and strong chewers. Otherwise, you're likely throwing money away because your pup will chew right through the toys as soon as you pull them out of the box!

Total Monthly Cost of Owning a Rottweiler
It's easy to spend $300/month on an older dog if you spoil them! Even if you get a younger pup and can insure them for less money, you can still expect to spend well over $100/month on them once they're fully grown.
These pups eat a large amount and love toys, and those two factors will keep costs high, but if you neglect either of these, you're only asking for more problems.
Additional Costs to Factor In
There's one cost that we've yet to address: occasional costs. These include things like pet deposits, pet sitting fees, and even potential airline fees!
It all depends on your particular situation if you have to worry about any of these costs. Also, be sure to check what breeds of dogs your pet sitter or living situation allows, as many of them won't care for or allow Rottweilers.
This might not be fair but it's a reality. Sometimes even those who do care for or allow Rottweilers will charge more for them, which means you'll need to have even more money set aside.
Owning a Rottweiler on a Budget
We understand that not everyone has a ton of money to throw at their puppies and that sometimes life comes up with unexpected expenses. Fortunately, there are a few things that you can do to keep costs low.
For starters, you can buy in bulk. The larger the bag of dog food, the less that you're spending per pound. Considering that your hungry dog will eat a large amount, there's no reason to buy anything but the biggest bags.
Another potential option is to skip pet insurance, but this is a risk. If something does crop up with your dog, you may not have the money to care for them, which can put you in a challenging situation.
Even worse, when you decide to pick up health insurance again, they're going to lock you in at a higher monthly rate because your pup is older.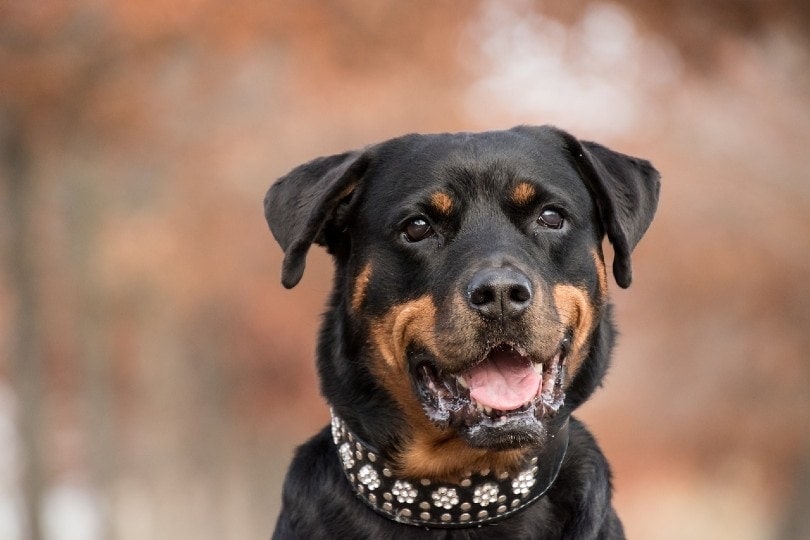 Saving Money on Rottweiler Care
Another way that you can try to save money on Rottweiler care is to find another pet owner who is willing to do a pet-sitting swap with you. You watch their dog for them when they're out of town, and when you're out of town, they'll return the favor.
Just be sure to tell them that you own a Rottweiler beforehand, as some people are uncomfortable around them.

Conclusion: Rottweiler Cost
Before you head out and purchase a larger dog, you must be able to afford them. The last thing that you want to deal with is rehoming a dog, especially a Rottweiler. While it might not be fair, they have a bad rap, making it even more challenging to rehome them.
The best thing that you can do is ensure that you have all their expenses covered before you adopt one. Hopefully, this guide has helped give you a better understanding of how you can afford to bring one of these dogs into your home.
---
Featured Image Credit: Ricantimages, Shutterstock