100+ Shih Tzu Dog Names: Playful, Meaningful & Cute Ideas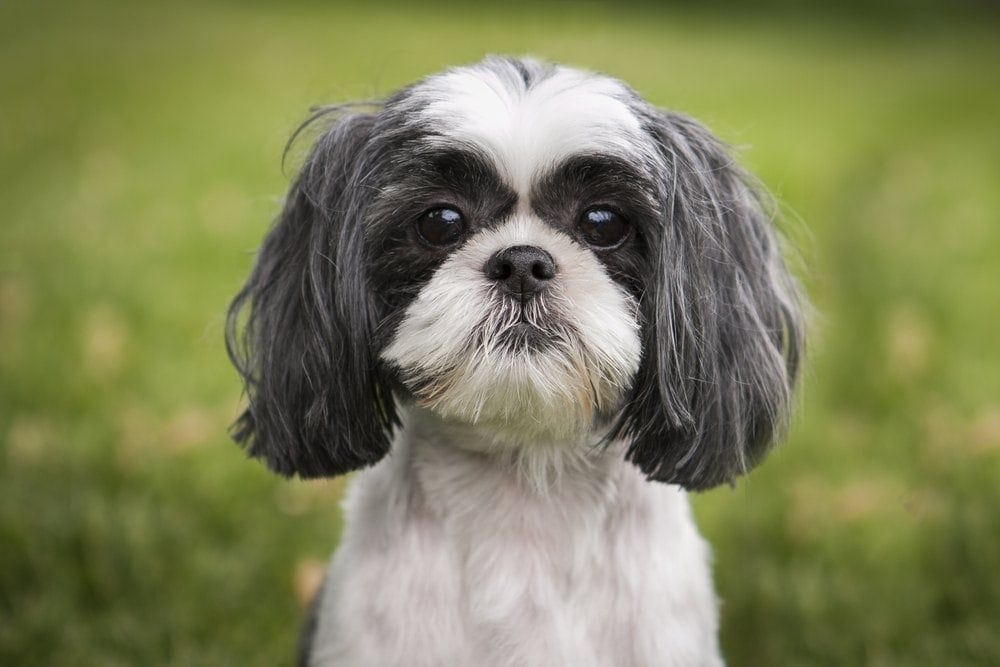 The Shih Tzu – pronounced SHEET ZOO – is a petite hypoallergenic dog breed known to be intelligent, clever, affectionate, and friendly! Originating from Tibet, these outgoing pups are quite common in America. Coming in an array of colors including brindle, white, white, black, brown, blue, and gold and oftentimes, even a mixture of each. These fluffy little dogs are also known for their locks, which if their owners allow, can grow all the way to the floor.
Deciding on a name that's suitable for your new addition can be a finicky task because there are so many options available. To help you with the process, we have gathered our favorite names for females and males, cute suggestions as well as a few Chinese names for this Tibetan breed!

Female Shih Tzu Dog Names
Nala
Rosie
Fifi
Luna
Izzy
Ember
Theodora
Josie
Effie
Angel
Camilla
Olive
Bitty
Stella
Piper
Dove
Zoey
Scarlette
Java
Rosebud
Sangria
Flora
Poppy
Genevieve
Dixie
Male Shih Tzu Dog Names 
Milo
Leo
Ernie
Brody
Duke
Kingsley
Cotton
Jett
Opal
Blue
Oliver
Ash
Noir
Max
Charlie
Pepper
Winston
Agustus
Bear
Merlot
Roscoe
Jax
Cute Shih Tzu Dog Names 
Not only are Shih Tzu's cute because of their physical traits (short stature, flowy bangs, and floppy ears), these pups are also incredibly kind and warm which makes them oh so adorable. Here are our top names for the cutest Shih Tzu dog names:
Gizmo
Odie
Scully
Pewter
Sumo
Fergus
Morsel
Squirt
Parker
Barnabus
Archer
Rascal
Mittens
Buttons
Bean
Paisley
Runt
Nugget
Titan
Murk
Cohen
Peewee
Peanut
Gigi
Barkley
Finn
Lux
Lola
Pebbles
Aspen
Gidget
Alfie
Harper
Spud
Hazel
Chinese Shih Tzu Dog Names
As this breed originated in China, it seems only natural that some would search for an authentic Chinese name. Here we have listed a few of our favorite and most fitting names for the Shih Tzu:
Kekao (Trustworthy)
Banlu (Companion)
Zhengui (Precious)
Pengyou (Friend)
Shunu (Lady)
Zu (Lord)
Yonggan (Brave)
Keai (Lovely)
Ezuoju (Micheivious)
Meili (Beautiful)
Gongzu (Princess)
Qinre (Affectionate)
Guowang (King)
Tiaopi (Playful)
Jilie (Feirce)
Huangdi (Emperor)
Shizi (Lion)
Chundo (Purity)
Ganqing (Affection)
Wangquan (Royalty)
Junzhi (Monarch)
Chongbai (Adored)
Bonus: Scientific name for Shih Tzu 
Did you know the scientific name for the domestic dog is Canis Lupus Familiaris? Different dog breeds are not actually different species, though, so the scientific name for a Shih Tzu is the same as the scientific name of a Golden Retriever or a Bullmastiff.
So, whether you have an interest in science or you want a name so unique that has a cool backstory – this might just be the same you're looking for. Canis and Lupus both sound like great options too, don't they?

Finding the Right Name for Your Shih Tzu Dog
Deciding on a name as adorable as your teensy new Shih Tzu puppy might leave you feeling a bit overwhelmed but we hope that our list of names has left you inspired. Whether you found something adorable like Peanut or Chewy or loved a name with a bit more authenticity like – and -, we are sure there are great suggestions for every type of Shih Tzu!
Below we have linked additional dog names posts that could help you find the perfect name for your furr-end if you weren't sold on these names!
---
Feature Image Credit: Angel Sallade, Shutterstock