Skoon Cat Litter Review 2023: Pros, Cons & Verdict

Review Summary
Our Final Verdict
We give Skoon Cat Litter a rating of 4.5 out of 5 stars. 
Introduction
Skoon is a cat litter brand that offers all-natural, highly absorbent litter selections for your feline friends. The company designs its products specifically to make a kitty's bathroom experience terrific while keeping your floors clean.
With the fantastic formulas, you can reduce odor while changing the litter less often—so we think it's a pretty good deal. We delved into all the Skoon cat litter brand aspects, and we are eager to tell you what we found. Let's learn more.
At a Glance: The Best Skoon Cat Litter Options
Rating
Image
Product
Details

Our Favorite

Skoon All-Natural Cat Litter

All-natural
No fragrance
Quick absorption
Check Price

Skoon All-Natural Cat Litter with Lavender

Subtle scent
Same great formula
No unnatural ingredients
Check Price

Skoon All-Natural Cat Litter with Lemon

Fresh lemon scent
Very absorbent
Odor control
Check Price

Skoon All-Natural Cat Litter Fine Grain

All-natural
Super-absorbent
Low-dust
Check Price
---
Skoon Cat Litter Reviewed
We feel that Skoon is an upstanding cat brand that truly provides ever-improving products for our felines. But it's essential to familiarize yourself with any products before introducing it to your kitties.
Who Makes Skoon Cat Litter and Where Is it Produced?
It's pretty tricky to find information about where this litter is manufactured. However, we know that Skoon offers a natural cat litter made from diatom material—and the company is growing more popular every day for its conscientious mission.
Skoon believes that cats should have an irritation-free bathroom experience—but that humans should have a smooth time during cleanup, too. You'll find other users claims are solid—the concept works well.
Which Types of Cats is Skoon Cat Litter Best Suited For?
Skoon works for practically any house cat, but it works even better for sensitive ones. Skoon has no harsh ingredients or aromas that overwhelm your kitty's sensory. It is made of all-natural, biodegradable substances that are healthy for your kitty—and it's entirely environmentally friendly.
So, this litter is even suitable for kitties who have sensitivies or allergies.
Which Types of Cats Might Do Better with a Different Brand?
There is no foretelling whether a cat might do better with this litter just based on the ingredients alone. However, it's always possible a cat might not like the texture or feel of the material. If they don't, some might start using the bathroom out of their box.
If this happens, it's always best to compromise and buy a litter that works for you both. Thankfully, Skoon also makes a fine grain option you can test. Another environmentally friendly option would be sWheat Scoop wheat litter with smaller granules that might be comfier to your cat.
Discussion of the Primary Features (Good and Bad)
Skoon prides itself on creating organic, all-natural cat litters that work for any house cat around. Many owners want to take a more health-conscious approach to all aspects of cat-owning, including their litter.
Many commercial litters are dusty, full of chemicals, and high-tracking. So, what does Skoon offer that is so different? This litter prevents many common issues regular litters present. Here are the specifics.
Optimal Odor Control
Both scented and unscented Skoon litters have excellent odor control. Essentially, the pebbles lock in and trap the odors for longer-lasting freshness.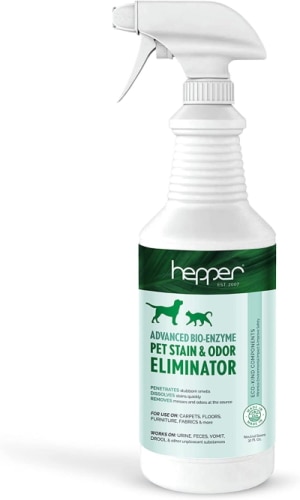 Even after the litter is changed you may be left with smells and stains around the house – but with the Hepper Advanced Bio-Enzyme Pet Stain & Odor Eliminator Spray, you can take care of it all. It's our product, and we love it so much, we just have to share it! It permanently removes the very worst smells and stains, and we offer a 100% satisfaction guarantee! Click here to get yourself a bottle.
High Absorption
Each litter pebble is semi-soft and very absorbent. The material is spongy, soaking up liquid with efficiency.
Texture
Skoon litter is very lightweight, having a nearly foamy texture. This can be quite an adjustment from a regular litter for some cats, but most should acclimate well.
Completely Natural
In the composition of Skoon litter matter, you will find diatomite. This substance is broken down into pebbles to form a dust-free, non-processed litter. Skoon takes the diatom, crumbling it to pebble perfection. This matter is porous and absorbent.
Low Dust
The dust content in this litter is minimal. When you pour it, you might notice a tiny amount of dust, but it's nothing considerable. Running your hands through the litter doesn't stir dust and leaves no chalky feeling on your hands.
Non-Tracking
Because the pebbles are too large to wedge in your cat's paw, you don't have to worry about any tracking whatsoever.
Natural Scents
Skoon offers two scents: lavender and lemon. Both of these cat litters are lightly scented with no overwhelming aromas or harsh perfumes.
---
Types of Skoon Cat Litter
Skoon doesn't offer a wide variety of litters, but there is really no need. They have covered nearly all bases of litter care in the small selection they offer.
Skoon has four signature litter lines:
Skoon All-Natural Cat Litter: unscented, ultra-absorbent, biodegradable
Skoon All-Natural Cat Litter with Lavender: all perks of original litter, but with a natural lavender scent
Skoon All-Natural Cat Litter with Lemon: all the perks of original litter, but with a natural lemon scent.
Skoon All-Natural Cat Litter Fine Grain: this litter has tinier grain for kitties who prefer a smaller granule at potty time
---
Skoon Offers Other Convenient Supplies
In addition to the company's litter, they also offer a few other convenient options.
Skoon Disposable Cat Litter Box
Skoon Pooper Scooper
Skoon is still a growing company, offering new products as they progress.
Skoon Affordability
One of the downfalls of Skoon is that the litter is on the expensive side. That might not deter everyone. But if you're on a budget, you may want to consider prices.
A Quick Look at Skoon Cat Litter
All-natural
Super-absorbent
No tracking
Low-dust
Expensive
The texture might not work for every cat
Reviews of the 3 Best Skoon Cat Litter
Here are three selections we reviewed from Skoon Cat Litter.
1.

Skoon All-Natural Cat Litter
Skoon All-Natural Cat Litter is our favorite because we feel like most felines and their owners will benefit. It has no scent but highly masks odors related to urine and feces, which is the power of diatom. The ultra-absorbent quality of the pellet works to soak and lock in bad smells.
Skoon is also clump-free, so you can easily sift through the box without wasting a ton of litter. We think you'll also really appreciate how light the bag is. No more stressful trips from your porch to the house, hauling a heavy sack of litter.
Because of Skoon's natural aim, all the components in the litter are totally kitty-friendly, with no harsh additives like perfumes to mask odors. Since the litter has larger pebbles, it might take a minute for your cat to get used to it. Like anything else, it won't work for every cat.
All-natural
No fragrance
Quick absorption
Lightweight
Cats might not like the texture
---
2.

Skoon All-Natural Cat Litter with Lavender
If you love the idea of Skoon, but you like a little scent, check out the Skoon All-Natural Cat Litter with Lavender. The lavender scent is subtle, leaving a calming, crisp smell that isn't overwhelming. Even though it's scented, there is nothing artificial about the ingredients.
Skoon's lavender-scented litter has all of the same benefits as its regular all-natural litter. It is ultra-absorbent, made of diatom pebbles. Because of the composition, it's incredibly light and long-lasting.
If you like to have a bit of extra odor control, it's a terrific option to try. Even though you might enjoy the scent, there's a chance, not every cat will agree.
Subtle scent
Same great formula
No unnatural ingredients
Cats might not like the scent
---
3.

Skoon All-Natural Cat Litter with Lemon
If you enjoy a zestier, clean scent, take a look at the Skoon All-Natural Cat Litter with Lemon. It has a lovely, fresh smell that you can appreciate. Skoon is already pretty fantastic about making odor-free litters, and the lemon is no exception.
Staying true to the brand, Skoon offers the same basic makeup in this litter, too. The product is made entirely of diatom pebbles for odor control and absorption with a splash of natural scent. It's light as a feather, too.
This scent is a bit stronger than the lavender selection, in our opinion. We think it's fantastic, but if you were looking for no scent, you might want to choose another variety.
Fresh lemon scent
Very absorbent
Odor control
---
What Other Users Are Saying
When you want a really honest opinion, it's a fabulous idea to take a look at what other real-life users are saying. To summarize the general consensus, we poked around on different sites. Here's what we found out.
HerePup – "Good quote from HerePup about this pet food"
Pet Food Guru "Good quote from Pet Food Guru about this pet food"
Amazon—as usual, Amazon is swimming with reviews about Skoon products. You can read more about what verified buyers are saying here.
One of the most significant hiccups we found in our research was that some customers warned others to read instructions carefully. Skoon litter requires you to stir daily to make sure that the pebbles take turns soaking up the urine.
Conclusion
Aside from the high price point of view, Skoon cat litter is worth a try. Every cat can benefit from a non-tracking, all-natural, odor-absorbent litter. And if you need smaller granules or prefer a scent—Skoon has you covered there, too.
Remember to read the instructions carefully since this product does require daily maintenance. In our experience, we would say that Skoon is worth a shot, ranking a 4.5 out of 5 stars with us.
Additional Cat Litter Reviews: