Solid Gold Dog Food Review 2023: Recalls, Pros & Cons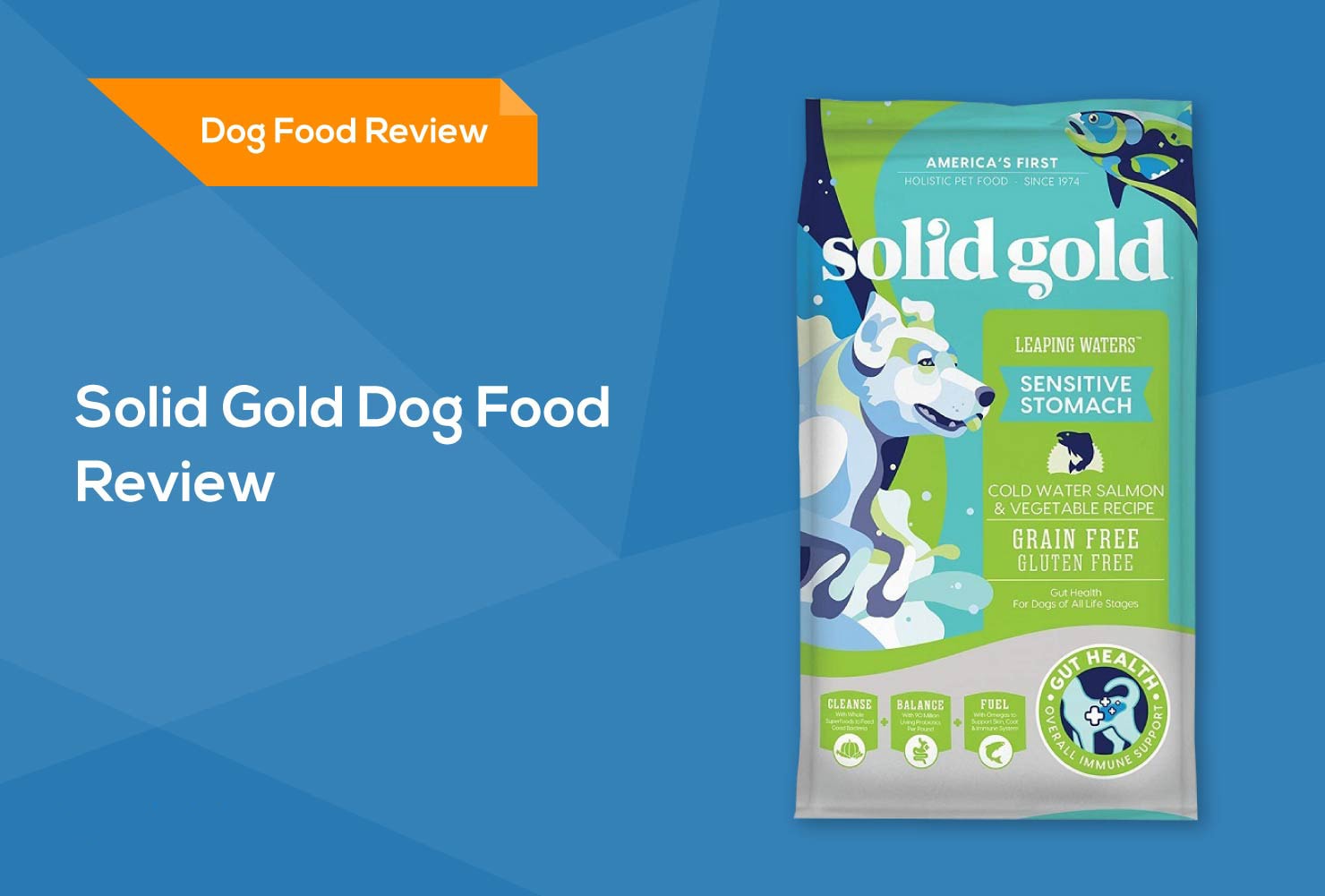 Our Final Verdict
We give Solid Gold dog food a rating of 4.7 out of 5 stars.
Solid Gold Dog food is an all-natural brand that focuses on gut health to promote overall well-being in your pet. They are known, not only for their healthy diet, but also for their whimsical, tongue-in-cheek meal names.
This brand offers multiple formulas and flavors to accommodate almost every type of dog. With their patented probiotics, Solid Gold Dog Food is an expensive yet nutritious choice. Of course, there are drawbacks to every type of pet food, and this brand is no exception. In the article below, we will give you a run-down of all the details you need to know. With our shared info, you will be able to determine whether this is a good choice for you!

At a Glance: The Best Solid Gold Dog Food Recipes
Image
Product
Details

Our Favorite

Solid Gold Leaping Waters for Sensitive Stomach

Features probiotic support
100% free from grains and gluten
Omegas-3 and -6 promote healthy skin and a lustrous coat
Check Price

Solid Gold Wolf King Whole Grain

All-natural
Gut health probiotics
20 superfoods
Check Price

Solid Gold Hund-N-Flocken Natural Adult

Features probiotic support for your furry friend's gut health
Formulated to enhance your companion's coat
Includes a unique blend of functional superfoods for overall immune support
Check Price

Solid Gold Bone Broth Human-Grade

Rich in collagen—a protein essential for gut health
Provides an aromatic and flavorful addition to your dog's meal
Easy to serve in a convenient
resealable pouch
Check Price

Solid Gold - Star Chaser Whole Grains

Supports overall digestive health
Highly palatable option for selective eaters
No fillers
by-products
artificial coloring
flavoring or preservatives
Check Price
Solid Gold Dog Food Reviewed
Solid Gold Dog food is an all-natural formula that carries wet and dry canine cuisine. Not only that, but they also have additional products such as their broths, treats, and supplements for coat and fur health, joint support, and even one that is designed to keep your dog from eating poop!
The brand is marketed as a holistic "gut health" option that provides your pet with essential vitamins and minerals like antioxidants, omegas, protein, EPA, DHA, and their patented probiotics that helps the digestive system and in turn promotes overall good health.
Something else this brand is known for is their meal names. You can find options such as Star Chaser, Wild Heart, Sunday Sunrise, and Love At First Bark, to name just a few. Besides the cute names, however, each formula has a specific purpose and target problem/solution.
An Overview of The Formulas and Flavors
One benefit of this brand is its inclusivity for all dog types and their various dietary needs. In fact, they offer two different puppy, protein, and senior meals through their dry line. Take a look at what meal types Solid Gold offers for dry food:
Grain-Free
Whole Grain
Probiotic Support
Weight Control
High Protein (X2)
Senior (X2)
Small Breed
Potato-Free
Piper (X2)
Fiber-Rich
The wet formula is a bit more limited, but it still offers a few options:
Adult
Grain & Gluten-Free
Sensitive Stomach
Puppy
Weight Control
Besides the meal formulas, this dog food also features several flavors across their dry and wet lines. Here are some of the main ingredients you can expect:
Turkey
Chicken
Bison
Duck
Beef
Quail
Alaskan-Pollack
Salmon
Pumpkin
Sweet Potato
Barley
Brown Rice
Venison
Lamb
Taurine
Solid Gold also offers a variety of treats and broth. The bone broth is also all-natural, grain-free, and human-grade. It comes in either a turkey, chicken, or beef flavor and can be used as a treat, meal topper, or to moisten dry food.
The supplements are another product this brand offers. They are also all-natural, holistic, and grain-free to help your dog with digestive issues, dull fur, dry skin, joint support, and pain, plus there is even one to keep your dog from eating poop. This particular supplement is formulated with spices and herbs that dogs don't typically like. Though they can taste it in supplement form, they will not enjoy it afterward.
Who Makes Solid Gold and Where Is It Produced?
Solid Gold Dog Food has been producing their gut health products since 1974. The founder, Sissy McGill, started by raising Great Danes and decided to form her own natural pet food line. Located in Chesterfield, MO, McGill quoted as saying: "A pet that is healthy in mind, body, and spirit is a light that shines upon the world."
All of Solid Gold's products are manufactured in the USA. Their ingredients are carefully sourced from around the world. To be transparent, the Solid Gold website gives an outline of where each ingredient comes from. They also offer information on the importance of the sourcing location.
Here is a basic overview of where each ingredient comes from:
| Origin | Ingredient |
| --- | --- |
| USA | Turkey, chicken, bison, duck, beef, Alaskan-pollack, salmon, pumpkin, sweet potato, barley, brown rice |
| France | Quail |
| Australia | Venison |
| New Zealand | Lamb |
| Japan | Taurine |
As you can see, the majority of their ingredients are sourced in the USA, but not all. Also, as this brand focuses on gut health, they rely heavily on prebiotics and probiotics. They have their own patented probiotic formula, and as such, there is no public information on where or how it is formulated.

Discussion of the Primary Ingredients and Nutrition
As we mentioned above, there are many vitamins and minerals in the Solid Gold formula that will help your pet stay healthy, active, and happy. That being said, we want to take a closer look at this food's basic principles that guide their formulation process.
Gut Health
Your dog's gut (digestive system) is filled with natural bacteria and enzymes that eat away at harmful materials. When the "gut" is working at top capacity, it will spider out to all other areas of your pet's health, especially their immune system.
An important supplement in any dog food is probiotics which are live, natural enzymes (bacteria) designed to join the fight in your pet's digestive system to keep them healthy. Prebiotics, on the other hand, is fiber. It is what feeds the good bacteria and keeps it healthy. Without prebiotics, probiotics are not as effective; if they are effective at all.
Something important to note is that probiotics are only beneficial if they are alive and well. Though it may seem counterproductive to feed your dog live bacteria, it is important for their digestive health. Many brands and manufacturers struggle with the shelf life of this supplement. Solid Gold, however, has patented its probiotics that are protected and fed by natural prebiotics.
Nutrition
As you can imagine, Solid Gold's dry formula falls in line with the AAFCO's guidelines for a dog's daily nutritional requirements. Take a look at the average nutritional value for their dry formula:
Characteristics
Protein: 23% (High protein has 41%)
Fat: 12%
Fiber: 4%
Calories: 370 kcal
Their wet formula is not as great as the dry, however. To be fair, canned dog food is rarely as nutritious as dry formulas. Take a look at the average nutritional content:
Characteristics
Protein: 9.5%
Fat: 7.5%
Fiber: 0.75%
Calories 441 kcal
A Quick Look at Solid Gold Dog Food
All-natural formula
Gut health
Inclusive formulas
Manufactured in the USA
No artificial ingredients
Wide variety of flavors
Canned food is not as nutritious
Expensive
Can be hard to transition (see below for more info)
---
Ingredients Analysis
Before we get into the ingredients within the various formulas, we wanted to point out a couple of important definitions.
The FDA and AAFCO
First, we want to point out the Association of American Feed Control Officials (AAFCO) is an organization that gives directives on what is healthy for the different life stages of animals. They do not have any authority to regulate dog food. Any AAFCO "guidelines" that are followed by a brand are voluntary.
The Food and Drug Administration (FDA) is the organization responsible for pet food regulations. That being said, dog food does not require premarket approval, plus the ingredients only need to have a "purpose" in the food and be deemed "safe" which brings us to our next point.
Natural and Holistic Dog Food
When a pet food is listed as "natural" it is important to keep in mind that the FDA does not have a regulated definition for this term. Though there are all kinds of false advertising consequences, using this term can be done with a wide margin of discretion on the part of the manufacturers.
The term "holistic" falls under the same problem as natural, though in this case neither the FDA nor the AAFCO has a solid definition for its use (AAFCO defines natural, but again, it's not an enforced structure). That being said, as the AAFCO recognizes "natural food" as any formula that is made without synthetic ingredients, additives, and preservatives. It holds more weight than holistic which can have artificial ingredients.
Holistic dog food is meant to describe any formula where all the ingredients are included to serve a specific health-benefiting function. Again, this does not necessarily mean natural, so caution is required.
Ingredient Benefits and Drawbacks
Though we have mentioned it a few times above, Solid Gold Dog Food has many beneficial ingredients including their patented probiotics and supporting prebiotics. You can also find omegas, biotin, glucosamine, EPA, DHA, and a dizzying array of vitamins and minerals to support your dog's well-being.
What you will not find in this brand's formula is artificial flavors, colors, or preservatives. There is a grain and gluten-free option for sensitive stomachs, and a whole-grain meal made with nutritious brown rice. You will also find the chicken chows are made with cage-free chicken, plus pasture-raised beef and lamb.
The only drawback comes from canned food. This is where the ingredients are a bit concerning. Although it still maintains an all-natural formula, there are some things you should be aware of.
Pea Products: Raw peas hold nutritional value for your pet, but when you have items such as ground peas and pea flour or protein, it is typically only being used as a filler and it has little benefit for your pet.
Sodium: Another concerning ingredient is the salt content. It is fairly high on the list, meaning it's highly concentrated in the formula. Salt is not healthy for your pet for the same reasons it is not healthy for us.
Water: Though water is not a bad ingredient, when it is listed first in the ingredient list it can undermine the nutritional value of the meal. It can also make it difficult to predict how much of the other ingredients are in the formula.
Alfalfa: Alfalfa is another ingredient listed high on many of the canned formulas. Though it is not toxic to your pet, it can stop some of the vitamins and nutrients from being absorbed into your dog's system.
The ingredients listed above were taken from several different varieties of canned food. Overall, this is not a bad list where wet meals are concerned.
Recall History
At the time this article was published, Solid Gold Pet Food has only had one recall. In 2012, two recipes were pulled back after the FDA found salmonella traces in the product. The two dry dog food meals were the WolfClub Large Breed Puppy Food and WolfKing Large Breed Adult Dog Food. That being said, it is the only recall in their over 40 years in the pet food industry.
We also wanted to point out that there was a class-action lawsuit filed against the company in California in 2018 due to heavy metals, chemicals, and toxins found in their products. The complainant maintains that Solid Gold labeled their products with "fraudulent and negligent misrepresentation." Keep in mind, this was in regards to their cat food line, and third-party analysts who tested the products found the level of toxins to be within "maximum tolerable limits;" though they were, indeed, found.

Reviews of the 3 Best Solid Gold Dog Food Recipes
1.

Solid Gold Wolf King With Real Natural Bison & Brown Whole Grain Rice
The Solid Gold Bison and Brown Rice formula is an all-natural meal that has lean protein, healthy grains, and 20 superfoods to promote your pet's overall well-being. It has their patented probiotics and prebiotics for gut health, and it will keep your pet's digestive and immune system working at top-notch.
Be aware, however, that this food can be hard to transition if your dog is used to another less protein-packed option. Other than that, you will find no artificial ingredients or fillers, plus it is made and manufactured in the USA with responsibly sourced ingredients. Finally, it has an abundance of added vitamins and minerals.
Guaranteed Analysis:
| | |
| --- | --- |
| Crude Protein: | 22.0% |
| Crude Fat:  | 9% |
| Moisture: | 10% |
| Fibre | 4% |
| Omega 6 Fatty Acids: | 1% |
All-natural
Gut health probiotics
Made in the USA
20 superfoods
Added vitamins and minerals
No artificial ingredients
---
2.

Solid Gold Sunday Sunrise Grain-Free Natural Lamb, Sweet Potato, and Pea Dog Food
If your pet has sensitivities to wheat, this grain-free formula is a good option. Not only does it contain plenty of vitamins and minerals to support your pet's overall health, but it doesn't add non-nutritious fillers to replace grains, either.
This dry formula is a tasty, natural meal that is formulated with pasture-raised lamb. It contains immune and digestive systems-boosting probiotics, plus other nutrients such as omegas, vitamins, and prebiotics. One thing of note about this product, however, is it can be hard to digest. Other than that, there are no artificial ingredients in this holistic food.
Guaranteed Analysis:
| | |
| --- | --- |
| Crude Protein: | 22% |
| Crude Fat:  | 12% |
| Moisture: | 10% |
| Fibre | 4% |
| Omega 6 Fatty Acids: | 1% |
Grain-free
All-natural
No artificial ingredients
Added vitamins and supplements
Pasture-raised lamb
---
3.

Solid Gold Fit & Fabulous Grain-Free Natural Chicken, Sweet Potato, and Green Bean Weight Control
Many dogs require a special diet to keep them fit and trim. Whether it is due to old age, lack of exercise, or other ailments, an overweight pup is something that should be addressed. With this formula, your pet will get a tasty chicken meal that has all the nutrients to stay energized.
The weight control formula has low calories and fat, plus it is potato-free to cut any unneeded carbs. Not only that, but this dog food is all-natural and holistic. It provides your pet with probiotics, prebiotics, vitamins, omegas, and other supplements. It is artificial color, flavor, and preservative-free, plus it contains Alaskan Pollock to help with your pup's skin and fur. The only drawback of note is this formula can be hard to digest especially if your pet is not able to get the right amount of exercise.
Guaranteed Analysis:
| | |
| --- | --- |
| Crude Protein: | 26% |
| Crude Fat:  | 6.5% |
| Moisture: | 10% |
| Fibre | 10% |
| Omega 6 Fatty Acids: | 1% |
Weight control formula
all-natural
No artificial ingredients
Added vitamins and supplements
Alaskan pollock for fur and skin health
---
What Other Users Are Saying About Solid Gold Dog Food
What better way to judge a product than by checking out what other people have to say. Below, we have added some comments from consumers who have already purchased and loved this dog food.
Chewy.com
"Our first Great Dane ate Solid Gold and lived 12 years. Our Shepherd who will be 13 this month also loves it. We now have our two new Great Danes eating it and hoping for the same results!"
PetSmart.com
"I have fed my dog this food for years and I couldn't be more satisfied with a product. The lack of corn and wheat and the inclusion of superfoods make a difference in my dog's health and energy levels. For a treat, I mix it with some Solid Gold Green Cow canned. He loves it. Great company too."
These reviews notwithstanding, no comment section would be complete without Amazon's feedback, as well. Take a look at what the patrons of the world's largest online retailer had to say!

Conclusion
One of the main drawbacks of Solid Gold Dog Food is its price. This natural and holistic formula may cost you a pretty penny, yet the ingredients and benefits are well worth the price tag if you can swing it. Not only that, but you can conveniently find this brand in major pet chains, big box stores, and online retailers.
We hope you have enjoyed the above review of this dog food, and it has given you all the information needed to make a positive decision about your pup's well-being. Navigating the wide world or pet products can be difficult, so we hope you will take a look at some of our other product reviews like Greenies Dental treats and NutriSource Dog Food!