Taste of the Wild PREY Dog Food Review 2023: Recalls, Pros & Cons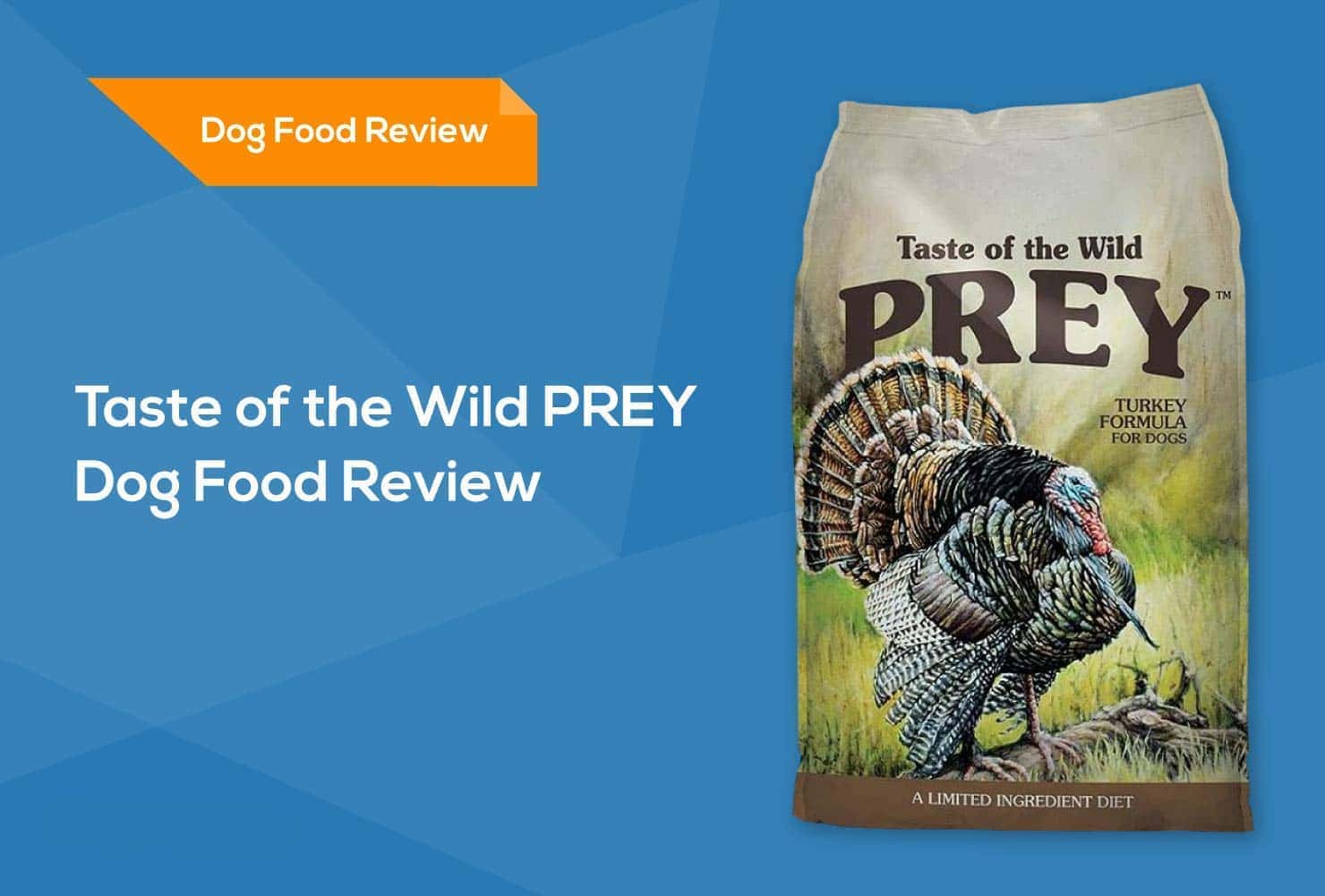 Our Final Verdict
We give Taste of the Wild PREY dog food a rating of 4.4 out of 5 stars.
Introduction
As dog owners, there's something we all have in common: the desire for our four-legged companions to live the healthiest, happiest life possible. But if your dog struggles with food sensitivities or full-blown allergies, this simple wish is easier said than done.
The Taste of the Wild PREY line offers three different recipes designed for dogs with food-related health issues, such as those affecting the skin or digestive system. While these dry food formulas won't work for every dog, the use of limited ingredients means your dog is less likely to experience issues caused by more popular recipes.
With that said, it's still possible to give your dog too much of a "good" thing. So, should the average dog be on a limited ingredient or grain-free food? Does the Taste of the Wild PREY line actually meet the needs of its target audience?

At a Glance: The Best Taste of the Wild PREY Dog Food Recipes
Compared to the brand's other dog food formulas, the Taste of the Wild PREY line is incredibly limited. Right now, you and your pup can choose from three different recipes:
Rating
Image
Product
Details

Our Favorite

Taste of the Wild PREY Angus Beef Formula

Complete and balanced diet
With added savory seasoning
No artificial colors
flavors or preservatives
Check Price

Taste of the Wild PREY Turkey Formula

Easier to digest
With added micronutrients
Includes 80 million CFU/lb proprietary probiotics
Check Price

Taste of the Wild PREY Trout Formula

Grain free
GMO-free
Made for superior digestibility
Check Price
Taste of the Wild PREY Dog Food Reviewed
For owners of dogs with food sensitivities, choosing a high-quality, trustworthy formula is incredibly important. Although Taste of the Wild presents its PREY recipes as a solution to this exact need, the company falls short in certain regards.
Who Makes Taste of the Wild PREY and Where Is It Produced?
Taste of the Wild PREY products are manufactured in one of four different Diamond Pet Foods factories, all of which are located within the United States. Diamond Pet Foods is a large company that produces several different pet food brands within its factories.
Taste of the Wild does warn that its products may contain trace amounts of grains and other ingredients left behind during manufacturing. Some ingredients used in PREY formulas are imported.
Which Dogs Should Try Taste of the Wild PREY?
Taste of the Wild PREY is not your everyday dog food. These recipes were created to meet the needs of dogs with food allergies and digestive issues.
Countless dog owners see the words "grain-free" or "limited ingredient" and immediately assume that such formulas are the best option for their pup. According to many experts, though, this isn't really the case.
If your vet has not recommended a grain-free or limited ingredient diet for your dog, then there's a good chance that a more "traditional" formula is actually the healthier choice. Instead of Taste of the Wild's PREY line, you might want to check out a grain-inclusive formula like the Ancient Wetlands Canine Recipe or Ancient Stream Canine Recipe.
Does your dog present symptoms that you think might be caused by a food sensitivity? Before switching their food, we strongly encourage scheduling an appointment with your vet to discuss your concerns.
A Quick Look at Taste of the Wild PREY Dog Food
Limited ingredient recipes
Made in the U.S.A.
Does not contain grain or grain byproducts
Meat is the first ingredient
Formulated with live probiotics for digestion
No artificial ingredients
May contain trace amounts of allergens
Not widely available online
Only recommended for dogs with allergies/sensitivities

Nutrition and Ingredients Analysis
Taste of the Wild PREY Angus Beef Limited Ingredient Formula
---
Taste of the Wild PREY Turkey Limited Ingredient Formula
---
Taste of the Wild PREY Trout Limited Ingredient Formula
No matter which formula you choose, each Taste of the Wild PREY recipe contains the same four key ingredients:
Meat
Depending on which recipe you choose, the first ingredient will be one of three meat products: Angus beef, trout, or turkey. While some owners will be able to choose from any of these recipes, others will need to consider their dogs' specific food sensitivities.
Lentils
Lentils, a type of legume, are an extremely common carbohydrate source in grain-free dog food. These seeds provide protein, fiber, and carbohydrates, along with a variety of vitamins and minerals.
Unfortunately, many experts are unsure whether lentils are a safe source of carbohydrates after the FDA released information connecting some grain-free dog foods to an increased risk of heart disease.
Tomato pomace
Tomato pomace is a mixture of skin, pulp, and seeds that provides grain-free carbohydrates and fiber. Tomatoes are entirely safe for dogs to eat, though this vegetable's acidity may trigger digestive issues in some.
Sunflower oil
Sunflower oil is just one of many plant-based oils that provide essential fatty acids that your dog's body can't produce on its own. Since sunflower oil is less commonly used than canola oil or vegetable oil, it may be less likely to trigger a reaction in dogs with allergies or sensitivities.

Recall History
Since launching in 2007, the Taste of the Wild brand has only experienced one product recall. In 2012, multiple varieties of dog and cat food were recalled in response to possible salmonella contamination.
In 2018 and 2019, Taste of the Wild was the subject of two lawsuits claiming the company's food contained unsafe amounts of lead, heavy metals, BPAs, and other harmful chemicals. There have been no recalls or public legal decisions made regarding these two cases.
---
What Other Users Are Saying
We think it's important to do your own research and learn as much as possible about what you're feeding your dog. Ultimately, however, your veterinarian should be your number-one source of information.
Here's what other reviewers have to say about the Taste of the Wild PREY formulas:
Pet Food Reviewer: "Its very restrictive and limited ingredient list combined with its nutritional values, make Prey-Trout Limited Ingredient Formula an ideal dry dog food for a dog who is not overly active and suffers from significant dietary sensitivities or allergies."
IndulgeYourPet.com: "The good about Prey Angus Beef Limited Ingredient Formula from Taste of Wild is that it contains only four main ingredients which is excellent for dogs that have grain sensitivities and allergies."

Conclusion
After review, it's clear that Taste of the Wild PREY is a decent option for dogs who require a limited ingredient diet. In reality, though, most dogs do not need to be on such a restrictive diet.
If you still like the idea of Taste of the Wild's ethos, but your dog doesn't have diet-related health issues, we urge you to check out the brand's grain-inclusive formulas instead. These formulas will provide the same high-quality protein and probiotics as the PREY line without the potential health risks of a grain-free diet.
Does your dog suffer from food sensitivities or allergies? Have you had success with Taste of the Wild formulas? Share your experiences in the comments below!
Some of these were technically on Amazon, but only from a third-party seller with weird pricing/info/shipping (i.e. over $100 for a bag that retails for $55 with only 1 in stock) so I wasn't comfortable encouraging readers to buy from them. Chewy/Petco/etc. don't carry these products right now. Naturally Unleashed was the first official online retailer linked on the Taste of the Wild website I found that carried them.
---
Featured Image Credit: Taste of the Wild Prey Turkey Limited Ingredient, Amazon