TropiClean Dog Shampoo Review 2023 – Pros, Cons & Final Verdict

Review Summary
Our Final Verdict
We give TropiClean Dog Shampoo a rating of 4.6 out of 5 stars.

TropiClean is one of the most popular brands for all your pet-cleaning supplies. TropiClean Dog Shampoo is safe to use on all breeds and fur types. The recipe is saturated with botanicals and uses natural and clean ingredients that help to nourish a dog's skin. This shampoo is meant to soothe dogs experiencing skin irritation from flea and tick bites without the use of soaps, dyes, or parabens. These factors make this shampoo a safe and effective product for most pets.

TropiClean Dog Shampoo – A Quick Look
2-in-1 shampoo & conditioner
Sweet scent
pH-balanced
Soap-, paraben-, and dye-free
Made in the USA
It doesn't Reduce shedding
Leaky bottle
Specifications
| | |
| --- | --- |
| Product Dimensions | 3.2 x 3.6 x 3.7 inches |
| Size | 20 ounces |
| First date available | April 17, 2006 |
| Manufacturer | Cosmos Corporation |
| Country of origin | USA |
Price
Many dog owners are looking for a product that effectively cleans and moisturizes their dog's skin and coat without breaking the bank. The price of the TropiClean Dog Shampoo is comparable to other dog shampoo brands on the market. It comes in a 20-ounce bottle, and you don't need to use tons of product for it to completely coat your dog's fur.
Ingredients
The ingredients list in this dog shampoo is very simple and clean. Most of the ingredients come from natural substances and include colloidal oatmeal, vitamin E, and wheat protein. It is also free from all soaps, dyes, and parabens and is 70% biotic. Unfortunately, the company does include a preservative in the recipe. Other than that, this shampoo is safe to use on all dogs except those with specific allergies.
Breed Type
It is a little surprising to some customers that this shampoo foams so well even though it doesn't contain any soaps. This makes it perfect for all dog breeds, regardless of their fur type. Customer reviews show that people who had breeds with long hair could easily massage it through their coats. However, it might take longer to thoroughly rinse the product out of long fur.
Effectiveness
There are mixed reviews on the effectiveness of this shampoo. Some customers report that it has helped with their dog's dandruff and itchiness. Others say that it made their dog's skin condition worse and didn't help to reduce shedding. Always exercise caution when using any product on your dog—they may have sensitivities or allergies to some of the ingredients despite them being mostly natural.
FAQ
Is the shampoo tear-free?: While all dogs react differently to this shampoo, there is no indication that the product is tear-free. Some dogs might experience eye irritation if it gets in their eyes.
Is this product safe for cats too?: Because of the natural ingredients list, this shampoo is safe for cats. It is advertised for use on both cats and dogs.
Does the shampoo kill fleas and ticks?: This product is designed to clean pets and provide relief to animals that have been bitten by fleas and ticks. It does not protect them from or kill fleas and ticks.
What the Users Say
As we've already discussed, there seem to be very positive reviews for the TropiClean Dog Shampoo overall. Most users are pleased with the product's effectiveness and report that it does soothe their pet's irritated skin. However, a few report it only irritated their dog's skin further.
Most customers rave about the clean ingredients list and the sweet smell of the product. Despite being soap-free, it seems to lather well and is easy to rinse. It is also priced fairly compared to other similar brands on the market. Of the few complaints, the most common was that it didn't effectively reduce shedding, although the TropiClean never claimed this to be a de-shedding shampoo.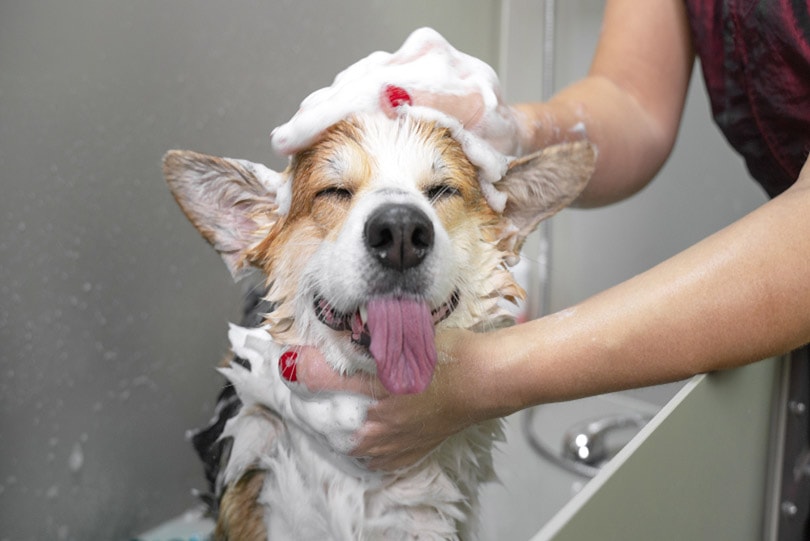 Conclusion
Pet owners want the best for their dogs, and buying products that use natural and safe ingredients is a top priority for most people. While there are some mixed reviews on the effectiveness of this product, most people are thrilled with the low price and soothing qualities. It keeps all dog breeds' fur clean and soft while making them smell sweet and fruity. It's a great choice for anyone who is looking for a new pet shampoo product from a trusted brand made right here in the United States.
---
Featured Image Credit: Tropiclean, Amazon