Trupanion vs. Nationwide Pet Insurance Comparison 2022: Which is Best?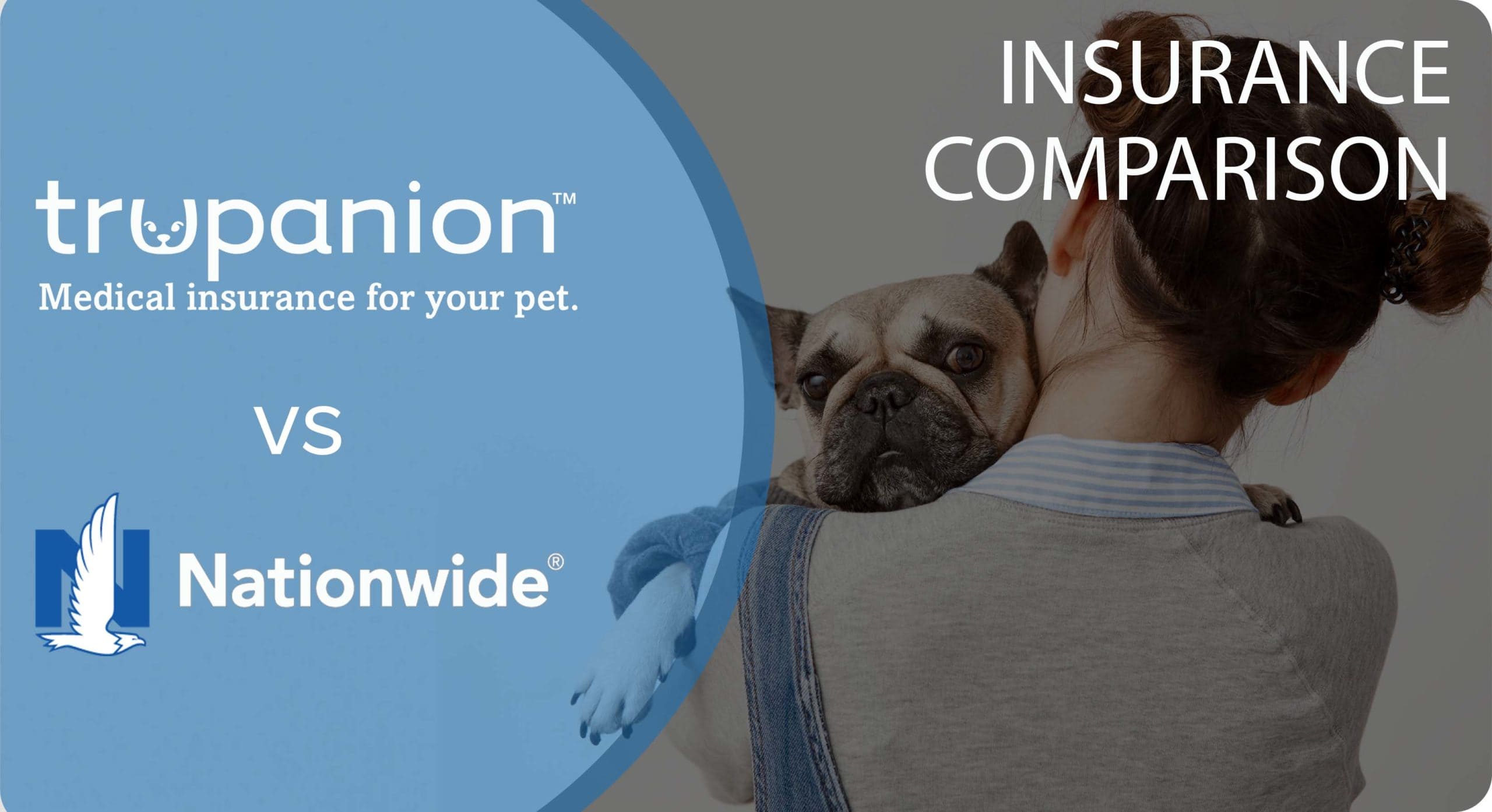 In This Review: Trupanion Overview | Nationwide Overview | Plans & Pricing | Deductibles & Claims | Verdict
Owning a pet comes with a financial responsibility to provide humane care. However, veterinary expenses have skyrocketed in recent years. Premiums are currently triple the cost that they were compared to 2013 figures. That's why it makes sense to shop around for the best value.
Trupanion and Nationwide offer different approaches to covering pet expenses. Trupanion focuses on providing coverage for the unexpected things that occur in pet ownership. Its approach is to cover what you'll need for your pet. Nationwide considers the animal's overall health, with benefits for preventive care and exotic pets included.
Pet insurance won't cover everything, whether regarding pre-existing conditions, cosmetic surgery, or vaccinations. So, our advice is to do your homework with the health background of your pet's breed in mind, their age, and their likelihood of getting injured or sick.
A Quick Comparison
Company Name
Trupanion
Nationwide
Pets Covered
Cats and dogs
Cats, dogs, birds, exotic pets
Types of Plans

3 plans—Whole Pet, Major Pet, Pet Wellness

Deductibles
Reimbursement
Additional Perks

Direct vet payments
$0 deductible options
No payout limits
No reduced coverage with specialists
5-day claim repayment
24/7 helpline

Company plan for employees, 5% discount for current Nationwide members
---
Brief Overview of Trupanion
Unlimited claims
No age-related premium hikes
90% coverage on all claims
Lifetime-per-condition deductible
No discounts
Preventive care not covered
Age cap at 14 years
Trupanion started as a Canadian-based provider until it acquired American Pet Insurance Company in 2007. It was the first North American pet insurer. The company now offers coverage in Canada, the United States, Puerto Rico, and Australia, making it an international business. Today, it is based in Seattle, Washington.
Trupanion puts the client first, with a generous slate of perks with its policies. Some, such as the unlimited claims and caps, are unique in the industry. It is an accredited Better Business Bureau company with an A rating. However, the company has racked up a string of violations involving its marketing tactics.
Nevertheless, Trupanion won't raise the premium that you pay for your pet solely based on their age. Instead, it uses a lifetime-per-condition deductible model when your pet is diagnosed with something new. One thing worth noting is that the company covers foreign body ingestion. An obstruction requires surgery that can easily go into four figures. Pet owners will appreciate its 90% coverage.
Comparing pet insurance companies can be a hassle. If you're looking for a balanced, customizable plan backed up by great customer service, you may want to try Lemonade. 
---
Brief Overview of Nationwide
Wellness visits covered in some plans
Multiple pet discounts
Comprehensive coverage
Choice of reimbursement type
No pre-existing coverage
No customization options within the plans
Caps on certain conditions
Nationwide has an edge over Trupanion in that it has been in the insurance business a long time, albeit in different industries. Customers get their choice for a percentage of the treatment cost or a benefit schedule. It operates with a deductible that you must reach before getting full coverage.
You can opt just to cover routine visits, major medical, or whole pet. The major medical option offers partial coverage for certain conditions, such as a collapsed trachea or cherry eye, that the whole plan handles fully. Some items struck us as odd, however. For example, the wellness and whole pet plans will foot the expense of microchipping, but the major medical does not.
The company's website has an extensive list of things that they don't cover, which can appear daunting at first glance. Unfortunately, some exceptions are vague, which raises a red flag about the possible subjective nature of some claim reviews. For example, "age-related changes to your pet's eyes or ears" can have multiple interpretations.
---
Other Top-Rated Pet Insurance Companies
---
Trupanion vs. Nationwide: Plans Available
Find The Best Insurance Companies in 2022
---
Trupanion vs. Nationwide: Reimbursements and Deductibles
Trupanion
Annual Deductible Options
Nationwide
Annual Deductible Options
Maximum Coverage Options
Varies between condition and plan
---
Company Verdict: Which One Has the Edge?
Several points can help make meaningful comparisons when discussing pet insurance. Both companies are transparent with their policies, making our task easier and your decision better informed.
Pre-existing Conditions 🌡
Trupanion covers many inheritable health conditions, such as cancer, hip dysplasia, and heart disease. It also covers a wide range of injuries and illnesses, like upper respiratory infections and allergies. On the other hand, Nationwide will only cover pre-existing conditions subject to review. Chronic diseases, like the ones that Trupanion handles, are not included.
Areas of Coverage 🌐
Trupanion stands out with its 90% coverage. That comes with no limits on payouts or claims. It doesn't cover preventive care, however. Nationwide offers comprehensive coverage, for a price. The other point worth noting is that it doesn't give you a choice for the plan's customization. However, the company clearly spells out what is and isn't covered to prevent nasty surprises when the bill arrives.
Customization 📄
Trupanion will cover unexpected injuries and illnesses, which gives it a definite edge on this score. However, they only handle dogs and cats, with no multiple pet discounts. On the other hand, Nationwide has only one plan. But it will also cover reptiles, birds, and small animals with discounts. We're calling this one a tie, depending on which aspect of the question is most important to you.
Price of Plans 💲
This point is often the deal-breaker/dealmaker category for many people. Trupanion doesn't cover routine vet visits, although it will take on diagnostic tests. Nationwide will handle these expenses. You have to weigh these factors against the premium's cost. Bear in mind that the average annual expense for wellness visits is over $200 a year for dogs.
---
What the Users Say
We did a deep dive into what pet owners have to say about these two pet insurance companies. We considered reviews, forum discussion, and BBB case reports.
Many reviews of Trupanion remarked how prompt the payment to the veterinarian was. That's a strong selling point because the company works directly with the veterinarian to save you the hassle. Many customers are loyal, having the insurance for several years with multiple pets. The negative reviews didn't show a pattern of issues. Instead, most seemed like one-off cases.
One thing stood out for us when looking at Nationwide. First, the website is not user-friendly or inviting. However, it is informative and transparent about its services, even if you have to click several times to get the answer to your question. There is no live chat. Also, customer service availability is not convenient, with no Sunday hours available.
As any pet owner will tell you, an injury or illness is most likely to occur on a weekend or holiday, forcing you to go to an emergency care facility.
While Trupanion doesn't raise its rates with age, Nationwide does. The other sore point that customers mentioned is that the reimbursement schedule is nightmarish to figure out, with the caps on some conditions. Also, they can increase your premium when the policy renews the following year. While Nationwide has no annual limit on claims, there is a $250 deductible.
However, the general consensus is that Trupanion is a better insurer than Nationwide because it's more attuned to today's pet owner. It is available 365/24/7, which certainly scores significant points. The Trupanion workplace is also pet-friendly.
Find The Best Insurance Companies in 2022
Conclusion
With rising veterinary costs, getting pet insurance is fast becoming a necessity instead of an optional purchase. Trupanion and Nationwide approach this field differently. The best thing about this comparison is that it encourages pet owners to consider their options and do the necessary research. It's the proverbial win-win for you and your pet.
Hepper acknowledges that it is not licensed as an insurance agent, and therefore will not offer any advice regarding insurance, nor recommend a particular coverage, policy, or insurance company.
You might also like some of our other pet insurance comparisons: