10 Different Types of Dog Fences (with Pictures)

If you have a pooch at home, one of the most practical things you can have is a dog fence. This allows your pet to get outside and run without you having to worry about them escaping down the street. Today, we are going to go over the 10 different types of dog fences that are available.
First, however, there are few things you want to be aware of when it comes to a dog fence. First, there are some thrifty escape artists among dogs. If your pet is predisposed to this behavior, you want to ensure that your fence is tall enough that they cannot jump over and deep enough that they will not be able to tunnel under.
Also, though a fence provides your pup with fresh air and exercise, it should not replace their daily walk. Continuous activity is important for dogs to keep them happy and healthy. Now, without further ado, take a peek at these dog fences.

The 10 Types of Dog Fences:
1.

Chain Link Dog Fences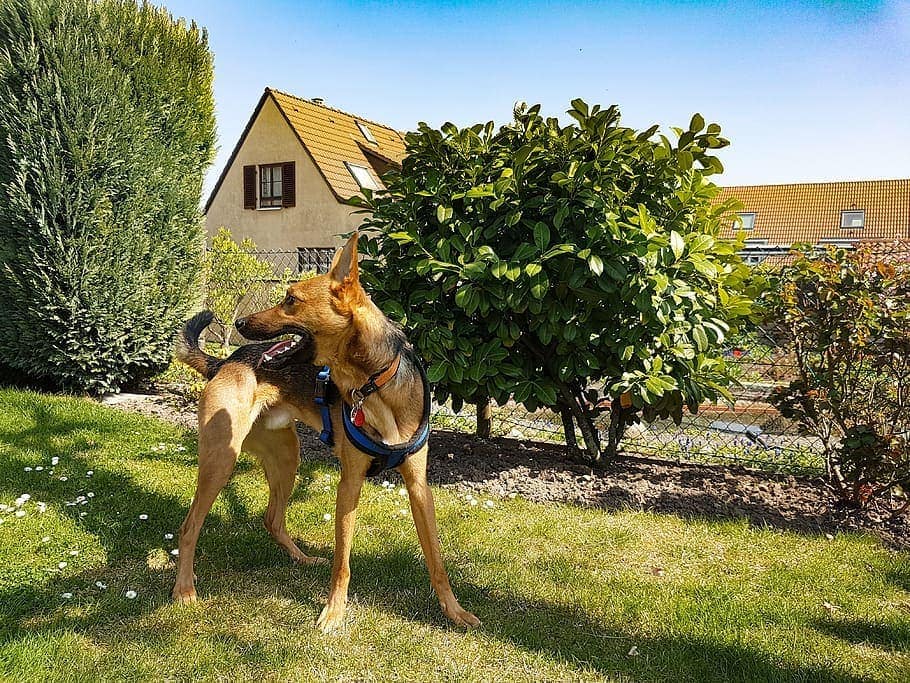 This is one of the most popular fences for your dog. It consists of metal posts spaced evenly along your yard with thick gauge wire mesh attached. One of the great benefits of this type of fence is it can restrain even the largest and toughest pups. It is also weather-resistant, long-lasting, and can be set deep in the earth to prevent them from digging underneath. The only drawback of note is this style can be expensive.
Durable
Weather-resistant
Long-lasting
Dig-proof
---
2.

Wooden Dog Fence
A wooden fence, not to be confused with a picket fence, is made of tall full slate boards. This style of fence is another good option if you have an aggressive dog that likes to jump. They typically come six feet in height, so escape artists are not a problem. Unfortunately, these fences are expensive and will require annual maintenance to keep them from rotting. They can also make a small yard seem even smaller.
Expensive
Requires maintenance
---
3.

Picket Dog Fence
A picket fence is also made of wood and is typically cheaper than a standard slate option. This style tends to be cheaper, plus they are not as tall. Furthermore, a picket fence has spaces between the slates. Although this fence is durable, strong dogs can sometimes break their way through. Also, if you are hoping to keep other animals at bay, this will not do the trick if they are small.
Cost-effective
Better for views
Doesn't contain smaller dogs
Not as durable

4.

Invisible Dog Fences
The invisible fence has many pros and cons. For those homeowners who do not wish to build a fence, but still give their dog freedom, this is a good choice. It works with an electric wire installed underground in your desired perimeter. A transmitter collar is worn by your pooch, so when they cross the threshold of the fence, they will receive a mild shock. These fences can become very expensive, plus they do not always work on a pup that sees something especially tempting. Also, many dog owners are not keen to administer shocks regardless of how mild.
Expensive
Not always effective
---
5.

Wireless Dog Fences
This type of fence is very similar to the invisible fence, with one exception. As the name suggests, this fence does not require a wire to be installed around your yard. Instead, a transmitter box creates a signal around the perimeter. Beyond that, it works the same as the invisible fence.
Does not require an underground wire
May not be effective
Expensive

35% OFF at Chewy.com
+ FREE Shipping on Pet Food and Supplies
---
6.

Snow Fences
A snow fence is a more affordable option that is similar to the chain-link fence. This style is a wire mesh material that runs between posts. It is effective at keeping your pet in the perimeter of your yard, but it is not as strong as a regular chain link. It will also not last as long and need to be replaced quicker.
Affordable
Effective for average dogs
Not as durable
Not as long-lasting
7.

Split-Rail Fences
A split rail is another wooden fence that has intermittent wooden posts with vertical slats running across it. This type can be more expensive, though it does allow you to see out of your yard. This is not a good option if you have a pup that likes to dig, as they will be able to tunnel right under the fence. Also, if you have a small pooch, they may be able to fit through the slates.
View-effective
Attractive
Expensive
Not for diggers
---
8.

Metal Fences
Metal fences typically come in either wrote iron or aluminum. Wrote iron, while very expensive, is very durable, but it will rust over time. These types of fences are usually popular due to their aesthetic look. The gaps between the bars can differ, so you want to make sure that your pooch will not be able to slip through, however.
Aesthetically pleasing
Durable
Expensive
Bars can be too wide
---
9.

Brick Fences
A brick fence looks similar to a brick wall, but because they can be built to any height, they are also good fences. They are also a great choice for dogs that like to tunnel or jump, as they won't be able to do either with this barrier. That being said, talented jumpers will require a high fence which will block views. What's more, the bricklaying can be expensive.
Durable
Jump and dig friendly
---
10.

Stone Fences
Similar to brick fences, the stone fence is also desirable if you have a pooch that likes to dig. Stone can be very decorative, as well. You want to keep in mind, however, that most stone fences are not that tall, so jumpers are not recommended. Furthermore, depending on the stone used, it can become very expensive.
Aesthetically pleasing
Durable

Final Thoughts
A dog fence is great if you have a four-legged friend. It will provide them with exercise, keep them from running off down the road, and keep unwanted intruders at bay. All in all, the type of fence you choose will depend on your home, style, dog, and yard. We hope this information has helped you figure out the pros and cons of each one.
---
Featured Image Credit: Lourdes Photography, Shutterstock