18 Shocking UK Animal Shelter Statistics & Facts (Updated in 2023)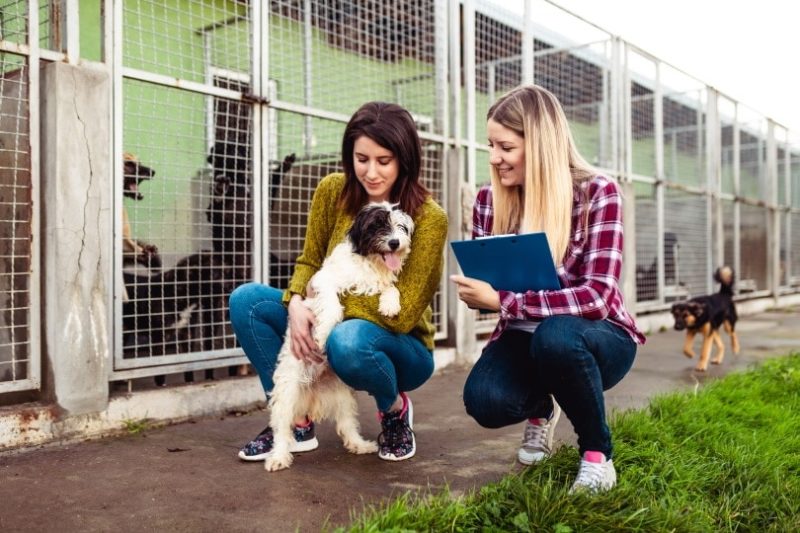 Note: This article's statistics come from third-party sources and do not represent the opinions of this website.
The UK is a nation of pet lovers, which shows in its pet population statistics. In 2022, animal lovers in the UK owned 25 million cats and dogs, and these numbers don't include animals in shelters. Learning more about the statistics of those unfortunate pets in shelters can help us understand why they might be there and give us an overall picture of pets in shelters across the UK.
In this article, we will look at pet ownership statistics in the UK, how many of these pets end up in shelters or homeless, what sort of animals are found in shelters, and statistics on pet relinquishment.

The Top 18 Shocking UK Animal Shelter Statistics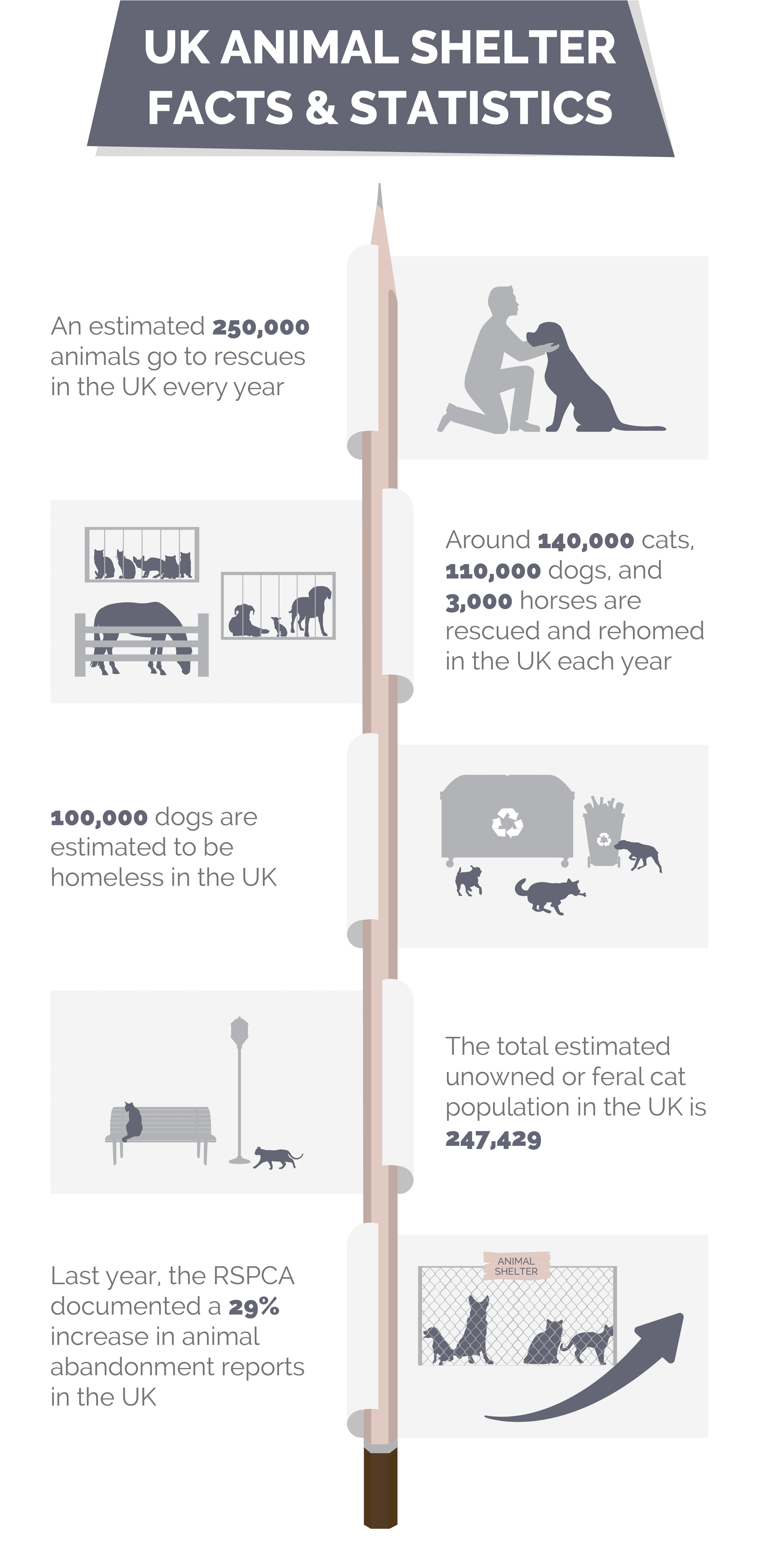 Pet owners in the UK
1.

62% of all homes in the UK own a pet.
(Statista 1)
The estimated pet ownership number is as high as 62% throughout the UK. This number had a dramatic increase compared to the same survey conducted in 2011 and 2012. This is probably due to the coronavirus pandemic and more people spending their time at home.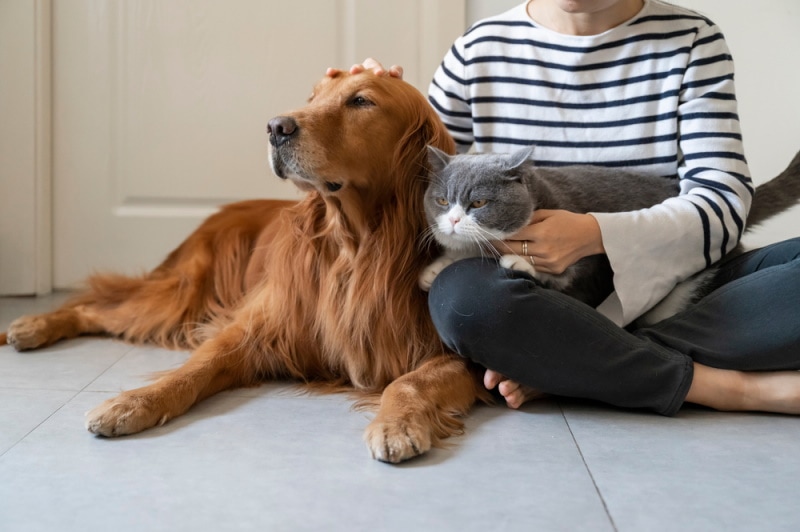 ---
2.

In 2022, 13 million dogs lived in households in the United Kingdom.
(Statista 2)
Out of the total number of pets owned in the UK, 30 million are dogs. This makes dogs the most popular pet in the UK by 1 million. These figures are likely accurate, but they're never 100%. Lots of dog owners still don't get their dogs microchipped despite this being a legal requirement since 2016 in the UK.
---
3.

Pet lovers owned 12 million cats in the UK in 2022.
(Statista 3)
In a close second to the UK's most popular pet, there are 12 million cats living in households across the UK. Again, this number is likely accurate, but there is a slight margin of error as cats aren't legally required to be microchipped in the UK (yet), and the increase in feline microchipping is not at the same level as it is with dogs.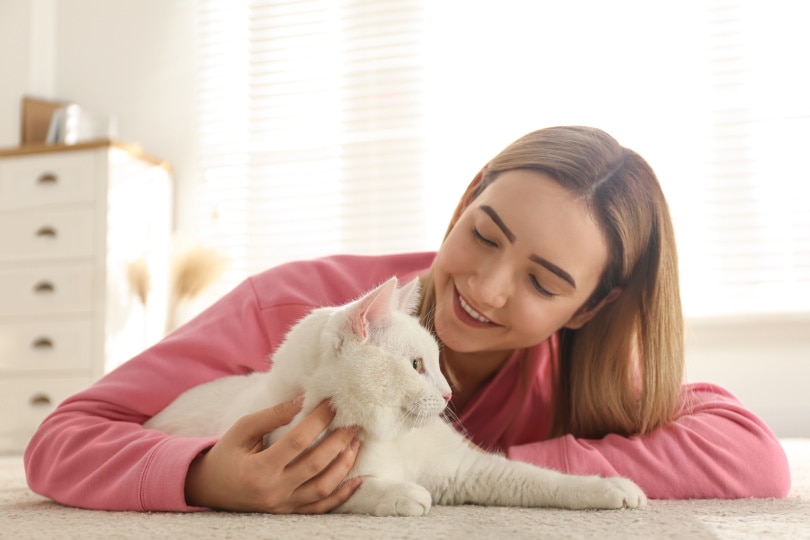 ---
4.

Golden retrievers are the UK's most popular dog breed, with 21,654 more registered in 2022 than in 2021.
(Statista 4)
The humble Golden Retriever remains the UK's most popular dog breed. 21,654 more Golden Retrievers were registered in 2022 compared to 2021, reflecting the nation's love for big blonde canines. This may be partly due to their nature, but as statistics show, it may also be due to their photogenic nature and goofy grins.

Sheltered and homeless pets of the UK in numbers
5.

An estimated 250,000 animals go to rescues in the UK every year.
(UK Parliament)
Despite the nation's love of animals, 250,000 animals still end up in rescue centers across the UK every year. That equates to nearly 700 animals a day! Unfortunately, they are often abandoned without food or water, left to live on the street, or are found tethered or dumped by members of the public and handed into shelters.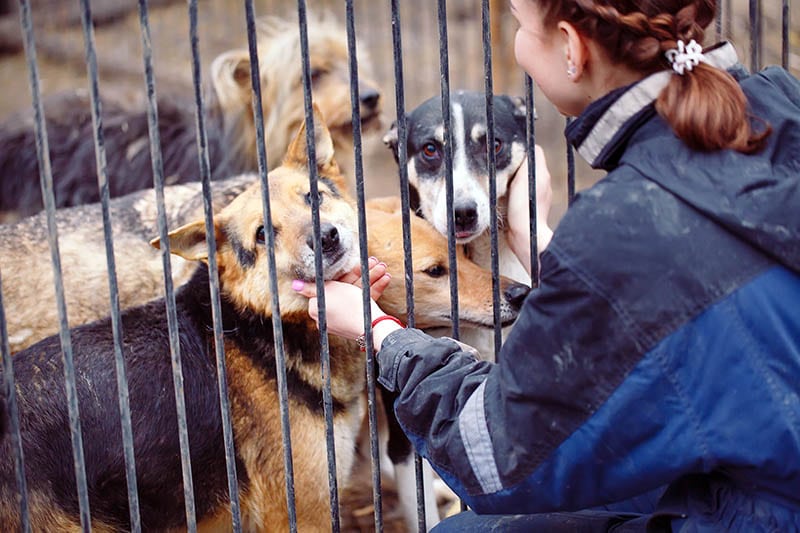 ---
6.

140,000 cats, 110,000 dogs, and 3,000 horses are rescued and rehomed in the UK each year.
(UK Parliament)
Across all UK shelters, a huge number of dogs, cats, horses, and other animals are rescued and rehomed each year. The numbers show that almost 383 cats, 301 dogs, and eight horses are rescued and rehomed a day by hard-working charities and shelters around the UK.
---
7.

Over 1,000 organizations in England alone rehome and rescue dogs, cats, and horses.
(UK Parliament)
To rescue and rehome all animals in need, there are over 1,000 organizations in England that specifically rehome and rescue dogs, cats, and horses. Horses are a particular specialty, as they require much more upkeep, maintenance, and expenditure to own (as well as more expertise). Well-known animal rescue charities such as the Blue Cross and the RSPCA (the Royal Society for the Prevention of Cruelty to Animals) rescue and rehome all three species, as well as small animals such as rabbits and rodents.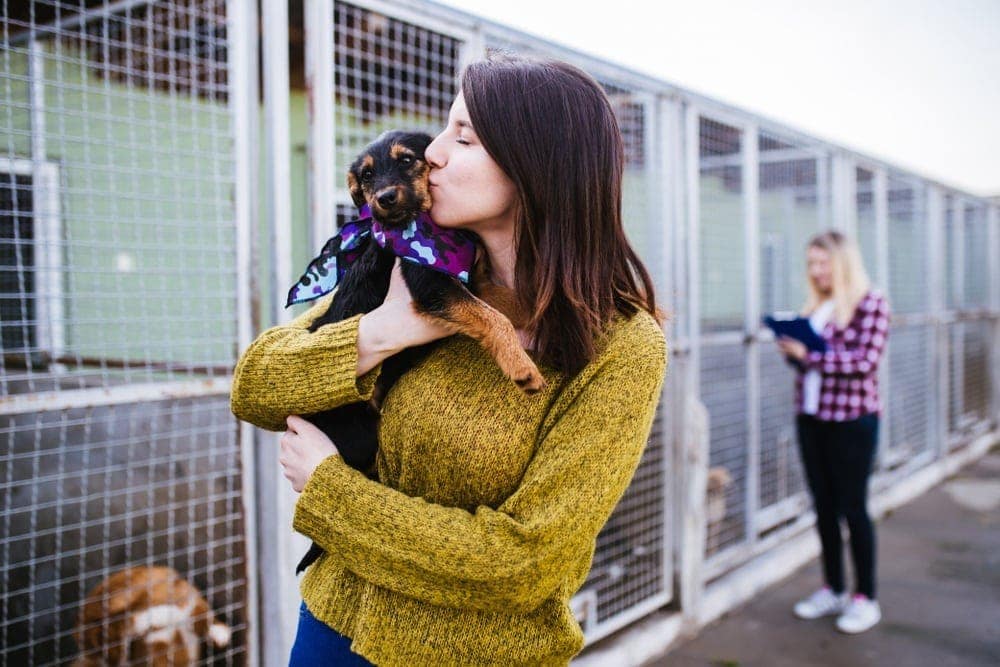 ---
8.

100,000 dogs are estimated to be homeless in the UK.
(PETA)
The People for the Ethical Treatment of Animals (PETA) estimates that 100,000 dogs are homeless across the UK. PETA states that many of these dogs end up suffering and even dying after being out on the streets, succumbing to the elements, starving, or being hit by cars.
---
9.

The total estimated unowned or feral cat population in the UK is 247,429 individuals.
(Nature.com)
In a detailed study, it has been revealed that the UK's unknown or feral cat population is around 247,429 individuals. This can include cats with no owners, cats who are known to the locals but have no specific owner, and feral cat colonies. Many of these cats will be born, live, and die on the streets, surviving on small prey and scavenging.

Statistics on pet relinquishment
10.

Due to the cost-of-living crisis, the RSPCA has recorded a 24% increase in pets being handed over in 2022.
(The Guardian)
Because of the cost-of-living crisis in the UK due to rising energy costs and wages not keeping up with inflation, many pet owners are now worried about the future of their animals. An astonishing 24% of loving families are handing over their pets to rehoming centers due to this financial disparity, according to the RSPCA in 2022.
---
11.

95% of all rescue shelters in the UK blame celebrity influence for the increase in certain breeds being relinquished more than others.
(The Guardian)
In the same report, it's revealed that 95% of all rescue shelters in the UK place the blame on celebrity influencers and their pets for the increase of certain breeds (such as Staffordshire Bull Terriers, Boxers, and German Shepherds) being turned over to rescues in favor of more popular pets. In addition, pets such as Pugs and French bulldogs are more frequently requested at shelters because of their popularity in the media.
---
12.

Research conducted by the RSPCA concluded that in 2022, 19% of pet owners are worried about how they are going to feed their pets.
(RSPCA)
The RSPCA asked pet owners about concerns regarding the cost-of-living crisis in the UK. This revealed that 19% of pet owners were worried about how they were going to feed their pets in the coming months, particularly in winter, as fuel costs rose. This mirrors the number of animals being relinquished as their owners cannot afford to keep them anymore.
---
13.

According to the same research, 32% of cat owners in the UK are worried about being able to care for their pets properly.
(RSPCA)
Cat owners seem to be suffering particularly hard in this regard. The same research conducted by the RSPCA shows that 32% of cat owners in the UK are worried about being able to care for their pets properly, including feeding, medical bills, and entertainment.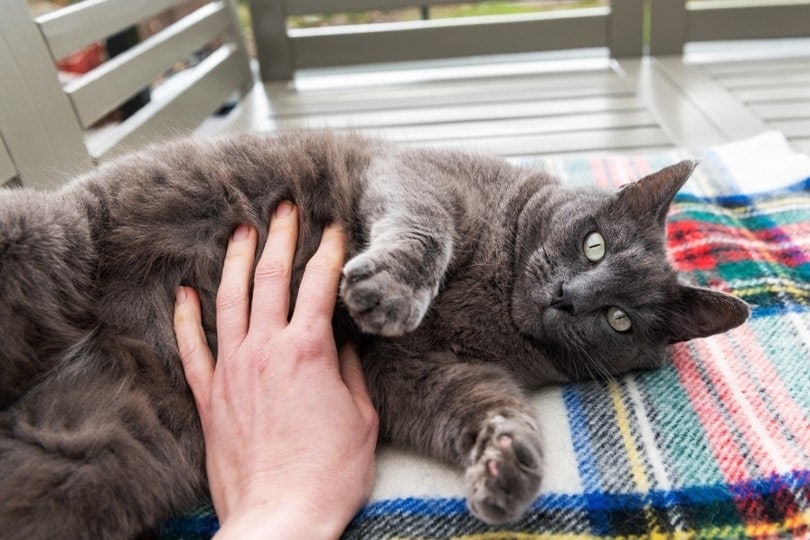 ---
14.

In the UK, there are currently 6,600 search engine searches per month relating to relinquishing pets to a shelter.
(RSPCA)
Data collected by the RSPCA has shown a huge increase in the number of internet searches by pet owners in the UK asking questions about relinquishing their pets to a shelter. Around 6,600 internet searches relating to giving up pets are performed every month, which has increased from 4400 in 2021. Search terms used include:
"Giving up a dog."
"Give up dog for adoption."
"Rehome my dog."
---
15.

A fifth of new dog owners who bought a puppy during the Covid-19 pandemic said they didn't know whether their dog would still suit their lifestyle after the lockdown.
(The Kennel Club)
The Covid-19 pet boom in the UK has had long-lasting consequences for animal welfare, including effects on shelters. Increases in animals being relinquished to shelters are partly due to pet owners who impulsively bought a pet during the covid-19 lockdown. A fifth of these owners are concerned about whether they can still care for their pet and whether their pet will still fit their lifestyle as the 2022 Christmas period rolls around and things continue to get back to normal.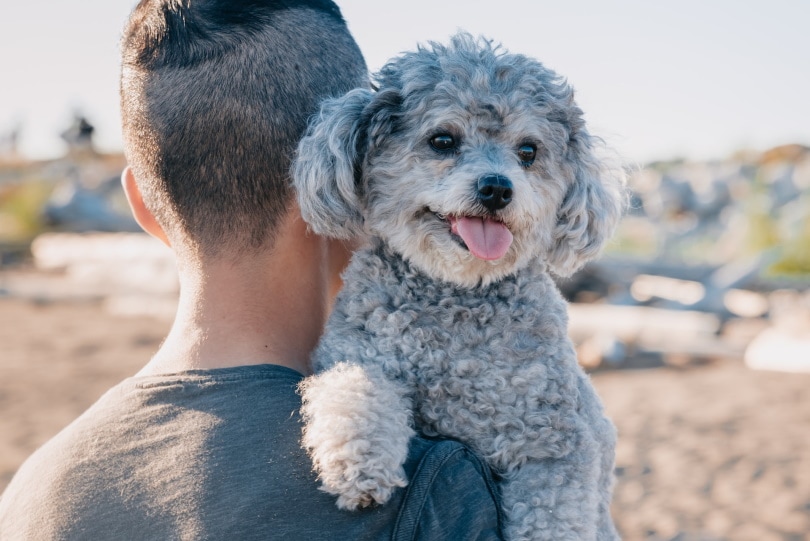 Types of pets found in UK shelters
16.

Between December and January of 2021 to 202, the RSPCA documented a 29% increase in animal abandonment reports in the UK
(RSPCA)
As mentioned in the previous statistic, the number of pets with the potential to be abandoned rises around Christmas. During the Christmas period between 2020 and 2021, the RSPCA documented a 29% increase in animal abandonment reports in the UK. This is speculated to be due to people no longer having the time and money to care for their pets during the festive season.
---
17.

By the end of 2021, the percentage of rabbits who were relinquished to the RSPCA's care rose by 28%.
(RSPCA)
Unfortunately, rabbits seem to be one of the most commonly abandoned pets in the UK. By the end of 2021, the percentage of rabbits given up to the RSPCA across their shelters around the UK rose by an astonishing 28%, jumping from 672 in 2020 to 859 in 2021. Worryingly, there's also been a decrease in inquiries about rehoming rabbits, as only 2,080 rabbits were rehomed in 2020 compared to over 2,700 in 2018.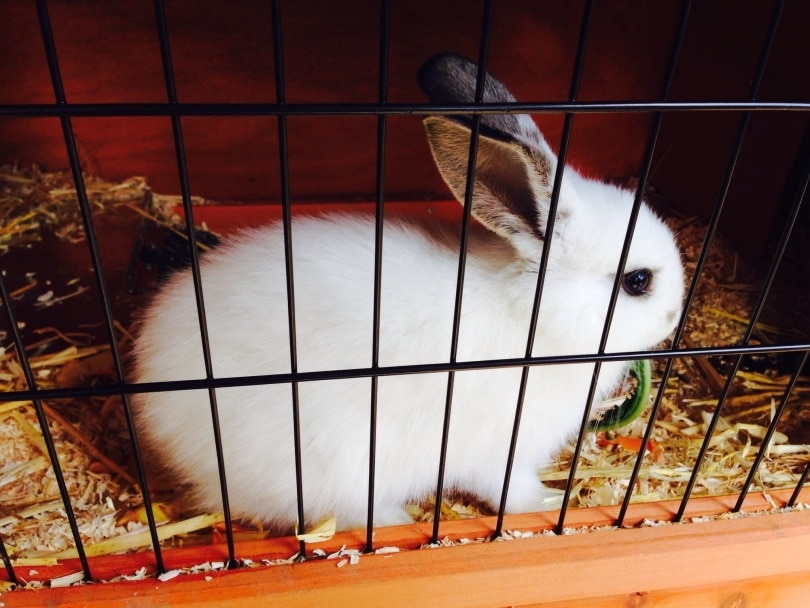 ---
18.

The cat charity Cats Protection helps around 166,000 cats and kittens a year and rehomes around 36,000.
(Cats Protection)
On the last statistic, we can finish on a high note. The hard-working and well-known cat charity Cats Protection helps 166,000 cats and kittens every year by taking them in, rehabilitating them, and getting them veterinary treatment. They also find loving homes for around 36,000 every year. This equates to 454 cats a day receiving critical care and help when they are most in need and nearly 100 cats being rehomed every single day.
---
Frequently Asked Questions About Animal Shelters in the UK
Do Animal Shelters in the UK Euthanize Animals?
While many animal charities and shelters in the UK will take the stance that no healthy animal is ever put to sleep or euthanized, the reality is that many animals a year are euthanized by animal shelters in the UK.
This is nearly always because they are in extreme pain, in terrible condition, or suffering and cannot get better. This euthanasia is done with kindness and releases an animal of their pain and suffering immediately and effectively.
Often, shelters will try their best and spend thousands of pounds and months to rehabilitate animals they take in. However, this doesn't always work. Sometimes, animals are euthanized when there isn't enough space for them. (RSPCA 2)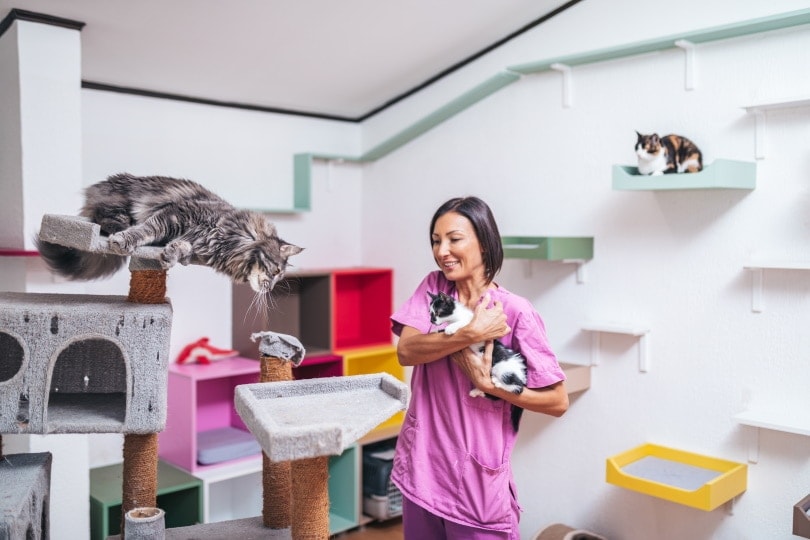 What is the Total Number of Stray Animals Across the UK?
An extensive study conducted over multiple countries by Mars Petcare (including the UK) states that 1.1 million companion animals are homeless throughout the UK. This is 5% of the companion animals within the UK, of which 970,000 are stray cats and 67,000 are stray dogs. However, this is countered by the fact that 70% of the UK population would consider adopting a pet from a shelter or rescue before purchasing. (MARS)
Is It Illegal to Abandon Animals in the UK?
In the UK, pets have specific legislation protecting them from abandonment and cruelty. The animal welfare act 2006 introduced a range of new protections for pets and their owners (including working and farm animals) in England and Wales. The animal welfare act states that no person should abandon their pet, as they will no longer be meeting the animal's needs required by law. This means that leaving animals is, in fact, illegal in the UK. (Legislation.gov)
Do Dogs and Cats in the UK Have to be Microchipped?
It is illegal for dogs not to be microchipped unless they have a reason backed up by veterinary proof, such as a Chihuahua puppy being too small to be microchipped. However, as of 2022, it will be a legal requirement for all cats to be microchipped to aid in reuniting and rehoming.
The UK government consulted the general public and concluded that 99% of people support compulsory microchipping for all cats. This means that both cats and dogs will need to be microchipped in the UK by law, as currently, 2.8 million cats are not microchipped, which makes it harder to reunite them if they are lost. (Gov.uk)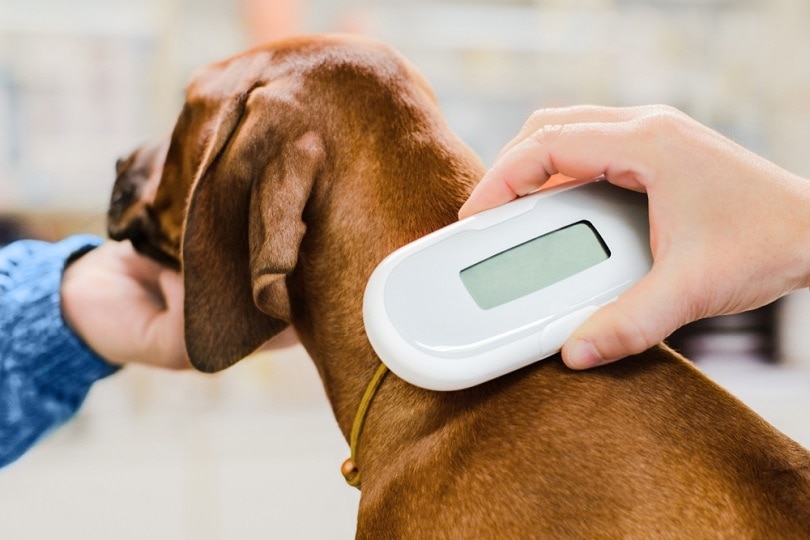 Conclusion
As the facts and figures state, most people in the UK are pet lovers who adore their animals and wouldn't dream of giving them up. However, there are, unfortunately, still some dogs, cats, and other small animals that get abandoned by their owners each year.
This trend seems to be on the rise, with factors such as post-covid life and the cost-of-living crisis weighing in on people's ability to care for their pets.
---
Featured Image Credit: hedgehog94, Shutterstock