18 Free DIY Christmas Gifts for Dogs and Dog Lovers (with Instructions)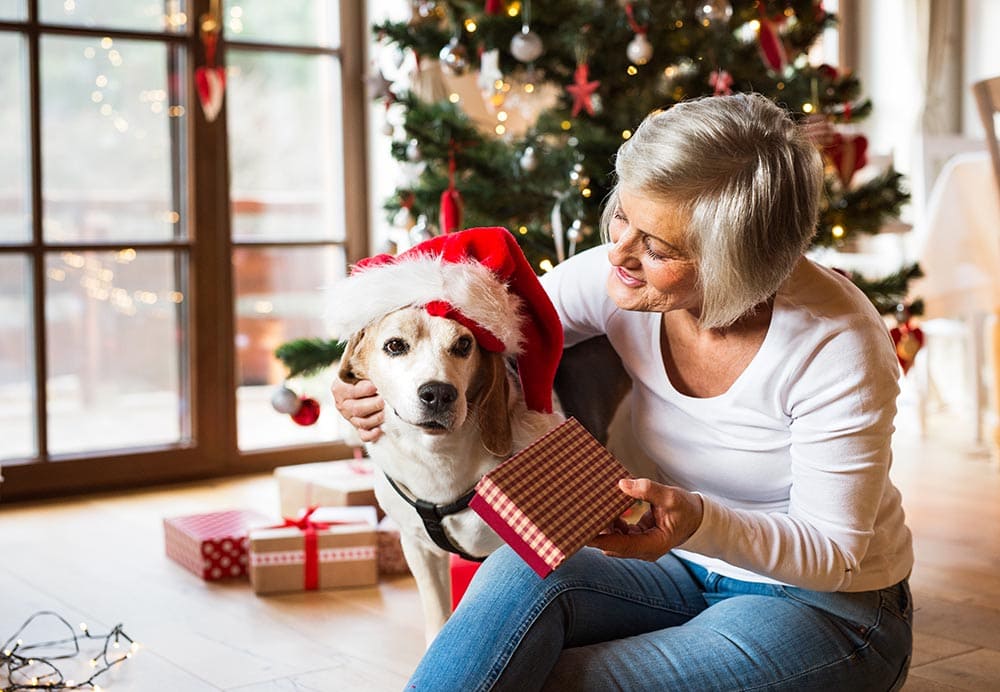 As we approach the "most wonderful time of the year," it's high time you start planning your annual gift giving. If your list is long, you might be looking to save some money by creating DIY gifts. To help you take care of the pup people in your life, we offer this collection of 18 great DIY Christmas gift ideas for dogs and dog lovers. Grab your favorite holiday beverage, put on some Christmas music, and get crafting!

Top 18 DIY Christmas Gifts for Dogs and Dog Lovers
1.

Dog Advent Calendar
| | |
| --- | --- |
| Materials: | Blank wooden sign, small hooks, small drawstring bags, art supplies of choice to decorate the sign and bags |
| Tools: | Tape measure, sandpaper, drill, paintbrush |
| Difficulty Level: | Easy-moderate |
This doggy advent calendar makes a lovely wall hanging for dog lovers and a source of tasty snacks for their pups.  The directions are easy to follow, with pictures included. While this project is not complicated, it does require some precision with measurements to arrange all the hooks correctly. You can customize the calendar by painting or staining the wood and using your creativity to decorate the bags. Pair this calendar with your favorite brand of dog treats or make your own (yes, that's a hint for the next entry on our list).
---
2.

Holiday Doggy Donut Toys
| | |
| --- | --- |
| Materials: | Holiday-themed socks, thick socks (optional), ribbon, thread (optional) |
| Tools: | Scissors, sewing needle |
| Difficulty Level: | Easy |
These cute and simple toys make an excellent gift for dog lovers with pups that love to play but aren't aggressive chewers. The instructions are detailed, but there aren't any photos to demonstrate the steps, which are always nice to have. These can be made without any sewing, so even amateur DIYers should be able to pull off this gift. The materials are cheap and easy to obtain. Choose different holiday socks if you're gifting them to dog lovers who don't celebrate Christmas.
---
3.

Holiday Treat Jar
| | |
| --- | --- |
| Materials: | Empty glass jars, Mod Podge, glitter, ribbon, newspaper (for work surface) |
| Tools: | Sponge brush |
| Difficulty Level: | Easy |
These simple treat jars look cute and are extremely easy to make. You can even make clean-up easy by covering your work surface with newspaper. This gift is affordable and earth-friendly, as you can save and reuse empty glass jars instead of buying new ones. Fill these jars with homemade treats, and you have a festive, completely DIY gift for the dog lovers in your life. Any skill-level crafter should be able to complete this project with ease.
---
4.

Doggy Wine Toppers
| | |
| --- | --- |
| Materials: | Bottle corks, non-toxic paint, super glue, glitter, plastic dog figurines, Mod Podge |
| Tools: | Paint brush or sponge brush |
| Difficulty Level: | Easy |
If your dog-loving friends also have a thing for fine wine, why not gift these doggy wine toppers? The directions are easy to follow, and the project itself is pretty simple, if slightly time-consuming. Let your creativity run wild as you decorate the dog figurines using paint and glitter. If your friend has a favorite breed, you can stick with that or offer up a full complement of breeds. This project is easy to make in bulk, and if you have multiple dog lovers in need of holiday gifts, this could be the one for you.
---
5.

Rope Dog Leash
| | |
| --- | --- |
| Materials: | 3/8" thick cotton rope, fabric dye, rope clamps, snap hook, tape |
| Tools: | Scissors, rubber mallet, cooking pot, gloves |
| Difficulty Level: | Moderate |
Take your DIY gifting to the next level with this rope leash project. The materials are low-cost and readily available at hardware and craft stores. The directions are detailed, easy-to-understand, and well-illustrated with photographs. While the finished product may look complicated, the skill level required isn't high. Dye the leash all one color, or get fancier by creating an ombre effect. You'll need to allow at least a day of dry time for the dyed leash, so don't leave this gift to the last minute!
---
6.

T-shirt Dog Toy
| | |
| --- | --- |
| Materials: | Old t-shirts |
| Tools: | Scissors |
| Difficulty Level: | Easy |
You won't find a DIY gift much more cost-effective than this one. This toy is made entirely of old T-shirts, likely to be found in your closet or drawers at home. Besides the shirts, all you need for this project are scissors and some braiding skills. It's great for the dog lover with a pup who loves fetch and tug-of-war and can be made in any color combination you like. The directions are well-illustrated with photographs, detailed, and easy to follow.
---
7.

No-Sew Dog Bed
| | |
| --- | --- |
| Materials: | Fleece fabric, pillow |
| Tools: | Scissors, tape measure |
| Difficulty Level: | Easy |
This bed can be made in any color or pattern, so choose a festive print to make it special for the holidays! Besides the comfy fleece fabric, all you'll need are pillows for the inside of the bed. Customize the size based on the dog that you'll be gifting the bed to. According to the directions, this project should only take about 30 minutes, even for beginner DIYers. It's another activity for kids to help with, as long as they are old enough to tie knots.
---
8.

Sock-and-Ball Dog Toy
| | |
| --- | --- |
| Materials: | Sock, tennis ball |
| Tools: | None |
| Difficulty Level: | Easy |
This ridiculously easy project can be made by anyone who can tie a knot, and playful pups should love it! All you need is a long sock and a tennis ball, allowing you to upcycle old clothing or purchase items inexpensively at a thrift store. The directions couldn't be simpler, and you can use holiday socks to make the toy more festive. Hard chewers probably aren't the best target for this toy, but it can be used as a fetch object or to play tug-of-war.
---
9.

Suitcase Pet Bed
| | |
| --- | --- |
| Materials: | Vintage suitcase, furniture legs, lag bolt, washer, cushion |
| Tools: | Screwdriver, pliers, marker, tape measure, notepad |
| Difficulty Level: | Moderate |
For the dog lover whose also a fan of vintage thrift store finds, consider this DIY suitcase pet bed. If you don't have a vintage suitcase in your basement or attic, check local thrift stores. The furniture legs and cushion can also be upcycled, while the other materials are easily purchased at hardware stores. You'll need some basic tools for this project. The directions are incredibly detailed and well-illustrated, so even beginning DIYers should be able to accomplish it. This bed will only work for small or medium-sized dogs since the suitcase size limits you.
---
10.

Dog Bone Picture Frame
| | |
| --- | --- |
| Materials: | Picture frame, spray paint, bone-shaped mini dog biscuits, glue, dog photo |
| Tools: | Glue gun |
| Difficulty Level: | Easy |
This adorable picture frame makes an easy and festive gift for the dog lover in your life. Choose holiday colors and spray paint to save time. You can arrange the colored bones in any pattern you like. Just make sure you're happy with the placement before you start gluing! The directions for this project are clear and easy to understand. You can gift just the frame or choose a photo of your friend's dog to place inside.
---
11.

Dog Treat Ornament
| | |
| --- | --- |
| Materials: | Plastic ornament, dog treats, string |
| Tools: | Scissors, markers |
| Difficulty Level: | Easy |
This easy DIY dog treat ornament is an excellent option if you're looking to give gifts to multiple dogs. You can usually find Christmas-themed dog treats and large plastic ornaments that twist open in the middle during the holidays.
Once you purchase as many treats and ornaments as you need, you just have to fill the ornaments with treats. You can easily add an extra festive touch by tying Christmas-colored string or ribbon to the ornaments.
---
12.

Christmas Dog Treats
| | |
| --- | --- |
| Materials: | Oatmeal, whole wheat flour, egg, coconut oil, water, ground cinnamon, ground ginger, tapioca starch, plain Greek yogurt, beet powder, spirulina powder |
| Tools: | Mixing bowls, measuring cups and spoons, spatula, whisk, piping bag, cookie cutters |
| Difficulty Level: | Easy |
Dog owners will always appreciate receiving dog treats because they're always looking for ways to have their dogs enjoy and participate in the festivities. You can create basic shapes, or you can go all out and use Christmas-themed cookie cutters.
Another great thing about this homemade dog treat recipe is that it's made with all-natural ingredients, so people don't have to worry about feeding their dogs treats infused with artificial flavors or preservatives. Just keep in mind that while all the ingredients are generally safe for dogs to eat, some dogs may have specific food allergies. So, it'll be helpful to include an ingredient list with these gifts.
---
13.

Homemade Dog Paw Print Ornament
| | |
| --- | --- |
| Materials: | Flour, salt, water, paint, glitter, markers, ribbon |
| Tools: | Cookie cutter, straw, rolling pin, baking sheet |
| Difficulty Level: | Easy |
These adorable paw print ornaments are another personalized gift that many dog owners will appreciate. You can even make a tradition out of these ornaments by making them every year. They also don't require very intensive participation from dogs. All you have to do is press their paw into the dough just once. Make sure to poke a hole at the top of the ornaments with a straw before baking so that you have a hole for hanging ribbons.
The best way to ensure the ornaments keep their shape is to handle them minimally. So, have the dough cut out and lined on the baking sheet. Then, press the paw prints into them so that you can bake the dough as soon as you get the paw imprint.
---
14.

DIY Custom Dog Coaster
| | |
| --- | --- |
| Materials: | Dog photos, cork coasters, Mod Podge |
| Tools: | Scissors, paintbrush |
| Difficulty Level: | Easy |
You can get highly festive and creative with these DIY custom dog coasters. They can be the perfect gift for dog lovers that live in colder climates and enjoy warm beverages during the winter. While the original instructions recommend adding bowties to dog photos, you can cut out Santa hats, elf ears, and other Christmas-themed drawings to paste onto the coasters.
Mod Podge is used to seal the photos and waterproof them. Make sure to paint it in one direction because brushstrokes may still be visible after it dries.
---
15.

Crocheted Dog Waste Bag Holder
| | |
| --- | --- |
| Materials: | Yarn |
| Tools: | Crochet hook, scissors |
| Difficulty Level: | Easy |
Dog owners will appreciate receiving this crocheted dog waste bag holder because it's both adorable and practical. It's a pretty easy project if you know the basics of crocheting. It uses beginner-friendly stitches all throughout and can be completed relatively quickly. You can create these in solid colors, or if you know how to switch yarns, you can easily alternate between red and white to create a striped candy cane pattern.
This project creates a loop to attach to a leash by using chain stitches. However, you can attach a small carabiner if you want a more secure clip.
---
16.

DIY Dog & Pet Tags
| | |
| --- | --- |
| Materials: | Liquid Sculpey, key chains, jump rings, glitter, vinyl |
| Tools: | Dog tag molds, pliers, paperclip |
| Difficulty Level: | Moderate |
While these DIY dog tags are small, you can still get really creative with designing them. Sculpey creates all kinds of colors along with metallic liquid polymer clay. You can also use translucent Liquid Sculpey and add small pieces of plastic foliage that remain visible after the Liquid Sculpey dries. Adding glitter is a great way to finish off the projects with a flashy flourish.
It's best to use vinyl lettering with this project. Once the Liquid Sculpy sets in its mold, you can carefully press on adhesive vinyl letters to personalize the dog tags with the dog's name.
---
17.

Dog Bone Christmas Stocking
| | |
| --- | --- |
| Materials: | Fabric, fusible fleece, free pattern |
| Tools: | Sewing machine, tape measure, scissors, pins, iron |
| Difficulty Level: | Easy |
Creating a Christmas dog stocking is an excellent way to show that you see dogs as family. There aren't very many things that are more inclusive than hanging a Christmas dog stocking next to a line of family stockings.
Fortunately, this DIY project is very doable for beginner sewers, and you can view a video tutorial that contains step-by-step instructions. The design of this stocking includes an inner lining, so if you wanted, you could make the stocking reversible by sewing on a loop to both the inner and outer fabrics.
---
18.

DIY Christmas Dog Bandana
| | |
| --- | --- |
| Materials: | Fabric, free pattern, pom poms |
| Tools: | Sewing machine, tape measure, scissors, pins, iron |
| Difficulty Level: | Beginner |
This beginner-friendly Christmas bandana is a great holiday accessory for dogs that don't particularly enjoy wearing Christmas sweaters and other clothing. You can use lightweight, breathable fabrics so that dogs don't feel constrained while wearing them.
While the examples used in this project use basic solid colors, feel free to get really creative by using fabrics with unique prints and fun patterns. The patterns are free to download, and you can make several bandanas in a day once you get the hang of it. So, they're an excellent option if you're looking to give gifts to multiple dogs

Conclusion
Whether you celebrate Christmas or another holiday, gifts are a great way to show the people in your life how much you care. Most of these DIY projects are inexpensive and uncomplicated, allowing even inexperienced crafters to get to work. As you prepare gifts for the dog lovers in your life, make sure to keep the craft supplies out of reach of your pets for safety.
See also: The 10 Best Christmas Dog Toys – Reviews & Top Picks
---