310 Viking and Norse Cat Names: Our Top Picks for Your Cat (with Meanings)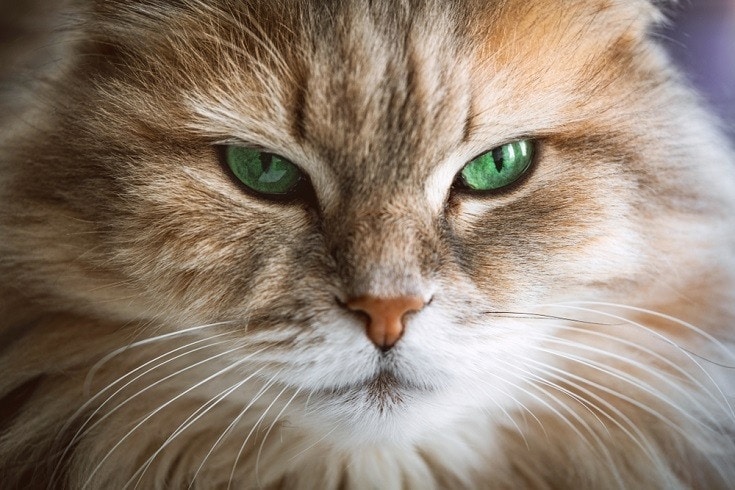 Your life will soon become livelier with a new pet in the house. Taking care of a cat is an adventure, but what do you name the wild creature? If you're looking for creative titles, you can turn to Viking and Norse history for inspiration. The Vikings were Scandinavian warriors who colonized Europe from the 9th century to the 11th century. Although the terms are used interchangeably, Viking and Norse are not synonymous. A Viking is usually referred to as a soldier, and a Norse person is an ordinary citizen who's not engaged in plundering or colonizing.
Naming Your Cat
When watching your furball become accustomed to its new home, observe its movements and body language for clues about its personality. Is the cat timid, or does it strut with authority? What physical characteristics are prominent? Norse and Viking names are fitting for tough cats and those with spiritual personalities. Most of the terms on our list describe gods, war, nature, and strength.
Male Viking Names for Cats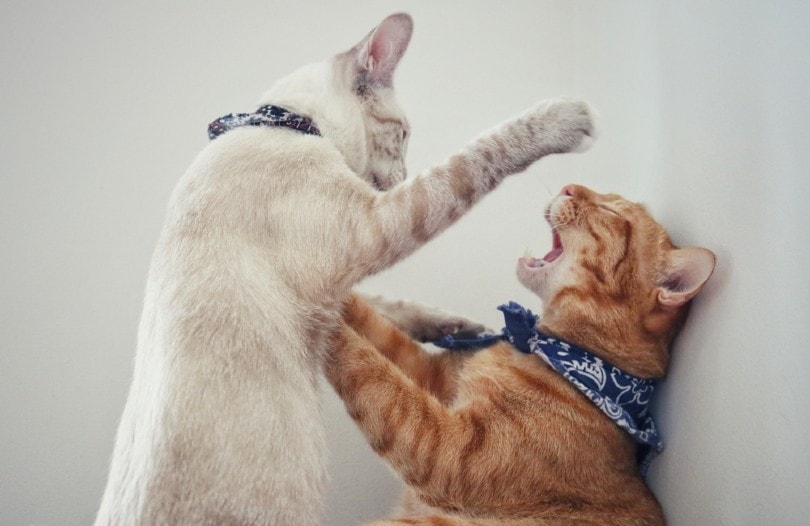 If your cat is a little headstrong, one of these names may be the perfect fit. Several of the titles are from Norse mythology, and they're primarily focused on war and nature. A feline with a bushy coat could be Bjørn for bear, or an enormous cat could be Njal for giant.
Åge: ancestor
Arne: eagle
Asger: spear of God
Bard: peace or battle
Birger: keeper
Bo: the resident
Bjørn: bear
Brandt: sword
Brynjar: armored warrior
Cuyler: archer
Einar: one who fights alone
Eivor: island or good luck
Erik: rule forever
Frode: clever and wise
Geir: spearman
Gorm: he who worships God
Gudbrand: sword of God
Gunnar: army
Halfdan: half Danish
Halvar: defender of the earth
Harald: lord and ruler
Hjalmar: warrior with a helmet
Hoder: battle
Holger: island of spears
Hrooar: spear warrior
Kåre: with curly hair
Knud: knot
Leif: descendant
Njal: giant
Ødger: wealth
Ragnar: army and counsel
Randolph: shield or wolf
Roar: famous spear
Rune: secret
Sigurd: victorious adviser
Skarde: with a cleft chin
Sten: stone
Sune: son
Svend: freeman who serves another
Toke: helmet and Thor
Tore: thunder warrior
Thor: God of thunder
Troels: Thor's arrow
Trygve: Trustworthy
Ulf: wolf
Viggo: battle
Female Viking Names for Cats
Viking names are ideal for gorgeous cats because they do not include many titles that describe ugliness or plain features. Estrid, Astra, Åse, Astrid are beautiful, God-like creatures that you can use, or you can try the warrior names. Some of the names for battle-hardened women include Blenda, Gunhild, Hilda, Kara, and Sigrid.
Åse: Goddess
Astra: as beautiful as a god
Astrid: beautiful
Audor: wealth
Blenda: heroine
Bodil: fight and penance
Erica: mighty ruler
Estrid: beautiful and God
Frida: peace
Gertrud: spear
Gro: to grow
Gunhild: fight
Gundrun: rune and God
Hanne: God is gracious
Helga: sacred
Henny: home ruler
Hilda: fighter
Hlife: protection
Hrefna: raven
Inga: of the God Inge
Inge: ancestor
Kara: Valkyrie
Liv: of life
Liva: protection
Mille: rival
Randi: shrine or shield
Revna: raven
Rúna: secret love
Sif: bride and wife
Signe: victorious one
Sigrid: victorious horsewoman
Solveig: strength of the sun
Thudrid: beautiful and Thor
Thyra: helpful
Tora: of the God Thor
Tove: dove
Ulfhild: battle or wolf
Yrsa: she-bear or wild
Male Norse Names for Cats
Although the Norse names are not as obsessed with war as the Viking titles, you'll still find a few relating to battles and armies. However, most of these names are based on spiritual rulers and elemental forces. If you're fond of Thor, you can scroll down to find several words based on the God of thunder. Torphin means Thor's son, and Torvald means Thor's power.
Aegir: water giant
Aeldiet: from fire
Aeldit: belonging to the fire
Aelffrith: protection from elf powers
Aelfgar: supernatural spear
Aelfhere: army or mystical powers
Aelfhun: mystical favor from God
Aelflead: mystical leader
Aelfled: compelled by mystical powers
Aelfraed: mystical adviser
Aelfred: advisor
Aeric: eternal ruler
Aesir: of the gods
Alfarin: Hilf's son
Alfegir: Elfin's spear
Alfrothul: from the sun
Alvis: all-knowing person
Amund: bridal gift
Andvaranaut: Brunhild's ring
Andvari: guardian of treasure
Annar: the world's father
Arkyn: king's son
Armod: Geirleif's blood brother
Aros: from the river's mouth
Arvakl: mythical horse
Asbiom: divine bear
Asgard: city of the gods
Asgaut: divine
Askel: divine cauldron
Aslak: divine sport
Aulay: from ancestral heritage
Bakli: Blaeng's son
Balder: prince or brave warrior
Baldr: lord or prince
Baldur: prince
Balmung: Siegfried's sword
Baug: Raud's son
Beini: a smith
Bergthor: Thor's spirit
Bersi: Bakli's son
Bionbyr: warrior's estate
Biorn: Norwegian bear
Biyn: strong man
Bjame: Norwegian bear
Bjolf: Iodmund's blood brother
Blesi: blessed man
Bodmod: Oleif's son
Borg: from the castle
Bothi: begin
Broderick: like a brother to someone
Brondolf: Naddodd's son
Brun: man with brown hair
Bruni: Earl Hark's son
Buri: producing a son
Carr: from the marsh
Clotuali: cold one
Cnute: knot
Danal: God has ruled
Danb: man from Denmark
Danhy: man from Denmark
Darbi: town for deer
Darrbey: farmstead
Davynn: intelligent man
Delling: with a shining personality
Dellingr: brilliant
Denby: from a Danish settlement
Dikibyr: from the Dike settlement
Duatr: rich guard
Durin: mythical dwarf
Dyre: dear one
Eggther: guardian for giants
Egil: one inspiring fright
Eirik: eternal ruler
Elvis: wise friend
Eric: eternal ruler
Evinrude: swift boat
Fasolt: killed by Fafnir
Fenris: mythical monster
Finnbogi: Norwegian merchant
Fjall: from the rough hill
Floki: heroic Viking
Flosi: Norwegian chieftain
Forseti: Balder's son
Fraener: symbol of greed
Freki: Odin's wolf
Freyr: God of weather
Frode: man with a clever mind
Frye: independent stones
Full: to the top
Gamble: elderly person
Ganger: founder of Normandy
Garth: keeper of the garden
Gartheride: owner of a place
Garthrite: owner of an enclosure
Har: man who is high
Heidrun: goat who provides mead
Hildebeorht: shining one in battle
Hildeburh: light of the battle
Hoder: Odin's blind son
Hoenir: Odin's brother
Holmstein: Flosi supporter
Hord: Ashjom's father
Hoskuld: Thorstein's son
Hrapp: Hrodgeir's father
Hreidmar: dwarf king
Hroald: brother to the Eyvind weapon
Hrolf: wolf
Hrolleif: old wolf
Hromund: Thori's son
Hrosskel: Thorstein's son
Hugin: thoughtful one
Hunbogi: Alf's son
Illugi: Aslak's son
Im: mythical giant
Ingemur: famous son
Ingharr: son's army
Inghram: raven of Ing
Ingolf: wolf of Ing
Isleif: Isrod's brother
Isolf: Hrani's son
Isrod: Isleif's brother
Magnar: great leader of the army
Magne: great fighter and leader
Merowald: Hereford's king
Modthryth: virgin
Molde: mold
Odd: chosen one
Oden: dear human being
Odin: yellow flowers
Oeric: eternal ruler
Ohthere: great champion
Olaf: great success
Olaff: triumphant crowd
Olan: long-lasting
Olanda: rich with jewels
Olav: sweet home
Olave: shrub orchard
Olef: God's kindness
Olen: secret spectator
Orm: Ninth one
Ormarr: serpent army
Osbarn: God warrior
Osborn: warrior of God
Osborne: soldier of God's army
Osbourn: spiritual fighter
Osfrith: God of gods
Osgar: radiant
Osgarus: world ruler
Osgyth: love and peace God
Oshern: God of peace and love
Oskar: fast as a divine spear
Osmond: protected human
Ove: ancestor
Pollerd: short-haired man
Raud: wolf father
Roscoe: born in the deer forest
Rothwell: red spring settler
Rowen: tree with red berries
Royd: forest clearing dweller
Run: secret character
Sceldwa: representing kingship
Skye: cloud
Tankred: well-taught advice
Tappen: hanging rock summit
Tarald: thunder power
Tate: happy
Tidhild: time for battle
Tor: thunder god
Torbjorn: Thor's bear
Tord: God of thunder
Torfi: turf
Torgny: noise of Thor
Torhild: Thor's battle
Torhtsige: Thor's victory
Tormond: Thor's courage
Torold: Thor's rule
Torphin: Thor's son
Torvald: Thor's power
Trig: trustworthy person
Tron: growing one
Trym: scream
Tuck: experienced man
Female Norse Names for Cats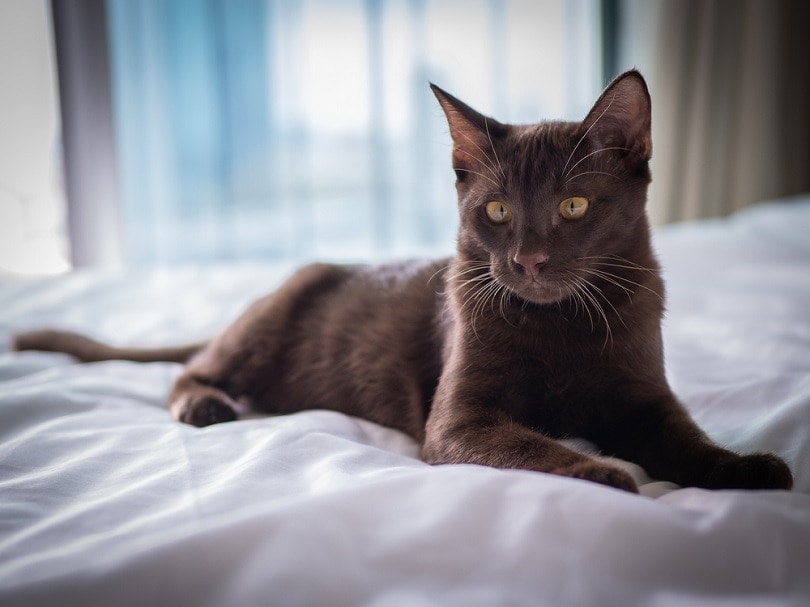 Is your pet a sun goddess like Abellona or an animal with a rebellious spirit like Else? If your cat is a well-behaved angel (whose cat isn't?), you're in luck because this list is loaded with names that mean pure or purity. You can try Katrin, Katri, Karina, Kajsa, Carin, Atalie, or Agneta for felines brimming with innocence.
Abellona: sun goddess
Agneta: pure
Agnetha: holy
Anja: gracious
Annalina: graceful light
Atalie: pure
Carin: pure
Carita: affection
Cilla: blind
Eira: merciful
Elise: God's promise
Else: rebellious
Embla: elm
Evelina: light
Kajsa: pure
Karina: pure
Katri: pure
Katrin: purity
Klara: clear
Krista: believer
Lena: tender
Lif: exist
Lili: abundance
Lindy: lime tree
Lotta: masculine
Lovisa: warrior
Lovise: renowned warrior
Lulla: female warrior
Lycka: happiness
Malena: tower dweller
Mari: berry
Marna: from the sea
Mikaela: God-like
Moa: mother
Monika: advisor
Pernilla: rock
Petra: stone
Rebecka: to tie
Runa: secret tradition
Sanna: lily
Sassa: divine beauty
Selma: peace
Siri: beautiful
Svea: of the Swedes
Final Thoughts
Naming your pet may seem challenging, but it's much easier when you have a massive list of mighty Viking and Norse names at your disposal. Scandinavians conquered large territories in Europe and ruled the seas for centuries. Their influence on language, tools, naval engineering, and military strategy lives on today. Whether your pet seems like a Lovisa, Osgar, or Floki, we're sure that you'll pick a fitting name for your adorable Viking.
---
Featured Image Credit by: M_Light, Shutterstock