What Kind of Cat is Ferguson from New Girl? Famous Cat Breeds Revealed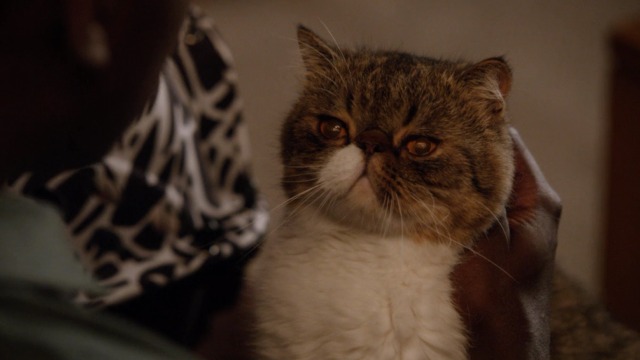 Cats have made their names in movies and TV shows since TV and the big screen became a thing! Famous cat breeds like Ferguson creep into people's hearts and take root there. But what kind of cat is Ferguson from New Girl?
Ferguson is an Exotic Shorthair Tabby and has worked his way into the heart of Americans everywhere.
So, what exactly do we know about Ferguson, the Exotic Shorthair Tabby from the American hit sitcom New Girl? Read on below to find out.
What's the Cat's Name on New Girl?
The cat's full name is Ferguson Michael Jordan Bishop on the FOX network's "New Girl" sitcom. That, of course, is the fictional name of Winston's cat. But, what's the real name of the cat that plays Ferguson on TV?
Believe it or not, the cat's real name is also Furguson, spelled Ferguson for the show, so some people say. Yes, Ferguson is a cat actor that portrays a cat on TV.
He is owned by Cheryl Shawver of the Animal Actors of Hollywood. Before that, he was owned by Winston's onscreen ex-girlfriend, Daisy. It's said that Ferguson isn't the best actor to work with and that he scratched and clawed his co-stars, but there's no proof of that rumor, and the cat declined to comment!
Now that we know about Ferguson from New Girl and what type of cat he is, have you ever wondered about other famous cat breeds from the movies and TV? If you have, keep reading as we list a few below.
Other Famous Cats
Some of the most loved cats in the world are on TV and in movies. Do you recognize any of the famous cat breeds below?
Salem from Sabrina the Teenage Witch: TV series that ran from 1996 to 2003
Milo from The Adventures of Milo and Otis, 1986 and 1989: Stars with the dog Otis and worked his way into the hearts of children and adults worldwide.
Church from Pet Sematary, 1989: Based on a Stephen King novel where the cat came back from the dead, but viewers still loved him!
Hocus Pocus, 1993, Thackery Binx: Turned into a cat by three witches on Halloween Night. Who doesn't love this movie and that cat?
These are only a few of the famous cats out there that have stolen the hearts of the world on the big screen and through our television sets. There are many more!
Concluding
So, the cat Ferguson from New Girl is an exotic shorthair. The actor by the same name is said to have been hard to work with, but who knows?
From Salem to Church and from Garfield to Binx to Tom of "Tom and Jerry," there are many other famous cat breeds out there as well. Do you know of any? Let us know in the comments if you do, and tell us who your favorite famous cat breed is as well.
---
Featured Image Credit: Characters by  Elizabeth Meriwether Pictures,  20th Television,  property of  The Walt Disney Company.  All rights reserved to the copyright owners.