When Is Mayday for Mutts? 2023 Update & How to Celebrate It
There are many reasons to celebrate and show appreciation to man's best friend. Mayday for Mutts is a national holiday that's observed on the first Sunday of May.
The purpose of this holiday is to show love and appreciation for mixed-breed dogs and raise awareness for pet adoptions from animal shelters and rescues. While the origin of this holiday is unclear, we're glad that it exists and is something that we can participate in every year. Here are some ways you can celebrate Mayday for Mutts with your own dogs.

Why Celebrate Mayday for Mutts
Along with having fun celebrating and creating memories with your dog, Mayday for Mutts exists for a good cause. Most importantly, it helps to raise awareness for pet adoptions. An overwhelming majority of shelter dogs are mixed-breed dogs.
Some people can be hesitant about adopting shelter dogs due to misconceptions about behavioral issues and not knowing what to expect with their temperaments. Shelter dogs can also be viewed as difficult to train or completely untrainable. However, more often than not, shelter dogs don't require any more training than other pets, and there are plenty of purebred dogs that are known to be more independent and more challenging to train.
Celebrating Mayday for Mutts provides opportunities to share happy endings and success stories for mixed-breed shelter dogs. These positive stories can encourage others to consider adoption and provide a forever home for a beautiful and loving mutt.


How to Celebrate Mayday for Mutts
There aren't set guidelines for celebrating Mayday for Mutts, and you can do just about anything creative to show support for this holiday. The following ideas are common ways that many families with mutts celebrate Mayday for Mutts.
1.

Host a Mayday for Mutts Paw-ty
Many dog parents will welcome any excuse to let their dogs socialize and run around with other dogs. Hosting a Mayday for Mutts Paw-ty can be a great way to gather a bunch of dogs and let them have fun. You can prepare special dog treats and either bake or order a dog-friendly cake for all attending mutts to enjoy. If the weather's warm enough, set up a kiddie pool and provide plenty of toys for dogs to play with.
Setting up a photo booth is an excellent way to preserve memories. It also helps to spread the word, as dog parents can post photos on their social media accounts. You can also choose to collect donations at the party that you can forward to your local animal shelter or rescue.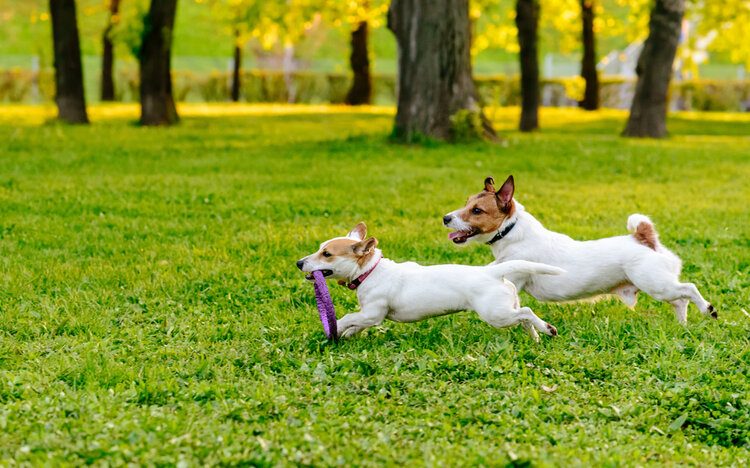 ---
2.

Fundraise for Your Local Animal Rescue
Many animal rescues are looking for donations and will appreciate fundraising efforts on their behalf. Before you start your fundraising event, contact the organization to see what kinds of donations would be most helpful for them. Some places will prefer monetary donations, while others will appreciate a food drive or pet supply collection.
There are some organizations that have fundraising kits that will make the process much easier for you. These kits can help you walk through how to set up a fundraising event, raise awareness and increase engagement.
---
3.

Volunteer at a Mayday for Mutts Event
Many animal welfare organizations will have their own Mayday for Mutts events, and most will be looking for volunteers to help launch these events. Some organizations may host adoption events, while others will take more of a fundraising approach. You can find all kinds of volunteer opportunities, so make sure to contact a few nearby organizations to see if they have any positions that you'd enjoy taking.
---
4.

Post on Social Media
Dog owners are always looking for an excuse to post pictures of their adorable dogs. Posting a photo of your mutt and writing a meaningful caption can be a great way to spread the word about Mayday for Mutts and spread awareness of the importance of pet adoptions. You can also start or participate in chain challenges that encourage people to repost their own photos and dog adoption stories.

Conclusion
Mayday for Mutts is a beautiful holiday that celebrates mixed-breed dogs and helps shelter dogs find their forever homes. There are many different ways to celebrate, and you can always include your dog in the festivities. So, make sure to take some time to come up with ideas for celebrating this wonderful day. It's a great way to create fond memories with your mutts and help others find their own happy endings.
---