Are Pomeranians Good With Cats? Compatibility & Introduction Tips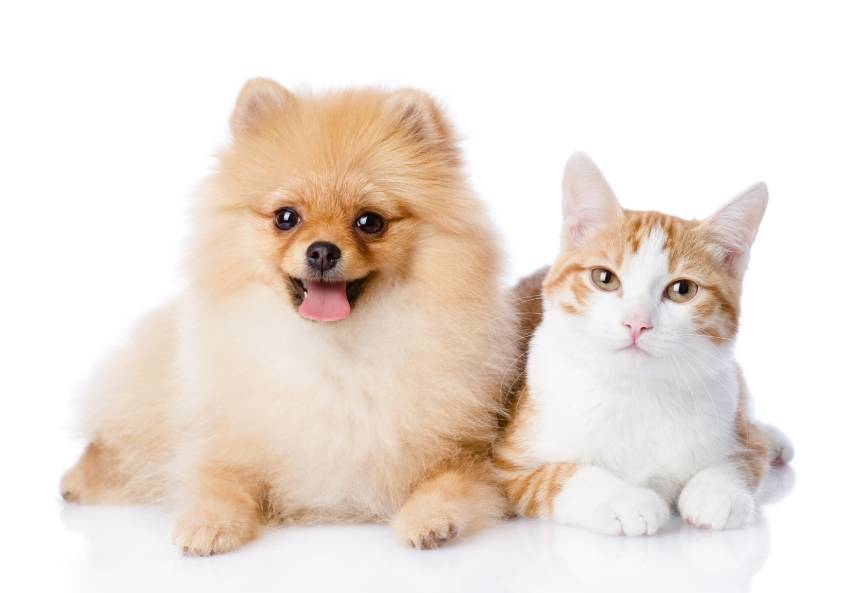 The relationship between cats and dogs can be tenuous, at best. Dogs with high prey drives are known to chase and even harm cats, while some cats aren't big fans of sharing a home with other animals. It can be a fine balance to get the right dog and cat in a home together, and even then, it takes care and proper introductions to ensure everyone gets along well.
One of the best ways to set yourself up for success is to choose a dog breed that will get along well with your cat. One of the ways that people go about choosing a good dog breed to have in a home with a cat is by selecting a dog breed that is small enough to be close to the cat's size, like a Pomeranian. Are tiny Pomeranians good with cats, though? The simple answer is, yes! Keep reading to learn more about how they get along.
Are Pomeranians Good With Cats?
Although every situation is different, the Pomeranian breed is generally considered to be good with cats. Pomeranians are a toy dog breed that was primarily bred for companionship. Although they are known to be feisty and courageous little dogs, they also tend to be curious, intelligent, and playful. While their high energy level may be a turnoff for some cats, their playful and curious nature often allows them to win over equally energetic and curious cats.
Some cats enjoy a good romp, and a Pomeranian can be a great companion for this type of kitty. If you're willing to provide your Pomeranian plenty of outlets for their energy through daily exercise, games, and puzzles, then they may also be a gentle companion for a less outgoing cat.
My New Cat and Pomeranian Don't Like Each Other! What Do I Do?
Cats can be very slow to warm up to new animals, especially if that animal is a rambunctious Pomeranian. If your cat and Pomeranian have only known each other for a few days, it's perfectly normal that they may still be working things out with each other.
In some cases, it may take weeks for both animals to be comfortable with each other. If your dog and cat become friends, then that's great, but it isn't a necessity for them to be friends. They both should learn how to respect the boundaries of the other animal, though.
Proper introductions are a must when introducing any two pets to each other. This means taking things slowly and allowing them to get acquainted with the scent of each other by letting them sniff items the other animal has left their scent on or by letting them sniff each other under a door or through a baby gate. Don't expect your cat to accept a dog on day one, though.
If you've done all introductions properly and provided plenty of patience and time, then you may need to discuss the situation with a behaviorist or veterinarian. They can help give you guidance on making your environment feel safer and more welcoming for both animals. Providing your cat with spaces to relax that are well away from the dog and providing your dog with a kennel or other space of their own to spend time can help both animals feel safe and give them an opportunity to decompress. Stress and tension between animals can make a comfortable and peaceful home environment difficult to achieve.
In Conclusion
Pomeranians can be great dogs for homes with cats, but all animals are different. Some Pomeranians will never get along with your cat, while others may simply need time and patience. In most cases, your cat is likely to be the one to slow down the introduction process.
Remember to be patient and create an environment that feels safe and comfortable for both animals. Reach out to a professional if you are struggling to get your Pomeranian and cat to get along with each other.
---