350 Badass Dog Names: Ideas for Your Furry Rebel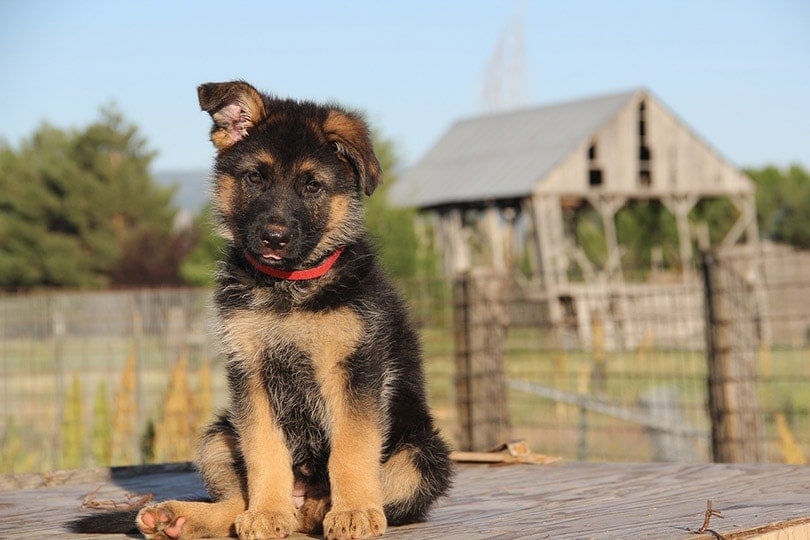 When it comes to naming our beloved four-legged companions, there's a world of possibilities out there. But if you're looking to make a statement and give your pup a name that exudes strength, confidence, and a touch of rebelliousness, you've come to the right place!
Whether you have a fierce guard dog or a sassy little furball, these names are sure to reflect your pup's unique personality and make heads turn at the dog park!
Click Below to Skip Ahead:


Naming Your Dog
Choosing the perfect name for your dog is an exciting journey. It's a chance to express your creativity and show off your pup's traits, and in this case, toughness!
When it comes to badass names, consider your dog's temperament, appearance, and quirks. A tough-sounding name might be ideal for a confident and active dog, while a name with historical or mythical origins can add depth to your pet's identity.
Remember, a badass name isn't just about sounding cool; it's about finding a moniker that resonates with your dog's character and the bond you share.
Why Look for a Badass Name?
A badass name for your dog goes beyond just a label – it's a declaration of their spirit and your appreciation for their unique qualities. These names carry an air of confidence and strength, which can be a reflection of your dog's personality or a way to empower a more reserved pup. Not only do badass names sound cool, but they can also be conversation starters, allowing you to share stories about your dog's remarkable name and character. Moreover, a strong name can be a source of inspiration, motivating you to nurture your pup's adventurous side and create unforgettable memories together.
Take note that naming your dog a tough, badass name does not mean you are promoting aggression or ruthlessness in your pup. It's simply a way to promote strength and confidence in your dog with no harmful or malicious intent!
Where Can I Look for a Name?
Finding the perfect badass name for your dog might seem like a challenge, but there are countless sources of inspiration right at your fingertips.
Movies, TV shows, mythology, history, and even sports are treasure troves of iconic and powerful names. Think about legendary villains and heroes, historical figures who broke boundaries, and athletes who exhibited remarkable strength and determination.
Online forums, name generators, and brainstorming sessions with friends and family can also help you unearth that one-of-a-kind name that perfectly encapsulates your dog's extraordinary spirit!
Badass Dog Names from Movies
With all the tough characters seen on the big screen, movies are a gold mine for tough names. Here is a list of badass dog names from movies!
Aragorn
Ash
Banshee
Beatrix
Blade
Bullet
Bullseye
Caesar
Chappie
Colossus
Conan
Django
Frankenstein
Furio
Furiosa
Ghostface
Goliath
Gremlin
Groot
Hagrid
Indy
Jango
Jaws
Joker
Katniss
Khan
Legolas
Leonidas
Maverick
Maximus
Morpheus
Neo
Rambo
Riddick
Ripley
Ripper
Rocky
Rogue
Sauron
Scarface
Terminator
Thor
Tron
Xena
Zod
Zorro
Badass Dog Names from Television
Like movies, television also offers a variety of cool and powerful characters. Here are tough dog names from television for your pup!
Arya
Brienne
Castle
Cersei
Daenerys
Daryl
Dexter
Fiona
Jack Bauer
Jax
Lagertha
Lucifer
MacGyver
Magnum
Mulder
Nikita
Oliver
Quinn
Ragnar
Raylan
Remy
Rick
Rorschach
Sabrina
Selina
Sheldon
Sookie
Spartacus
Spock
Sydney
Sylar
Tabitha
Tarzan
Theon
Tommy
Trinity
Tyrion
Veronica
Walter
Willow
Ziva
Zoe
Zuko
Badass Dog Names from Cartoons
While most cartoons are directed toward the younger audience, cartoons also have their own tough characters!
Anarchy
Astro
Avalanche
Axel
Bender
Blaster
Bolt
Bruiser
Butch
Cyborg
Cy-Kill
Diablo
Dino
Dredd
Flash
Gizmo
Gruff
Havoc
Krypto
Megatron
Mutiny
Odin
Optimus
Ozzy
Renegade
Ricochet
Rocco
Ruffian
Rumble
She-Ra
Slade
Snarl
Spike
Stitch
Stormer
Tank
Taz
Thunder
Tricky
Warpath
Wrecker
Zephyr
Zeus
Badass Dog Names Inspired by Military Culture
Military culture has always been a representation of toughness in society. Here are military-inspired names that you can name your pup!
Admiral
Aviator
Blackhawk
Bomber
Bravo
Captain
Chief
Colonel
Commander
Commando
Delta
I. Joe
General
Gunner
Jet
Liberty
Major
Maverick
Mustang
Navy
Patriot
Ranger
Raptor
Reaper
Recon
Sarge
SEAL
Sergeant
Sniper
Stinger
Tank
Thunder
Trooper
Valor
Warlock
Warlord
Badass Dog Names Inspired by Mythological Figures
In a variety of cultures, mythological figures such as gods, demigods, and even creatures embody a sense of power that your pup can also exude!
Anansi
Anubis
Apollo
Ares
Artemis
Athena
Baldr
Brigid
Cerberus
Durga
Eros
Fenrir
Freya
Hades
Hecate
Hephaestus
Hera
Hercules
Horus
Janus
Kali
Lilith
Loki
Mjölnir
Morrigan
Odin
Osiris
Persephone
Poseidon
Ra
Ravana
Selene
Set
Skadi
Tiamat
Valkyrie
Zeus
Badass Dog Names Inspired by Historical Figures
History tells stories of strong men and women that have walked the earth. Here are some names that resonate through history for your dog!
Achilles
Agamemnon
Alexander
Amelia
Aristotle
Attila
Beethoven
Bismarck
Bolívar
Boudicca
Caesar
Catherine
Che
Churchill
Cleon
Cleopatra
Eleanor
Elizabeth
Empress
Galileo
Genghis Khan
Geronimo
Hannibal
Harriet
Hector
Hypatia
Ivan
Leonardo
Lucrezia
Machiavelli
Malcolm
Mandela
Marquis
Napoleon
Nefertiti
Patton
Pompey
Saladin
Sappho
Shaka
Socrates
Spartacus
Suleiman
Tesla
Tokugawa
Tutankhamun
Xerxes
Badass Dog Names Inspired by Villains
What better way to showcase your dog's toughness than by naming your dog after a famous villain? Here is a list of villains that can showcase your dog's badassery!
Apocalypse
Azula
Bellatrix
Cruella
Crueltooth
Darth
Dracula
Freddy
Frieza
Gaston
Hannibal
Hela
Jafar
Joker
Judge Doom
Kingpin
Kylo
Magneto
Malebolgia
Maleficent
Malekith
Medusa
Megatron
Mojo Jojo
Morgana
Palpatine
Poison Ivy
Raoul Silva
Rasputin
Riddler
Sauron
Scar
Shere Khan
Shredder
Skeletor
Syndrome
Thanos
Ursula
Voldemort
Zorg
Badass Dog Names Inspired by Superheroes
Stories of superheroes have always taught us that strength in all forms can triumph against evil. Here are some super names for your super dog!
Ant-Man
Aquaman
Arrow
Batgirl
Batman
Blade
Cable
Captain
Catwoman
Colossus
Daredevil
Deadpool
Doctor
Domino
Elektra
Falcon
Flash
Harley
Hawkgirl
Hulk
Iron
Jean
Mystique
Nebula
Nightcrawler
Oracle
Phoenix
Poison
Psylocke
Rocket
Rogue
Rorschach
Scarlet
Shazam
Silver
Squirrel
Star-Lord
Storm
Thor
Venom
Wolverine
Zatanna
Badass Dog Names Inspired by Athletes
Through discipline, success, and overall strength, athletes serve as role models for people around the world. Here are some athlete-inspired names to showcase your dog's badass-ness!
Ali (Muhammad Ali)
Bolt (Usain Bolt)
Federer (Roger Federer)
Gretzky (Wayne Gretzky)
Griffey (Ken Griffey Jr.)
Jordan (Michael Jordan)
Kobe (Kobe Bryant)
Ledecky (Katie Ledecky)
Manning (Peyton Manning)
Messi (Lionel Messi)
Phelps (Michael Phelps)
Ronaldo (Cristiano Ronaldo)
Ronda (Ronda Rousey)
Serena (Serena Williams)
Sharapova (Maria Sharapova)
Simone (Simone Biles)
Thorpe (Ian Thorpe)
Tiger (Tiger Woods)
Tyson (Mike Tyson)
Venus (Venus Williams)

Closing Thoughts
As you embark on the journey of choosing a name for your furry friend, remember that the name you select will become a part of their identity forever.
A badass name not only sounds fierce but also captures and encapsulates the essence of your dog's unique character. From ancient mythology to modern pop culture, the world is brimming with names that evoke strength, courage, and individuality.
Whether you opt for a name that exudes power, a moniker inspired by a historical figure, or a name drawn from your favorite movies, the key is to choose a name that resonates with both you and your four-legged companion. With a badass name, your dog is sure to make a lasting impression wherever they go!
---