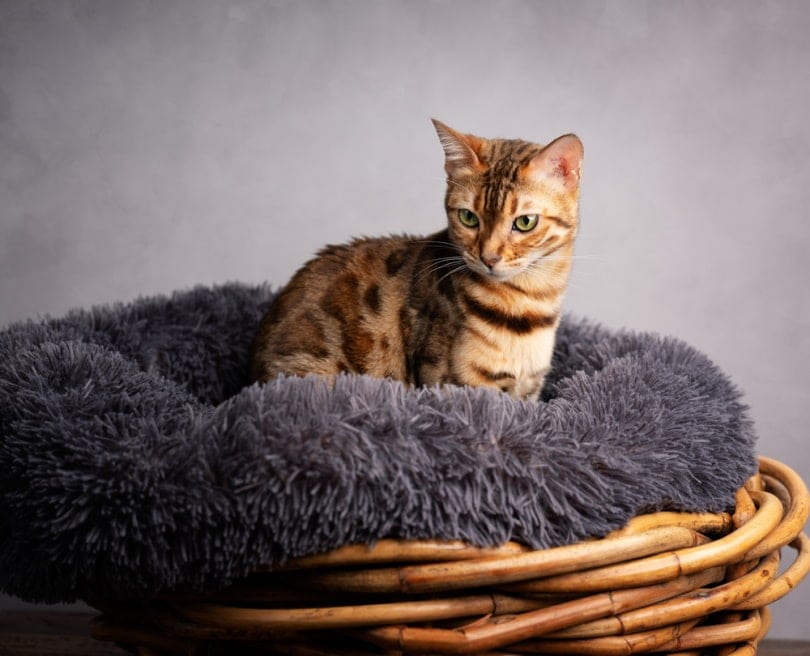 Anxiety isn't fun for anyone—even your cat. If you have a feline that suffers from mild stress to severe chronic anxiety, making them comfortable is probably one of your main priorities. Dealing with this issue can be taxing, but it's definitely manageable if you have the right tools.
To hold your kitty and make them feel protected, some beds are designed to directly reduce the effects of anxiety. For your convenience, we rounded up 10 of the best beds for cats with anxiety. Hopefully, our reviews land you a product that works best for your cat.

A Quick Comparison of Our Favorites
Rating
Image
Product
Details

Best Overall

Hepper Nest Bed

Washable liner
Cups kitty
Affordable on most budgets
Check Latest Price

Best Value

Nepfaivy Calming Cat Donut Bed

Ultra-soft and
Washer and dryer-safe
Quality for price
Check Latest Price

Premium Choice

Hepper Pod Bed

Suspended
High-quality materials
Easy to assemble
Check Latest Price

Best for Kittens

WINDRACING Donut Cat Bed

Perfect for kittens
Donut design
Comfortable
Check Latest Price

AthenaBedding Anti-Anxiety Bed

Many color choices
One piece
Durable
Check Latest Price
The 10 Best Cat Beds for Anxiety – Reviews & Top Picks 2022
1.

Hepper Nest Bed – Best Overall
| | |
| --- | --- |
| Type: | Warming bed |
| Material: | Fleece, microfiber |
| Washable: | Yes |
We think the best overall cat bed for anxiety is the Hepper Nest Bed. We loved the simplicity, durability, and design of this product. You can place this cat bed virtually anywhere in the home. It is incredibly lightweight, portable, and attractive.
A sherpa fleece liner fits perfectly within the mold, which you can remove to toss in the wash. When it's dry, it has an elastic band around the rim portion that you can easily fit back inside, fitting snug and securely.
This cat bed moves easily to any location in your house, your car, even outside for a bit of vitamin D! If you need to give them some quiet space, you can move it to any area you please to eliminate the chaos. Your cat will cup nicely into the design, feeling safe in any situation.
Ultimately, it wins our number one because we think it fits into most budgets, it's well worth the money, and it's perfectly designed for the comfort of your cat. Not to mention—the aesthetics are pleasing in almost any style of home.
Pros
Washable liner
Cups kitty
Affordable on most budgets
Cons
Doesn't fit very large cat breeds
You might have guessed, this is our own product – but we love it so much we just have to share it, and hope you get to own one too!
---
2.

Nepfaivy Calming Cat Donut Bed – Best Value
| | |
| --- | --- |
| Type: | Donut |
| Material: | Faux fur, nylon |
| Washable: | Yes |
If you're looking for the biggest savings at the best quality—check out Nepfaivy Calming Cat Donut Bed. It's made of faux fur and nylon for an ultra-cozy snoozing spot. We love the overall comfort of it, and we really think your kitty will, too!
The design is a simple donut shape, cupping to your cat's body without being overwhelming or too restrictive. The bottom is non-slip and slide resistant, so once you place it—it's not going anywhere! It's perfect for hard and carpeted surfaces.
We also love that the design is water-resistant, so you don't have to worry about any spills or staining. It's completely machine washable and you can toss it in the dryer, too. It will regain shape after completely drying.
For the money, we really think it's the best option. It's incredibly well-made and soft—a perfect spot for your anxious kitty to seek refuge.
Pros
Ultra-soft and
Washer and dryer-safe
Quality for price
Cons
Might not fit all décor styles
---
3.

Hepper Pod Bed – Premium Choice
| | |
| --- | --- |
| Type: | Condo |
| Material: | Microfiber, fleece |
| Washable: | Yes |
If you're looking for the ultimate anti-anxiety cat bed and price is no object, look at the Hepper Pod Bed. This bed sits off the ground on durable legs with rubber bottoms, creating a secure structure. It's an exceptional creation that will lend a safe space for your cat to feel completely protected.
This pod is completely enclosed with a single opening in the front. It is perfectly private, so your cat can feel at ease for optimal relaxation. The gray upholstered fabric is a perfectly neutral, modern look that is sturdy and durable.
We also loved how easy this product was to assemble. The legs fit right to the pod—and the two pod pieces match together straight away. Once you get it all together, there is no wobbling or give. Inside, there is a removable plush fleece bedding portion to provide complete comfort for your kitty.
Even though this particular product is a little pricey in some situations, we think it's well worth the money.
Pros
Suspended
High-quality materials
Easy to assemble
You might have guessed, this is our own product – but we love it so much we just have to share it, and hope you get to own one too!
---
4.

WINDRACING Donut Cat Bed – Best for Kittens
| | |
| --- | --- |
| Type: | Donut |
| Material: | Polyester |
| Washable: | Yes |
If you have a scared kitten, we think the WINDRACING Donut Cat Bed is ideal for your little pals. We have to rave about the construction of this litter cat bed—it is incredibly well-made with top-notch materials that won't come apart even with rough and tough treatment.
You can choose apricot or gray, depending on your particular preferences. The interior has a plush cushion that you can remove for easy cleaning. It provides a nice layer of extra padding, which your cat will find relaxing.
This cat bed has a layer of rubber on the bottom to prevent slipping—making it compatible on most surfaces. You can stick it up by a window or on the kitchen floor, and it's no worse for the wear. The whole bed is machine washable for easy cleaning, too.
The only thing we found that wasn't as desirable is that it isn't quite as fluffy as the picture makes it look—otherwise, we loved it, and we think your kitten will as well.
Pros
Perfect for kittens
Donut design
Comfortable
Cons
Not as fluffy as pictures portray
---
5.

AthenaBedding Original Anti-Anxiety Bed
| | |
| --- | --- |
| Type: | Donut |
| Material: | Polyester |
| Washable: | Yes |
The AthenaBeding Original Anti-Anxiety Bed has been specifically designed to relieve anxiety in your pets. This donut-shaped bed soothes your cat's nerves by providing a cradling, cupped structure. The bed is all one piece, and it's completely machine washable—so it's super simple to care for.
The bed is very plush and comfy, stuffed tightly with padding. It's short-term water-resistant, which means if any liquids get on it, you can quickly wipe it up without it soaking in. The material is totally able to be kneaded as well without risking ripping or tearing.
You can choose from three different color choices, depending on your preferences: brown, dark gray, or pink. They all have a soft hue to them, matching well with almost any home styling. The bolstered sides provide privacy or even a headrest for your feline to feel secure.
We love how straightforward this bed is—no extra pieces or finicky care guidelines. But the faux fur does hold debris, so it might spark the need for frequent cleaning. It's a terrific bed for cats with anxiety.
Pros
Many color choices
One piece
Durable
---
6.

GASUR Cozy Cuddler
| | |
| --- | --- |
| Type: | Cuddler |
| Material: | Plush, microsuede |
| Washable: | Yes |
If your cat is a cuddle bug, they might love the GASUR Cozy Cuddler. It's ideal for cats who love to hide away—and they might even love to play in it as well, sticking a paw out for a sneak attack on a passerby. We love the rose swirl gray plush design on the interior, providing lots of comfort.
The entire bed is super soft, with breathable suede on the outside. The bottom is not completely skid-resistant, so you must place this bed on a carpeted area to prevent sliding.
We must say, the suede is a little susceptible to snags, so it might not last as long with a very destructive cat. However, the overall design is perfect for cats who want the option of covering up or laying on top—ideal for cold winters and toasty summers.
Pros
Skid-resistant
Optional blanket cover
Great for temperature control
---
7.

Pet Craft Supply Simple Sleeper
| | |
| --- | --- |
| Type: | Sleeper |
| Material: | Plush |
| Washable: | Yes |
The Pet Craft Supple Simple Sleeper comes with a little surprise perk—you can stuff it with catnip. There is a small pocket inside to place the catnip so it draws your cat in—tempting even the most uncertain cats. So, if you think it will take a little convincing, this might be the bed for yours.
This bed is incredibly soft and it looks really modern and sleek, too. It has just the right amount of cushion to keep your kitty living in the lap of luxury. The sides are just high enough to keep your cat tucked inside to prevent vulnerable feelings in your feline.
We love the material used on this cat bed. It is thick, but not enough to make the bed overwhelmingly warm. It is an oval design, giving your cat the option of snuggling tightly or sprawling out for optimal relaxation.
Pros
Oval design
Catnip packet included
Moderate cushion for temperature control
Cons
Might be too shallow for some
---
8.

Little Dove Pet Teepee
| | |
| --- | --- |
| Type: | Teepee |
| Material: | Wood, pine, canvas, cotton |
| Washable: | Hand-washable |
Not only is the Little Dove Pet Teepee the most adorable bed on the list—it's a perfect getaway for your stressed-out kitty. If you have a boho-style home, this is a charming addition to your existing décor. Also, we think this little setup is quite well-made and durable.
The teepee is made of pine poles, a strong canvas, and a cotton platform for the bottom. You can choose between white or beige, both options being perfectly neutral. It's a perfect hideaway, but it's spacious enough that your cat doesn't feel trapped.
You can leave this teepee open or you can close it—it's all up to your cat. Even with the teepee closed, your cat can freely get in and out of the bottom flaps.
Pros
Excellent design
Sturdy poles
Strong canvas and comfy cushions
Cons
Might be too open for some cats
---
9.

PETKIRI Cat Cave
| | |
| --- | --- |
| Type: | Cave |
| Material: | Wool |
| Washable: | Yes, air dry |
PETKIRI Cat Cave might be the right fit for your cat—and these types of beds are really getting a lot of attention today. This particular cat bed comes in three desirable color patterns: coffee petals, rose petals, and silver petals.
You can set this cat cave up a few ways—your cat can climb inside, or you can make a cupped design they can lay on top of. Each cave is very easy to store away when your cat isn't using it. No matter how you set it up, it's sure to be a charming addition to any home.
These beds are incredibly durable and perfect for hot or cold days. These cat caves are completely natural, made from all-natural merino wool made by true artisans—every single one. These caves should never be in the washing machine. Rather, hand wash and air dry.
These cat caves are slightly expensive, but they quickly pay for themselves. There is a money-back guarantee on this product. So, if you decide this isn't for you—you have a risk-free purchase.
Pros
Durable hand-made beds
Made from merino wool
Can collapse or stand product
Cons
Not machine washable
Slightly pricey
---
10.

Elk & Bear Warming Cat Bed
| | |
| --- | --- |
| Type: | Cave |
| Material: | Plush |
| Washable: | Yes |
If you have a spooked little kitty, you can try the Elk & Bear Warming Cat Bed. This is a perfect option for people who want a cat cave, but prefer the ultra-plush version to a coarse wool style. This bed is all one piece, so you don't have to worry about any individual cushions.
For a cave, it stays up quite well on its own, and the design looks quite welcoming. This bed offers a generous open front while still creating privacy and comfort inside. Your cat won't feel restricted but will also feel calmer and protected.
There is just one size for this model, so you can't up-or-downsize. This bed might not work for every household since it is metallic and might clash with décor. But if you love the flashiness, it might look smashing in your home.
Pros
One piece
Self-warming
Very comfortable
Related Read: 10 Best Cat Cave Beds – Reviews & Top Picks

Buyer's Guide
Here are a few bases you can cover to make sure you're buying the product that will work best in your feline's situation when you're shopping.
Overall Functionality
Some cats don't give a hoot about privacy, but chances are, yours does. Buying a cat tree that has a private space where your cat can relax without being bothered is an excellent feature to look for when you shop.
Coziness isn't a criterion to skip over when you shop. The materials should be soft and well-made for optimal feline pampering.
Cats can get normal with the same old same. Buying a cat tree that has lots of different activities in one can really give them a place they want to call their own.
Entertainment & Comfort Zones
Cats simply love hammocks. After all, they form to the body and give your cat a nice place to lounge. This is a terrific feature, especially if you have a cat who likes to fit their body into tiny spaces—it will make them feel secluded and relaxed.
We all know how much cats like spending time p high. Perches on cat trees give them leverage and they can watch all the goings-on around the home.
What kitty doesn't want a nice, fluffy bed to nap in? A lot of selections have bedding pieces you can remove to wash, too. So, definitely check the cleanable aspects of the cat tree before buying.
Ramps are especially good for kittens and seniors, so they can easily get where they're trying to go. Many ramps are covered in sisal fabric or rope to also double as a scratching surface.
Almost all cat trees have vertical posts that connect the tiers together.
Cats love boxes—even when they are for shoes. So, wouldn't your cat be excited to have their very own attached to their play place? Condos are usually attached to the bottom, but some have these additions to the second, or even third, tier.
Overall Construction
You probably plan to have your cat tree for a long time. It's essential to have a tree with easy-to-clean materials so you can keep it tidy and cosmetic defect-free.
You must trust this product to support the weight of all your feline friends. That means you won't want a tall furniture piece to topple or tumble. Durable construction is of utmost importance for the safety and longevity of the design.
Not every piece of material on the cat tree requires stitching. But if you have beds or carpets, you want to make sure they are secure without coming apart easily.
Buying a product with all non-toxic material will ensure your cat won't get sick if they accidentally ingest a piece.
Cat trees can be very bulky. If you just look at a picture online, it might look like it would fit in your home. But when you actually put it together, you realize it's not the right size at all. Always make sure to measure, measure, measure to avoid timely returns.

Conclusion
We stand by our top choice—the Hepper Nest Bed. It is the most beneficial in a majority of situations, and you can place it virtually anywhere. It will make your cat cozy and not muck up your aesthetics.
If you're looking for the biggest savings possible, we think the Nepfaivy Calming Cat Donut Bed might work well for your kitty. With this bed, you get a great value, and the cupped design will certainly help your little one feel safer.
Hopefully, you found a terrific new refuge for your anxious kitty.
---
Featured Image Credit: Nailia Schwarz, Shutterstock