5 Best Comforters for Dog Hair in 2023 – Reviews & Top Picks

Before adopting a dog, every owner swears that they won't let their new family member up in the bed with them. That vow usually only lasts a night or two before they have a new full-time snuggle companion.
While cuddling with your pooch in the middle of the night is one of life's greatest joys, finding out that your comforter is covered in dog hair isn't quite as exciting. You can vacuum or wash your comforter regularly to try to keep the problem under control, or you can just buy one that doesn't capture dog hair in the first place.
The comforters shown below are some of the best for repelling dog hair, so you can get a good night's sleep without waking up looking like the Wolfman. They're not all created equal, though, and in our reviews, we'll show you which ones will help you sleep soundly at night, as well as which ones will leave you feeling cold.
---
A Quick Glance at our Favorites of 2023:
Rating
Image
Product
Details

Best Overall

EDILLY Down Alternative

Fur doesn't stick to it
Completely reversible
Machine washable
Check Price

Best Value

Linenspa All-Season

Hair slides right off
Filling stays evenly distributed
Great value for the price
Check Price

Premium Choice

JL Home Collection Silk

Cotton exterior with silk filling
Lightweight yet warm
Durable and well-made
Check Price

Amrapur Microfiber Quilted

Available in lots of colors
Hypoallergenic barrier
Fairly inexpensive
Check Price

HollyHOME Quilt Set

Dog hair doesn't stick to it
Incredibly warm
100% Brushed Microfiber
Check Price
The 5 Best Comforters for Dog Hair:
1.

EDILLY Down Alternative Dog Hair Comforter – Best Overall
The double-brushed microfiber fill on the EDILLY Down Alternative prevents fur from sticking to it at all, so if your dog lays on it, you can easily sweep away any reminder she'd ever been there.
Not only that, but it's reversible, allowing you to quickly hide any pet hair if company comes over.
It's not just a good comforter for hiding fur, either — it's a good comforter overall. It's thick and plush, helping to keep you warm during the winter without cooking you during the summer. It's incredibly soft, too, and you may just be tempted to lie on top of it rather than underneath it.
It is machine washable but we should note that the color fades a bit after washing, so be prepared for it to lose some of its luster. The EDILLY is still an attractive cover, though, and its other qualities make it the best comforter for dog hair.
Fur doesn't stick to it
Reversible
Warm enough for winter use without being suffocating in summer
Very soft
Machine washable
---
2.

Linenspa All-Season Dog Hair Comforter – Best Value
Dog hair slides right off the tightly woven  Linenspa All-Season Quilted, enabling you to invite your best friend into bed without winding up with her coat all over you.
The comforter stays in place remarkably well, too, as it has eight loops that let you secure a duvet cover to it. The tightly woven box stitching keeps all the filling evenly distributed, so everyone should stay equally warm, even if your dog likes to burrow before snoozing.
It's filled with a hypoallergenic microfiber instead of down, so you don't have to worry about sneezing, getting poked with feathers, or having to deal with odd odors. Despite this, it's quite affordable, which is why we feel it's the best comforter for dog hair for the money.
The Linenspa All-Season Quilted is an absolutely fantastic comforter, and every bit the rival to our #1 pick — for as long as it lasts, anyway. Unfortunately, it's not as durable as our top selection, and while replacing it won't break the bank, we'd love to get a little more life out of it.
Pet hair slides right off
Eight loops for attaching a duvet cover
Filling stays evenly distributed
Uses hypoallergenic microfiber stuffing instead of down
Great value for the price
Not as durable as we'd like
---
3.

JL Home Collection Silk Comforter – Premium Choice
If you're not willing to sacrifice luxury just because you adopted a pet, the JL Home Collection Silk can allow you to indulge your sensual side without waking up covered in dog hair.
The tightly woven cover is made of pure cotton, with 100% silk filling, so it's lightweight and cool without allowing you to freeze in the middle of the night. Pet hair sticks to it a tiny bit more than our top two options, but you can easily clean it off with a quick shake.
It's a great choice for those who sweat while they sleep — especially if they have a furry space heater curled up next to them. It's also durable and well-made, and it can stand up to being walked on with paws and claws.
You will pay a bit more for this comforter, but that's to be expected, given the tightly woven premium fabrics used to make it. Our other issue with it is that it's fairly noisy when you move, so light sleepers may be bothered by it if their pooch starts getting restless in the middle of the night.
Ultimately, though, the JL Home Silk is an excellent comforter and one that will make you feel like a king — until you remember that your dog is the one that gets waited on hand and foot, anyway.
Cotton exterior with silk filling
Lightweight yet warm
Good for those who sweat while sleeping
Durable and well-made
A bit expensive
Noisy when you move
---
4.

Amrapur Microfiber Quilted Reversible Comforter
The Amrapur Microfiber Quilted is available in a wide range of colors, so you're certain to find one that matches your existing décor. And if you can't, it's reversible, so try the other side.
The shell has a hypoallergenic barrier that keeps pet dander, dust mites, and other irritants from getting out of hand. This prevents dog hair from flying everywhere too, but you'll still see some stuck to the blanket itself.
Notice we called it a "blanket" — and that might be a bit generous. This comforter is extremely thin, and it will do little to keep you warm, so it should probably go in a closet during the winter months. At least it's relatively inexpensive, so you can buy a couple and layer them (or invest in a thicker blanket to pair with it).
The seams aren't as tightly woven as we'd like, and you'll eventually see some stuffing creeping out in various places. You can always shove it back in, but this comforter can't afford to lose any insulation.
We still like the Amrapur Microfiber Quilted, but we can't justify ranking it any higher than 4th on this list, given its various flaws.
Available in lots of colors
Hypoallergenic barrier keeps allergens under control
Fairly inexpensive
Machine washable
Incredibly thin and offers little warmth
Some hair will stick to it
Stuffing comes out near seams eventually
---
5.

HollyHOME Quilt Set Bedspread Comforter
If appearances are important to you, you might want to skip the HollyHOME Quilt, as it looks like something you'd find on your bed at a cheap motel.
To its credit, though, dog hair won't stick to it at all, so you'll be given an unobstructed view of its ugliness. It's also incredibly warm — so much so, in fact, that you might find yourself kicking it off in the middle of the night, especially when the mercury rises.
The sizes run a little small, so you should buy a king-sized if you have a queen bed, and buy another comforter entirely if you have a king bed. The colors run in the wash, too, so expect its appearance to change over time (and be careful about washing it with your white sheets).
We don't think the HollyHOME Quilt is a bad comforter, but given how much better the other options on this list are, it's hard for us to recommend it too heartily.
Dog hair doesn't stick to it
Incredibly warm
Ugly and cheap-looking
May cause you to overheat
Sizing runs small
Colors run in the wash
---
Buyer's Guide – Choosing the Best Comforters for Dogs
Buying a comforter is something you may never have been taught how to do, so the idea of buying one specifically for repelling dog hair is likely to be even more mystifying. In this short guide, we'll show you exactly what to look for so that you can find one that's comfortable and looks great.
What's the Best Fabric to Use?
There are two fabrics that you should typically look for (well, three, if you'd consider using a leather comforter, though we don't recommend it): microfiber and silk.
Microfiber comforters usually have a very tight weave, making it unlikely that dog hair will find its way into the fabric. This keeps it from latching on when your dog lays on it, and makes it come off easier when you brush or vacuum it. It could also be hypoallergenic and prevent dust mites.
Likewise, silk is naturally slippery, so pet hair isn't likely to cling to it.
Are There Any Fabrics to Avoid?
Some fabrics are much more likely to attract and cling to dog hair (and dust mites and bunnies and anything else that comes their way). These include fabrics like velvet, velour, and nylon.
Not only do these fabrics snag on to any passing dog hair they can find, but they also hold onto it with a death grip, making them extremely difficult to clean.
What Size Comforter Should I Buy?
The same size as the bed you have.
However, you may want to choose a size a little on the larger side, because most dogs aren't known for sharing their covers. Having a little excess cloth may be the difference between being warm and cozy or shivering all night (or worse, waking your dog up).
How Should I Clean My Comforter?
Always follow the manufacturer's instructions, but most dog hair-friendly fabrics will be machine washable on the gentle cycle. You can then either dry it on the low setting or hang them to dry.
You can also brush off the pet hair or vacuum it if you don't want to go through the trouble of washing and drying it.
Are There Any Other Tips for Limiting Dog Hair on My Comforter and Other Surfaces?
Your first defense against pet hair will always be proper grooming. Invest in a good brush (or professional grooming services) and use it often. The less loose pet hair on your dog, the less loose pet hair there'll be on your stuff.
Past that, it's largely a matter of containment. The pet hair will get on something, so if you don't want it on your comforter, you can put a blanket down over a certain spot and make that your dog's designated rest area.
As a last resort, you can forbid your dog from sleeping in bed with you. However, if you do this, you won't get any puppy cuddles, and you won't have anybody else to blame the drool stains on.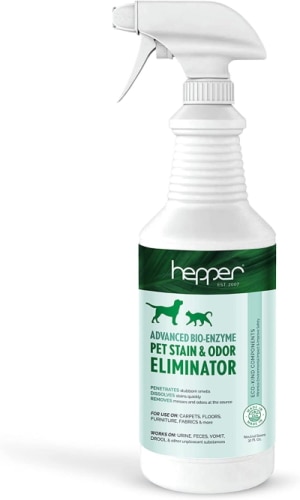 Having a pet means cleaning up smells, stains, hair, vomit, and more...and you can add to your pet clean-up routine with the Hepper Advanced Bio-Enzyme Pet Stain & Odor Eliminator Spray. It's our product, and we love it so much, we just have to share! It permanently removes the very worst smells and stains, and we offer a 100% satisfaction guarantee! Click here to get yourself a bottle!
Is There Anything Else I Should Look For in a Comforter?
Yes. Dog hair isn't the only thing that your pooch can get all over your comforter, so it's wise to invest in one that's water and stain resistant.
Also, remember, you'll (presumably) be sleeping under this thing too, so it needs to be comfortable for you. Find one that's heavy enough to keep you warm without roasting you alive.
Fortunately, most of the dog-friendly fabrics are also extremely breathable, so this shouldn't be too much of an issue.
Conclusion
The EDILLY Down Alternative is thick and plush, and it's one of the most comfortable comforters you'll find anywhere. The fact that dog hair slides right off it is just icing on the cake.
For an inexpensive alternative, consider the Linenspa All-Season Quilted. It won't capture fur either, and it stays in place remarkably well, even if your bedmate starts chasing bunnies in her sleep.
Finding a quality pet hair repelling comforter is essential for getting a good night's sleep, and we hope these reviews have helped you decide which one is best for you and your furry friend. After all, if you choose a good one, your pooch may just decide to let you share her covers for a change.
---
Featured Image Credit: Pikrepo