9 Unique DIY Raised Dog Bed Plans You Can Make Today (With Pictures)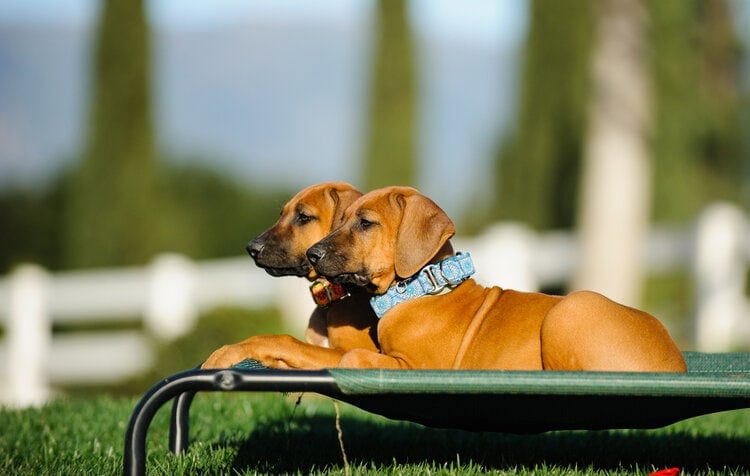 Raised and elevated dog beds are important for your dog's comfort, but they can be overpriced for something you could build at home. If you've got some spare materials and the proper tools, you can find a raised dog bed plan that works for you and your dog. Thankfully, there are hundreds of DIY plans in a variety of styles and sizes so you can learn how to build a raised dog bed within a few hours. Here are 5 Raised Dog Bed Plans you can build today.

The 9 DIY Raised Dog Bed Plans
1.

DIY PVC Elevated Dog Bed Guide – PVC Fittings Online
| | |
| --- | --- |
| Difficulty: | Easy/Moderate |
| Materials: | 11½' of 1¼" PVC Pipe (40 PVC pipe), (4) 1¼" 3-way PVC fittings (side outlet elbows), (4) 1¼" PVC flat caps, 32 – ½" round washer head screws, 42" x 32" piece of outdoor fabric, Power drill, PVC pipe cutting tool (cutter or saw), tape measure |
If you're looking for an inexpensive and easy DIY raised dog bed plan, this DIY PVC elevated dog bed is the perfect weekend project. Not only will it save you money compared to store-bought dog bed frames, but it'll give your dog a more comfortable sleeping experience. Give this PVC bed lift a try for a low cost of materials.
---
2.

Build a DIY Dog Cot – Instructables
| | |
| --- | --- |
| Difficulty: | Moderate |
| Materials: | 1" 40 PVC pipe, three-way corner pieces (1") item # F100W3W (This needs to be ordered at a furniture store, not a warehouse), plastic mesh open weave marine upholstery, #8 X ½" Buildex Teks Lath Screws, cordless drill with variable clutch settings, screwdriver bit, screwdriver magnetizer (optional), rubber mallet, ratchet-type PVC cutters, safety glasses, Tailor's chalk (for marking fabric), fine tip permanent black marker (for marking PVC), heavy-duty scissors, stiff ruler |
This DIY Dog Cot is a great PVC dog bed lift that can be made within an hour once you have all of the parts. It's a great project if you want your dog's bed to be raised without spending hundreds on a premium elevated dog bed. It's easier to do this project with an assistant, but it can be done alone.
---
3.

Raised Dog Cot DIY – HGTV
| | |
| --- | --- |
| Difficulty: | Moderate |
| Materials: | 1" schedule 40 PVC pipe (10-foot piece-dimensions listed below), 3-way PVC corner pieces (1 inch) (This is a furniture grade specialty item that cannot be found at big box home improvement stores, you'll need to order online), 5" x 38.5" outdoor or upholstery grade fabric, lath screws #8 X 1/2″, drill and bits, rubber mallet, scissors, ruler |
The popular TV network HGTV has the perfect DIY cot that looks sleek and modern. This cot is relatively easy to build and it helps relieve pressure points your dog has. It's also another quick DIY project that should only take less than a few hours.
---
4.

DIY Easy Dog Bed for Big Dogs – Wouldn't It Be Lovely
| | |
| --- | --- |
| Difficulty: | Advanced |
| Materials: | (4) corner brackets with screw holes, (4) L corner brackets, (4) wooden legs, 2 x 4s with 45-degree cut ends, staples, upholstery tacks, nylon strapping, saw, scissors, hammer, screwdriver, staple gun |
If you have a large breed of dogs like a Mastiff or Great Dane, this DIY Easy Dog Bed is the perfect solution to your gentle giant elevated dog bed woes. Instead of spending hundreds on a jumbo dog bed frame, you'll save your money with this heavy-duty DIY raised dog bed.
---
5.

Sturdy DIY Wooden Dog Bed – Kregtool
| | |
| --- | --- |
| Difficulty: | Intermediate |
| Materials: | 30" X 24" pet bed base, 8" x 1 3/4" x 1 1/2" bed posts, 31 1/2" x 4" x 1" long side rails, 24" x 4" x 1" short side rails, Kreg jig for pocket holes, jigsaw, 120–150 grit sandpaper, wood glue, a box of 1" wood screws, a box of 3/4" wood screws, set of felt furniture feet, trunk handles, paint or stain of choice |
This DIY project involves crafting a pet bed suitable for small to medium-sized pets. The design can be adjusted according to the pet's size and the desired cushion. The bed is made from wood, so it's strong, sturdy, and long-lasting. Once complete, the pet bed provides a comfortable and stylish resting area for pets.
---
6.

Recycled Tire DIY Dog Bed – Practically Functional
| | |
| --- | --- |
| Difficulty: | Easy |
| Materials: | Stiff bristle brush, dish soap, old tire, spray paint (designed for rubber), sticky felt pads, round pet bed (30–34" round) |
With this fun DIY project, you can recycle an old tire into a comfortable, stylish, and eco-friendly dog bed. A unique solution for pets that love curling up to sleep, this one involves cleaning, painting, and fitting a round pillow or pet bed into a tire. The rubber edges also provide a handy rest spot for your pet during their awake time. This project not only recycles but also creates a bed your pet will love!
---
7.

Whiskey Barrel DIY Dog Bed – The Gilded Horn
| | |
| --- | --- |
| Difficulty: | Intermediate |
| Materials: | Bolts, nuts, drill, drill bits (for metal and wood), sharpie or pencil, jigsaw, jigsaw blades, pliers, sandpaper, hammer, sealer (sprayable or paintable), chisel, palm sander (optional), belt sander (optional), Plasti Dip (optional), wood stain (optional), whiskey barrel, round doggy cushion |
For the discerning pet and owner, this DIY project repurposes a whiskey barrel into a unique and stylish dog bed. The process involves carefully cutting, sanding, and sealing the barrel to create a comfortable and safe space for your pet. The project requires some tools and skills, but the result is a one-of-a-kind bed for your furry friend that adds a rustic touch to your home décor at a fraction of the price of commercially available equivalents.
---
8.

DIY Murphy Dog Bed – Room for Tuesday
| | |
| --- | --- |
| Difficulty: | Intermediate |
| Materials: | Murphy dog bed, screwdriver, lightweight drop cloth, clear silicone, bin pull, spackling, satin white Krylon paint, 180 grit sanding block, satin pebble Krylon paint, copper mesh |
This Murphy Dog Bed project is a fun and functional solution for pet owners who want to keep their homes clutter-free. It's a Murphy bed for dogs, a bed that folds up into a stylish cabinet when not in use. This DIY isn't a "from scratch" project, but it involves enhancing the aesthetic of an existing Murphy dog bed. The project requires some simple cosmetic fixes, including sanding, painting, and replacing hardware. The end result is a unique pet bed that easily hides away when not in use, a perfect solution for those who prefer a clean and organized space.
---
9.

DIY Pallet Dog Bunk Bed – Saved by Love Creations
| | |
| --- | --- |
| Difficulty: | Intermediate |
| Materials: | Shipping pallets, plywood sheets, reciprocating saw, Kreg jig, screws, wood glue, jig saw, drill, crowbar, table saw, ScotchBlue painter's tape, Behr Marquee paint, Wooster shortcut 2" nylon/polyester angle sash brush |
This DIY Pallet Dog Bunk Bed is an excellent upcycle project that requires some woodworking skills. It involves breaking down shipping pallets and using the wood to create a two-tiered bunk bed for your dogs. The beds are then painted in different colors to create a random stripe pattern. This project can be color customized to match any décor, and the finished bunk bed provides a unique and comfortable spot for your pets to rest.
---
Featured Image Credit: everydoghasastory, Shutterstock