10 Best Dog Beds for Great Danes in 2023 – Reviews & Guide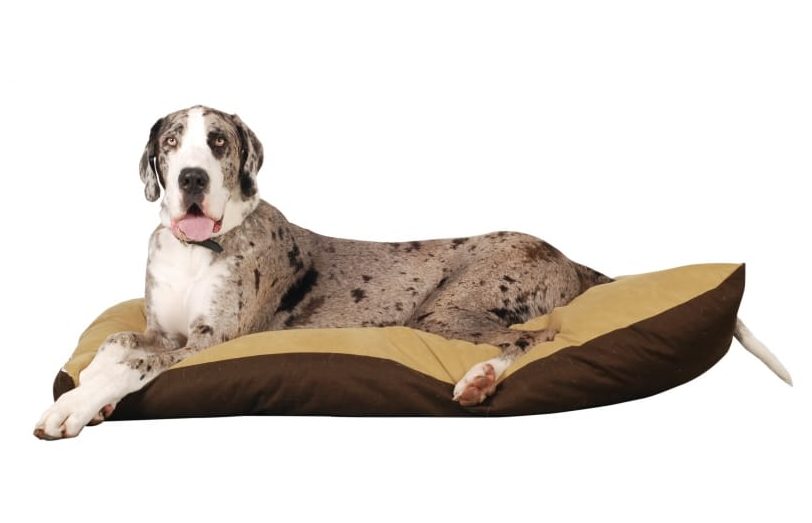 You know it's time to purchase a quality dog bed when your Great Dane seems to toss and turn all night and appears uncomfortable when resting. Because of their immense size, it's challenging to find a bed that is big and comfortable enough. If you have an older dog, they will need extra support for their joints.
Did you know that the largest Great Dane, Zeus, was 44 inches tall and weighed 155 pounds? There was also Giant George, who was 43 inches tall and weighed 245 pounds. Your Great Dane may not be as big as these two, but you still need a dog bed larger than average.
We rounded up the top 10 dog beds for Great Danes to help you narrow your search. Our reviews list covers the benefits and disadvantages to each bed, and the buyer's guide will list considerations to keep in mind during your search.
---
A Quick Comparison of the Winners in 2023
Rating
Image
Product
Details

Best Overall

PetFusion Orthopedic

Poly-fill
Water-resistant
Memory foam
Check Price

Best Value

MidWest Bolster

Soft fleece
Affordable
Machine washable
Check Price

Premium Choice

Big Barker Sleek

Very large
Soft microfiber
Machine washable
Check Price

Furhaven Therapeutic Sofa-style

Affordable
Egg crate orthopedic foam
Soft fleece cover
Check Price

Brindle Soft

Shredded memory foam
Micro-suede cover
Machine washable
Check Price
The 10 Best Dog Beds for Great Danes Reviewed:
1.

PetFusion Memory Foam Dog Bed – Best Overall
The PetFusion provides comfort and quality within its large 50×40-inch size. The 6-inch memory foam will ease joint pain, while the top poly-fill provides an extra softness that your dog will appreciate when it's time to relax. The fabric is made from durable polyester and a cotton twill that is water resistant and easy to spot clean in between washes.
We like the waterproof inner liner that surrounds the memory foam mattress, making it easy to remove hair from the fabric. This extra-large pet bed can hold up to 200 pounds, allowing your Great Dane to stretch out and sleep peacefully.
The cover design has two zipper compartments that make it simple to reassemble after washing, and there is a 24-month warranty for any manufacturing defect. On the downside, it is not a thick fabric cover, so it is not ideal for dogs who dig or chew their bedding. However, we still think that this is one of the best Great Dane dog beds of 2021.
Memory foam
Poly-fill for extra comfort
Water-resistant
Waterproof liner
Easy to clean
Not ideal for destructive dogs
---
2.

MidWest Fleece Polyester Dog Bed – Best Value
This dog bed is massive and will fit in a 54-inch dog crate. It is also an affordable price, which is why the MidWest is the best dog bed for Great Dane for the money. This bed is ideal for dogs up to 42 inches long and greater than 110 pounds. It measures 54×37 inches and is made of a fleece polyester, with overstuffed bolsters around the perimeter that provide an extra comfortable place for your dog to snooze.
We like that it is machine washable and the color helps hide dog hair. Unfortunately, this is not a bed that will stand up to dogs who like to chew. It is a great bed for traveling, however, and even at its large size, it only weighs four pounds. It comes with a one-year manufacturer's warranty. Even though this is a great bed for the money, the PetFusion offers a more durable option.
Soft fleece
Bolstered edges
Affordable
Ideal for travel
Machine washable
---
3.

Big Barker Pillow Dog Bed – Premium Choice
This foam bed is calibrated for big dogs, which means it won't be comfortable for small dogs to lie on because they aren't heavy enough for it to mold to their weight. But for your Great Dane, this is a comfortable bed that is guaranteed not to flatten within 10 years, and if it does, the company will return your money.
The cover is made from microfiber, so it is soft and comfy. It is also machine washable, so you can keep it smelling fresh. We like that it is made in the U.S.A. and that the company has been making high-end bedding for over 50 years. The bed measures 60x48x7 inches and will fit the largest Great Dane with ease, even when fully stretched out. On one end, it has a 4-inch contoured foam that acts as a pillow.
This bed is pricey, which is why it did not reach the number-one or -two spots on our list, but it will last for many years. This bed is not ideal for travel because it is considered a real bed for your pet and weighs 20 pounds.
10-year guarantee
Very large
Soft microfiber
Machine washable
Reputable company
---
4.

Furhaven Great Dane Dog Bed
The Furhaven is an affordable bed that is made of orthopedic foam and has a removable synthetic fleece top. It measures 44x35x8 inches and has bolsters along three edges for added comfort while your dog rests.
We like that the foam is cut in an egg-crate fashion that can help provide extra joint support and relieve pressure points so your dog is more comfortable. There is also plenty of airflow, and this jumbo bed will support up to 95 pounds. Unfortunately, if your dog weighs more, the foam may compress so much that the dog can feel the floor. Also, this bed is not ideal for dogs with anxiety or bad habits because they will tear this bed to shreds.
There is a two-zipper design on the cover that makes it easy to access the foam mattress and the bolsters. The warranty on this bed is 30 days for returns and 90 days for any defects.
Affordable
Egg crate orthopedic foam
Soft fleece cover
Machine washable
Bolsters
Not for dogs greater than 95 pounds
Not for chewers
---
5.

Brindle Soft Memory Foam Dog Bed
The Brindle memory foam bed is a good option, especially if you like to travel with your dog. It is 52×34 inches and weighs 14.3 pounds, so it is not too bulky and is flexible enough to fit in your dogs' crate. The bed is made from shredded memory foam, which conforms to the dogs' weight while remaining breathable. The cover is made from a micro-suede that can be machine washed and tumble dried on low.
The company donates one of their pet beds to the Humane Society every day, so each dog that is adopted gets to take their bed with them.
There is a three-year warranty on this bed that covers any manufacturer defects. On the downside, this bed isn't as supportive as other memory foam beds on our list, but it is still an affordable option.
Shredded memory foam
Micro-suede cover
Machine washable
Breathable
Affordable
---
6.

Majestic Great Dane Dog Bed
The Majestic Pet bed is an option for those who can't invest a great deal of money into a dog bed but still want to provide a soft place for your dog. The large size measures 46×35 inches, and all sizes come in a variety of colors so you can easily match the bed to your house décor. It is also long enough for your dog to stretch out and chill.
It is filled with 100% polyester that is hypoallergenic, and the outer fabric is made from polycotton. There is not a removable cover; instead, you wash the whole bed and then tumble dry it. The recommended weight is 45-70 pounds, so it doesn't hold a larger dog as comfortably.
There is a basic return policy of 30 days with this bed if it hasn't been used and a factory defect is discovered. The bed compresses after some use, and it could be difficult for an older dog to get in and out of.
Affordable
Many color options
Washable
Room to stretch out
Filling compresses
Not for heavy dogs >70 lbs.
---
7.

KOPEKS High Grade Foam Dog Bed
This is a large orthopedic dog bed that measures 50x34x7 inches and has a 3-inch-thick pillow on one end. The foam is hypo-allergenic, with a waterproof inner fabric, and the outer fabric is made from plush suede. We like the rubber grip bottom that prevents slipping if your dog exuberantly jumps onto the bed.
Both the exterior cover and inner liner are machine washable. Because of the size of the bed, it is not ideal to travel with but functions well for everyday use. On the downside, there is no warranty offered for the KOPEKS, and the grips on the bottom wear off quickly with repeated washings.
Hypo-allergenic
Waterproof liner
No-slip bottom
Machine washable
No warranty
Grips wear fast
---
8.

Laifug Orthopedic Foam Dog Bed
The Laifug is another memory foam bed, but it has a double pillow design with one side that's 4 inches high and the other 2.5 inches high. The foam is protected by a waterproof liner, and the microfiber outer cover is water-resistant while remaining breathable. The outer cover is easy to spot clean in between washes and has a heavy-duty zipper that will hold up to frequently removing the cover for cleaning.
The company offers a limited warranty, and unfortunately, the bed is very firm without much give when the dog is laying on it. But on the upside, this bed holds its shape and appears to be durable.
Double pillow design
Waterproof liner
Microfiber cover
Machine-washable outer cover
Holds shape well
---
9.

The Dog's Bed Orthopedic Dog Bed
This dog bed is made from orthopedic memory foam over a 2-inch solid base of high-stability foam to offer more support to achy joints. We like that the mattress is low, making it easy for older dogs to get in and out. It has bolsters along three sides to add security and a place for your dog to rest their head.
There is an inner waterproof liner and an outer cover that are machine washable. On the downside, the fabric is rough to the touch, and the liner is noisy when the dog gets into the bed and moves around. The zipper is not very durable, and some users have had issues with it breaking easily.
Low in height
Three bolstered sides
Waterproof liner
Machine washable
Rough fabric
Noisy with movement
Zipper not durable
---
10.

Kuranda Dog Beds
The Kuranda is made in the U.S.A. and has a 250-pound capacity, so it will hold your large Great Dane. It is a platform bed, off the floor about 9 inches, which could be difficult for older dogs. The frame is made from aluminum, and the sleeping area is a waterproof vinyl weave that is breathable and would be great if the bed is needed for the outdoors.
It comes with a one-year warranty, but this bed is not ideal for dogs who have arthritis, elbow dysplasia, or other health issues since it is not cushioned. A Great Dane may also prefer a warmer bed to lie on. This bed has to be assembled before it can be used.
250-pound capacity
Durable frame
Breathable sleeping area
Not ideal for dogs with arthritis, etc.
Assembly required
9 inches off of the floor
Not as comfy

Buyer's Guide: Choosing the Best Dog Beds for Great Danes
Great Danes are sweet, loving dogs, but unfortunately, they can be afflicted with arthritis, hip dysplasia, and osteoarthritis. Providing a comfortable bed is a top priority so your dog can have a cushioned place to sleep.
This buyer's guide will go over considerations to keep in mind when searching for a bed for your Great Dane.
Size
Since Great Danes can weigh up to 200 pounds and be 34 inches tall, you will need an extra-large bed. No dog wants to be scrunched and not able to stretch out while sleeping.
Material
Therapeutic foam is ideal, as it can distribute the dog's weight evenly and keep them from sinking to the floor. Since Great Danes are so big, they can be tough on the outer material, so a durable cover is ideal to make it last for a while. If your dog is destructive, you may want to opt for a bed that can hold up to chewing and digging, such as a platform bed made from plastic or metal.
Waterproof
If your dog drools or is messy, then you may want a waterproof cover and/or liner to protect the inner layer.
Bolster Sides or Pillows
Your dog may like the bolsters to lean against or lay their head, though some dogs may prefer to stretch out and not use the bolsters. Pillow sides can provide an extra feeling of security if your dog is the anxious type.
Ease of Use
This includes transporting and cleaning. If you plan to travel a great deal or need to constantly move the bed from the crate to another area of the house, it makes it easier if the bed isn't too heavy and bulky. Beds that are more maneuverable won't have as much cushion, however. A cover that is also removable and machine-washable is ideal so you can wash it as needed to keep the bed nice and fresh.
Price
Due to the size of the bed that you need to fit such a large dog, most will be on the more expensive end. Memory foams will cost more than a polyester fill, but they will also last longer.

Conclusion:
Finding the perfect dog bed for your Great Dane can take time, but it will be worth it if they are comfortable and able to fully relax after a hard day of play. Our reviews list features 10 of the best dog beds for Great Danes.
Our top pick is the PetFusion, which offers a large memory foam with a waterproof liner and comfy outer material. The best value is the Midwest, with its fleece polyester fabric and bolsters that add extra comfort for your dog. Our premium pick is the Big Barker, made of memory foam, and guaranteed to last for 10 years.
We hope that our reviews list eases the frustration of finding the best dog bed for your great dane. There are many good choices available, and our list is a great starting point.