10 Best Dog Beds for Pitbulls in 2023 – Reviews & Comparisons
If you're a pit bull owner, you know this breed makes a wonderful companion and loves being part of the family. You also know that when it comes to providing a cozy, comfortable bed for your affectionate, rambunctious pit bull, you'll need to take a few considerations into account. Your pit bull's bed needs to be large and sturdy and able to hold up to their predisposition for destructive chewing. Most importantly, it must provide the proper support and needed relief if your pit bull has any health issues.
With so many factors going into choosing the right bed for your beloved pit bull, it may be difficult to choose the best one. Fortunately, we've compiled our top 10 picks for beds designed for your pit bull's specialized needs. From our top choice on down, we've provided you with comprehensive reviews and detailed pros and cons lists. Also, be sure to check out the buyer's guide. Before you make a purchase, we'll help you gain a better understanding of which features make a high-quality bed.
---
A Quick Comparison of Our Favorites in 2023:
Rating
Image
Product
Details

Best Overall

Furhaven Therapeutic Round

Plush micro velvet fabric
Orthopedic
Machine washable cover
Check Price

Best Value

Petmate Self Warming

Self-warming
Soft faux lambswool material
Non-skid bottom
Check Price

Premium Choice

Kuranda Chewproof PVC

Chew-proof strength
Aluminum frame
Aircraft-quality
Check Price

Long Rich Reversible Rectangle

Reversible fabric
Inexpensive
Comfortable rectangular shape
Check Price

Majestic Pet Poly-Cotton

Offers spine support
High-loft polyester fill
Waterproof base
Check Price
The 10 Best Dog Beds for Pitbulls
1.

Furhaven Pet Pitbull Dog Bed – Best Overall
Our choice for the best overall bed for your pitbull is the Furhaven pet dog bed. It takes your pit bull's comfort seriously with high-quality materials, unique features, and easy maintenance. A plush micro velvet fabric covers the entirety of the bed, offering extra-soft, silky, gentle comfort. The egg-crate foam base eases your pit bull's joints by evenly distributing body weight and eliminating pressure points.
This orthopedic foam, 44-inch bed comes in 11 colors. The cover is completely machine washable. Furhaven does warn, however, that this bed is not intended for dogs with excessive chewing behaviors.
This dog bed comes with the special feature of a supple hood blanket that can be set up like a tent for burrowing or as blanket to snuggle beneath. Be aware that this bed may not be well-packaged for shipping and you may encounter quality control issues. The pole holding up the cave feature may arrive bent or unusable.
Plush micro velvet fabric
Egg-crate orthopedic foam base
Large in size
Machine washable cover
Hood blanket special feature
Poor packaging for shipping
Quality concern issues
Tent pole may arrive bent
---
2.

Petmate Self-Warming Pitbull Dog Beds – Best Value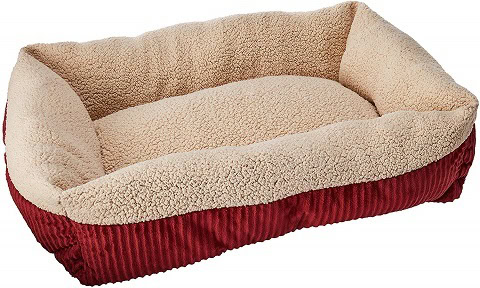 We selected the Petmate self-warming bed as the best dog bed for a pit bull for the money. This bed offers the unique feature of heat-reflecting technology with its Mylar interior layer. Besides extra warmth, your pit bull may love nestling into the faux lambswool material lining the inside and the raised edges of this bed.
This lightweight bed comes with a non-skid bottom for smooth floors. We did discover that the tread consisting of red circles may easily fall off. The treading can also come off in the washer, as without a removable cover, you'll need to wash the entire bed to keep it clean.
We found that the Mylar interior may create a crinkling sound whenever your pit bull readjusts for comfort. Also, be aware that if your pit bull stretches out too much, the raised sides will flatten.
Self-warming, heat-reflecting technology
Soft faux lambswool material
Raised bed sides for added snugness
Non-skid bottom for smooth floors
Possible crinkling sound
Sides of the bed may not retain shape
Treading on bottom comes off
Difficult to clean due to lack of removable cover
---
3.

Kuranda Pitbull Dog Bed – Premium Choice
For its chew-proof strength and strong construction, we picked the Kuranda dog bed as our premium choice for a dog bed for your pit bull. This raised orthopedic bed is constructed with a lightweight, aircraft-grade aluminum frame and stainless-steel fasteners that can support up to an impressive 250 pounds.
The heavy-duty, durable, 40-oz., solid vinyl fabric comes in five color choices and a patented design that hides the edges of the fabric to discourage chewing. This smooth surface allows for easy cleaning and can keep your pit bull dry and clean inside or outside.
The Kuranda dog bed comes with a high price tag. Despite the higher expense, this bed is not indestructible. However, your pit bull will at least have to try harder to damage it. A more important consideration may be that your pit bull will not care for the vinyl fabric and decline to use the bed.
Raised bed for orthopedic support and comfort
Chew-proof strength
Lightweight, aircraft-quality aluminum frame
Able to hold up to 250 pounds
Five color choices
Vinyl fabric is easy to clean
Expensive
Your pit bull may not like the vinyl fabric
Not indestructible
Need a muzzle for your Pit Bull? See our reviews here!
---
4.

Long Rich HCT Reversible Dog Bed
If you'd like your pit bull's bed to change with the seasons, consider the reversible fabric design of the Long Rich pet bed. This bed is ready for winter weather with a soft and warm knitted corduroy fabric on one side. In the summer months, flip the bed inside out to reveal a cool, smooth faux suede.
This rectangular bed has raised edges for a secure, cozy feel, and it's well stuffed with filling. Be aware, however, that if your pit bull has joint issues, it may not be sufficiently supportive. Also, cleaning this product requires washing the entire bed, though it is at least machine washable.
Keep in mind that if your pit bull is an aggressive chewer, they will eagerly consume this soft bed. We've also learned of quality control issues.
Reversible fabric for changing seasons
Comfortable rectangular shape with raised sides
Machine washable
Inexpensive
Not for pit bulls with joint issues
No removable cover
Not for aggressive chewers
Some quality control issues
---
5.

Majestic Pet Poly-Cotton Dog Beds
Like its name, the Majestic Pet Bagel dog bed has a round shape with raised edges to help your pit bull snuggle into its interior. The unique shape with a pillow-like bolster gives your pit bull a place to rest their head, resulting in better spine support. This bed comes in four sizes, including large and extra large, and seven color choices.
Adding to the comfort, the Bagel dog bed has a premium high-loft polyester fill and a waterproof base made from 300/600 denier fabric. This fabric, however, tends to attract and hold onto dirt, fur, and other debris. Fortunately, the entire bed is machine washable on warm with tumble dry low. Keep in mind that you may encounter challenges washing such a large item; we found that the bed may not return to looking like its original prime condition.
Also, be aware that if your pit bull likes to chew, they will find plenty of places to gnaw on this bed.
Offers spine support
Four size selections and seven color choices
High-loft polyester fill
Waterproof base
Difficult to machine wash
Attracts and traps fur and debris
Lacking durability with exterior
Not chew-proof
---
6.

Go Pet Club Orthopedic Dog Bed
Ideal for pit bulls suffering from arthritis, hip dysplasia, and joint and muscle stiffness, the Go Pet Club orthopedic pet bed is made with 100% memory foam. Your pit bull's joints and muscles will receive relief from the 4-inch depth of support from this rectangular mattress-like bed. The memory foam will retain its shape and will not flatten over time.
The Go Pet Club bed offers a waterproof inner cover to protect the integrity of the memory foam and a soft suede outer cover that comes in four soothing color choices. Both protective covers come with non-slip rubber bottoms and a zipper for easy removal for cleaning. The suede fabric, as well as the memory foam, are non-allergenic for your sensitive pup.
Keep in mind that your pit bull may not care for the memory foam's unique feel nor the warmth encouraged by the suede fabric. We learned that some pit bulls chose to tear this bed to shreds rather than sleep on it. We also found a few discrepancies with the effectiveness of the waterproof cover.
100% memory foam
Ideal for dogs with joint and muscle issues
Two protective covers
Zippers for easy removal of covers
Non-slip rubber bottom
Non-allergenic material
Some dogs do not prefer memory foam
Suede fabric may be too warm
Not chew-proof
Waterproof cover may not be effective
---
7.

Laifug Orthopedic Foam Dog Bed

Two pillow-like bolsters line either end of this rectangular Laifug orthopedic memory foam dog bed. This bed is deal for pit bulls with joint and muscle issues, as two different-sized pillows — 4.5 inches and 2.5 inches high, respectively —offer your dog head and neck support as they rest. The two layers of super soft foam and orthopedic memory foam retain their shape and size over time.
The Laifug bed comes with two covers, including a waterproof liner and 100% microfiber cover. Both covers come with multiple zippers for quick removal. Unfortunately, we discovered that this product has issues with the zippers breaking.
As with all memory foam dog beds, there are some dogs, including pit bulls, who seem to dislike the firm structure of this material. Also, this type of bed is not recommended for aggressive chewers.
Two pillow bolsters for added support
Orthopedic memory foam
Ideal for dogs with joint and muscle issues
Two covers, a including waterproof cover
Some dogs do not prefer memory foam
Not chew-proof
Zipper on cover may break
---
8.

K9 28031 Ballistics Dog Bed
If your pit bull likes a secure feeling when sleeping, then you may want to consider the nest-like K9 Ballistics round dog bed. The 360-degree bolster on this bagel- or donut-shaped bed surrounds a soft center in which your pit bull can curl up in cozy comfort.
Though made with materials that resist chewing and digging, this bed is not chew proof. If your pit bull is an active chewer, they may make a meal out of this bed. Otherwise, K9's proprietary blend of 1680-denier rip-stop ballistic-nylon material is durable, stays clean longer because it resists debris, and is washable.
However, without a removable cover, you will need to wash the entire bed. The center can be removed, though, to better fit in your washing machine. Also, be aware that this bed is more expensive than similar products on our list.
Design encourages security
Soft, cozy bedding
Durable chewing and digging-resistant material
Center removes for easier washing
Design may not suit your dog's sleeping style
Not chew-proof
Does not include removable cover
More expensive than similar products
---
9.

AIPERRO Crate Pad Dog Bed
The flat shape of the AIPERRO dog bed is an inexpensive choice and works well as a pad in your pit bull's crate, as extra padding on top of an elevated dog bed, in vehicles while traveling, or as a standalone bed. This bed has an anti-skid bottom to keep it in place and a plush velour, comfortable top fabric.
The durable fleece is constructed for durability but will not survive if your pit bull is determined to chew on it. You'll be able to keep this mat-like dog bed clean by tossing the entire product into your washing machine, and it's well-stitched to maintain its size and shape even after multiple washings. Plus, the color shouldn't fade.
Keep in mind that this dog bed is too thin to offer your pit bull proper cushion and support.
Inexpensive
Multiple options for uses
Anti-skid bottom/velour top fabric
Machine washable
Too thin to offer proper support and cushion
Should not be used as a primary bed
Not chew-proof
---
10.

MPI WOOD Dog Bed
Since pit bulls enjoy being near you, their loving owner, you may as well purchase them a bed that you like the look of and that matches your home décor. The MPI wood dog bed is a wooden frame bed that resembles a human bed, but be aware that it is only the frame — you will need to provide your own bedding.
Made of natural Baltic birch, this wooden bed is easy to assemble and ready to personalize it by staining it or painting it. The frame comes with adorable paw and bone cut-out designs.
The headboard is 23 inches high, and a 36-inch by 24-inch mattress will have the best fit. Keep in mind that your pit bull may fit into this bed better as a puppy than a full-grown dog.
Cute wooden design
Well-made with natural Baltic birch
Easy to assemble
Does not include a mattress
May be too small for a full-grown pit bull
---
Buyer's Guide: Picking the Best Dog Beds for Pitbulls
We hope that our reviews and pros and cons lists have helped you find the coziest, most comfortable bed for your pit bull. If you're still debating different features and styles, we've included this buyer's guide to help you make a more informed choice. Read on to learn what makes a high-quality dog bed and what factors you should consider before you make a purchase.
Beds Are for Sleeping, Not Eating!
When choosing a dog bed for your pitbull, be sure to consider a pit bull's specific needs and potential issues. Their chewing habits should top the list. A bed that's torn to shreds won't make for a peaceful night's sleep or even be adequate for an afternoon nap. Though no bed is indestructible, the more durable the cover materials are, as well as the structure of the bed, the less chance your pitbull will use their new bed as a chew toy.
Special Considerations for Pit Bulls
Secondly, pit bulls, more than many other breeds, tend to more readily suffer from joint issues, skin conditions, obesity, and hypothyroidism. Be sure to offer your loyal companion a soft, well-supported cushion to rest their tired body. Our list of the best dog beds for pit bulls features a variety of cushion inserts and design styles that offer multiple ways to support your pit bull's head, neck, and spine.
Your Dog's Sleep Style Matters
When deciding between a mattress-style memory foam bed, a nest-like bed, or a simplified mat, consider your pit bull's sleeping style. Bolsters and pillow-like features work well with dogs who like their heads elevated and supported. Flat styles accommodate dogs who like to stretch out, while round, bagel-shaped beds offer an anxiety-prone pit bull the necessary security. Also, consider whether your pit bull tends to get hot or chilly when sleeping and opt for bedding that offers the best-suited temperature control.
A Dog Bed You'll Both Enjoy
Finally, pit bulls tend to suffer from separation anxiety and prefer sleeping in close proximity. Because your pit bull will probably be sleeping nearby in your bedroom or living room, be sure to consider the look of your pit bull's bed, in addition to the ease that you can wash the cover materials. Removable covers make easier work of keeping your pit bull's bed clean and fresh. Plus, clean bedding reduces allergens that may adversely affect your pit bull's skin and overall health.
With a properly sized bed designed in a style that suits your pit bull's needs and preferences, your pit bull will thank you.

Conclusion:
The Furhaven 95529291 pet dog bed is our top pick for the best overall dog bed for your pit bull. This bed is built for comfort, with plush micro velvet fabric and an egg-crate orthopedic foam base. The bed is large enough for your full-grown pit bull, and the cover is machine washable. This bed features a hood blanket that can be used as a tent or a burrowing blanket.
For the best value, we selected the Petmate 80137 Self Warming Beds. For a great price, these beds feature unique self-warming, heat-reflecting technology. They're also constructed with soft faux lambswool material and have raised bed sides for added snugness and non-skid bottoms for smooth floors.
The Kuranda Dog Bed earned the third spot as our premium choice, as well as for being the most chew-proof product on our list. This raised bed offers your pitbull orthopedic support and comfort. It has a lightweight, aircraft-quality aluminum frame that can hold up to 250 pounds. This bed comes in five color choices, and its vinyl fabric is easy to clean.
After you have read all the helpful reviews, considered the pros and cons lists, and become better informed due to our buyer's guide, we hope that you've found the best dog bed for your beloved pit bull. The right bed can give your pit bull a nurturing place to rest, as well as improve their overall health.