9 Best Dog Boots for Pavement in the Summer 2023 – Reviews & Top Picks
As dog lovers, we want to take our pets with us whenever possible, but it can be problematic during the heat of the summer, when the concrete and pavement is burning to the touch. We certainly wouldn't walk on it barefoot, so why would we make our dogs do so and risk injuring the pads of their paws?
Even though dog pads are tougher than our feet, they can still be burned by a hot surface. A safe rule of thumb is to place the back of your hand on the pavement; if you cannot hold it in place for at least five seconds, then it is too hot for your canine companion to walk on it without protection.
We created this reviews list of the top 10 best dog boots for hot pavement for you, the pet owner seeking a boot that protects your dog from being injured during the heat of the summer. Some boots are also useful for protection from winter's snow and hiking rocks. At the end of the article, read through our buyer's guide to help you decide what features and options you want when selecting a dog boot.

A Quick Look at the Winners of 2023:
Rating
Image
Product
Details

Best Overall

Fantastic Zone Waterproof

Skid-resistant sole
Sturdy yet flexible
Two adjustable straps
Check Price

Premium Choice

My Busy Dog Water Resistant

Well-made
Rugged sole
Reflective double straps
Check Price

QUMY

Wide split seam
Two reflective Velcro straps
Flexible
Check Price

Ultra Paws Durable

Wide split-seam top
Foam pads at closures
Machine washable
Check Price

Bark Brite Paw Protector

Breathable neoprene
Conforming
Reflective straps
Check Price
The 9 Best Dog Boots for Pavement in the Summer:
1.

Fantastic Zone Waterproof Dog Boots – Best Overall
These boots are waterproof with a durable, skid-resistant sole that will protect your dog's paws when walking on hot sidewalks in the summertime. We like that they are sturdy yet flexible to allow the dog to move naturally.
There are two adjustable Velcro straps to keep the boot in place and prevent slipping. It is important to select the correct size for the most comfortable fit. The company offers a size chart with instructions on how to size for your dog — the sizes are true and fit well.
We found that they are not meant to be submerged in water, since it will seep through the sewing needle holes. The reflective strap is a nice feature, and they can be hand washed and air-dried. They are tall enough to keep out debris and secure the boot on the feet —  they are even shaped differently for the hind feet.
Skid-resistant sole
Sturdy yet flexible
Two adjustable straps
True fit
Reflective straps
Can be handwashed
Tall
---
2.

My Busy Dog Water Resistant Dog Shoes — Premium Choice
As a premium boot made for active dogs, the Busy Dog shoes are a great choice. They cost slightly more, which is why they are number three on our reviews list. The company is a family-run business located in the U.S.A.
We like the rugged sole that offers extra traction for hiking and use in snow and ice. There are two straps with reflective strips, and these boots are water-resistant. We like the wide split-seam opening that allows the shoe to expand, making it easy to put these on and remove.
Unfortunately, these aren't as flexible and may not be as comfortable as others on this list, though they offer great protection from a wide variety of surfaces. They come in eight sizes, and there is a sizing guide where you can take into account the size and breed of your dog to get the best fit.
Well-made
Rugged sole
Water resistant
Easy to apply and remove
Reflective double straps
---
3.

QUMY Dog Boots
The QUMY offers another durable boot that is made to be water-resistant and has anti-slip soles with extra toe protection. This design also has a wide split-seam top opening to make it easier to get on and off, as well as two reflective Velcro straps that help keep the boot in place through all types of terrain.
We like the flexibility of the boot and the protection it offers from hot surfaces. The embroidered paw print pattern helps distinguish which side of the boot faces out, to decrease confusion when putting them on your dog.
One negative aspect regarding this boot is that the Velcro straps are not as adhesive compared to previous boots on our list. Some users found that the boots collect snow and sand, but they do work well at providing protection in different terrain.
Wide split seam
Two reflective Velcro straps
Flexible
Durable sole
Paw pattern on outside edge
Fill with sand and snow
Velcro not as adhesive
---
4.

Ultra Paws Durable Dog Boots
While these boots are made more for indoors to prevent slipping on floors, they can be used for light outdoor activities. They come in six different sizes and have the wide split-seam top to make putting on and removing easier. There is one adjustable Velcro strap, and it does not have a reflective strip.
We like the foam pads located at the closures that create a secure grip while providing cushioning to the paws. They are machine washable — use cold water and then allow them to air dry. Even though the boots are made from water-resistant nylon, they are not meant to keep your dogs' feet perfectly dry when submerged in water.
Also, these are a taller boot and fit well on larger dogs, but short-legged dogs may be at a disadvantage with the style of the Ultra Paws. These boots are flexible and allow an easier time for your dog to adjust to wearing boots in general.
Wide split-seam top
Foam pads at closures
Machine washable
Flexible
Good fit for large dogs
Not durable for high activity
Poor fit for smaller dogs
What about for winter? Click here to see the best dog snow boots
---
5.

Bark Brite Paw Protector Dog Boots
The Bark Brite boots are made of a breathable neoprene that conforms to the paw, making it easier for them to move naturally. The treaded sole is made of durable rubber, and there are two reflective straps, with a 3.5-inch opening in the back of the boot to make it easier to apply and remove.
We like that they are lightly lined on the inside, though this may make them too warm for some dogs. The boots come with a storage case and can be cleaned in a washing machine using the gentle cycle. We found these boots do not apply as much traction compared to other boots on our list, so they are ideal for light outdoor activities.
A nice consideration is that the smallest size is also shorter in length, making them more suitable for short-legged dogs.
Breathable neoprene
Conforming
Reflective straps
Opening in back
Easy to clean
Not ideal for heavy use
Too warm for certain breeds
Small size is shorter in length
Other useful doggie gear:
---
These boots come in eight different sizes, allowing you to find the perfect fit for your dog. They are made from durable material with a rubber sole that extends over the toes for added protection. There are two reflective hoop-and-loop fastener straps to help keep these boots in place at all times.
We found that they are easy to apply due to the wide seam opening at the top, though they are lined with a soft fabric that may be too hot for some dogs, especially when used on warm days. These boots stay on well and provide adequate protection from blistering sidewalks.
They are not as flexible compared to others but are durable and will work well for different types of terrain and heavy use.
Eight sizes
Durable
Reflective straps
Wide seam opening
Ideal for heavy use
Lining too hot for some
Not as flexible
---
7.

PUPWE Dog Booties
These are affordable, durable boots, made from high-quality materials while being soft and breathable. We like how easy these are to apply due to the wide-split seam opening at the top, and they are held firmly in place with two adjustable nylon straps with reflective stitching.
The soles are durable with a non-slip tread, and the toes are reinforced with high-quality cow-grain leather. On the downside, these are not true to size and are a little larger than expected. Though they are water resistant, they aren't waterproof. These boots cannot be machine washed, but they are hand washable.
Affordable
Reinforced toes
Made from quality materials
Split-seam opening
Two reflective straps
Not true to size
Hand washable only
---
8.

Xanday Breathable Dog Boots
These Xanday dog boots come in eight different sizes and are made from a breathable sandwich netting that is a nice feature during hot weather. The soles are anti-slip with an aggressive tread, and there are two adjustable reflective straps. These boots are hand washable only.
We found that these boots are ideal for walking in town, since dirt and sand tend to collect within the boot due to the breathable mesh. On larger dogs, they aren't tall enough and do not stay in place. Also, they are somewhat difficult to get on, no matter the size of the dog.
Eight sizes
Breathable
Anti-slip
Two reflective straps
Collect snow and dirt
Too short for large dogs
Difficult to put on
---
9.

Sunnyy Dog Boots Mesh Dog Shoes
Last on our list are the Sunnyy boots, which are made from a mesh fabric that allows them to breathe while providing extra comfort. The sole is made of rubber, with a reinforced toe for added protection. We found that these are lightweight and easy to apply due to the wide split opening, and the straps are reflective and adjustable.
However, the Velcro does not hold that tightly and the boots are short, even on short-legged breeds. They offer great protection from the hot pavement but aren't ideal for heavy use since they tend to slip off easily.
Breathable
Lightweight
Easy to apply
Reflective straps
Poor Velcro quality
Too short
Not durable for heavy use
Slip off easily
Rotate easily
---
Buyer's Guide: Choosing the Best Dog Boots for Pavement in the Summer
There are many reasons to purchase dog boots, including to protect your dog's feet from hot pavement. They can also protect them from winter chill or rainy days on or off paved surfaces. This buyer's guide will go over features and options to consider when searching for the perfect pair of dog boots.
Temperament of your dog
Unfortunately, not every dog will like the idea of wearing boots. It isn't natural to them, and it takes away their flexibility and ability to feel the ground. Introducing them earlier in their life rather than later is ideal, as they will become more accustomed to them the more often they are worn.
Safety
If your dog is being introduced to boots, it is ideal to have them wear the boots for an hour each day for a week to help break them in. Take them on a short walk and encourage them to run around so they will eventually begin to move more naturally.
Don't leave the boots on longer than four or five hours at a time, since their feet will become too hot. Also, it is a good time to check for any spots that may be rubbing and causing a sore. If the boot isn't staying in place, then you may not have the correct size or it isn't adjusted properly.
Right fit/size
To fit a boot to your dog, measure their front paw by pressing it down on a piece of paper and marking the front and back, and then the left and right sides. Make sure to include the toenails. Measure the width and height between each mark. Many brands will go by the widest measurement to determine the size of boot needed.
Type of material
The times that you will be using the boot will determine the best material. For boots that will be protecting the pads from a hot surface, you need soles that are thick and won't soak up the heat. Breathable material can help keep your dog cool, since dogs perspire through the pads of their feet.
Certain materials are also more flexible than others, allowing your dog to move at a more natural place.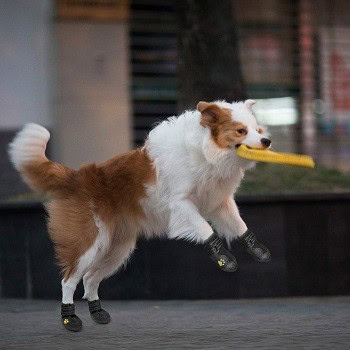 Features
Most boots will have adjustable Velcro straps to secure them in place. Also, the length of the boot will affect how well it stays on and how comfortable it is. If the boot rubs on a dew claw, this will be uncomfortable for your dog. Certain lengths may be too long for your short-legged pets to be comfy for long periods of time. On the other end, if they are too short, they may not stay on very well with larger breeds.
Quality and durability
If you will only be using the boots periodically, the quality of the materials and how well it is made may not matter as much compared to a boot that gets daily wear. In that case, you want a boot that will last a long time and be comfortable for your dog to wear.
Some boots are better equipped for the outdoors and rough terrain, while others are good for use indoors to provide extra traction. Most dog boots will be made from different materials and have their own unique features.
Application of the boot
If it's a real exercise to get the boots onto your dog, that particular boot may not be the best choice. Many will offer a split-seam opening on the side or back to help ease the paw into the boot. If you have your dog stand and remain calm, you can use your finger at the back of the boot to slide the paw down into the front of the boot (like a shoehorn).
Next, have your dog stand on the shoe and make sure their paw is at the front. Then, strap the shoe closed — snugly but not too tightly. With smaller breeds, you can place them on a table or counter to perform this action.

Conclusion
With the wide variety of dog boots available to choose from, it can seem impossible to pick one that will protect your dog's feet while also being comfortable and durable. There are certainly boots out there that are suited for your dog, it's just a matter of knowing the best features for them. Our list focuses on boots that are great for protection from hot pavement, though some can have multi-use options.
Our top pick is the Fantastic Zone boots that are durable yet comfortable for your pet to wear on any surfaces. The HiPaw is the best value and is flexible, breathable, and ideal for hot days in the city. For a premium boot, the My Busy Dog is made from a quality, water-resistant material that is ideal for an active dog who needs extra protection from a variety of terrains.
We hope that our reviews guide has decreased the stress and frustration of searching for dog boots by giving you the tools to know what you need.
Related Reads:
---
Featured image credit: QUMY Dog Boots Waterproof Shoes for Dogs with Reflective Velcro Rugged Anti-Slip Sole Black 4PCS, Amazon