8 Best Dog Silencers of 2022 – Reviews & Top Picks
Dogs are great companions, but they can misbehave at times. Some pets need extra help to learn how to listen and respond appropriately to all types of situations. That's where a dog silencer can be of assistance. There are many types available, so our list of the top 10 focuses on the best ones that relate to sound or vibrational training.
Using a dog silencer is one method of training that works well for most dogs, though some may be too sensitive, not hear the sound waves, or become aggressive. Our reviews list and buyer's guide can help you find the best dog silencer that works for your needs and will help you develop a peaceful home where you and your dog are both happy.
---
A Quick Glance at Our Favorite Choices in 2022:
Rating
Image
Product
Details

Best Overall

DogRook Bark Collar

No shock emitted
Sensitivity control
Durable construction

Best Value

STÙNICK Handheld Device

Humane
Ultrasonic sound
Built-in flashlight

Premium Choice

Doggie Don't Device Handheld

Humane
Easy to use
Emits loud noise

Modus Ultrasonic Deterrent

Compact
Ultrasonic sound
Indicator light

First Alert Handheld Device

Ultrasonic sound
15-foot range
Affordable
The 8 Best Dog Barking Silencers Reviewed:
1.

DogRook Dog Bark Collar – Best Overall
The DogRook is the best dog barking silencer, providing an effective and humane way to train your dog. It works by vibration and sound signals and is ideal for dogs from 10 to 110 pounds. We like that this is an option for owners who do not like shock collars, providing a more humane way to stop your dog from misbehaving.
There are two buttons to control the sensitivity level on the collar — a low level is used with loud barking. It comes with two pairs of plastic prongs for short- or long-haired dogs, batteries, and a pink and blue interchangeable faceplate. The collar is made out of durable nylon and should be tightened to one finger-width between the skin and collar.
The company also provides a lifetime warranty and guarantee on this dog collar and has good customer service. On the downside, it will vibrate at the sound of another dog barking, so keep that in mind when you have it on for training.
No shock emitted
Sensitivity control
Durable construction
Lifetime warranty
Affordable
Unwanted vibrations possible
---
2.

STÙNICK Handheld Anti Barking Device – Best Value
The STÙNICK is the best dog silencer for the money, since it offers safe and humane training at an affordable price. It works by emitting an ultrasonic noise that can only be heard by your dog, grabbing their attention so they will obey your command.
It will help with excessive barking, jumping on people and furniture, and other destructive habits. We like that it can help discourage other dogs from approaching your pet. It is easy to use: Point the device at your pet from a distance of six feet, give your verbal command, and press the button for one or two seconds. Repeat until your pet listens to your command. It can work up to 20 feet away but seems to work best 6 to 8 feet from your pet.
It has a built-in flashlight that helps you aim the device at the dog when it is dark, but we found that the device doesn't work unless you are already aimed directly at them.
On the downside, it isn't as effective with more than one dog at a time and doesn't work as well on dogs with hearing problems. This didn't make the number-one spot because it is not as easy to use and doesn't come with a lifetime warranty like the DogRook.
Humane
Ultrasonic sound
Easy to use
Built-in flashlight
Affordable
---
3.

Doggie Don't Bark Control Device – Premium Choice
This is a handheld device that emits a loud buzzing noise, greater than 100 decibels, so anyone can hear it. It is effective on dogs and other animals and will help stop unwanted behaviors over time, as they learn to associate the sound with the bad habit.
It's easy to use and is small and portable so you can keep it on your person. It comes with batteries and a wrist strap. To use, push the button and say the command; the loud noise startles the dog, stopping the behavior. Repeat as needed until your dog responds positively.
Unfortunately, it is loud and will also startle anyone else who hears the noise. It's also pretty pricey. It did not make the number-one choice because the DogRook and the STÙNICK are more affordable options while offering great features.
Handheld and portable
Easy to use
Emits loud noise
Humane
Also see: Citronella bark collars for your noisy dog
---
4.

Modus Dog Silencer Device
The Modus uses ultrasonic sound to control your dog's behavior. It cannot be heard by the human ear, since it emits a sound at 25KHZ. We like the small, compact size of this barking device. It comes with batteries and an adjustable anti-static wrist strap.
Another nice feature is the green indicator light that shows when the device is working. On the downside, you have to hold the button down for 10 seconds before the device will turn off. But it does work from a distance of 16 feet and grabs the dog's attention fast.
Unfortunately, the directions are hard to understand, so it's a good thing that this product is easy to use. It comes with a 12-month warranty and satisfaction guarantee.
Compact design
Easy to use
Ultrasonic sound
Indicator light
Confusing directions
Takes time to turn off
See also: Cages suitable for dogs with separation anxiety
---
5.

First Alert Dog Silencer Device
The First Alert bark control device uses ultrasonic sound waves to control a dog's unwanted barking and other bad behaviors. Dogs are the only ones who can hear this device, and it is effective up to 15 feet away. Point it in the direction of the dog and push the button, and it will emit the sound.
You know it is working when the green light comes on and it makes a beeping sound. It will turn off when you hold the button down for approximately 5 seconds. It comes with batteries and a wrist strap. This device is less compact than some, though still a handheld.
We found this device isn't well made, as the battery cover is somewhat loose and difficult to keep in place.
Ultrasonic sound
15-foot range
Easy to use
Indicator light
Affordable
Battery cover not durable
---
6.

petacc Anti Barking Device
This handheld device is compact enough to fit in your pocket and emits ultrasonic sound at 25KHZ, which is a safe level for your dog and cannot be heard by the human ear. We like that this device is rechargeable and that the range is 16 feet. It comes with an adjustable wrist strap and a USB cable.
It is easy to use with a one-click button, though there is no indicator light to let you know if it is off or on. There are two LED lights on the end that can be used when training at night — they turn on by double-clicking the button. To turn off the device, you hold the button down for at least 10 seconds.
They recommend training only one dog at a time with this device and not using it on dogs less than 6 months old or older than 8 years. We found that a charge will last for about one week when using it for 30 minutes a day.
Compact
Ultrasonic
Humane
Rechargeable
LED lights for nighttime
No indicator light
Extra step to recharge
---
7.

Marialove Bark Control Device
This is a device that emits ultrasonic sound. On the downside, it is not handheld and is larger in size, though you can hang it on a tree or fence when outside. We found this device was not as straightforward or easy to use. To make sure it is working correctly, you have to whistle loudly into the product's microphone until you hear a beep and the LED light remains red.
This unit can be used on any sized dog within hearing range. It requires one 9V battery that is not included with purchase. It is waterproof, and there is a knob to adjust the level of ultrasonic. We found it is not as effective at deterring the dog from a bad habit, even when adjusting the level.
Ultrasonic
Humane
Waterproof
Battery not included
Difficult to use
Not as effective
---
8.

Tenlso Anti Barking Device
The Tenslo is a small ultrasonic sound device that is mounted on a wall with a plastic plate and screw (both are included in your purchase). It can be used with a 9V battery and comes with a charger adapter. You can take it off of the wall plate, but it doesn't stand very well on its own. It emits a constant noise that has to be turned off directly on the unit.
It is small enough to use from room to room but is too big to take along for a walk. We found that it limits the ability to effectively train your dog in other areas. There are four sensitivity levels to adjust the range from 15 to 50 feet. It is waterproof and comes with a user manual.
Humane
Ultrasonic
Four levels
Large
Won't stand on own
Battery not included
Limits training ability
---
Buyer's Guide: How to Select the Best Dog Silencers
There are many options when searching the best dog silencers, which are different in quality and the features they provide. Some dog silencers are more effective than others at training your dog to behave in a way that is acceptable to you.
The dog silencers on our list have a common theme of using ultrasonic sound waves or vibrations through a collar. This buyer's guide will go over considerations, tips, and features to keep in mind when choosing a dog silencer.
Features
Ultrasonic: These dog silencer devices can be handheld or stationary. It depends on when you are planning to use the device and if you want to be able to take it with you wherever you go. You may not need a handheld device if you keep your dog at home all the time. There are outdoor devices that are nice to hang near your dog's kennel to prevent incessant barking when you are not home.
The ultrasonic works by producing an annoying sound that is only heard by your dog. The idea is that your dog will eventually associate the irritating sound with their bad habit so they will stop doing it. These tend to work well for all types of bad behaviors, from barking and biting to jumping and scratching.
They will not work through a solid object, such as walls, windows, and fences. They are intended to be used when you can point the sound wave directly at your dog.
Vibrating collar: These vibrate gently when your dog barks, causing them to think twice about barking again, since the vibrations can be annoying. A negative aspect with these is they don't deter other bad behaviors such as jumping and scratching.
Make sure to follow the directions to fit the collar correctly, or it may not work as intended.
Range: Most handheld devices will work within 15 to 20 feet, while some stationary devices can range up to 50 feet. Again, the range you need will determine where and when you will be using the dog silencer. Certain models will offer a way to adjust the range, which is a convenient feature if you will be using it in different areas.
Indicators: When using a silencer, it is nice to know when it is functioning, since we can't hear the ultrasonic sound. Certain ones offer LED indicator lights so you know if it is on or off.
Power source: Many will use batteries and usually come with a set to get you started as soon as you receive your product. Some have the feature to recharge the device, while others offer the best of both worlds and you can either recharge or use with batteries.
Ease of use: When training our dogs, we need to focus on them and not worry about whether the device is working correctly. You want something simple and easy to use yet effective.
Considerations
Sometimes, the sounds may be too much for an older dog to handle or they may not even hear it if they are hearing impaired. Usually, it is recommended to use ultrasonic on dogs between 1 to 8 years of age.
Puppies respond to a different frequency compared to older dogs. They also are still developing their hearing and may not be able to withstand high frequencies. To be safe, you can consult your veterinarian for guidance.
Ultrasonic training works best on training one dog at a time to reduce confusion, so you can focus on rewarding the dog when the behavior is corrected.
Some dogs may respond negatively to the ultrasonic and become aggressive or violent. This may be because they are sensitive to the sound and it is uncomfortable. Most ultrasonic devices do run at a safe sound level.
Ultrasonic devices may affect other animals, such as cats, since they hear at the same frequency.
Keep in mind that some dogs become familiar with the sound, and it will not affect them as much as it did in the beginning.
When using a vibration collar on a dog with thick hair or an undercoat, make sure to get the prongs through the hair to the skin so they can feel the vibrations.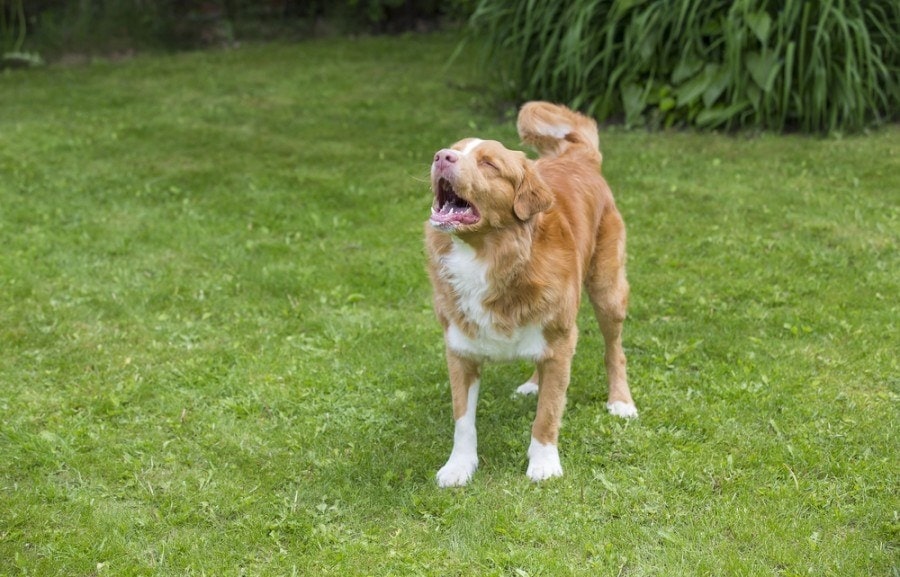 Effective Training
To get the most out of using a dog silencer, it is best if you provide positive reinforcement to your dog throughout the training. Take the time to work with your dog one on one so they will understand why they need to listen and behave.
If you run the sound continuously, your dog will go back to barking as soon as you turn it off, which is not solving the problem at hand. You want your dog to learn to behave so you don't have to use the device at all.
When your dog begins to bark, say your command and activate the device. Once your dog stops barking, reward them with affection and/or treats. They will learn to associate the sound with misbehaving, but they will also learn to listen to you. Over time, you shouldn't have to use the device as often, since the dog will begin to pay more attention to your commands.

Conclusion
Finding the right silencer can be a challenge with so many available on the market, which is why we created this reviews guide — so your frustrations of choosing the perfect dog silencers can be reduced.
The number-one dog silencers on our list is the DogRook bark collar, since it offers a humane and effective way to train your dog to not bark incessantly. The best value is the STÙNICK handheld device, which uses ultrasonic waves to train your dog and is an affordable option. For a premium option, the Doggie Don't offers a durable design that emits a loud noise to startle your dog to pay attention to your commands.
We hope our reviews list and buyer's guide helps you pick out the best dog silencers that will complement your style of training with your dog's temperament to get the results you expect.